I've  mentioned before that we are really excited to be sponsoring the inaugural Vietnam Summer Festival on the 14th July this year. It promises to be a really great event. Don't forget there is a chance to win a luxury holiday for 2 in Vietnam – arranged by us – so we can pretty much guarantee it's going to be an incredibly prize! For more details have a look on the site.
There is a new poster which hopefully you'll be seeing around town and we love the artwork: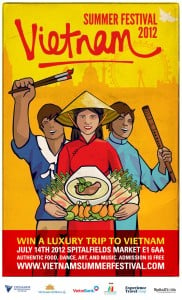 If there are any journalists reading this who would like to help get this out further – please do! For full details read below:
The Experience Travel press release below:
Spitalfields Market is set to be transformed into a slice of the exotic east this summer when it hosts its first-ever Vietnamese festival in July.
With free admission and more than 100 stalls showcasing the best of Vietnamese food, arts and crafts and travel opportunities, the festival promises to one of the summer's cultural highlights.
A focus will be a specially designed artwork display with large-scale photos of the landscape, people, and street life of Vietnam. Visitors can taste famous Vietnamese food, from iconic London Vietnamese restaurants, with the chance to speak to the chefs and learn how to prepare the country's classic foods including Phở, a tasty noodle broth, and spring rolls.
Travel experts will be on hand to answer questions about what Vietnam has to offer vistors, with highlights including the idyllic Ha Long Bay, the miles of long sandy beach at Da Nang city, the tropical jungle of the Northern Highland and the exciting and vibrant city life of Sai Gon.
Visitors can also experience exhibition activities, stage performances, music and dances by Vietnamese artists and traditional games. There are prizes to win, including a 12-day fully sponsored luxury holiday for two to Vietnam, sponsored by Vietnam Airlines and Experience Travel – a London based South East Asia specialist tour operator, in co-operation with The Nam Hai Hoi An Resort and Heritage Line cruise services purveyor's. This holiday of a life-time includes visiting several of the country's magnificent wonders, top-rated hotels and first class authentic Vietnamese food.
There are also pre-event activities including Restaurant Quiz's, with the chance to win free dinners at one of central London's most popular, authentic Vietnamese restaurants, and 'The Big Draw' to win a luxury holiday for two to Vietnam. Simply visit our website (www.vietnamsummerfestival.com), follow our Facebook and Twitter pages for more information and sign-up to the draws.
The festival runs from 11am until 5pm on Saturday 14 July 2012 at Spitalfields Market, one of London's oldest market halls and a historic location in the heart of the City. Firmly established as a 'must-visit' attraction for Londoners and tourists alike, Spitalfields Market offers a fusion of Victorian splendour and contemporary architecture. The market is a short walk from both Liverpool Street and Aldgate East stations.
More than 10,000 people are expected to the day long festival, which is being supported by almost 50 volunteers, including members and friends of the Vietnamese Professionals in the UK (VietPro). Working in partnership with VietPro to bring the festival to life, as well as sponsors, include Vietnam Airlines – the country's national flag carrier; VietinBank – the Vietnamese bank for industry development; and MyVietnam – the London-based gateway to information about Vietnam.
The official spokesperson for Vietpro, Dat Pham says: "the Festival is organised with our passion to bring the most exotic and authentic elements of Vietnam to London and to the world. It is an event of exciting discoveries of the country's charm, beauty and diversity. Come and join the celebration, the one not to be missed this summer!"