Welcome to our travel News in South & Southeast Asia hub. One of the reasons people travel with ETG is our on-the-ground know-how, contacts and community throughout South and Southeast Asia.  As specialists in travel to the region, we're always on the ball and 'The News Hub' is the place to come up for up-to-date travel news in South & Southeast Asia.
As a UK-based company, we will occasionally include news on events and places related to South And Southeast Asia in the UK and beyond. Finally, there will be some limited news about ETG itself, so we can keep you up to date without too many emails.  We also have our Hotel Hub and Flights Hub for up-to-date information on new hotels and flight routes in Asia.
For all travel news related to Covid-19 please see our Where Can I travel in Asia? updates
NEW 20 March 2023
The Government of Sri Lanka secures a $2.9bn (£2.3bn) bailout from the International Monetary Fund (IMF).
The BBC reports today that the Government of Sri Lanka has finally secured a $2.9bn (£2.3bn) bailout from the International Monetary Fund (IMF).
The deal has been a year in the making and has involved complex negotiations with creditors, both private and public.
Our MD, Sam Clark, says:
We are delighted that the IMF bailout package has finally been secured. This can only give additional comfort to travellers and local people looking to rebuild and invest. While we realise that there is still a great deal of work, we believe this is a significant step forward for our friends and partners in Sri Lanka. We'll continue promoting Sri Lanka as enthusiastically as ever as we know that tourism is a key part of the recovery mix.
NEW 3 January 2023
ETG Features in The Times and Wanderlust Magazine's 'Top Trips' for 2023

During the past weekend, ETG had not one, but two new trips for 2023 featured in roundups of the best new holiday ideas for 2023.  Check them out below
Wanderlust Magazine:  New Trips for 2023
NEW 7 December 2022
Indian Government Re-Instates E Visa for UK Travellers

Following months of confusion and indecision, the Indian Government has re-instated the E-Visa for UK travellers, meaning UK visitors need only fill in and pay via a relatively a simple online form. The e-visa system had been not re-instated for UK or Canadian travellers following the temporary suspension of all e-visa services during the pandemic. The difficulties of making an in-person application as well as the backlogs in processing the visa had disrupted travel plans for many British visitors to India, causing some to postpone or suspend their trips.
Sam Clark, Experience Travel Group's CEO, says:
This is brilliant news for ETG travellers and the partners and suppliers that our holidays support throughout India. The last thing anyone needed was any visa hassle when thinking about travel and the return of the e-visa means that India can fulfill its potential as the world's most exciting post-pandemic immersive holiday destination.
Stop Press: The E-visa was also re-instated for Canadian citizens today, 19th December 2023.
RECENT 26 August 2022
The UK Foreign and Commonwealth Office Lifts Sri Lanka Advisory
Today, the UK Foreign, Commonwealth and Development Office (FCDO) lifted its advisory against 'all but essential travel to Sri Lanka'. This change follows the recent moves by France, Switzerland, Norway and others. The Sri Lanka Government lifted the state of emergency on 19 August and the tumultuous months of protests and change appear to have receded as the new Government begins the process of rebuilding Sri Lanka's finances.
Several huge fuel shipments came into Colombo last week, the rationing system (or QR code) now appears to be working, and there are no longer extensive queues at petrol stations. Allowances have been made for additional fuel for tourist vehicles, recognizing the sector's massive importance to the economy.
Tourists travelling with a tour operator such as Experience Travel Group have been able to visit Sri Lanka safely throughout the period and have reported very positive things about their experience.
Sam Clark, Experience Travel Group's CEO, says:
This is excellent news! While ETG travellers have visited Sri Lanka safely throughout the crisis, removing this remaining obstacle to travel will give the Sri Lankan economy a huge and much-needed boost. We're so pleased for our friends and colleagues in Sri Lanka and for all of our customers looking forward to trips over the coming months. Sri Lanka is back!
RECENT 30 July 2022
Bhutan set to Open on 23rd September
The Kingdom of Bhutan will be reopening to international tourists on 23rd September. The first time with no quarantine restrictions since the beginning of the pandemic, two and a half years ago.
ETG's Bhutan Specialist, Sara Wells, says:
This is fantastic news. Just in time for the festival months of October, November which make a visit to Bhutan all the more special.
RECENT 07 July 2022
Experience Travel Group Becomes a B Corporation
After a nine-month wait for assessment and then certification, ETG has been awarded B Corp Certification.
Sam Clark, MD of ETG, says:
We're proud to join this growing movement of successful, sustainable companies using business as a force for good and positive change. Just as we fly the flag for a different kind of travel, the B Corp community is driving the shift to a new way of doing business that is better for workers, communities, and the environment.

We'll wear our B Corp badge with pride. It will spur us on to do more of what we've been doing all along – creating opportunities to expand 'our world' horizon, delivering amazing, immersive holidays that are transformational for the traveller, the destination and those we connect with along the way. We're a small company doing rather significant things.
RECENT23 June 2022
The IMF Arrive in Sri Lanka to Begin Negotiations
The IMF team arrived in Sri Lanka last Monday to formally begin negotiations on a bailout for the Sri Lankan economy. Representatives of the financial and legal advisory firms Lazard and Clifford Chance are now in Sri Lanka to assist in their debt restructuring efforts.
The new Prime Minister of Sri Lanka, Ranil Wickramasinghe, has made headlines
worldwide in a speech where he said: "the economy has faced a complete collapse". The message was clear: there is an urgent requirement for assistance from the IMF and the international donor community. This speech was a commentary on the situation on the ground over the last few weeks/months, and there were no new facts. He is also issued a rallying cry for Sri Lankans to come together to work through the crisis:
If we can set aside our differences for a short while and only think of our country at this juncture, I believe we will be able to safeguard our motherland from this impending disaster. The flock of quails were only able to escape the hunter's net by flying away together along with the trap set for them.
Despite all this, we encourage our customers to travel to Sri Lanka this summer or beyond. Our MD, Sam Clark, says:
We're delighted to have our first travellers since the FCDO lifted the travel advisory, leaving for Sri Lanka this weekend. We are confident we can deliver a full level of holiday experience. Moreover, the awareness of the importance of tourism amongst the general population means the welcome will be pretty special. Tourism is critical to their recovery efforts, and Sri Lanka is the most resilient country we know. You can help Sri Lanka in their recovery and enjoy a glorious holiday this summer and well beyond.
RECENT10 June 2022
The FCDO lifts its advisory against travel to Sri Lanka
The UK Foreign, Commonwealth & Development Office (FCDO) today lifted its advisory against travel to Sri Lanka. This shows they agree with the ETG assessment for holidays in Sri Lanka as outlined below, released on 9 June.
In consultation with our Local Experience Manager, Thushni De Silva, our hotel and experience partners and chauffeur guides, we are confident that we can safely and fully operate our holidays to Sri Lanka once again.

While intermittent fuel shortages remain a feature of life on the island, ETG can ensure our vehicles always have sufficient fuel, as we did in March and April this year. The Government of Sri Lanka has helpfully made provisions for refuelling tourist vehicles at public stations around the country, otherwise reserved for buses and lorries. The measure recognises the crucial contribution tourism will make to the economic recovery.

Politically, the new regime, under Prime Minister Ranil Wickramasinghe, has stabilised Sri Lanka, secured short-term credit lines for essential imports, and has made considerable progress in talks with the IMF.

We are confident in recommending that our clients travel to Sri Lanka as planned during the upcoming 'mini-season', from July through to the end of September.
RECENT08 June 2022
Harnessing the positive power of mangroves on World Oceans Day
On World Oceans Day ETG is proud to announce we are an Ocean Positive brand. We are taking action to sequester more carbon emissions than we are creating. Since partnering with SeaTrees in 2019 we have donated £6342 to mitigate the emissions of our travellers' flights, but we have also planted 1860 new mangrove trees and restored 465 square feet of kelp.
SeaTrees is a non-profit organisation that funds blue carbon projects to restore ocean health. Initiatives we are delighted to support include coral reef restoration in Bali that provides employment for local villagers and protection of mangrove forest in the Southern Cardamom watershed in Cambodia.
Did you know that blue carbon coastal ecosystems like mangrove forests are 5x more effective at removing carbon from the air than a rainforest? Not only that but planting mangroves creates critical habitat for threatened species, protects coastal regions from storm surges and sea level rise and provides sustainable employment.
World Oceans Day calls for transformative action to celebrate, protect and restore our planet and at Experience Travel Group we are pleased to be harnessing the power of mangroves and travel to do just that.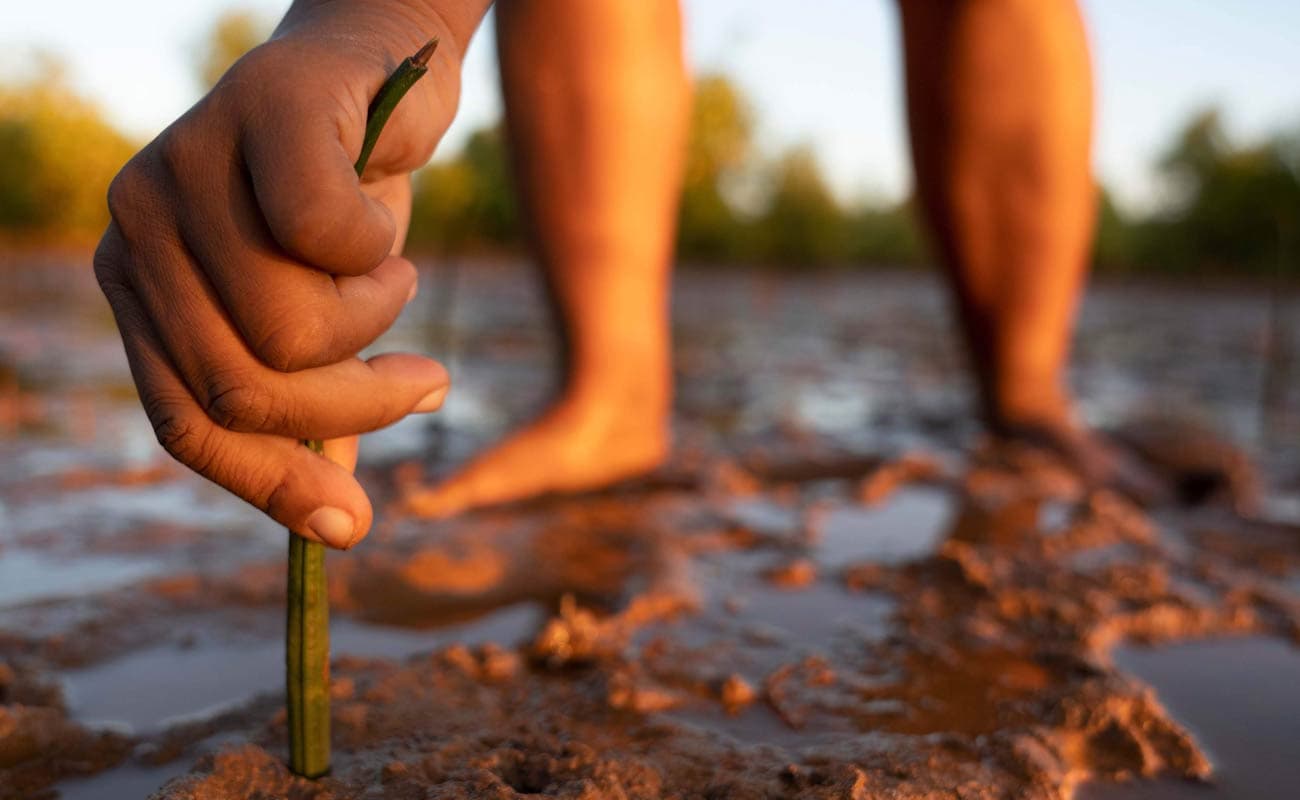 UP TO DATE WITH THE TRAVEL NEWS IN SOUTH & SOUTHEAST ASIA AND KEEN TO TRAVEL?
If you would like to discuss any news items or are keen to on and organise your holiday, do get in touch on 020 7924 7133  or drop us an contact us here. We have various example itineraries for privately guided tailor-made trips that can provide you with holiday inspiration.