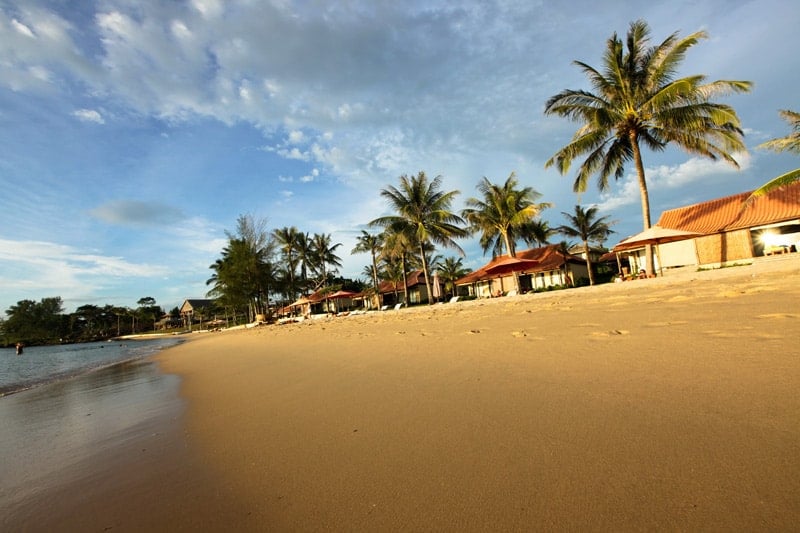 It was with some excitement that I returned to Vietnam's Phu Quoc Island, four years after my only previous visit. Resting in the Gulf Of Thailand, Phu Quoc is, geographically speaking at least, closer to Cambodia than Vietnam. Wild, windswept and gloriously remote in parts, the natural landscape is, not surprisingly, similar to the islands off Cambodia and the south-east of Thailand. Access is by a 45-minute flight from Saigon or a more adventurous ferry ride from the southern port town of Rach Gia.
Working in the travel industry can often be slightly awkward because part of you wants places to remain the same forever, whilst part of you knows that the very fact you and others are promoting it means, by very definition, they can't. I had expected, perhaps even feared, mass-scale change. I remember being heavily seduced by the island's undeveloped and laid-back nature on my last trip here and my impression upon departure than was of a place preparing for mass development. However, my fears remain largely unrealised and Phu Quoc is very similar today as it was then.
I think my concern here was that the powers that be would over-develop the island in a certain way. A lot of hotels aimed at the domestic tourism market are bland at best, vulgar at worst – large concrete monstrosities with little or no creative flair. Thankfully, whilst a few of these kinds of resorts have sprung up, the island retains the charm that seduced me in the first place. One of the treats of getting to visit all these different islands in South East Asia is being able to compare and contrast them with each other. Often due to their unusual histories, they are distinctly Thai, Cambodian or Vietnamese but also have their own very distinct culture. One only need to look at Koh Samui, Koh Pha Ngan and KohTao in Thailand to see how individual islands have their own systems, own rules and unique cultures.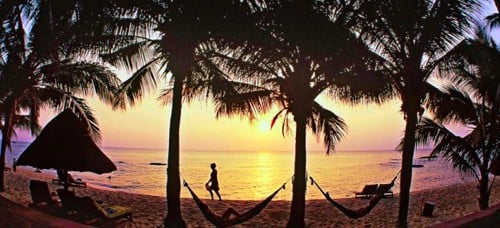 One of my benchmark tests for this is always the process by which one hires a motorbike. Having been conned, scammed and ripped off for such services numerous times in the past, it is something I always have my guard up for. Thankfully, Phu Quoc passed the test with flying colours – a good omen for the way the rest of the place operates. Expecting lengthy paperwork, photographs and explanations of every previous scratch on the bike, I was delighted to find the cheerful man who rented me the bike asked for absolutely no identification from me whatsoever! No passport, no driving licence, no explanation of where I was staying and no agreement about what would happen in the case that I damaged his little machine. He barely managed to muster the energy to get out of his hammock to give me the key, so laid-back was the approach. I paid him 10 dollars for two days hire, filled up the tank and off I went…
Phu Quoc has a decent network of roads nowadays, most main routes being carpeted with tarmac whilst the rest are still that rather treacherous gravel/sand/mud variety. If you really want to explore the island you will need a bike, and many visitors, be they back-packers or those at the high-end resorts, choose this mode of transport to get around. I selected a Yamaha Nuovo as I have ridden pillion on them numerous times in Thailand and fancied a chance behind the controls this time. Fully automatic and relatively powerful for its compact size, the nippy bike had no issue at all in navigating the roads, hills and bridges of the island.
Now, the purpose of the trip, I reminded myself, was work! I had to re-visit all the paces on the Island that Experience Travel promotes as well as find any new places that might be of interest to us and our clients. Being the professional and diligent person that I am, I was determined not to get completely sidetracked by markets, electrical gadget shops (Vietnam has some brilliant and most curious stuff imported directly from China) and, more enticingly, the many bars and cafes that line the roads.
I was fortunate to stay in two of the island's best properties – the colonial La Veranda and the traditionally Vietnamese Chen Sea Resort. I had stayed at La Veranda on my last trip and was pleased to see that the property was in immaculate condition. Numerous improvements had been made and the gardens had matured considerably. La Veranda is located on Long Beach, the island's most densely populated. This has numerous benefits, most notably that there is a lot do on the doorstep of the hotel. From small restaurants and cafes to water-sports centres, there is plenty to do without venturing further afield. Having taken a relaxing swim in the pool and enjoyed the lavish bathroom in my suite, I took a late night stroll down the beach before ordering a delicious Vietnamese Hot Pot from one of the small beach restaurants. La Veranda has two excellent restaurants to choose from (including an al-fresco pizza oven near the beach), but with time limited I wanted to venture out and see what was on hand. Back at La Veranda, I savoured the room I was staying in. The bathroom was particularly impressive with separate rain shower, a giant bathtub, and a selection of toiletries so extensive that I had no idea what half of them were for!
Heading up the coast to Chen Sea Resort I passed empty beaches, half-built homes, tidy little villages and sites which look like they are probably ear-marked for future hotel construction. Chen Sea Resort itself is beautifully peaceful. Located in a remote bay, the hotel consists of 24 rooms and 12 villas – all in a lavish Vietnamese style. The minimal interiors were perfect for relaxing and resting the mind and I enjoyed the super-comfortable bed and the quiet air-conditioning to escape the rasping temperatures outside. The resort has an excellent swimming pool overlooking the beach, and a selection of enticing arm-chair styled bean bags on the lawn around the sands where the staff will serve evening cocktails. The restaurant here is a fusion of Vietnamese and Italian, with fresh pizzas that are surprisingly good. The Chen Sea provides the complete guest experience, which it has to really as the surrounding areas are not the easiest to explore without transport. There are a couple of other resorts in the vicinity, but it is not the kind of place you can just wander out of and find local restaurants. The Chen La will suit anyone really looking to get away from it all. The rooms are really comfortable and well laid-out and the service was friendly and personable. With a good range of food on the menu, decent wine and cocktail list and a number of great places to recline and enjoy such delights, it's easy to see why this hotel is considered romantic. I particularly liked the bathrooms in the suites, with their double rain showers – a simple yet highly unusual feature.
Not far up the coast from the Chen Sea, in a secluded section of coves, is the Mango Bay Resort. I stayed here on my first visit and have to rank the hotel as one of my true favourites. It certainly isn't for everyone, but the blend of rustic accommodation, windswept beaches and friendly service sits perfectly with me. No frills design – a kind of 'less is more' approach – means the scrub jungle, palms and rocky outcrops take the attention and leave you feeling a million miles away from civilisation. I was unable to see most of the rooms this time as they were occupied – a sign that the place is going from strength to strength. I did manage to wander on the blissfully quiet beaches and enjoy a steaming cup of green tea in the restaurant.
Long Beach is also home to a charming little bungalow resort called Mai House. It is currently only sold on a walk-in basis so I won't detail its charms too highly here until we can actually book it! However, if you stay in the area it's definitely worth popping in for some food and a drink.
Cassia Cottage had changed the most of all the places I had previously visited. Four years ago I had seen it at the start of its existence. What I saw now was more of a finished product. Reassuringly full, the resort has been getting rave reviews from our clients, the media and on the Internet, and it was easy to see why. The relaxed atmosphere remained, but overall standards had clearly been raised significantly. The gardens were lush and verdant, whilst the interiors were more bright, refined and welcoming.
So another trip to Phu Quoc drew to a close and I concluded that I would try not to leave it so long next time. As far as beach destinations in Asia go, Phu Quoc remains one of the most alluring places in South East Asia and an escape that Experience Travel is very pleased to offer.