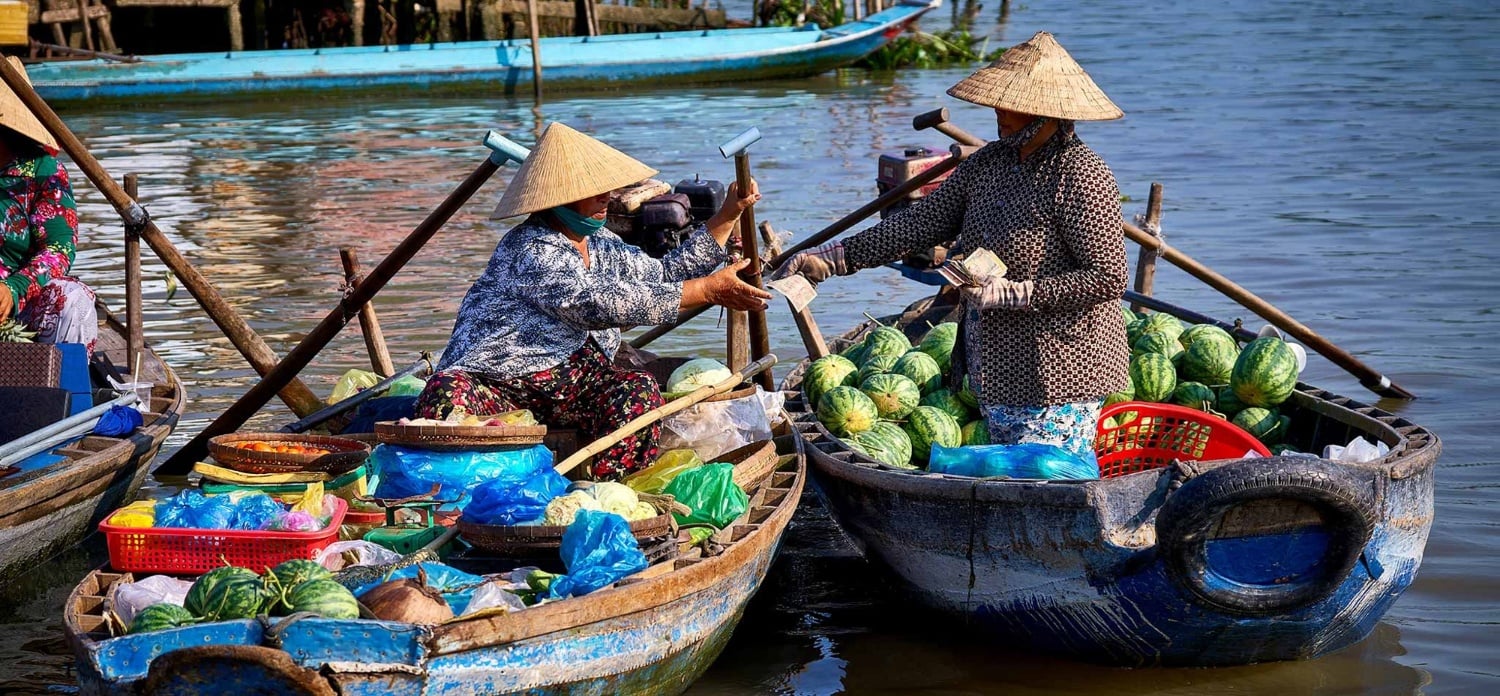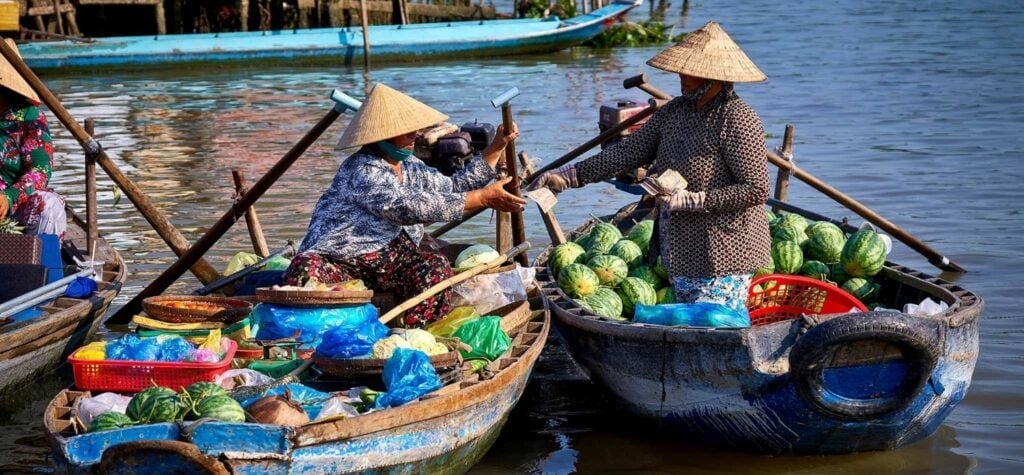 When exploring Vietnam, charming settings lie around every corner. Some of the most popular places to explore started as a simple means for locals to survive. And in Vietnam floating markets are no exception.
Exploring Vietnam by river offers a truly different view of the country and its people. Whether you're water-bound for your whole time on a river cruise or if you opt for a day or even half-day trip on Vietnam's waterways, floating markets are an absolute must. Don't expect the glitz and glamour of Thailand's marketplaces (typically supported now by the tourist board), but rather something more traditional and essential to the residents of the Mekong Delta.
The sheer volume of waterways in southwest Vietnam has curated somewhat of a "river culture" where people in the Mekong Delta over the centuries have not only learned to live around rivers but sometimes on them. With colourful fruits, vegetables and other home-grown ingredients on sale from merchant boats, lush green settings in most cases, and the welcome from the incredibly friendly local people come together in a captivating and lively setting.
A caveat is that the covid-19 pandemic has dealt a heavy body blow to the floating markets in Vietnam's Mekong Delta. At the time of writing, many have not fully recovered and there is some doubt as to whether they will return to their former glory since alternative means of wholesale distribution were found during that time. We suggest you talk to one of our consultants and get the latest news on this. Some of the markets are very much still worth visiting.
---
Best Floating Markets in Vietnam
The South West of Vietnam is known to be the main source of grown produce in the country, which is why it's home to the best floating markets in Vietnam. You'll find the freshest of fruits and veg on offer at river intersections, historically where travelling merchants would bring traditional specialities from other provinces.
Each and every floating market has a unique atmosphere, and you'll find different handmade trinkets and local produce wherever you choose to go. The market you visit might depend entirely on location, and where you'll be travelling. Here are some of the most famous floating markets in Vietnam.
---
Cai Rang Floating Market
Cai Rang market in Can Tho City is the largest and most popular floating market in Vietnam's Mekong Delta. Renowned for the artful presentation and sheer diversity of products from boat merchants, this is also an incredibly accessible market. You'll find fruits from local gardens, grocery boats from China, Khmer clay stoves, and much more. An early start to this market will reward you with the best pick of delicacies and perhaps even a colourful sunrise.
While the Cai Rang market has recovered to some extent, following the covid-19 shutdown, it is nowhere near as busy as it used to be in the fairly recent past. You will likely see as many, if not more, tourist boats, than boats buying and selling. There is wholesale business being conducted though, so we'd still say it was worth the early morning start. We wouldn't advise going to Can Tho especially to see the market any longer, but there is plenty more to see and do in Can Tho to justify a stay.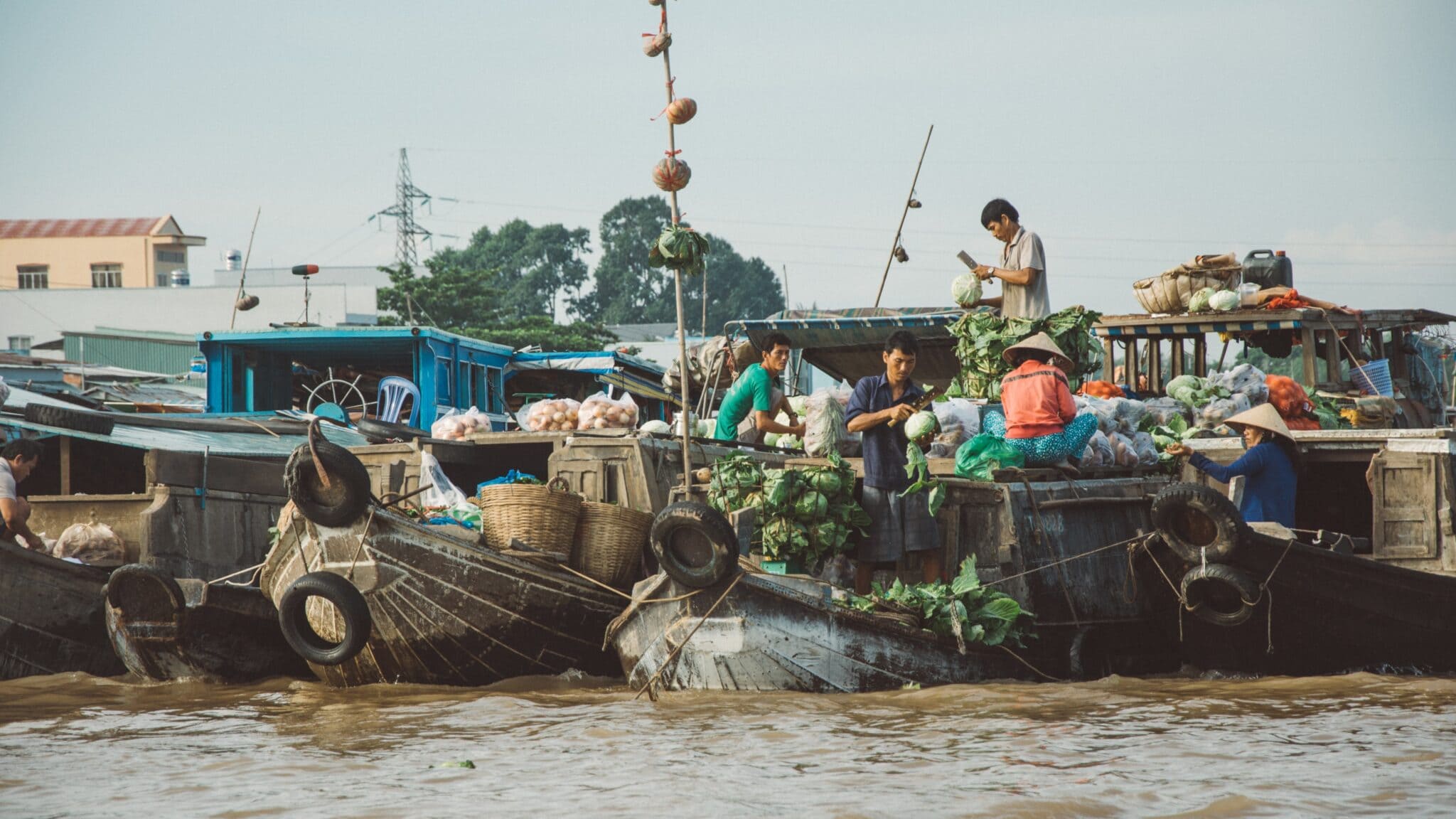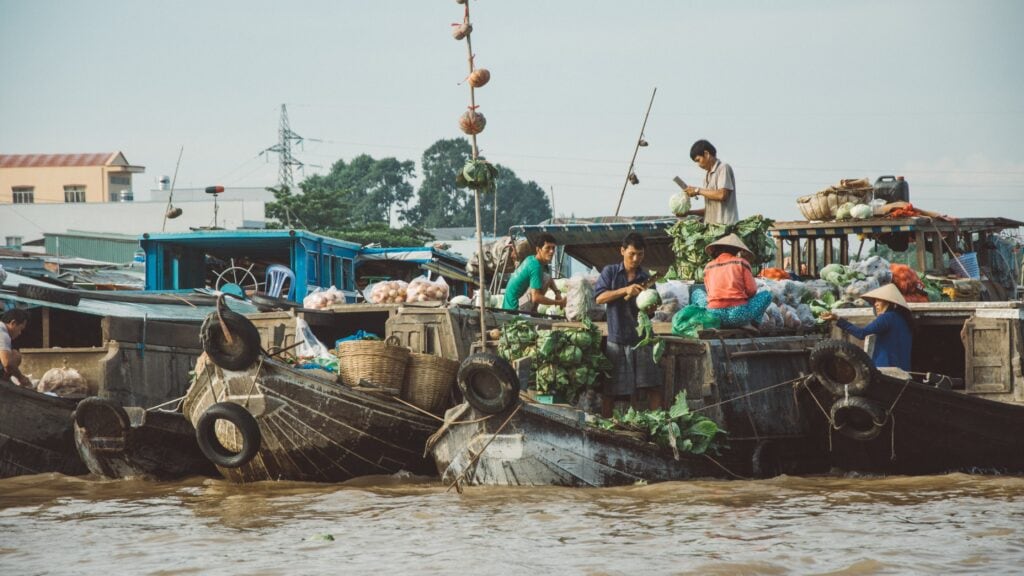 ---
Nga Bay Floating Market
The Nga Bay, or Phung Hiep, market is one of the largest and oldest of its kind, at more than 100 years old. First opened back in 1915, you'll find boats stocked full of fresh fruits and vegetables from local merchants ripe for buying.
---
Cai Be Floating Market
From Ho Chi Minh City, the Cai Be Floating Market is the closest via private tour or taxi. As the majority of agricultural products grow in the Mekong Delta, the Cai Be market on Tien River acts as a gateway for these products to reach the rest of the country. Offering the product from fruit gardens and seafood the other markets offer, this one is perhaps the most visited by tourists.
---
Phong Dien floating market in Can Tho
Located about 20km southwest of Can Tho City, Phong Dien floating market is less crowded and much smaller than the main floating market in Cai Rang but it is truly authentic.
NB: this market is currently not operating at all following the covid-19 shutdown.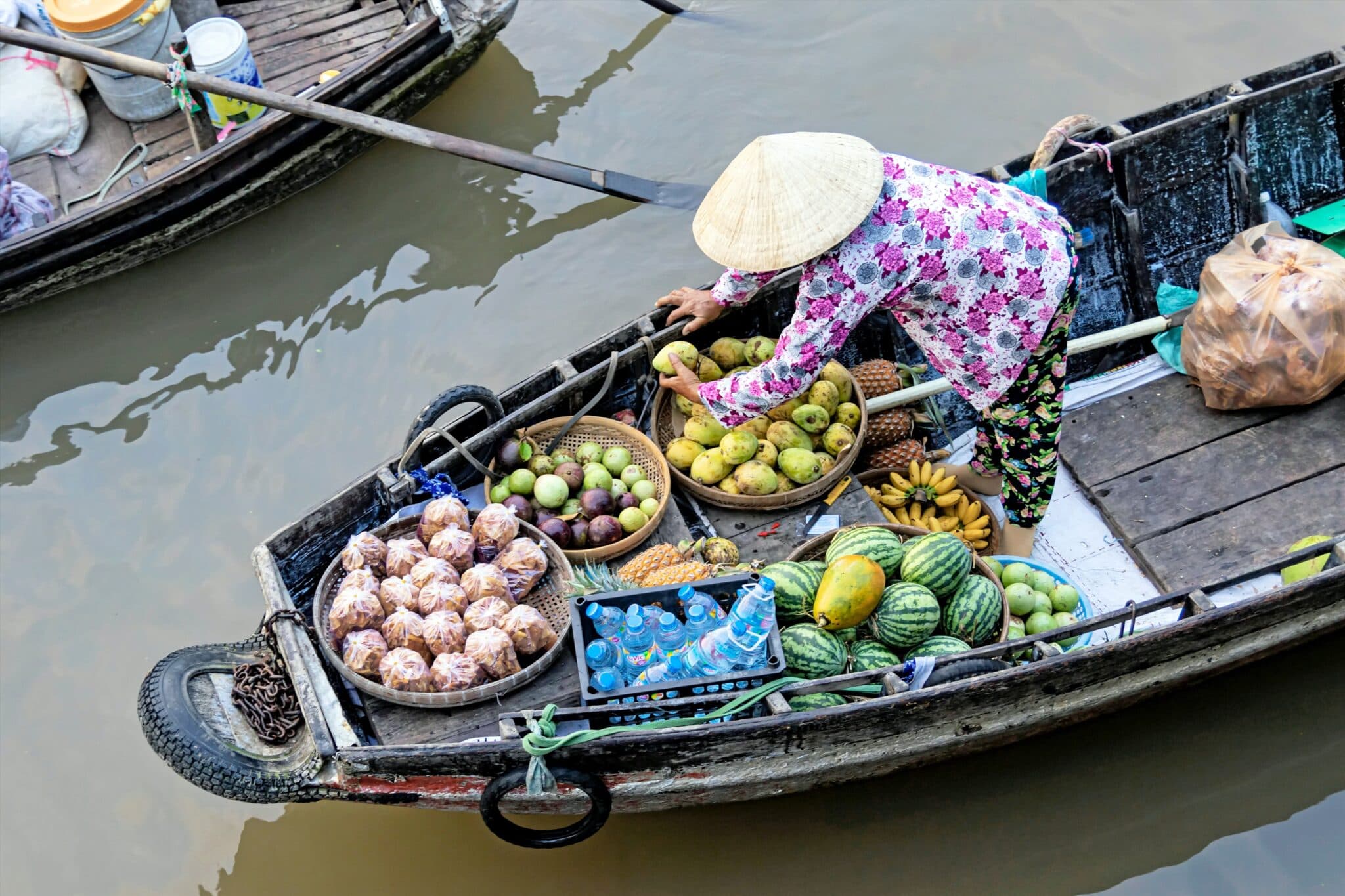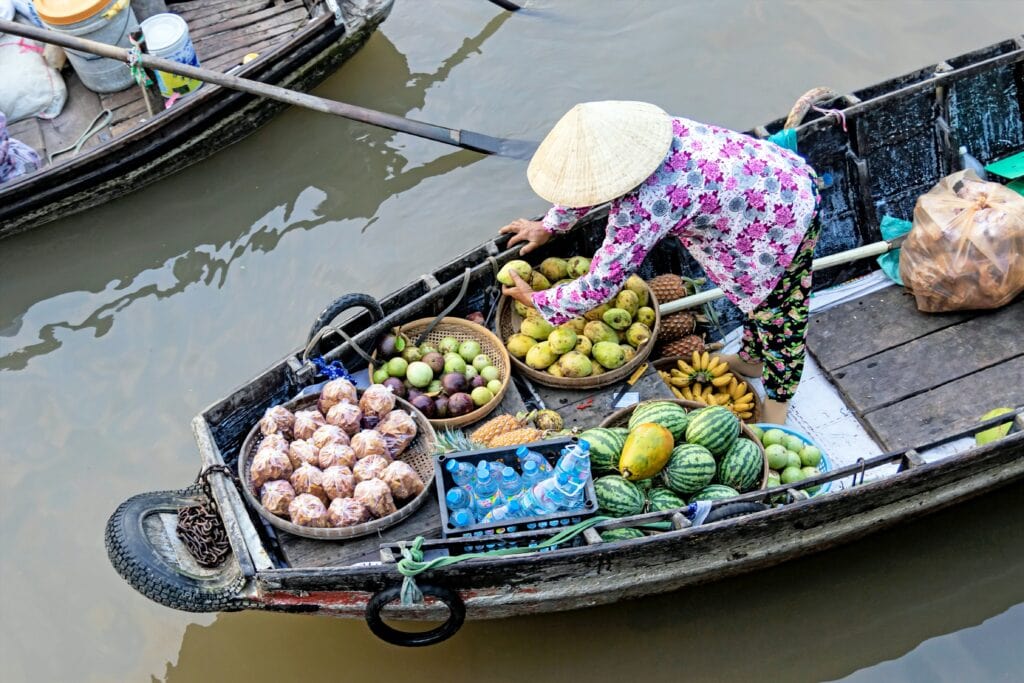 ---
Nga Nam Floating Market
For the goods most local to the delta, the Nga Nam market, near Soc Trang is an excellent choice, as it sits on an intersection of 5 rivers. Due to this, the highest volume of tradesmen and merchants is perhaps found here in the early hours of the morning. Traditional Mekong specialities are popular here, from rice to orchard fruit, fish to frogs. The Nga Nam market will reach its peak at around 5 am, so count on an early start.This is the only market that has recovered following the covid-19 shutdown and still sees considerable trade. The problem is that it is some distance from Can Tho (two hour journey) and you do ideally need to be there at 5am. There are limited hotel options closer by. However, we can arrange a day out and there is plenty more to see and enjoy in the Soc Trang region, with colourful Khmer Pagaoda's part of a rich Cambodian cultural landscape, with Theravada Buddhism still widely practiced. Talk to one of our consultants about incorporating this tour 'deep into the Delta', as part of your Vietnam holiday.
---
Long Xuyen floating market in An Giang
This floating market is about 2km from Long Xuyen City. A non-touristy destinations in An Giang Province, it's a great choice for those who prefer peace and avoiding the crowds. Long Xuyen floating market is also perfect for discovering the quintessence of the culture and people of the Mekong Delta. It's not as big as the other markets, but the serenity of this place makes it a winner for comfort and immersing yourself in local life.
Currently it has not recovered a level of trade to make it worth visiting, following the covid-19 shutdown.
---
Curious about Vietnam? Our holiday specialists are always on hand to answer any questions about the country or our Vietnam itineraries. All our holidays are entirely tailor-made, so we can truly create a holiday to suit your interests. Call today on 020 7924 7133 or email us for an inquiry.