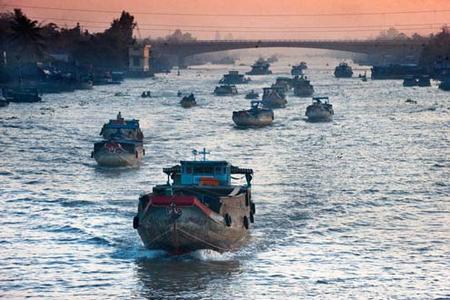 The 'rice-bowl' of Vietnam, the Mekong Delta is a rich fertile region of flat farmland interlaced with thousands of waterways and tributaries of the mighty Mekong River.
Known locally as Cuu Long, or the 'River of Nine Dragons', the Mekong splits into two reaches as it makes its final path through Vietnam before finally dissipating into the South China Sea. The river provides a lifelong flurry of activity and commerce among its waters and is interspersed with seemingly endless rice fields, colourful floating markets, isolated villages accessed only by boat, and a populace of seemingly constantly smiling people.
The region was annexed from Cambodia by the invading Vietnamese in the 17th Century. The Delta remains home to descendants of the former Khmer Empire and the region is scattered with a working collection of temples and resident Buddhists that continue to use the Khmer language as their mother tongue.
Experience Travel can arrange a tour of this beautiful and fascinating region, either by road from Ho Chi Minh or by a combination of boat and road. A great way to enter Vietnam is by boat from Phnom Penh into the heart of the Mekong Delta at Chau Doc. Please contact us for full details and a tailor made tour.
A selection of hotels, holidays and experiences in the Mekong Delta region: