In order to help you prepare for your holiday to Myanmar we have compiled advice to help answer the question – Is it safe to travel to Myanmar now?
Given the current coronavirus situation, travel to Myanmar is not possible at this time. We have put in place mechanisms to confirm that once any of our destinations open to UK travellers, we at ETG can be confident that you will be safe and able to enjoy a fantastic holiday. You can find out more about this 'Travel Ready' concept here and also discover which destinations are currently 'Travel Ready' now.
Beyond Coronavirus, you will have no doubt heard about the military-led coup with Aung San Suu Kyi and her fellow NLD (National League for Democracy) leaders put under arrest and the consequent demonstrations and violence across the country – a shocking, sad, yet not altogether unsurprising turn of events.  You can read more about our stance on travel to Myanmar and the traveller's dilemma .  Feel free to ask us any questions.
For information beyond the current coronavirus situation and coup, you can read more below.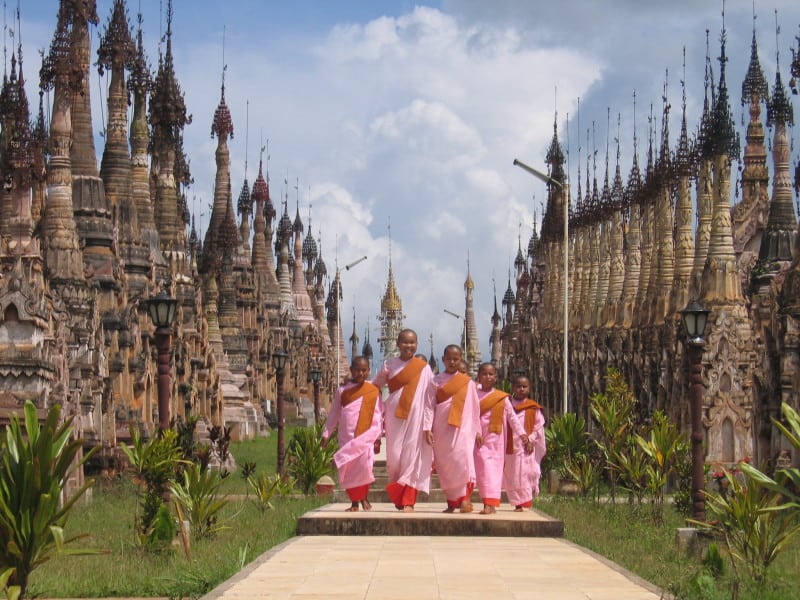 Since independence in 1948, a succession of civil wars and nearly five decades of military dictatorship have shaped Myanmar and its image in the world. Nevertheless, the iconic pagodas and temples, stunning natural beauty, rich cultural heritage and delicious cuisine have never been forgotten and still awaken our imagination.
Chances of conflict in Myanmar, if any, are specific to certain locations and administrative units within the country, and the FCO would be well aware of the potential for conflict. Consequently, Experience Travel Group would never send travellers there.
Since 1992 the government has been very supportive of opening borders to tourism, and with the election of the military-backed civilian government in 2010 this policy has now become practice. The Burmese people have expressed their clear desire to participate in the development of responsible tourism and since the general elections in 2015 have swept the National League for Democracy to power this industry continues to flourish. Aung San Suu Kyi has changed her previous position on tourism since her release and has publically stated that as long as "it was done responsibly, visitors could have a positive effect on the people and the environment".  To get up to date on the Rohingya Crisis we recommend the Council of Foreign Relations to get an update on the situation.
Although a safe country to visit, culture-specific issues should be kept in mind when visiting Myanmar. Politics and other sensitive topics should be avoided as one can unintentionally cause problems for locals. Well-meaning inquiry deserves tact and a sensible approach. Despite NLD winning the absolute majority of seats in both chambers of the national parliament, the behind the scenes power structure has not altered greatly and there are still many prisoners of conscience.
Overall, aside from the political situation, many of the same issues present in Myanmar are familiar worldwide… primarily, petty thievery. Take the necessary precautions and don't make yourself an easy target.
Objectively, travel to Myanmar is safe and a truly exotic adventure we encourage you to indulge in. Be informed and respect the local way of life. Have a wonderful experience and simultaneously contribute to the country's development.
Health:  Before travelling to Myanmar check with your GP whether you are up to date with British vaccinations required. Fit for Travel website is extremely useful to consult for the latest medical suggestions.
General safety tips
Book with a reputable tour company (like Experience Travel Group) when planning your holiday. We have on the ground emergency support and 24-hour contact lines both in the UK and Indonesia.
Subscribe to embassy updates before you leave to get the latest travel information whilst in country.
Avoid large crowds and any political demonstrations.
---
This article was last updated in February 2021.