With our specialists' expertise, we are here to help you with this decision. The following is a roundup of some of the best eco-lodges in Asia that Experience Travel Group promote. If you'd like to talk about visiting one as part of a bespoke holiday to Asia, don't hesitate to get in touch.
The best eco-lodges in Asia offer guests a much deeper insight into a destination and can make the difference between a good holiday and an unforgettable experience. From the inclusion of local communities to the design of the accommodation itself, it's the personality of the accommodation that makes your stay much more special.
In the early days, the idea of the 'eco lodge' was generally a description of the aesthetic more than any meaningful commitment to sustainability. Fast-forward several years and we're all much more informed, aware and concerned about the impact our choices can have on the environment. Now, we seek substance as well as style – and that's exactly what each of our favourite eco-lodges offer.
In terms of the kind of experience they offer, each eco-lodge has its own quirks, so it can be difficult to find the best option for your holiday. How private do you want your accommodation to be? Would you like interaction with nearby villages? Would you like a touch of luxury?

The Mudhouse, Sri Lanka
Sustainability is the core focus of The Mudhouse. Each of the uniquely designed huts is made from natural materials, there is no mains electricity in the guest area and vegetables are grown on the hotel grounds. Your own private village in the jungle, The Mudhouse offers seclusion, with plenty of outdoor activities to keep you as busy as you would like to be. Ideal for couples, families (especially kids) and small groups of friends, the hotel offers a place to connect with nature and people.

Treetops Jungle Lodge
This jungle lodge provides a wonderful way to explore Sri Lanka's largest national park, Yala, away from the crowds. It is made up of simple yet comfortable accommodations, with proper beds and waterfall-style showers, but completely immersed in the wilderness. In the dry season, it is not uncommon to spot elephants from the property. One of the most unique features of Treetops is that they train ex-poachers to become safari guides; with their intimate knowledge of the national parks, they are often able to show you the best wildlife viewing spots in lesser-visited areas.

Earth Lodge, Malaysia
In a rarely-visited pocket of northern Malaysia, you'll find Earth Lodge, an inspiring grassroots conservation project that can really enrich your Malaysia holiday. The surrounding forest is unprotected by the government, so Earth Lodge founder Hymeir took on the challenge of preserving it himself. He collates information on elephant and wildlife sightings, encourages poachers to turn protectors and spreads awareness to his guests. On a trip here you can enjoy superb hiking, caving and boat trips, and seek out elephants and hot springs in hidden jungle nooks.

Flame of the Forest, India
Just a short drive from Kanha National Park in central India lies Flame of the Forest, a small property made up of just four cottages. For nature lovers, this is a fantastic option: safaris are guided by an expert naturalist and the very accommodation is immersed in the wilderness. The lodge works closely with National Park conservationists and also runs outreach projects with local communities. Your stay here will be holistic and peaceful, marked by spotting animals and eating locally-grown meals by the campfire under the stars.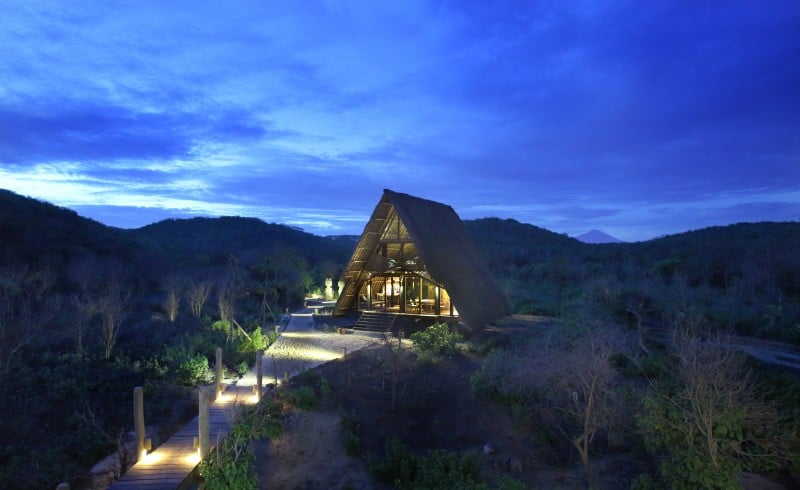 Jeeva Beloam, Indonesia
Located on a remote beach in Lombok, Jeeva Beloam is surrounded by a forest reserve with sand dunes and craggy cliffs leading up to the Timor Sea. The property was built with natural materials; rooms have an open style with high ceilings to allow for plenty of natural ventilation and there are only 2-3 hours of electricity every day in the morning and the evening. The aesthetic is simple but chic and unique, and it has a truly spectacular private beach. Jeeva Beloam suits those wanting privacy with access to lots of local outdoor activities.

Weda Resort, Indonesia
On the scarcely visited Indonesian island of Halmahera, you'll find Weda Dive Resort. Set by passionate environmentalists, Rob and Linda Sinke, this low-key resort perfectly complements the island's pristine locale. Snorkelling and diving here is exceptional: Rob and Linda are committed to following sustainable diving practices, and you can see remarkable coral and marine life without encountering another tourist whatsoever.

Nihi Sumba, Indonesia
Set in one of the most secluded spots in all of Indonesia, Nihi Sumba (previously Nihiwatu) is a true once-in-a-lifetime experience. It's home to a brilliant white beach and some of the clearest blue water you'll ever see, set against lush green jungle and earthen-style thatched-roof villas. The resort is spread across 567 acres of land, but most of this is left untouched in order to preserve the unspoiled environment. The property also takes part in some fantastic community involvement schemes, having set up the Sumba Foundation to tackle poverty on the island.

Wa Ale Island Resort, Myanmar
Wa Ale Island Resort is the first high-end resort to be built on Myanmar's outstanding Mergui Archipelago, which is made up of 800 largely uninhabited islands. Seamlessly blending luxury with a feeling of remote wilderness, guests can explore the paradise islands by speedboat or private yacht, dive and snorkel in huge coral reefs or trek n verdant hills. The resort has the official backing of the forestry department and donates a large percentage of its income to the Lampi Foundation, a project that supports marine conservation efforts and local communities.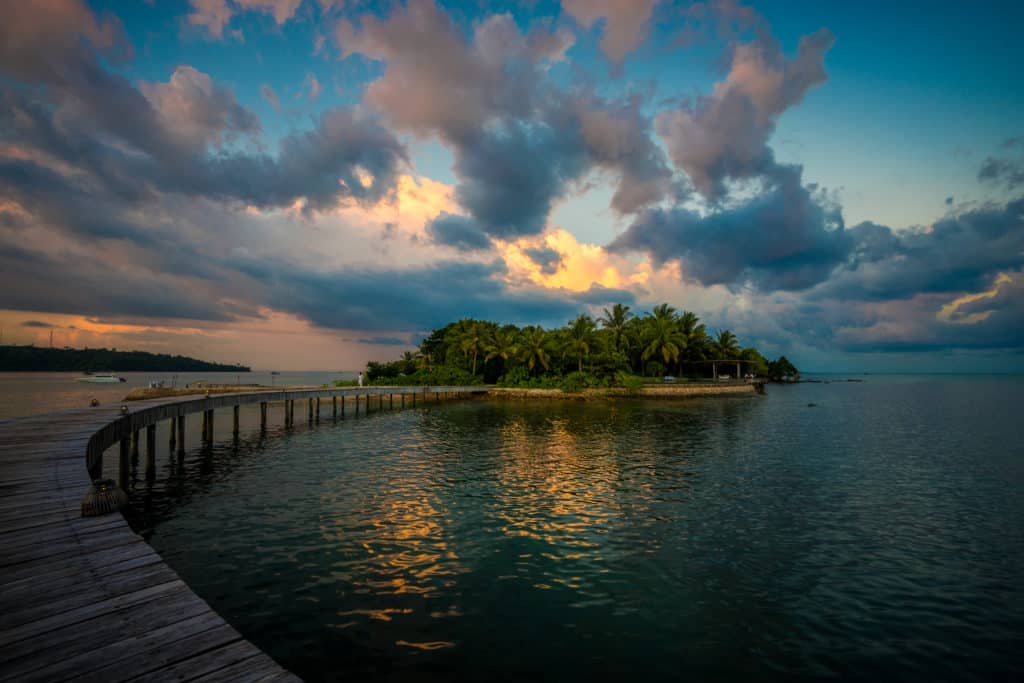 Song Saa Private Island, Cambodia
Right at the top of our list of the best eco-lodges in Asia is another intensely luxurious property with an eco-conscious edge. Song Saa was constructed with the greatest care and attention paid to preserving its natural environment. Each villa was built with sustainable materials with minimum impact on the island's ecology and local marine life. The people behind the resort have gone to great lengths to work with the local community, taking advice on local fishing techniques to avoid further damage as well as looking to employ locals where possible. This is extremely important in an environment as pristine and untouched as this.
Do you agree with our rundown of the best eco-lodges in Asia? Let us know!
Originally published in 2015. Updated February 2019.
CURIOUS?
We can add a stay in any of these lodges into your bespoke holiday to Asia.
Take a look at our suggested holidays for inspiration.
For personalised suggestions, start your journey or give us a call on 020 7924 7133 for more information.