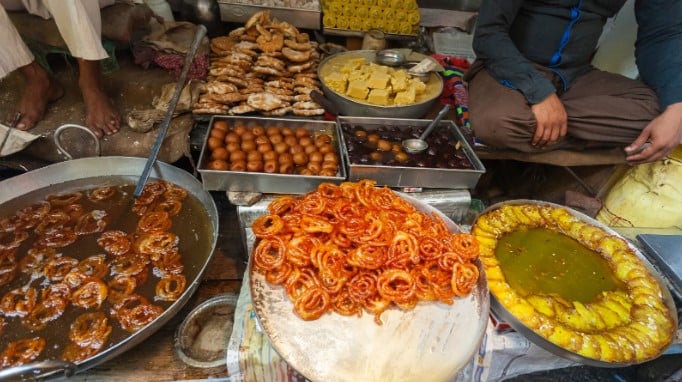 Street Food in India: 15 Delicious Dishes
If you are planning a trip to India, then trying vibrant street food should be on your bucket list. Indian food is one of the most diverse and flavour-packed cuisines in the world. With each region having its own specialities and unique flavours, street food has become an important part of the Indian culture and something travellers must experience wherever they visit. 
The choice of street food in India can feel overwhelming for the average traveller, especially with the plethora of mouth-watering dishes on offer.  You'll find yourself surrounded by so many colourful aromas and busy vendors that it can be difficult to choose exactly what to try. Here we've compiled some top tips and 15 delicious dishes that you can find at Indian markets that will leave you wanting to go back for more.
With affordable prices and a diverse selection, trying authentic Indian street food is a must; however, if you're concerned about getting unwell, read our tips to avoid 'Delhi Belly' so you can enjoy the food and your holiday safely.
Where to Find the Best Street Food in India
Street food is a huge part of India's vibrant culture, which means you can easily stumble across countless places to try something unique, no matter where you are in the country. If you are travelling around India, you may notice the cuisine and flavours differ by region, meaning each destination brings an exciting, new culinary delight.
The most popular destinations for trying street food are the major cities. Each city has a unique history which has influenced the flavours that have made it into the food and makes each cuisine different.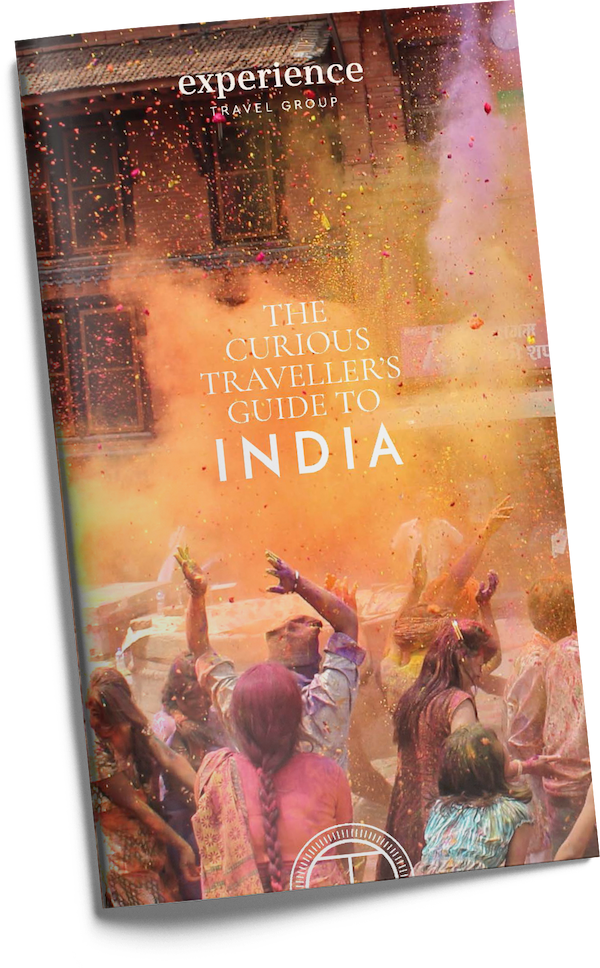 CURIOUS TRAVELLER'S GUIDE TO INDIA
Want to know more? With so much to see and do, planning a holiday to India can feel overwhelming - so our Curious Traveller's Guide to India makes it that much easier. This is our experts' edit of experiences and hotels, plus a detailed breakdown of popular regions and advice for first-time visitors.
DOWNLOAD NOW
Delhi
Delhi is known as the street food capital of the world which makes it the perfect destination for 'foodies'.  With never-ending food varieties and influences from the diverse culture of people who live here, there isn't a nook or corner of the city that won't satisfy the craving for trying something new.  To explore the food of Delhi and make it that little bit easier, take a look at our food tour of Old Delhi.
Mumbai
Known for being the city that never sleeps, there's no rush to find the best food spot. Mumbai's street food is shaped by its close proximity to the sea, offering something unique. 
Kolkata
Famous for its Bengal food and affordability, street food in Kolkata is said to be cheaper than in other major cities.
How Much Does Street Food Cost in India?
A big reason for the rise in the popularity of street food is affordability and convenience. It is very easy to grab a snack on the go, especially while exploring this incredible country. As a visitor, it can be hard to know if you're getting the right price for the food. It is important to be aware that prices differ based on the availability of ingredients, where you are and, for visitors, exchange rates. Typically, you could spend between 30 to 100 rupees (approx 30p to £1) for a dish which may include more than one piece of an item. If you are concerned about cost, then speak to different vendors to get a price or book a food tour.
15 Popular Street Food Dishes to Try in India
1. Akki Roti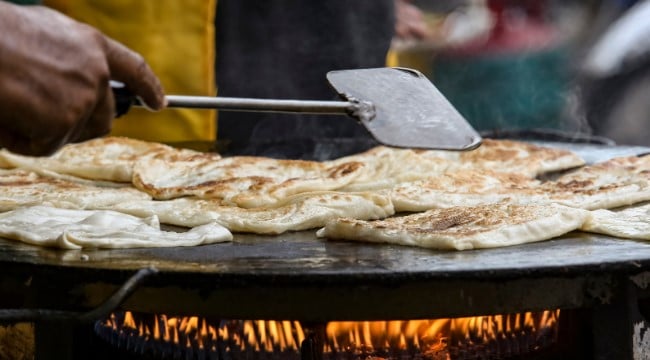 The options for bread in India are endlessly delicious, especially when freshly cooked by a street vendor. Flatbreads across the country are a staple for any meal but have you heard of the gluten-free flatbread? Akki Roti is a rice flour flatbread, typically eaten at breakfast. It is served with fresh coconut or rich tomato gravy and a dressing of onion, green chillies, tomatoes and carrots, which gives the dish a vibrant set of flavours. Akki Roti is found in the southwestern region of Karnataka.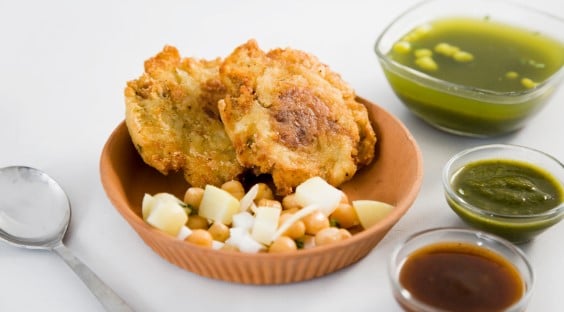 Aloo Tikki is one of the most popular street foods in India.  A potato fritter that is served hot and crispy with a selection of chutneys, yoghurt or chickpeas. Flavoured with a mix of spices, Aloo Tikki (also known as Aloo Chat) can also be stuffed to give it an extra flare. These are available across India and are a must try.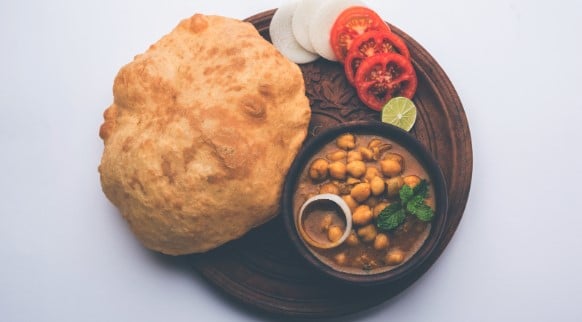 It can't be Indian street food without a spicy curry, and Chhole Bhature is a dish that offers just that. Chhole is a chickpea curry cooked with a blend of spices that give it a tangy, sweet and spicy flavour and Bhature a type of flatbread that is deep-fried until they are puffed up and turn golden brown. Together it is an irresistible combination of crunch and spice.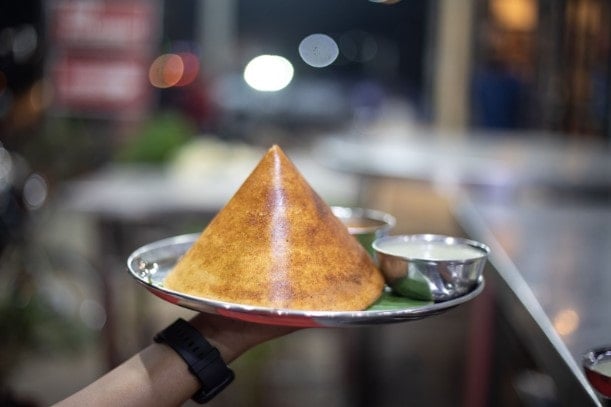 Dosa is a classic South Indian dish that satisfies all stomachs. This savoury crepe is made with a batter of rice and lentils and cooked on grilled until it's golden brown and crispy on the edges. The result is a thin and crispy pancake that is served in many ways. 
A classic serving of Dosa is with a variety of chutneys: coconut, tomato or spicy sambar. The crunchy texture makes it a perfect vessel for dipping. Another way street vendors serve this pancake-like dish is with a variety of fillings – Masala dosa is filled with spiced potato and onion.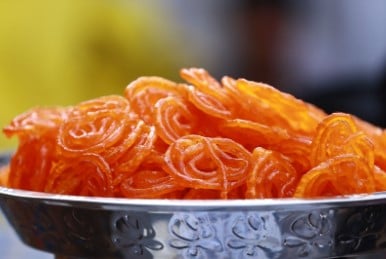 This popular sweet dish is found all over India. It's made from wheat flour that is deep-fried in circular shapes and then soaked in a bath of sugar syrup. This gives the Jabeli the combination of being both sticky and crunchy. Watching the process is part of the charm of going for street food in India and Jalebi is definitely one to watch as vendors draw shapes into the oil.
6. Kanji Vada
 Kanji Vada is a traditional North Indian dish made with fried lentil fritters (vadas) soaked in tangy and spicy mustard water (kanji). The flavours in the water are absorbed by the vadas and give a unique sour and spicy flavour. Traditionally, they are served cold as a refreshing snack on hot summer days. During Holi Festival, a variation of Kanji Vada is served with beetroot which makes the water a distinct red colour.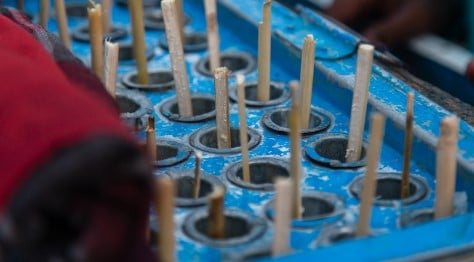 Keeping on the theme of refreshing snacks, Kulfi would be at the top of the list. This ice cream is found across the country and is one of the best things to eat on a hot and humid day. This dairy dessert is frozen with flavours like saffron and cardamoms and decorated with nuts and fruits.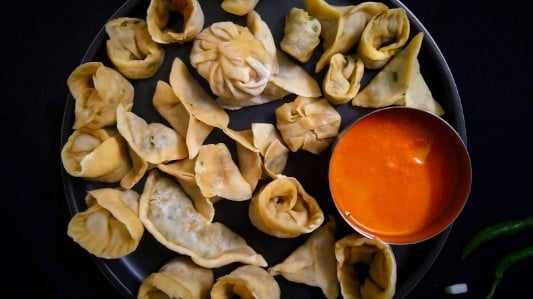 These little steamed dumplings originated in Tibet and made their way into Indian culture. It is believed that they started to pop up around the 1960s when a large number of Tibetans came to India. Since then, they've become a much-loved soul food and India found a way to adapt them and make them something of their own. Now you can find these all over the country with a huge variety of fillings.
9. Moong Dal Laddoo
Also known as Ram Laddoo, this is a sweet dish that is packed with protein. These small balls are made with ground lentils, sugar and ghee and then flavoured with cardamom, chopped nuts and raisins. They have a rich and nutty flavour that people find addictive while satisfying a sweet tooth. They also make a perfect bite between meals. Street vendors will have huge piles of small balls making it easy to spot one.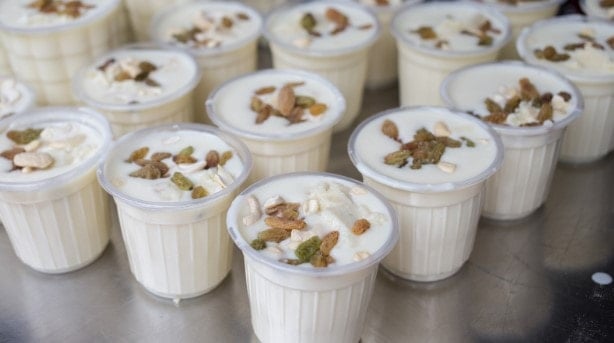 Lassi is the perfect partner for a spicy curry. This yoghurt drink has refreshing and cooling properties that balance out spice; a perfect post-curry drink. Lassi can be served plain or sweet or include spices like cardamom or cumin. No matter how your Lassi is flavoured, it will have a cold, creamy and thick texture.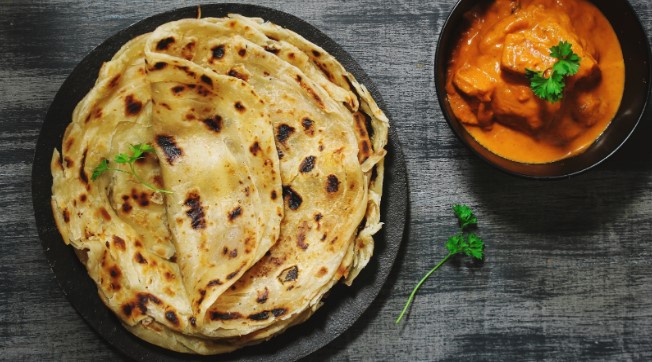 Our third flatbread found at street markets in India is not one to miss. Paratha is a crispy and chewy bread filled with ingredients like spicy potato, mixed vegetables and creamy paneer. Visitors enjoy watching the vendors take the dough and stuff it with ingredients before cooking it on a hot plate. This dish is a popular breakfast item but is a perfect snack any time of the day.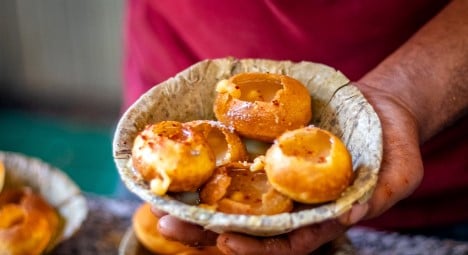 Puchkas, Gol Gappas and Pani Puri are all names for this popular food in India. The snack consists of small, crispy balls filled with a mixture of potato and chickpeas which are then dipped in a spicy and tangy mint water called pani. By dipping it in the water, the flavours mingle together before eating. This refreshing and delicious snack is increasingly popular with women in India.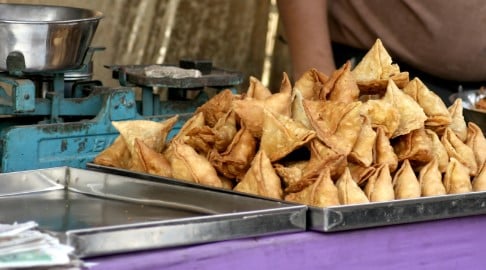 Samosas are a crispy pastry and are popular across the world. The triangle shape holds a filling of spiced potatoes, peas and onions and then deep-fried to create a crunchy exterior. Often you'll get your samosas served with a range of chutneys as it is perfect to dip.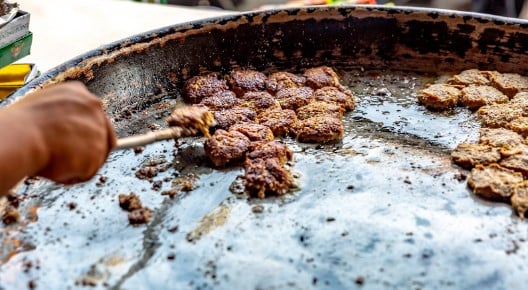 Tunday kebabs are known for their melt-in-your-mouth texture. This rich aromatic kebab is made from mutton or beef that has been finely minced and mixed with spices. To cook Tunday and enhance the flavour, it is often cooked over charcoal or grilled on a hot plate. This can make a perfect filling for bread or on its own.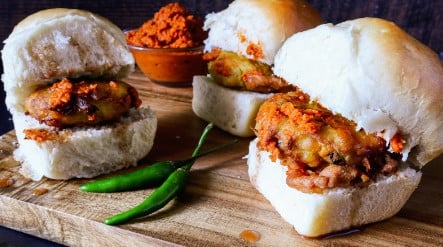 It may be the last on our list but Vada Pav should not be overlooked. This sandwich has a patty made from potato that is spiced with coriander, turmeric and cumin, before being battered and deep-fried.  It's served in a soft bread bun called 'pav'. To add further spice to this dish, it comes with a spicy chutney made from green chillies and garlic. 
Whichever part you plan to visit in India, there will be a selection of incredible local and regional food to try that we didn't have room for on our list. For support in planning a trip or booking a food guide, get in contact with us today.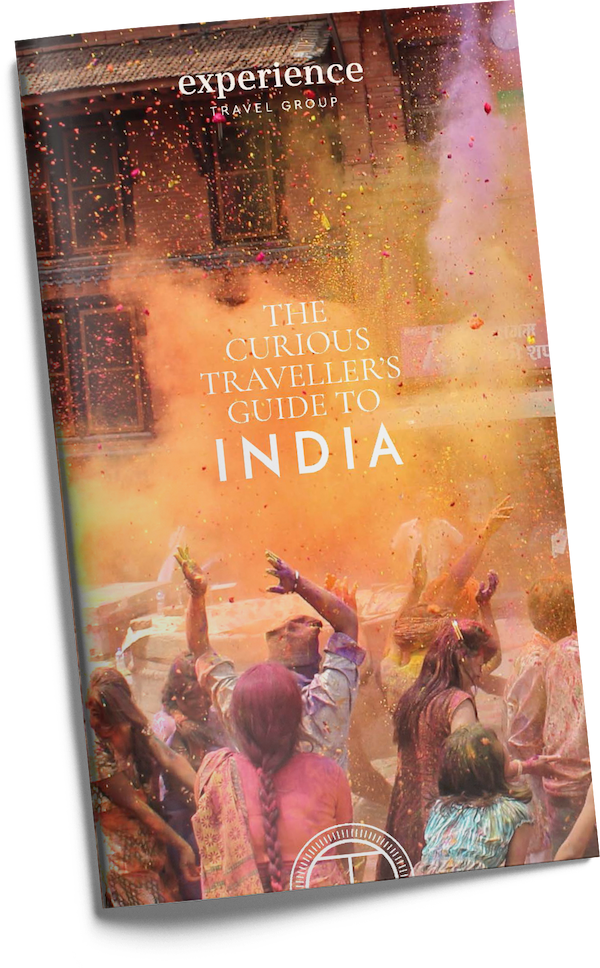 CURIOUS TRAVELLER'S GUIDE TO INDIA
Want to know more? With so much to see and do, planning a holiday to India can feel overwhelming - so our Curious Traveller's Guide to India makes it that much easier. This is our experts' edit of experiences and hotels, plus a detailed breakdown of popular regions and advice for first-time visitors.
DOWNLOAD NOW