---
Your stories
Mu explored the wild and varied nature of India's famous national parks. Spotting wild peacocks roosting at the side of the road, hearing the chattering of Nynah birds and having close encounters with determined monkeys, here she shares her experiences:
---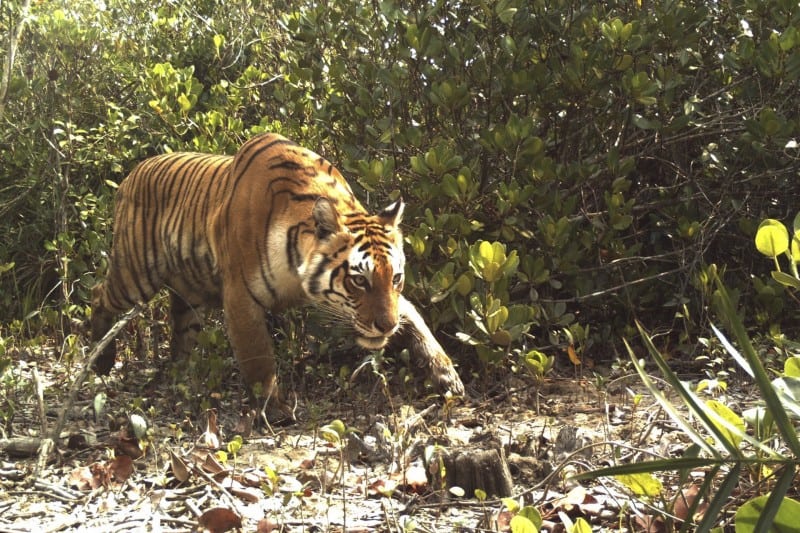 We followed tiger footprints along the dusty road and were rewarded by seeing a tiger at very close quarters ."
My husband and I were on our way to some of the most wildlife-rich national parks in India: Sunderbans UNESCO world heritage forest on the delta of the Ganges, Pench National Park (one of the most famous)  and the lesser visited Satpura National Park. Even before we got anywhere near the wildlife reserve we were amazed by the diversity of animals and birdlife in the country: the rising call of the Koel birds that woke us up in the morning, (these are opportunistic and noisy crows who will steal a whole bag of nuts or a sandwich without the bat of an eyelid), screaming flocks of bright green parakeets living high in the trees, peacocks roosting at the side of the road and the ubiquitous chattering Mynah birds. As for the animals, everywhere you looked there were painted temple elephants, carts pulled by camels or bullocks with coloured horns, and monkeys everywhere. You saw these cheeky creatures high on the rooftops or families of them sitting roadside picking each other's fleas.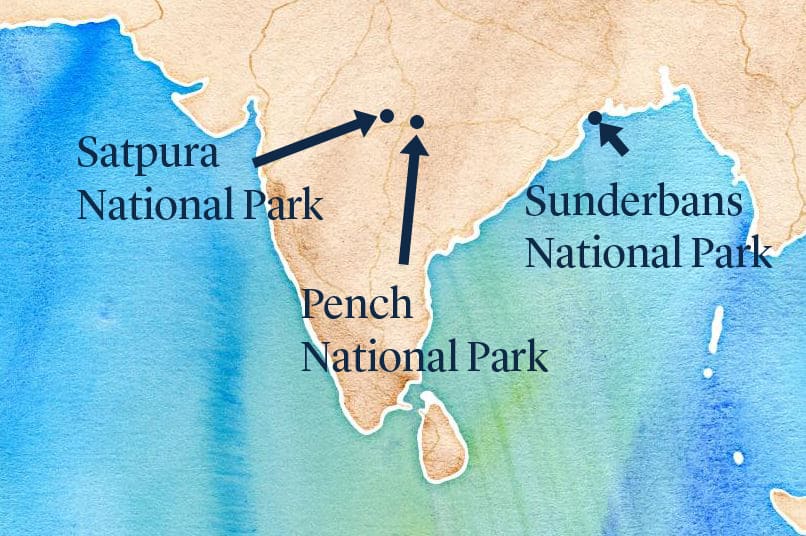 At the national parks there are a diversity of places to stay. At Sunderbans there are bungalows with beautiful bird paintings on the walls.  In contrast to the small eco-tents you find elsewhere, we were staying in a huge tent with air-conditioning, a marble floor and a luxurious bathroom.  One evening, we sat around the campfire and watched a video about man-eating Royal Bengal tigers, hoping that none would take a swim over to our camp for a midnight snack! It made the frisson of being escorted to and from your bungalow in the hours of darkness in case of leopard or tiger encounters even more tangible.
The early morning starts with a flask of "bed tea"provided on the Veranda were worth it to be the first vehicle in the park. We followed tiger footprints along the dusty road and were rewarded by seeing a tiger at very close quarters.
The next day we had breakfast by  a rocky  river valley to the accompaniment of a leopard making a characteristic sawing noise. He crossed the river behind the rocks but it was only our sharp eyed ranger who saw his tail.
Driving through the boundary area to another park, we encountered a man on a motorbike laden with a cacophony of metal pans which clunked away as he drove along. He had stopped because there was an elephant crashing about in the forest and he didn't want to be attacked. We watched quietly while the elephant made his way up the hill side to a safe distance before we continued.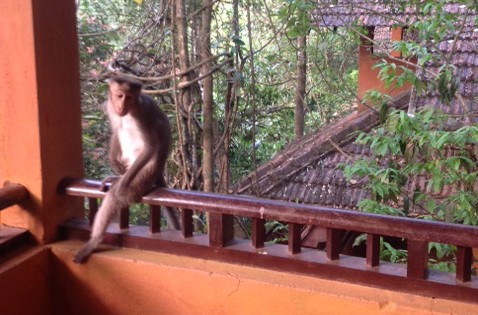 One evening we were staying in a bungalow poised on the steep Valley Side,  almost like a treehouse. I woke at dawn and went out on the balcony to listen to a Malabari thrush whistling 30 metres above me in the treetops. I returned to the room to find a monkey had crept in behind my back. My husband startled awake and made an attempt to chase him out of the room but the monkey was so determined to get back in that he bounced a chair over to the door and tried to open the handle. He looks so very sweet in the photograph but this morning mayhem was a stern reminder not to feed wild animals as it is making them increasingly brave around humans.
We have been lucky enough to also see sloth bears, Sambhar and spotted deer, different sorts of monkeys, jackals, wild dogs, crocodiles, monitor lizards and many many varieties of birds.
Perhaps now I have now paid enough national park fees to make up for my uncle shooting a tiger in the 1930s. The skin was on his lounge floor for years. How attitudes have changed!
---
Thank you to Mu for sharing her story with us! If you were interested in visiting the national parks of India, do take a look at these links:
Our wildlife holidays also showcase some of the best outdoor, animal-inspired experiences. Do have a look at them here.