Castle Bera, Rajasthan, Jawai
India, Rajasthan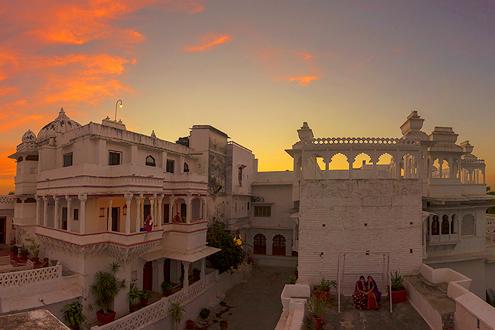 The private residence of Thakur Baljeet Singh, Castle Bera is a simple, intimate and friendly homestay close to Jawai.
A small hamlet nestled in the Aravali mountains in Rajasthan, Bera is surrounded by dams and lakes, including Jawai Dam, the largest one in the entire region. The Ranakpur Temple is a nearby day trip, and Kumbalgarh Sanctuary is less than two hours away. Bera village is lovely, but the draw card here is the surrounding countryside and wildlife: magnificent desert scenery rocky outcrops, forest plains, and unbeatable sunsets. Not to mention leopards. Bera is the gateway to Jawai, and one of the top leopard spotting locations in the region.
Castle Bera overlooks Jawai Dam and offers guests a warm welcome and an intimate homestay experience. There are only five rooms in this heritage hotel, all of them air conditioned, quite large, and tastefully decorated. The facilities are basic, and there's a sense of a faded grandeur about the place, but the atmosphere is comfortable and friendly all the same.
The service is low key but genuine, and you'll enjoy the hospitality of the owner himself while you're there. There aren't too many options in the area, so stay at Castle Bera if you don't mind the idea of friendly and comfortable simplicity in rural Rajasthan.
Homestay - What we mean by 'Homestay' is generally a large family owned house, still occupied by at least some members of the family. Interaction with guests is encouraged and is in fact unlikely to be avoided! These places always have bags of character are usually highly charming and can provide a fascinating shortcut towards understanding local life a little better. Facilities can range from the luxurious, to pretty basic and meals are generally taken as a group and served in the local style rather than from a menu. The service is almost always fairly quirky and idiosyncratic. Great fun.
Our office is open now
Why not give us a call