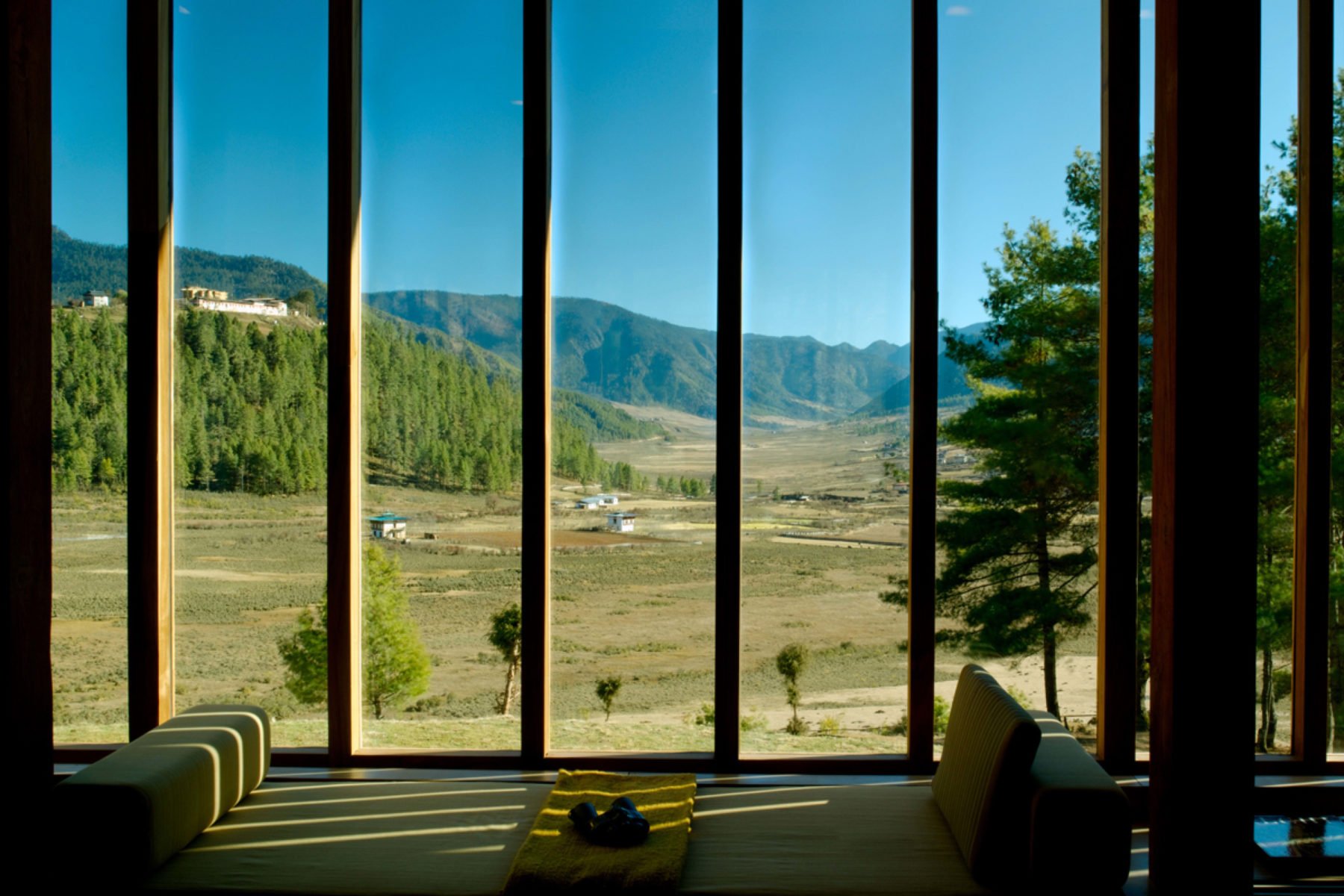 Having worked in the travel industry for over 20 years, I'm very used to the hotels in Asia. However, prior to travelling to Bhutan, all I really knew about the accommodation there was that it was home to several of the iconic Aman hotels. I was lucky enough to visit recently, alongside the Experience Travel Group in-house Bhutan specialist Sara, and part of our mission was to check out the newest and best hotels in Bhutan. In this article, I decided to share my findings on the different types of accommodation to give you a better idea of what to expect on your Bhutan holiday.
Bhutan hotels held a few surprises for me. For starters hotels in Bhutan are very cosy: they feel almost alpine with lots of wood, heated stone floors and they often have a Bukhari – a traditional kind of wood burner, sometimes in the bedroom itself. Few hotels have swimming pools but they almost always have a spa, food is predominantly western and, as opposed to the usual cold tropical arrival drink, you're often greeted with hot apple cider, as a white scarf is draped around your neck to symbolise respect, care and good wishes. Also, most have good views from the rooms – in a country like this, I would always recommend opting for a room with a view whichever level you stay in.
Another interesting thing is that there isn't much of a middle ground with hotels in Bhutan. There are a disproportionate amount of small top-level luxury resorts like Aman, a few fairly basic 2-3 stars but only a handful of 4 stars. Why? The high value, low volume tourism model brings well-needed revenue to the country whilst preserving both the environment and unique culture, two of the key pillars of the nation's Gross National Happiness Index. This accounts for the powers that be allowing several small, highly reputable, luxury hotels into the country. Building and running one of these properties definitely has its challenges and we heard a few interesting tales as we travelled. Materials, flat screen TVs, bedding – it all has a 2-day journey over the mountains from India. The wine and even the meat and fish comes across the border too (the Bhutanese do not slaughter animals). With a 2-star hotel, you can get away without the imported goods, but at 4-star level, people will expect certain frills. My suspicion is that it would, therefore, be difficult for an independent, boutique property to cover the heavy import costs and become profitable overall.
Anyway, enough pontificating about why there are few mid-range hotels! On to the actual hotels themselves….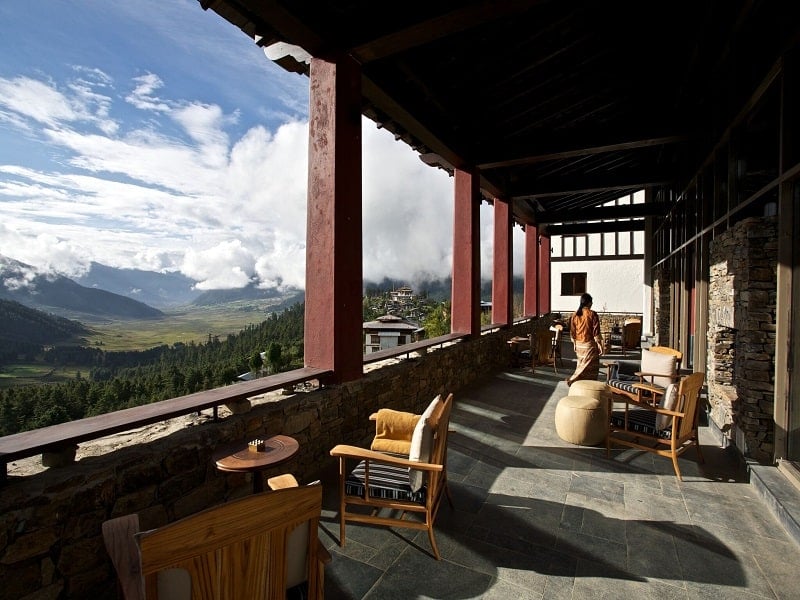 Luxury Hotels in Bhutan
Aman in Bhutan – traditional, minimalist luxury
Since I've already mentioned them, let's start with Aman. Aman has 5 hotels across Bhutan, all set in beautiful locations, all called Amankora each followed by the name of the valley (Amankora Punakha, Amankora Paro, Amankora Thimphu, Amankora Bumthang, Amankora Gangtey). Each has unique architecture, often based on a traditional style or a restored original building but the suites are the same in each Amankora. This allows guests to travel from hotel to hotel through the valleys of Bhutan each time returning to familiar top-notch suites, consistent quality facilities, superb dining and impeccable service.
Six Senses Bhutan – lavish luxury and panoramic views
Six Senses Bhutan is the new kid on the block giving Aman a run for their money. They are mid-stage of opening 5 lodges across the valleys too. We were lucky enough to see 2 of the properties in their last stage of completion. The properties are seriously awesome: lavish and hugely spacious suites with panoramic views to die for. Plus, you can expect top of the range amenities – if you ever get bored of the view you can press a button and a TV pops up out of the end of your bed.
Away from those chains, there are few other luxury properties that I loved. Gangtey Lodge was probably my favourite spot in Bhutan. You could talk about the views in Bhutan all day but they have one of the best. Nothing is allowed to be built in Gangtey Valley on account of it being the winter home of the Tibetan Black-Necked Crane, so there is nothing between the lodge and the view – not even an electricity pylon is allowed in the valley. Landscapes here are extraordinary, painted with blue pine, birch and maple trees, as well as colourful bursts of rhododendrons in the blooming season (April to July).
Another favourite at this level was Uma by Como in Punakha, where you can eat breakfast on the atmospheric terrace set above the rice fields and lush greenery of the valley. Then take a leisurely hike along the Mo Chu River (Mother River) to Punakha's famous Dzong or climb to the hilltop to reach an intricate Chorten (stupa).
*Whilst these luxury hotels are all amazing in their own right and firmly in the 5-star+ bracket, I wouldn't believe mentions of any 7-star hotel in Bhutan!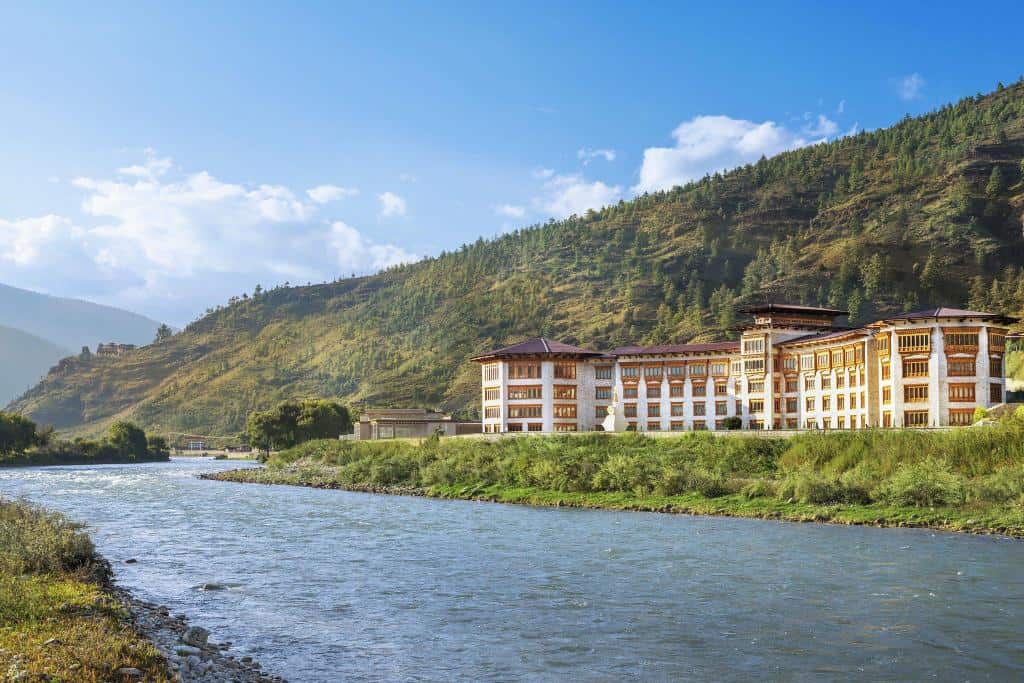 4-Star Hotels in Bhutan
As for the limited 4-star range, things do seem to be opening up a little here. I definitely got a sense that there is some kind of initiative to raise tourist numbers ever so slightly. We visited two perfectly pleasant, recently opened well-known chain hotels in Thimpu and Paro with 59 and 83 rooms respectively, enormous by Bhutan's standards but small by international standards. I got the sense that these resorts had been built to cater to groups, which are difficult to accommodate in small properties – perhaps even small Asian conference groups. Each of these was pretty good in its own way but felt much more 'could-be-anywhere' than the cosy, small feel of the luxury options. However, what these hotels did offer is a range of facilities that some people might crave on holiday, such as a swimming pool and choice of dining options.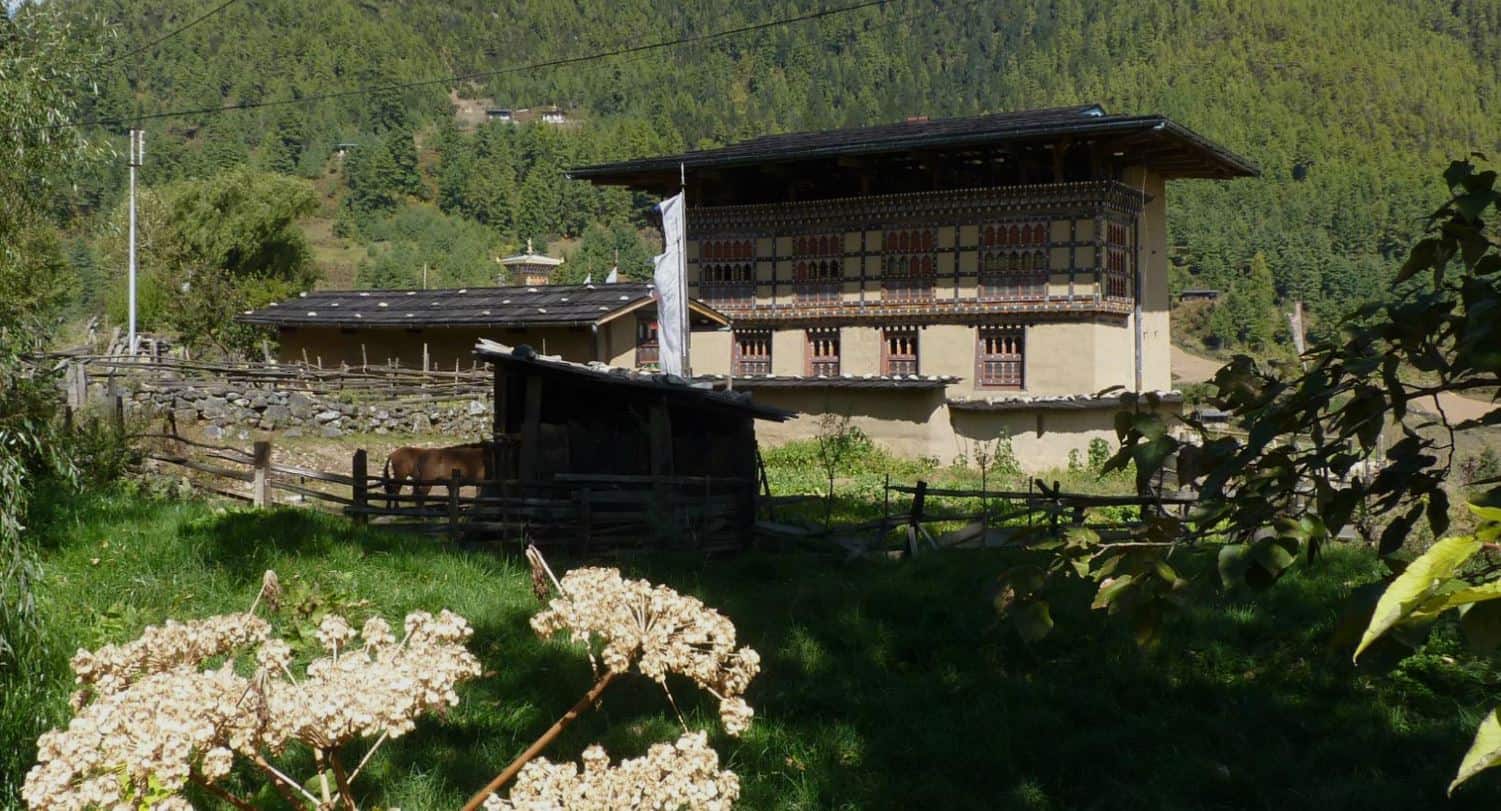 2-3 Star Hotels in Bhutan
Then onto the 2-3 star stuff. Of course, we trialled these too! Although 'star hotels' aren't the right descriptions for a lot of these great options, as you'll see.
We spent a couple of nights in the Haa Valley, staying in a local farmhouse, and we also visited their sister property in Paro. Though the farmhouses are simple, they are full of character and run by lovely hosts who will ensure you feel very welcome. One of our clients, Joanna, had this to say about her farmhouse stay:
"When we stayed in the Haa valley we were in a converted farmhouse – I wasn't quite sure how it was going to work out because, you know, the loo and the shower were sort of down the hall and I wasn't sure what the accommodation was going to be like! But the girls who ran it were absolutely delightful – it was charming because they could tell us the dining room was the old stable and so on.  And looking out of the window on the first morning, I was eye-to-eye with a chough – we were 12 inches away from each other. The birdlife was wonderful. It was one of the highlights of the holiday."
In addition, we checked out a couple of 2-3 star hotels in Gangtey and Punakha. Those who are here to trek and take in the scenery will find the options we found here perfectly adequate but they are very simple compared to the 3-star hotels I've seen in other parts of Asia. Rooms are clean, beds are comfortable, and simple traditional food is included. Our visit to Haa coincided with a dumpling festival and we were served the Bhutanese staple: chilli cheese with swede dumplings (that weren't dissimilar to a Cornish pasty!). Local beers could be purchased too. There are none of the deluxe touches like heated flooring or turn down service but some of the 3-star hotels did have a spa service and you can still get a great view at this level.
---
Curious about hotels in Bhutan?
Don't hesitate to get in touch. You can reach our Bhutan specialists on 0207 924 7133 or via an enquiry form.
Alternatively, you can take a look at our Example Bhutan holidays.