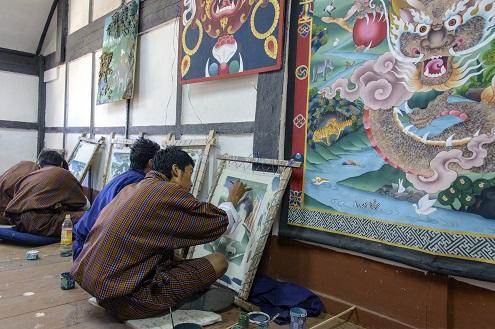 Think beyond the usual tourist tat here. Art and craft are hugely important in Bhutan and there are 13 arts and crafts that represent the spirit and identity of the country. Collectively this is known as ZorigChosum. The arts include painting, paper making, weaving and carpentry.
Thimphu is the best place in the country to see the arts in action. Watch artists at work and get inspired to try your hand at designing and painting your own Thanka (a traditional Buddhist painting).
You can also visit several organisations that seek to preserve the traditional arts and crafts and also promote contemporary talent: The Royal Textile Academy of Bhutan, the Textile Museum and the Weaving School. The museum displays the country's artefacts and rich textile traditions, while the school keeps the skill alive by training students in traditional weaving, yarn dyeing, contemporary design as well as business skills.
Finally, pay a visit to the Jungshi handmade paper factory, and see how authentic Bhutanese paper, known as Deh-sho, is made. Deh-sho paper was originally used by monasteries for woodblock and manuscripts and also for writing prayer books; now there are fabulous designs created for souvenir cards and gifts!
Map centered on The 13 Arts & Crafts of Bhutan – Thimphu. Zoom out to view other hotels (H) and experiences (E) in the area.