Heading out to Vietnam again this month and spurred on by Rick Steins recent Far Eastern Odyssey series and cookery book, I decided that this time I would pay more attention to the food and try and learn how to cook a few dishes for myself. With a bit of help from the locals, I discovered that Vietnam really is the perfect destination for food lovers and that as you travel North to South the fabulous diversity of delicious, fresh, healthy and exquisite dishes on offer is a million miles away from what you get presented in your average Vietnamese restaurant in
the UK.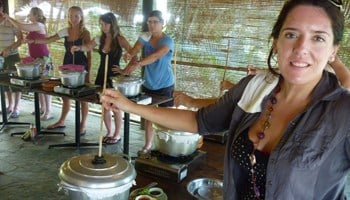 Things didn't get off to a great start as on our first day we stopped at a local restaurant to pick up supplies for the overnight train trip to Sapa and I ended up ordering what turned out to be half a dry baguette and a single foil wrapped DairlyLea cheese triangle. But this was low point in my culinary experience of Vietnam and things got much better as the trip progressed! Up in Sapa I got my first taste of Vietnams infamous beef noodle soup 'Pho', pronounced 'Far'. This is a delicious mixture of broth, noodles, bean sprouts and fresh greens originating in Northern Vietnam about 100 years ago, apparently charred onions give it its distinct flavour and its origins are in French cuisine. Not only is Pho delicious but it's a favourite of the locals so its sold on every street corner and if you have a modest budget it's a very filling meal for as little as 50p, a cool 'Hanoi' beer goes down nicely afterwards! In Sapa we also called in at 'Baguette and Chocolat', you wont lose too many pounds in Vietnam as the French left a great legacy of cakes, pastries and baguettes behind and you can sample a few here cooked by young trainee chefs.
An overnight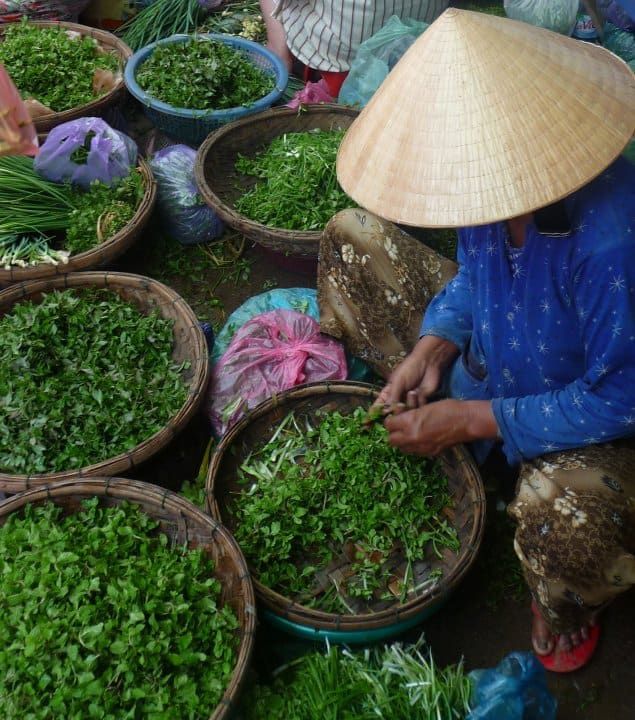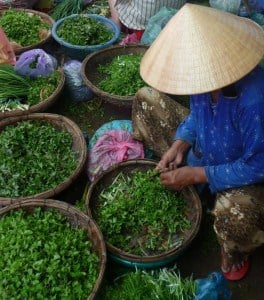 train and a short flight later and we were down in Hoi An where the temperature heated up a few degrees. The culinary adventure really kicked into gear here as we signed up for a cooking school. The day began with a fascinating walking tour of Hoi An's colourful riverside food markets with our teacher 'Susan' who taught us about the produce. The market was a photographers dream and I got quite carried away snapping and was taken back to my school days when I got told off by my teacher for not paying attention! The market is loosely divided into areas selling different products; fresh fish, meat, cooking utensils and dare I mention live chickens but fresh fruit and vegetables dominate the area and provide the colour. I got the hard sell on a pretty handy looking meat cleaver but wasn't quite sure I'd sneak that one past the customers officials so opted for a nifty little Mandoline which is now proving very useful for making Asian salads. The market is a hive of activity and locals sit amongst the produce on their little plastic chairs plying their wares and playing fast paced card games, great fun.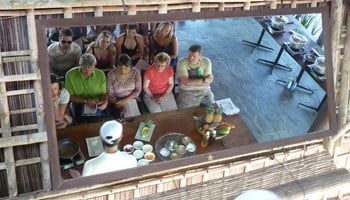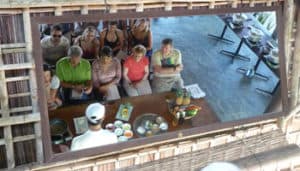 We left the market by boat and headed upstream to the Red Bridge Cooking School where we were introduced to our chef, Thanh, he was a superb chef and somewhat of a comedian with a very dry sense of humour, we learnt a lot from him but he made us laugh nearly all morning. Our first lesson was making rice paper to wrap spring rolls in, the basis of many Vietnamese dishes and a labour of love if ever I saw one. You have to soak the rice for 12 hours (that had already been down for us); then blend it with water, when that mixture is ready you boil a pan of water with a sheet of muslin over the top of it and place a ladle full of the mixture in a disc shape on top, the lid then goes on top for 2 minutes to steam the mixture. Finally, about 14 hours after you began you scrape your single piece of rice paper off the muslin with a piece of bamboo. Thanh made this look easy and the piece of rice paper he lifted off his muslin was perfect, but if you're anything like me you will end up with a jagged ball of goo! Suffice to say when I got home I went straight to my nearest Asian supermarket and bought a several packets of pre made rice paper. Anyway, once you've got your rice paper sorted out things get a bit more interesting and you can make spring rolls, since we were in Hoi An we learnt to make 'Hoi An Pancakes' a quite delicious type of spring roll. We made little omelette's but without eggs, the eggy liquid is made out of rice flour, water and turmeric which we fried in a pan with some bean sprouts, spring onions and pork. Once the 'omelette' was cooked we placed it on top of the rice paper then added some sprigs of coriander, mint and carrots on top, we then rolled this into a cylinder and chopped it into 2 pieces, et voila, perfect served with a peanut dipping sauce that we learnt to make later.
Next up we learnt to make an Aubergine Claypot Curry and whilst it was simmering we made flowers out of tomatoes and leaves out of cucumbers, the tomatoes were a bit tricky and Thanh just laughed at mine, oh well at least my cucumber was a bit more successful! Finally we made a shrimp salad displayed in a scraped out pineapple skin, a little bit 80's maybe (I imagined chopping up the discarded pineapple and putting it on cocktail sticks with cubes of cheese!) but the salad was a simple yet tasty combination of shredded cucumbers, carrots, papaya and the shrimps. By lunch time it was getting pretty hot in the kitchen so we all moved over to the riverside restaurant area and ate our dishes with a bottle of wine, all in all a fantastic way to spend a morning I would urge anyone visiting Hoi An to give it a go.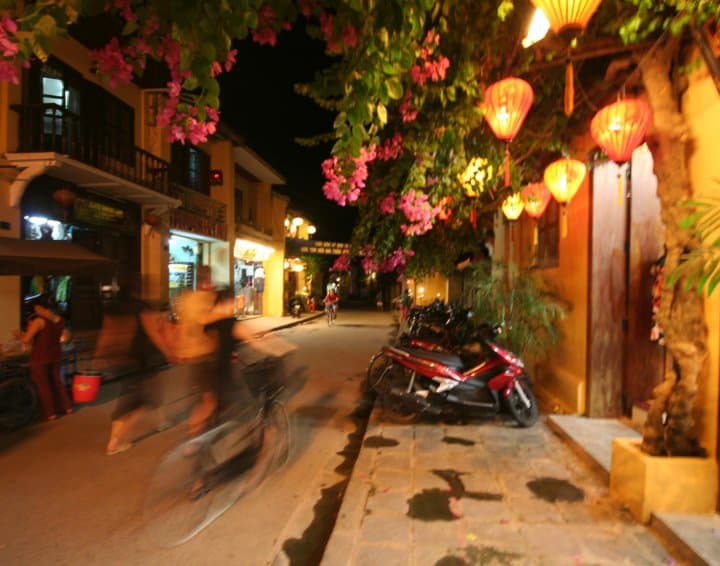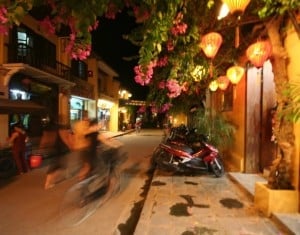 Aside from the cookery school Hoi An itself has many fantastic restaurants; in fact you can visit Red Bridge itself just as a restaurant. Likewise other restaurants in Hoi An such as 'Morning Glory' offer well respected cookery schools as well. We ate fresh red snapper at 'Cargo' over looking the river, a delicious spicy beef salad at 'Morning Glory' and at 'Mango Rooms' they specialise in fusion food so we sampled duck breast marinated in five spices served with bitter-chocolate passion fruit spicy garlic butter sauce! I didn't want to leave Hoi An not only the food is great but the picturesque lantern lit streets are quite special and did I mention the shopping or the beach? But the end of our stay in Hoi An beckoned and we headed off to the airport to check in for our flight to Saigon us and our bags weighing a few more pounds than the previous flight!
In Saigon I met up with Bich Thu who looks after all Experience Travel's clients arrangements in Vietnam, it was great to hang out with her and her friends and she took us to a local night spot where you get platters of fruit and bottles of vodka on the tables. Whilst I can't claim that the vodka was particularly healthy the elaborate fruit platters made a nice change from the average UK bar snack! Next day we met for lunch and Thu took me to Wrap and Roll. Now, I'd already noticed that the Vietnamese do like this wrap it/roll it business and at 'Wrap and Roll' they've made it their niche. You get plates of fresh greens, small dishes of things like calamari, grilled prawns on sugar cane sticks, grilled ground beef on lemongrass stalks, little bowls of chillies and nuts most importantly a big plate of our old friend rice papers. The idea is pretty simple; you wrap what you want in the paper and dip it in one of the tasty accompanying sauces. It's a great idea and I could see it catching on in the UK, my favourite dish was a combination of shrimps, pork, bean sprouts and mushrooms wrapped in a large, crispy thin crepe not dissimilar to the Hoi An Pancake. I've no idea how they made this, it was a work of art which you felt bad smashing up to put in the rice paper.
After our flying visit to Saigon the end of our trip was nigh and the final 2 days were spent on the Bassac boat in the Mekong Delta. You can read one of Tom's blogs for more about this wonderful experience in the rice bowl of Vietnam. The boat cruise is a fantastic way to see some of the less explored tributaries of the Mekong Delta with their lush riverbanks at a leisurely pace and enjoy yet more wonderful food.
The quality of the food served on board is exceptional and our evening meal consisted of Fried Spring Rolls Mekong Style, Sea bass fillet with lemon sauce, Chicken with Lemongrass followed by banana and chocolate pancakes, I had to lie down afterwards! Rick Stein travelled on this boat too and in his book he uses a couple of the Bassac chef's recipes. During the cruise we had an afternoon walk around a local village where we learnt how rice is grown and visited a farmer's house for green tea and fruits like dragonfruit and mango, the locals tend to dip the fruit in a bowl of salt before eating it, sounds strange but did work with certain fruits.
After our time in the Mekong, we had one final buffet breakfast in Saigon before heading back home, even that was exquisite, a range of about 20 different pastries and every conceivable breakfast product you could ever think of. Pastries and cakes aside, what surprised me most about the Vietnamese food in general was the abundance of greens with which dishes are generally served,. The typical meal will have plates of greens leaves, frequently there will be a plate of 'morning glory' (water spinach), and most dishes use herbs, onions, coriander, Thai basil, chillies, limes, bean sprouts, meat or prawns and a range of different dipping sauces. The food is essentially quite healthy for example coconut milk is used much less than in say Thailand or Malaysia, we mainly used water, tomatoes, garlic and lemongrass to create the curry we made. I've now been back for two weeks and I've made something from the cooking school nearly every other night, most ingredients are easily found in the average supermarket, only the rice papers eluded me but I've since found that you can pick up those up in Whole Foods which is lucky as my cooking skills stop short of that one! Vietnamese food really is up there amongst Asia's finest, there are subtle variations from region to region which reflect the cultural and agricultural diversity of this wonderful country.