Indian food enthusiast and travel expert James shares his top 5 recommended food experiences in Northern India. The restaurant curries in the UK are totally different to authentic Indian cuisine and tasting the real dishes is an enlightening experience. From mouth-watering, juicy chicken and beef kebabs – seasoned with spices – to tapas-style potato and chickpea dishes, and lightly fried pakora, there'll be something for everyone.
---
1. Kati roll & crème brûlée at Imperial Hotels 1911, Delhi
Some might say a flatbread wrap and crème brûlée is a strange combination, but let me persuade you otherwise. Kati roll is a Kolkata delicacy but they serve it across India and I had a particularly wonderful experience eating it in the 1911 restaurant in the stunning Imperial hotel.  The dish consists of freshly made circular flatbread wrapped around spiced meats or vegetables with red onion, peppers and chickpeas. It's normally served as street food and having had it in Kolkata I can attest to the flavours and atmosphere around favourite stalls, but I found the 'upmarket' version just as tasty.
The surroundings for my meal were stunning as the property has a history dating back to 1911 and the waiters dress in wonderful red military-style uniforms. Relaxing on the hotel lawns it was an idyllic moment in what can be quite a busy and overwhelming city. To finish off my meal, I had a wonderful crème brûlée. This dish doesn't usually come top of my list of desserts but it had been emphatically recommended to me by an India expert friend of mine. Safe to say it was exceptional, the best I've ever had.
---
2. Staple vegetarian food at Dera Mandawa, Jaipur
In my opinion, simple home-cooked dishes are often the best, and where better to learn how to cook Indian food than in a family home? I had a fantastic experience at Dera Mandawa homestay with Thakur Durga Singh, the friendly eccentric man of the house. He can teach you how to cook some absolutely delicious vegetarian recipes including aloo barta (Indian mashed potato), kadhi (chickpea flower cooked in butter milk), dalh, chapati (lots!), poppadoms and gavarfali ki sukhi sabzi (a bean curry). You can then eat the fruits of your labour on the beautiful dining patio of this heritage house.
3. Jalebi at Old Famous Jalebiwala, Delhi
Jalebi is a sweet snack made by deep-frying batter in spiral shapes and soaking it in delicious sugar syrup. It's decadent but ever so delicious. You can try a little on our Signature Delhi Tour, whilst exploring old Delhi by rickshaw in the evening. Stop off at Old Famous Jalebiwala, a family run eatery that's been in operation for almost 80 years. They prepare the jalebi right in front of you and just watching the cooking process is a spectacle in itself. Crispy on the outside, juicy on the inside and oozing with sweetness, jalebi can be make your fingers a little sticky, but it's certainly worth the mess.
---
4. Chicken & buffalo kebab in Lucknow
Served fresh from the grill, in bread out of the stone furnace, the kebabs in India are fast food at its best. We include a particularly good experience of it in the lesser-visited city of Lucknow, the home of Indian kebabs. Watching the cooks sitting atop of their furnaces preparing the sheermal flat breads and cooking them on the furnace roof interiors is a spectacle. The bread itself is saffron flavoured and slightly sweet, contrasting perfectly with the savoury spiced fillings.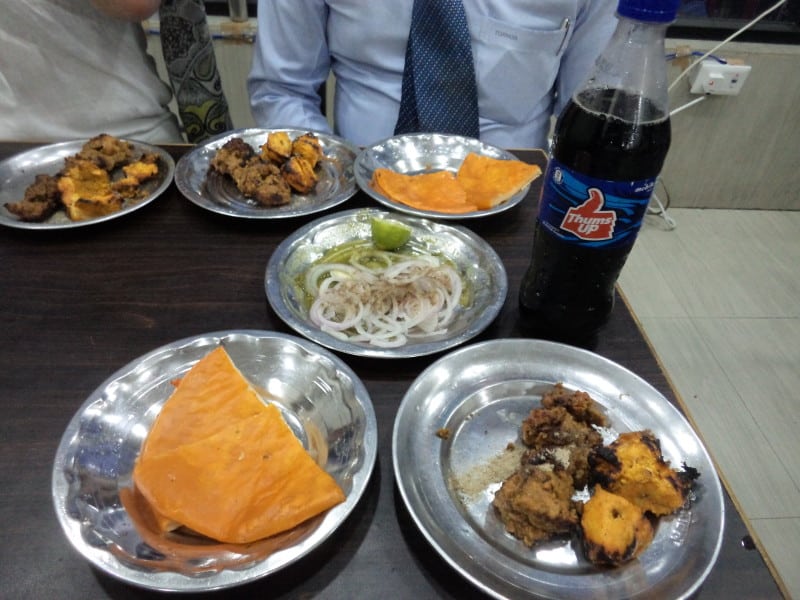 On this tour you should also try pasanda kebabs, a wonderful lamb kebab flavoured with garam masala, papaya, ginger and garlic and served with a dipping sauce. Tunday kebabs are also delicious and are said to incorporate over 160 different spiced in the minced meat. Nihari is another rather tasty stew you can try served with naan bread. You must also sample kulcha in the city – it's a type of flatbread/ naan often cooked with a filling of paneer, potatoes, vegetables or onion. Finally, I'd recommend finishing it all off with kheer, a rice pudding-like dish flavoured with cardamom, pistachios and saffron.
---
5. Fresh pakora & chai on a rooftop overlooking the pink city of Jaipur, Rajasthan
A Rajasthani delicacy, pakora is a delicious fried snack using a vegetable base such as onion or potato. I'd recommend sampling it as part of our early morning cycle tour of Jaipur; we stop off at a wonderful eatery with views into the Palace of the Winds (supposedly the only place you can get this view without being inside the palace itself!) Served with a traditional Chai it's a wonderful way to start your day.
---
If you were interested in incorporating any of these experiences in your India holiday, do get in touch on 020 3627 3086 or request a call back here. 
---