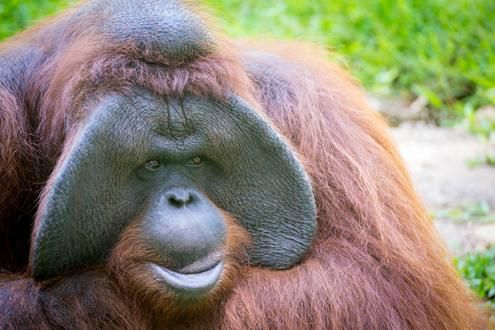 Set up in 1975, Semenggoh Wildlife Centre is an orangutan sanctuary near Kuching, Borneo. It's home not just to this ape but also honey bears, hornbills, porcupines, storks, eagles, barking deer and monkeys. Most of these animals have been rescued from captivity and are being rehabilitated and trained to fend for themselves before being released into the wild.
The Semenggoh Wildlife Centre is one of Borneo's most famous orangutan sanctuaries and is a brilliant option for travellers who do not necessarily have the time to see this creature in the wild. It's a particularly good place to visit during the non-fruiting season that runs from March until October, this is because otherwise there are lots of alternative food sources and you won't be able to see orangutans at the feeding site. Orangutans congregate for around half an hour to an hour eating together. There are two main feeding areas are designed such that you can take a good photo of the animals without disturbing them too much.
The orangutan sanctuary offers two feeding times, generally; one in the morning at around 9 am and one in the afternoon. It's a little pot luck as to whether you see the orangutans because they are free to come and go to the feeding areas as they please. This is a semi-wild environment and the animal's welfare and freedom are of the utmost concern so it's best to visit with this in mind.
All in all, the Semenggoh Wildlife Centre is regarded as a brilliant experience, letting you get close to orangutans without disturbing them too much. Have a look at our guide to spotting orangutans for further information.
Map centered on Semenggoh Wildlife Centre. Zoom out to view other hotels (H) and experiences (E) in the area.