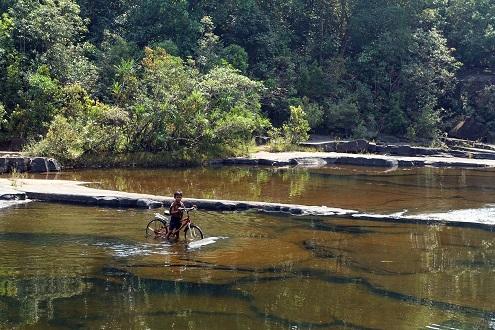 This community-based ecotourism project is based in the village of Chi Phat on the edge of the Cardamom Mountains. Visits here help to sustain the village (home to around 630 families) and provide support for wildlife conservation. It's the perfect place for adventurous travellers to enjoy trekking, cycling and an authentic local experience.
Run by the NGO Wildlife Alliance and formed by the village elders, Chi Phat is helping the community here to make a living from sustainable tourism rather than logging and animal trafficking. The region is home to many endangered species and beautiful wildlife like elephants, gibbons, deer, snakes and the most threatened of all, the pangolin. Guides were once poachers or loggers but, thanks to the program, they now take travellers on treks through the mountains instead.
Go mountain biking through the forest and village, get out on the river early in the morning to go birdwatching, spend time swimming in waterfalls or learn to cook Khmer food with the locals.
There are a variety of accommodation options, although all are fairly basic - there is no air conditioning and electricity is limited to a few hours in the morning and evening. You can stay with a family in a homestay where you can opt to have your own room but you'll be sharing facilities and a bathroom. Your hosts probably won't speak much English but their children can usually help you! For a bit more privacy stay in one of the guesthouses spread around the village. Finally, bungalows with twin or double beds and an en-suite bathroom are the most comfortable option.
Come to Chi Phat to truly appreciate Cambodia's natural beauty and wildlife, while getting to know its people. What makes it even more special is the fact that your stay here will directly benefit the community who are working hard to protect their natural surroundings. It is of course not for everyone, but the more adventurous traveller will be rewarded with a truly memorable experience.
Eco/Adventure - This category covers gorgeous lodges in the jungle, comfortable safari camps and dreamy, but simple, beach cabanas. These places defy conventional categorisation: what is communing with nature to one person may be terrifying bugs to another! Many of these places are very comfortable and the service generally of a very high level - but please read the website review carefully and/or talk to us and be sure to have understood what you are letting yourselves in for!
Map centered on Chi Phat. Zoom out to view other hotels (H) and experiences (E) in the area.