A range of mountains and lush rainforest sitting between Thailand and Cambodia, the Cardamom Mountains are home to biodiverse landscapes, wildlife and several ethnic minority groups. Cutting through the Koh Kong and Pursat provinces in the South West of the country, the area covers around 4.4 million hectares, making it the largest rainforest in Southeast Asia. The emerald land here once provided terrain for a battlefield during the Khmer Rouge's rule, but now that peace has returned, tourism is beginning to take root.
There is a vast variety of wildlife residing in the hills, marshes, mangroves and plains of the Cardamom Mountain region, such as the Asian elephant, clouded leopard, pangolin, sun bear, Siamese crocodile, gibbon and plenty of insects and reptiles. Spotting a leopard or elephant is very rare, as is the kouprey, a rare species of wild ox. Sadly, it is often difficult to see much wildlife in the park as much of it was killed during the war and continues to be poached and harmed by loggers. You do stand a good chance of seeing the pileated gibbons swinging through the trees though, as there is a healthy estimated population of around 20,000 residing in the mountains.
Download your free Cambodia Travel Guide
Sadly, this pristine wilderness is under threat from loggers and poachers, exploiting the land for its natural resources and rare wildlife. Sustainable tourism projects and companies are doing excellent work to protect the land and wildlife, like the NGO Wildlife Alliance. A stay at the Cardamom Tented Camp is a great way for you to not only support these organisations but experience the beauty of the area and learn about the work being done to protect it. Here you will stay in a comfortable, eco-friendly tent-style accommodation, spending your time kayaking along the river, meeting rangers at their station in the jungle, learning about the work they do and trekking through the jungle in the company of a forest ranger.
If it's a luxury stay you're seeking, the incredible and unique Shinta Mani Wild provides opulent tent-style accommodation set amongst the jungle and along a flowing river. The experiences and service here are top-notch. Another favourite of ours is the Four Rivers Floating Lodge, floating out on a river in a picturesque setting near the Thai border. It is the perfect location to unwind and relax, with nothing to disturb you. For an authentic village experience, you can't go past a stay at Chi Phat run by the Wildlife Alliance, which helps the local population here make a living from tourism rather than animal trafficking. Head out on guided treks to waterfalls and through the mountains, get to know the community and stay in guesthouses or a homestay.
There is a range of accommodation options available in the Cardamom Mountains to suit every type of traveller, from luxury to homestay experiences. Speak to our Cambodia experts to get a better idea of what would best suit you.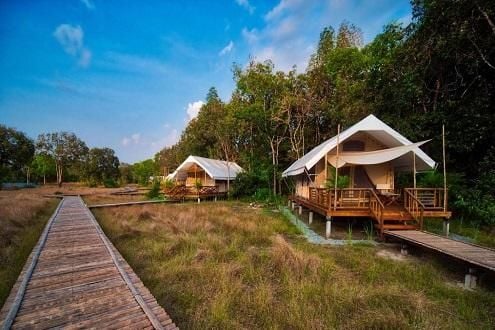 Cardamom Tented Camp, Botum Sakor National Park
9 safari-style tents in a peaceful national park with kayaking and trekking adventures available.
Shinta Mani Wild, Botum Sakor National Park
Unique tented jungle safari with incredible experiences, extensive dining and extraordinary accommodation.