The Cardamon Mountains are a range of mountains between Thailand and Cambodia with a rich variety of wildlife thriving in the moist mountain air. Just how rich is not really known accurately as research has been limited, but it is certain that there is a large variety of mammals, including the Asian Elephant and the Indochinese Tiger as well as 60 or so other endangered species.
Travel opportunities are still very limited but there is the Four Rivers Eco Lodge in a picturesque setting near the Thai border. This provides a stunning location to unwind and relax with nothing to disturb you. You can also explore the waterways and forest that surround this resort. As it is close to the Thai Border and the Thai Islands of Koh Chang and Koh Kood this is a great way to combine Cambodia's famous cultural heritage and Thailand's more remote islands.
Holidays featuring the cardamom mountains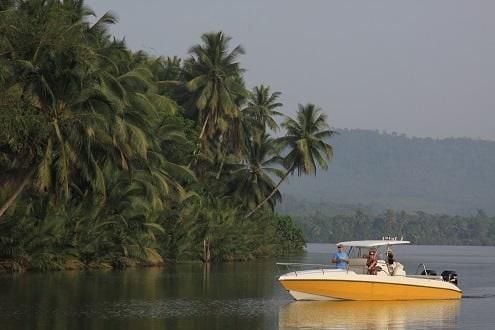 Temples, Nature and Islands
Veer off-the-beaten-track in Cambodia and Thailand; Angkor to idyllic Koh Kood island via the Cardamom Mountains.
Cambodia Explorer
Experience the Temples of Angkor, the vibrant capital Phnom Penh and veer off-the-beaten-track to discover the mountains and stay at a unique floating river lodge.