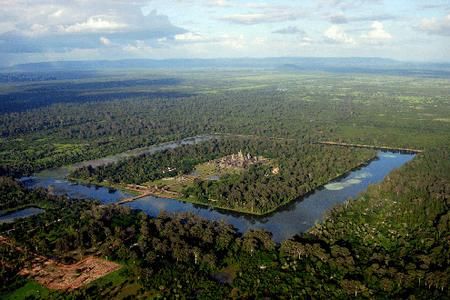 Siem Reap is the gateway to the temple complex at Angkor. Located on the northern tip of the enormous Thonle Sap Lake, the town has an airport with daily flights to Phnom Penh and other regional cities. The temples of Angkor are located seven kilometres outside the town, which has grown substantially with the re-discovery of Angkor. There are some fantastic hotels to choose from and help ensure that a visit here, however long or short, will be memorable and enchanting.
Luxury lovers will be tempted by Amansara, the new and trendy property from the Amans group. The Hotel De La Paix is an unusual and trendy hotel in the centre of town. One of our favourites is the superb Heritage Suites, a boutique hotel of exceptional standards in a quiet location. The FCC is new and has a very wide appeal with competitive rates and great facilities. A full list of our preferred properties in Siem Reap can be found here.
Just a short drive south from Siem Reap is the great Thonle Sap Lake, the largest freshwater body in South East Asia. Visit the real floating villages here.
Call us now on 020 7924 7133 or arrange a call back at a time that suits you.
Hotels in & Around Siem Reap