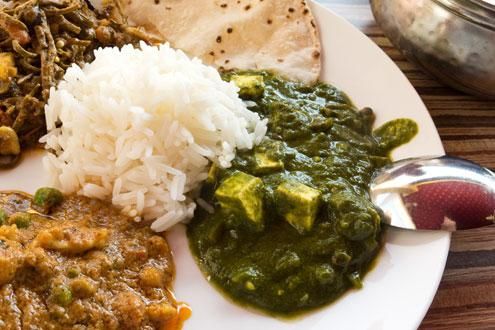 Many cooking lessons in India are nothing of the sort. They are a demonstration, where visitors watch a chef showing off his skills in finishing off a few dishes, before you sit down and eat the results. Which is all very well and good.
However, at ETG, we like to get a bit more involved than that. We like to get our hands dirty and cook. It's the only way you learn – and everyone needs those good intentions to cook up a storm on their return don't they? Even if few of us ever manage to get the ingredients together and do so…
This cooking experience is hands on. It's in a family home and its cooking done the traditional Indian way: by the mother of the house. The focus is very much on organic fresh vegetables, distinctly local style cuisine (as opposed to the more generic northern Indian style favoured by hotels) and traditional breads.
You still get to eat the results.
Map centered on 'Proper' Cooking Experience. Zoom out to view other hotels (H) and experiences (E) in the area.