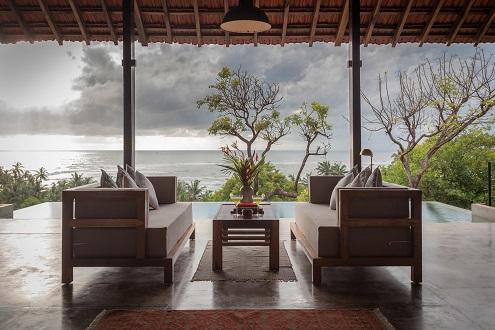 Set above the sea on a hilltop in Maharashtra, these luxury villas provide spacious and private accommodation in this remote coastal region. The incredible views, personalised service and quiet, intimate setting are ideal for those seeking luxury in a truly off the beaten track location.
Designed to be an inclusive barefoot retreat, materials used to build the property have all been sourced from within 50km of the area. From the great (but as yet relatively unknown) diving and snorkelling closeby and turtle population on Bhogwe beach to cultural experiences with local tribes and the opportunity to see there are a variety of activities available outside your villa to give you a real insight into local life. If you're looking to simply relax, some of India's most rugged and quiet beaches are nearby, while each villa is fitted with a private infinity pool looking out to the ocean. Dining options are flexible and food is made from fresh, local ingredients served in your villa as there is no restaurant on site - your meals are included in the price as well.
There are just 4 villas set amongst tropical gardens, making for a perfect place to retreat, relax and watch the amazing sunsets from. They are comprised of two large bedrooms facing out to the sea and an outdoor and indoor living area. Everything you could need is available inside your villa, from the infinity pool to a bar in the living pavilion and self-service kitchen.
It must be noted that the property is not on the beach, but just 100 metres or so away. In all, those looking for luxury accommodation near the beach yet away from the busier beaches of Goa, Coco Shambhala Sindhudurg is a truly unique option, which does mean it doesn't come cheap.
The property also works fantastically as an addition to inland Goa and/or Karnataka and, at just two and a half hours from Goa airport, it can act as a luxury end to any India adventure.
Luxury - Luxury hotels would have a superb level of service, very comfortable and usually spacious bedrooms, excellent food, great design and character. For us, when we visited, these places all had the 'wow factor'. A luxury hotel should satisfy the criteria of the most discerning clients.