Explore West Lombok, Indonesia
West Lombok is the island's most populated and developed area and, compared with South Lombok and the rest of the island, has a whole range of attractions on offer and a great deal going on. Home to the island's capital, with shops, restaurants, beautiful beaches, local villages and fascinating religious sites, there is no shortage of discoveries to make on your Indonesian holiday adventure.
Mataram, West Lombok
The most popular part of West Lombok, and indeed the entire island, is the capital, Mataram, a busy city composed of several distinct districts. Rich in contrasts, a trip to Mataram can include exploring the bustling Chakranegara commercial shopping area, with its many branded stores, or learning more about Lombok's historical and religious heritage at the city's many temples and mosques.
TOP RECOMMENDATION:
Dedicated to Mount Agung, Pura Gunung Agung and Pura Gunung Baleku are two of the city's ancient Hindu temples. They are both located near the Monkey Forest or 'Taman Narmada', known for its 'youth fountain', an important place of worship for Indonesia's Hindu population.
Authentic West Lombok
West Lombok is not only worth visiting because it's home to Lombok's capital city. While Mataram is unmissable, there are plenty of things to get up to outside the city. The island's rural areas offer a wonderful way to uncover the fabric of the island's village life. Discover the ancient Indonesian Sasak culture and visit the traditional Wetu Telu mosques, unique to the island.
TOP RECOMMENDATION:
Sasak Villages in West Lombok
Authentic Sasak villages can be visited on a day trip from Mataram and are considered one of the best things to do in West Lombok to embrace the local way of life.
Many villages in West Lombok produce pottery with particular patterns and designs unique to the village where the object was crafted. Banyumulek village in West Lombok is one of the leading pottery centres on the island and is one of the best places to observe "turun temurun", the traditional making process.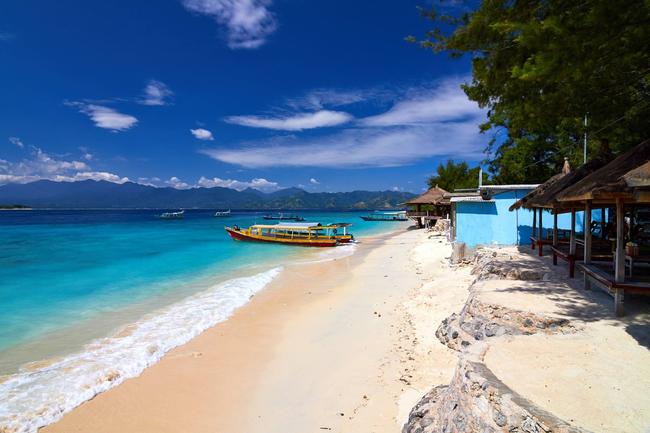 West Lombok Beaches
Lombok is known for its many pristine beaches lined with coconut palms. You can find beautiful beaches in Senggigi Bay, located on the way to the Gili Islands. We also love the quieter Sire beach, a perfect white-sand beach offering stunning views over Mt. Rinjani and the Gili islands.
West Lombok Resorts
ETG are experts at finding what we consider to be the 'right' balance in a resort, where you can enjoy luxurious comfort while also feeling connected to the pulse and culture of the country. Our selection of resorts in West Lombok includes properties that offer just the right atmosphere for relaxation after experiencing all the Indonesian island has to offer.
The perfect base to explore surrounding forests, waterfalls, temples and tropical beaches, Senggigi is dotted with luxury boutique hotels, spas and fine dining restaurants. While staying on Sire beach, you can enjoy the peace of a secluded, luxury property yet remain at a short distance from the area's best diving spots.
Bali & Lombok Holiday Ideas: