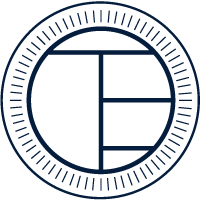 The Maldives has much to offer, but stress relief, luxury and unbelievable scenery come as standard. With the Indian Ocean idyll of crystal clear waters, white sands and unique tropical architecture, the word 'paradise' is truly justified. But, with over 150 resorts, choice paralysis is an understatement. Discover ETG's definitive guide to planning a holiday to this magical destination now.
WHAT IS A HOLIDAY TO THE MALDIVES LIKE?
1192 tiny islands formed by garlands of small sandy coral islands dotted around 26 atolls, the Maldives is like nowhere else on earth. Even though the white-sands, palm trees and top-notch resorts mean that it is the epitome of a paradise beach holiday location, the extraordinary geography ensures that the whole experience is incomparable to other destinations. You never forget that moment when you step off the plane and witness the endless turquoise panoramas all around you.
One of the most unique aspects of The Maldives is how each resort commands a small island to itself. Some islands are near to the airport, others are over a hundred miles away, some have terrific "house" reefs on the doorstep, some don't. Beyond the resort islands, there are many local islands you can visit too. So, when planning a trip, beyond the usual considerations of the best time to travel and how to plan your time, choosing the right island resort or combination of islands to visit, is especially important.
On this page we will talk about how to plan a trip, what there is to do in the Maldives, when to go and how best to choose where to stay.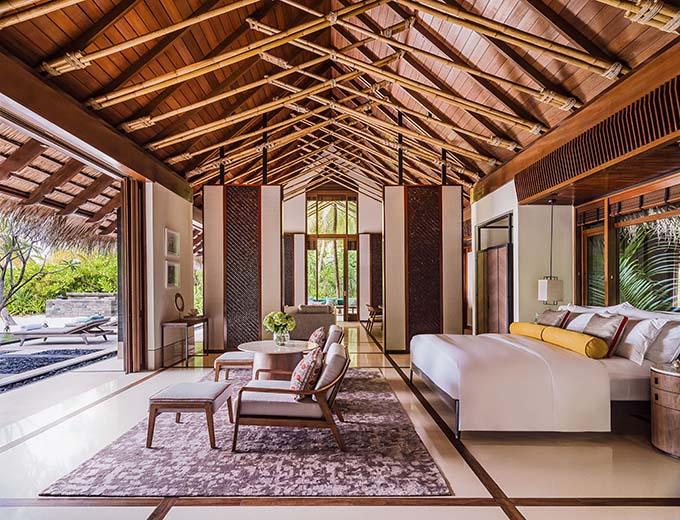 One and Only Reethi Rah
Indoor & Outdoor Living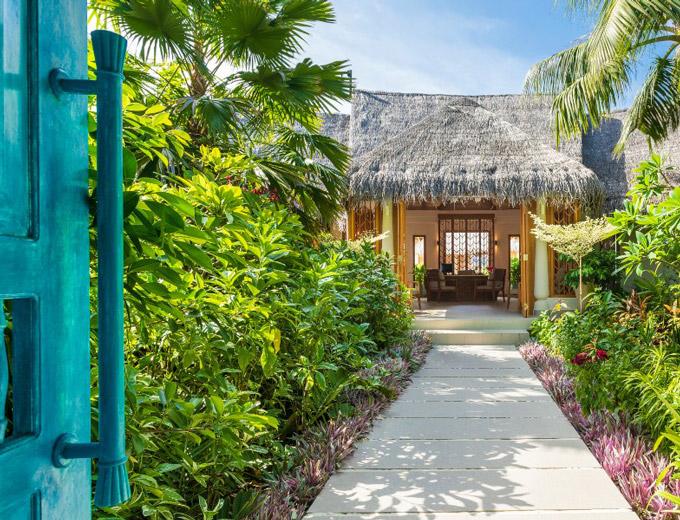 Open your doors to paradise
The epitome of relaxation at Milaidhoo
WHEN IS THE BEST TIME TO GO ON HOLIDAY TO THE MALDIVES?
Since it's on the equator, the temperature is warm year-round, and the climate is usually dry. This makes the Maldives a year-round destination which gives you some flexibility when planning when to go.
January to April is the optimum time to visit, with minimal rain, brilliant blue skies, and temperatures around 29C. The sea will be clear and calm. May- September is monsoon season but this should not completely put you off going and it's the best time to get a good deal. Humidity and rain do increase over these months, but as the islands are low-lying, rain clouds blow over very quickly so rain will usually be short-lived. There will be fewer travellers and excellent "low season" offers so you may find the utmost peace as well as a great value Maldives experience. The weather usually settles down again in October. Expect long days of brilliant sunshine and temperatures in the high 20°Cs - low 30°Cs. Visiting the Maldives in December can make for a brilliant Christmas holiday - though do be warned, this is a popular time to travel, so it's worth booking early.
Our Maldives weather and festival guide can be used to help plan month by month as well.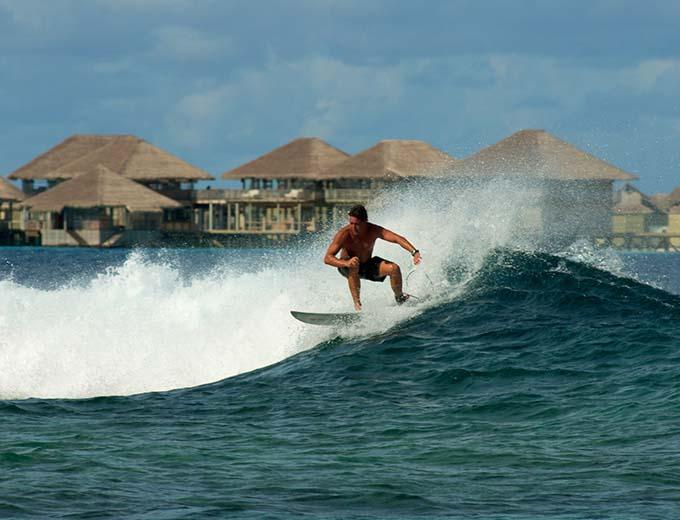 HOW LONG SHOULD I GO TO THE MALDIVES FOR?
The Maldives works well for a week-long holiday although 10 days to 2 weeks is ideal. It also works brilliantly as a 3–5-day bolt-on to a longer holiday in Sri Lanka which is only 1 hour away by plane.
If you're visiting after Sri Lanka or staying for a week, we would recommend sticking to one resort. With 2 weeks to spare, we would recommend splitting the stay between two separate contrasting resorts or mixing up the holiday with some time on a local island. Some people stay in The Maldives for a month or longer and if you have the time, the inclination, and the budget then we say why not?!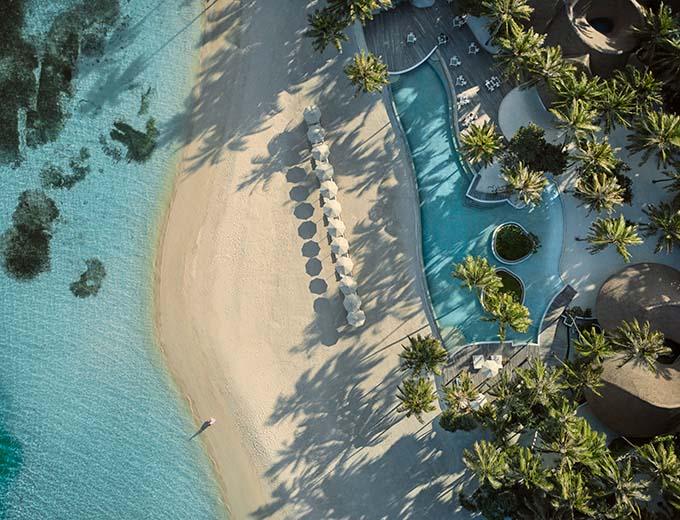 WHAT IS THERE TO DO IN THE MALDIVES, WILL I GET BORED?
Of course, the Maldives is a wonderful place to just relax and unwind, but it's surprisingly difficult to get bored. Even the most active members of our team swear that they never get bored in The Maldives.
The ocean is a big draw of course and many activities are based in or on it! Most Maldives resorts have a dive or water sports centre usually equipped with Hobie Cats, paddleboards, kayaks, and snorkelling gear to use off the beach. They all offer a range of boat trips further afield be it for dolphin-watching, fishing, or diving. Most good resorts also have educational projects and coral regeneration programmes that guests can and should get involved in. Beyond the water – most resorts have a good range of gym equipment and sports facilities; some bigger islands even have facilities like tennis courts.
Each resort will have a choice of interesting and inventive activities on land too, from cinemas under the stars to astronomy experiences there will always be something going on if you want to get involved. Most resorts offer day trips to neighbouring locally inhabited islands where you can get a feel for day-to-day life outside a resort. Visiting one is a fantastic way to get a taste of Maldivian life, food and culture and really worth trying.
CAN I VISIT THE MALDIVES NOW?
There is no reason that you shouldn't visit the Maldives as soon as you like. There is no visa required for most nationalities and minimal entry formalities. We can help you find availability on one of the many beautiful resorts or even a hotel on a local island. Our website is a good source of information, with plenty about where you can travel in Asia right now and the requirements of each country.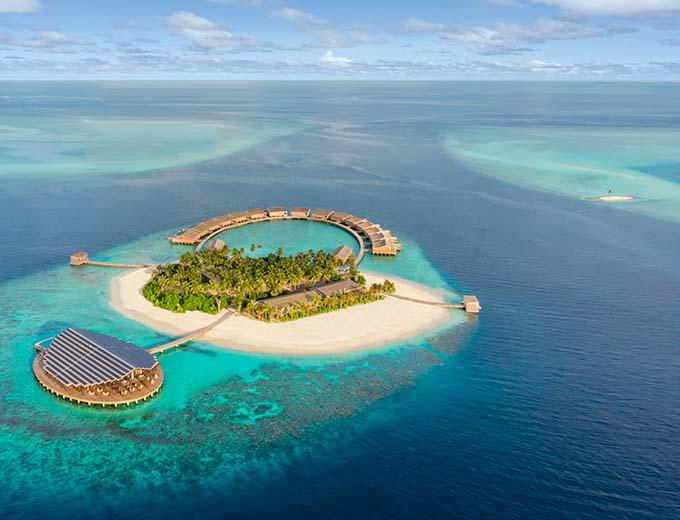 IS THE MALDIVES EXPENSIVE?
When planning a Maldives holiday, price can be a huge factor in your decisions. The Maldives is an expensive holiday destination compared to some others. The complex organisation involved in offering a top-class holiday experience in such a remote location inevitably comes at a cost. The logistics are mind-blowing when you think about them; nearly everything needs to be imported and well planned. You can't just pop to Waitrose when you run out of something!
However, most of the cost comes upfront and can be controlled, you'll be aware of what you're likely to spend at the planning stage. This is especially true if you book all-inclusive. On an all-inclusive plan, you probably won't need to spend anything at all during your stay. Not all properties offer an all-inclusive plan though, especially at the higher end where dining experiences are highly tailored. More on meal plans, how they work and what might suit you below.
Despite the higher-than-average costs, a trip to The Maldives is a unique and rewarding experience that most people remember forever and think is worth every penny paid.
ETG's featured Hotels
WHAT TO PACK FOR A MALDIVES TRIP?
When considering what to pack in the Maldives, it's important to consider how hot it will be during your Maldives holiday. If in the heights of summer, you should be careful not to forget adequate sun cream and proper sun protection for exploring or swimming during the day. The Maldives is a great place to snorkel, with stunning clear water and incredible coral on display. For this reason, consider investing in some reef-friendly sun cream to explore the reefs without risk of damaging them. It's also an excellent idea to bring along some sort of underwater or waterproof camera to capture your snorkelling experiences. Some resorts charge for gear hire when it comes to snorkelling, so if you want to avoid this you should make some room in your case for your own snorkelling equipment.
HOW DO YOU GET AROUND THE MALDIVES? SEAPLANE, SPEEDBOAT, DOMESTIC FLIGHT?
A hotel transfer could sound like the least appealing element of a holiday, but in the Maldives, it's a highlight. Since every resort is on its own island, your journey will be by speedboat or seaplane, both of which are boarded just outside the international arrival hall. Speedboats tend to serve the resorts that are closest to the international airport and seaplanes serve those further away. Some far-flung resorts (like The Park Hyatt Hadahaa) are reached by taking a domestic flight to a large local island where you'll board a speedboat to your resort island.
Seaplanes are usually operated by Trans-Maldivian Airways who have a fleet of 44 de Havilland Canada DHC-6 Twin Otter planes that criss-cross the islands, each with about 18 seats. Domestic flights are with Maldivian who operate a small fleet of larger jet and propeller planes. Speedboats are typically owned and operated by whichever resort you are staying at.
You will feel like you're living the high life whichever option your resort provides. On a seaplane journey, you'll have a bird's-eye view of the extraordinary atoll formations whilst on a speedboat journey, you'll feel whisked away as you zoom across the magnificent turquoise panorama in the open air.
Although it's unlikely to be a deal-breaker, the mode of transfer required to get you to your resort is worth considering when making a choice on which resort to stay at. Speedboat transfers are cheaper and a little more flexible around your international arrival, operating day, and night. Domestic flights and seaplanes cost a little more, do not operate at night and have an upper limit on baggage but you'll be able to access most remote, far-flung islands and take in those awesome aerial views.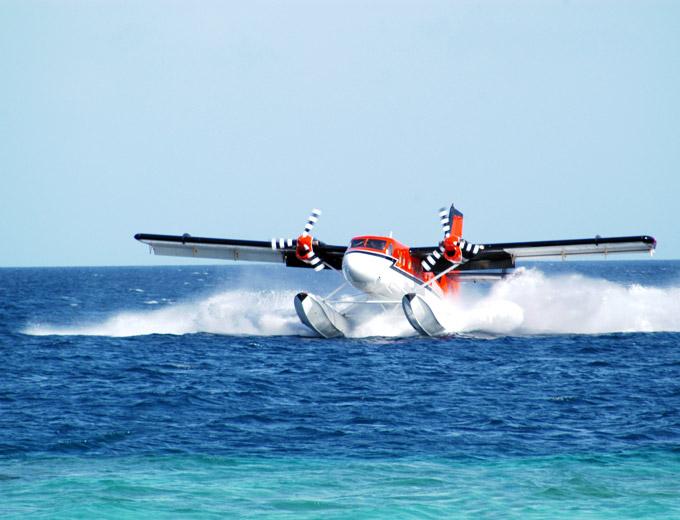 Arriving by Seaplane
Bucket list travel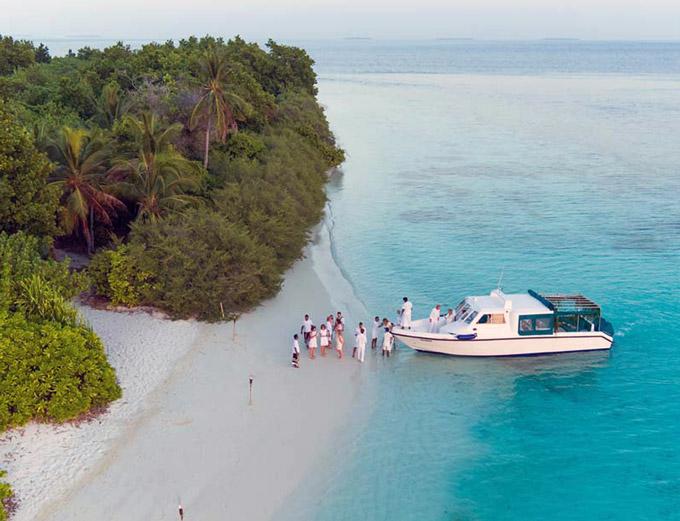 Speed to your resort
Picture postcard paradise at Soneva Fushi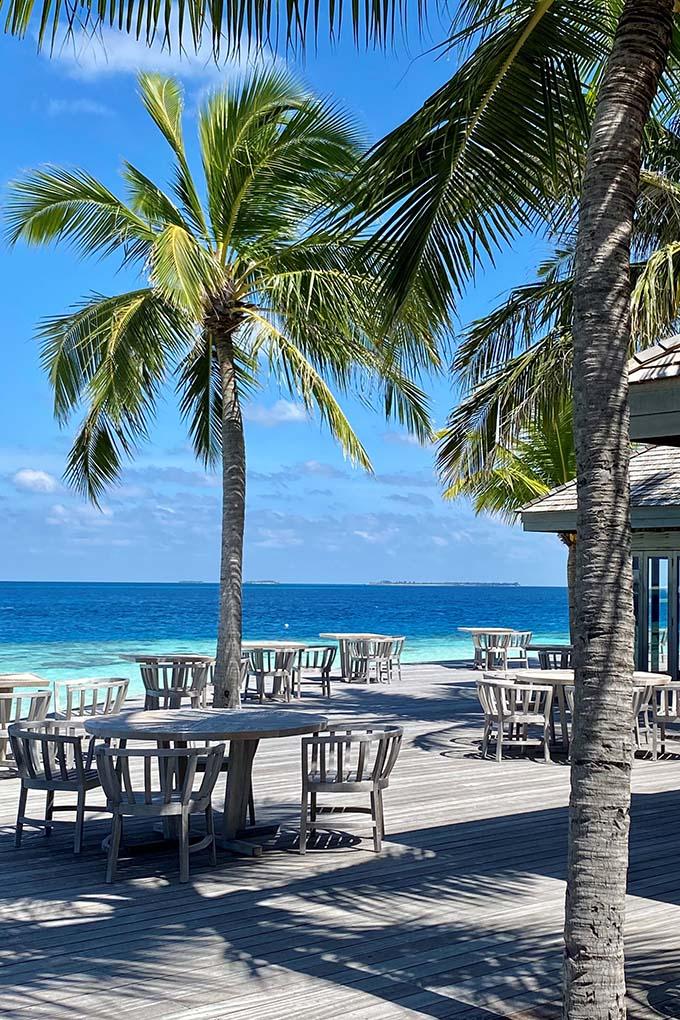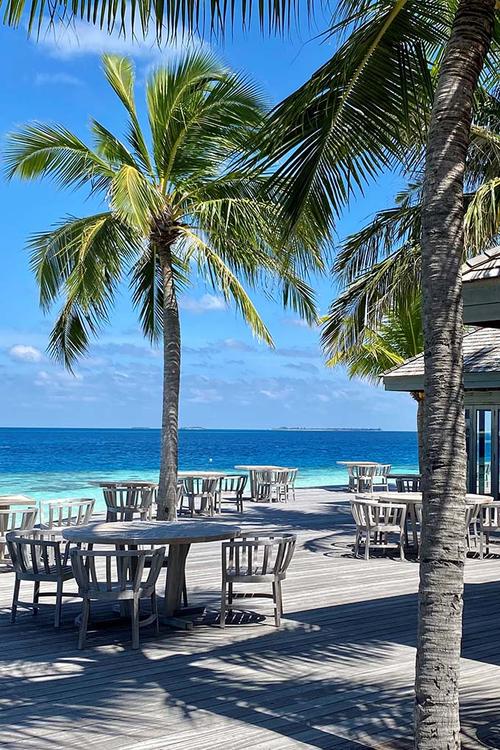 WHAT IS A SEAPLANE JOURNEY LIKE
& HOW DOES IT WORK?
If you have a seaplane transfer, you'll be whisked from the international arrival's hall to a departure lounge. Some high-end luxury resorts have their own dedicated departure lounges where you can complete resort and room check-in. Seaplanes come and go like buses in The Maldives, so you'll rarely have to wait long to be up in the air again - the entire process is swift and good fun.
Once you're on board, you'll take off quickly. The seaplane can be quite noisy, but you'll be given earplugs for the journey. These planes fly at a low altitude below the clouds, so you'll always get magnificent views. Sometimes the seaplane will be transporting people to a couple of different resorts, so you might drop people off at an island in a nearby atoll before reaching your own; journeys are usually short, though, and this doesn't tend to feel inconvenient. When you reach your resort, you'll land at a jetty offshore, where you'll be greeted by resort staff and transferred by boat or golf buggy to your room or villa.
Melissa, Head of Product wrote an article on her experience of flying on a seaplane for the first time.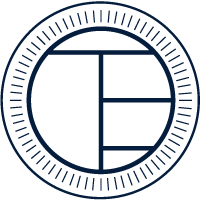 WHAT SIZE OF "RESORT" ISLAND SHOULD I STAY ON IN THE MALDIVES?
It is important to weigh up several factors when choosing your resort and the size of the island is an important one to think about.
Compared to other destinations you might have visited; the Maldivian islands are small. You'll probably bypass the capital island Male but even that is only 8sqkm – interestingly with 250,000 residents, it is also one of the most densely populated capitals in the world. As for resort islands, the smallest is only 300 metres long whilst the largest covers about 1.5km of land. Some resorts extend out as far as 5km or so though as they often create a larger total footprint by extending and fanning out over the water. For example, the original part of Soneva Jani Resort was built entirely over water - an amazing sight and an impressive feat of engineering.
But what is it like staying on a small island versus a medium or large island? There are numerous pros and cons that are worth considering.
Small Islands
Unsuprisingly, on the smallest of islands, there will be fewer people. The smaller islands usually offer more privacy and a highly elevated level of personalised service. And of course, you get that true desert island feel. These sorts of islands are wonderful for couples or honeymooners. There will be a smaller choice of restaurants and activities and these resorts might be too small and quiet for some people, especially for families but they are incredibly special for the right guests. Some small islands that we highly recommend are Milaidhoo, Constance Moofushi and Baros all of which have between 50 and 100 rooms or villas. Geographically Baros is a little bigger but still retains the feel of a small island.
Medium-sized Islands
Medium-sized islands usually have 100-200 rooms, a nice balance of facilities and activities, and serve as a good all-round option. Some of the privacy and personal touches of the smaller islands might be lost but generally, they're a safe bet. Examples of good medium-sized islands include Lily Beach, Finolhu and Joali. Joali only has 75 villas, but they are big, and it doesn't feel small at all.
Larger Islands
The larger islands are great for people who like a good choice of room options and dining choices and are better for those who like to be sociable. They are a good option for families too with a wider range of things to do and places for kids to explore. Often on these islands, you will be allocated your own bicycle for the duration of your stay - cycling to breakfast is a lovely way to start the day in The Maldives.
Some large resorts have up to 400 rooms although the large five-star resorts tend to be geographically large with a relatively low villa count across a large island – there will be a higher staff-to-guest ratio so the service will still feel highly personalised, and the activities and entertainment will be well thought through and of high quality. You might even find activities being run by well-known chefs or famous sports stars. At lower standard large resorts there will be too many rooms to retain a truly personal touch and there is a risk of the dining feeling a little canteen-style with entertainment being more prescribed. These resorts can come in cheaper so are a good option on a lower budget.
Some great 5-star large islands include Soneva Fushi, Amilla Fushi and The One and Only Reethi Rah where the service, dining and entertainment are always top-notch.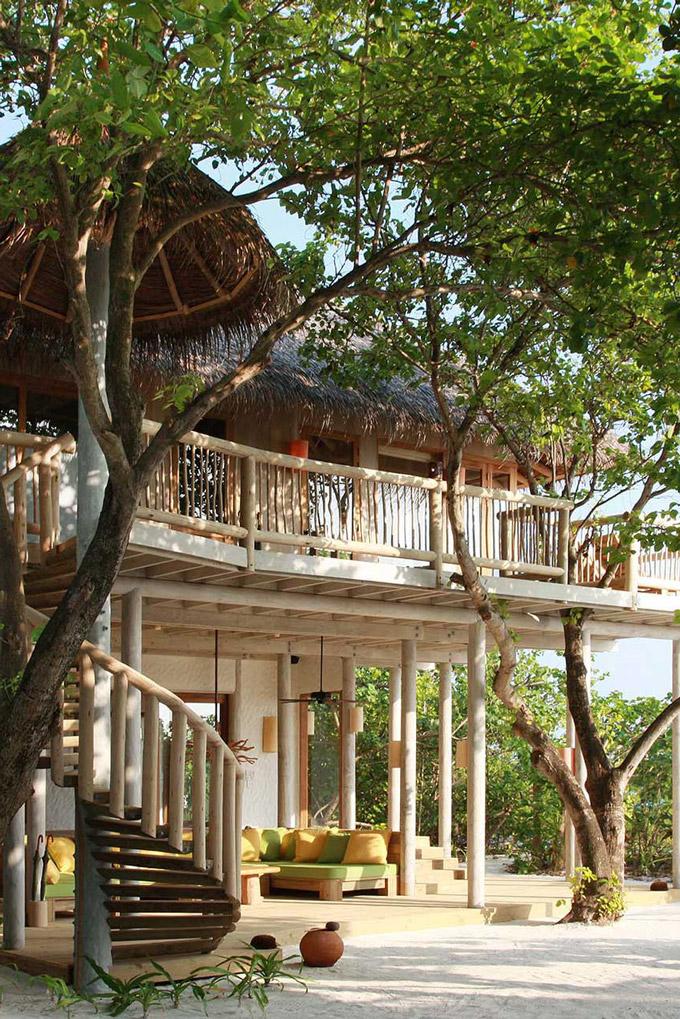 Laidback luxury
Beach Villa at Soneva Fushi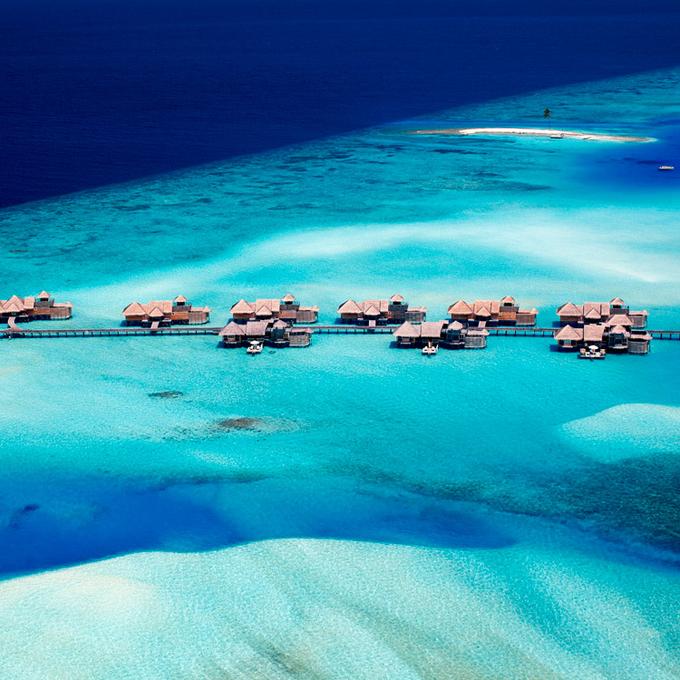 Gili Lankanfushi Lagoon
Overwater Villa only resort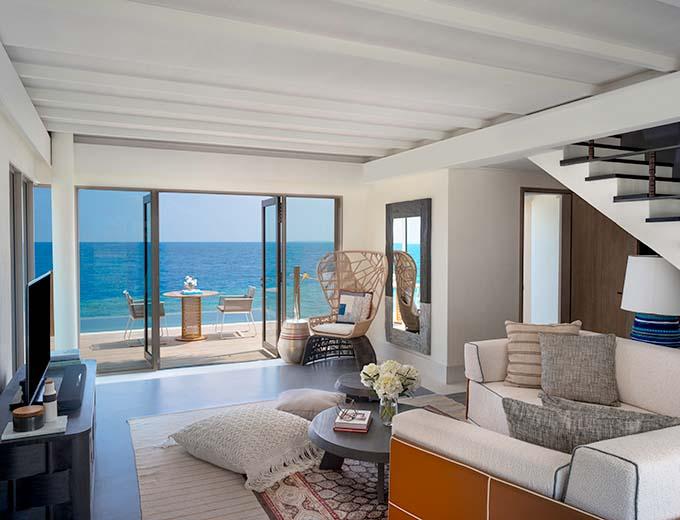 Luxury Lagoon villa
The Intercontinental offers hybrid beach-water villa rooms
WHICH ROOM TYPE SHOULD I GO FOR? BEACH, LAGOON, WATER VILLA?
When planning a trip to the Maldives, many people are drawn to the idea of staying in an overwater villa. If budget is no issue, then there is no doubt that this is a wonderful thing to do. Suspended directly over the water and often with windows set in the floor to see the turquoise water and fish below, or with steps - sometimes even your own slide - directly into the sea, these villas are dreamy. There are a couple of things to bear in mind though. Overwater villas are usually further away from the main resort facilities than land villas – more peaceful but further to walk. Additionally in an overwater villa, you will be able to hear lapping water as you go to sleep which could be soothing or annoying depending on how you sleep! Since they're out on the water some overwater villas lack total privacy, for example, you might see the occasional boat or paddleboarder glide by. Overall, though, staying in an overwater villa is a special experience.
We think the best approach is to weigh up the pros and cons of the entire resort rather than getting too fixed on staying in an overwater villa. Overwater villas often come at a premium, especially those with a sunset view, and we wouldn't always recommend downgrading your choice of resort so that your budget can stretch to an overwater villa. You'll usually have a better experience all around if you stay on land in a better resort than downgrade to a lesser resort simply to stretch to an overwater villa.
For some visitors, walking out directly onto the beach from a "beach villa" will be preferable to staying in an overwater villa. Additionally, some resorts now offer "lagoon villas" - where the villa itself is on land but has steps directly into the sea. It's also worth noting that some resorts such as Gili Lankanfushi only have overwater villas.
IS THE STYLE AND VIBE SOMETHING I SHOULD CONSIDER?
Since each of the 160 or so resorts is its own private island, each operates as a world in itself and so it will either have been created and designed with a distinctive style quite deliberately or one will have emerged organically over the years. Some resorts are quite vibrant and playful (Finolhu), some are really paired back and might feel more Robinson-Crusoe style (Makanudu). Others are glitzier and guests often get dressed up for dinner in the evening (One and Only Reethi Rah).
Joali and Soneva Fushi are both high-end resorts in a similar price bracket but they have a very different design style which should be evident just by looking at their images. We always recommend thinking back at other hotel experiences you've enjoyed to try and find a good match.
It would be too long-winded to name each resort here but to give you a rough idea of how the style might feel overall -
Design-led – Cheval Blanc, Veela, One and Only Reethi Rah, Joali
Barefoot Luxury – Gili Lankanfushi, Six Senses, Soneva Fushi
Polished international Style – Intercontinental, JW Marriot, St Regis, Waldorf Astoria
Buzzy – Four Seasons Landa, Six Senses Laamu, Constance Moofushi
Wellness Led – The Como's, Joali Being
The vibe is harder to bottle and can sometimes be swayed by the main nationality of guests, how formal or informal the service is, the type of entertainment on offer and whether guests are more likely to be seeking privacy or a sociable scene. At some resorts, you might find everyone has gone back to their room by 9 pm, whereas others might have a bar or DJ scene. Service might be extremely personalised at some smaller resorts but it will be more formal in others.
Some resorts have quite a significant client mix from all areas of the globe but not all nationalities travel in the same season. Some resorts might be dominated by Asian, Middle Eastern, European or a specific demographic of tourists at different times of the year. It can change the whole atmosphere of your holiday if the resort is 90% one nationality and 10% others so this is something to bear in mind.
Trendier resorts are known to fly in DJ's and musicians for the night, especially ones closer to Male and this is fantastic is you want more of a scene at night (it's still the Maldives – so it's nothing wild!). Places like Finolhu have in-house circus acts which are brilliant fun, and often have people dancing into the early hours. It's a great way to meet other guests and have a bit of a laugh if you want to let your hair down.
A number of islands are a little more traditional and stick to a tried and tested formula that they might have honed elsewhere in the world – we mean this in a good way. Vakkaru, the Anantara's, Four Seasons Kuda Huraa and Dhigali are quite laid back, with lovely service, a wide selection of food choices with the odd bit of entertainment - the best way to describe these is as top quality allrounders.
As we alluded to when talking about the size of the islands, some lower standard large resorts can feel a bit more could-be-anywhere. Essentially you do usually sacrifice something in style, vibe and service in a very large, lower-end resort but for some people, this will be acceptable to enjoy the wonderful experience of being in The Maldives.
Use our expertly crafted hotel picker to choose hotel options in the Maldives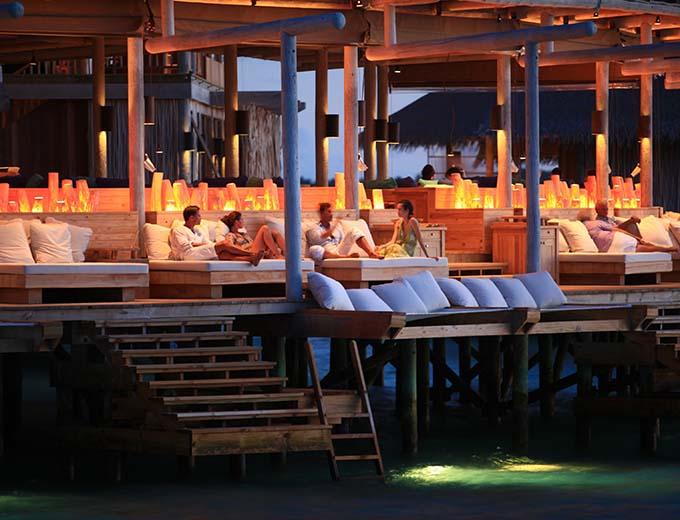 Laid back vibes
Sunset DJ at Six Senses Laamu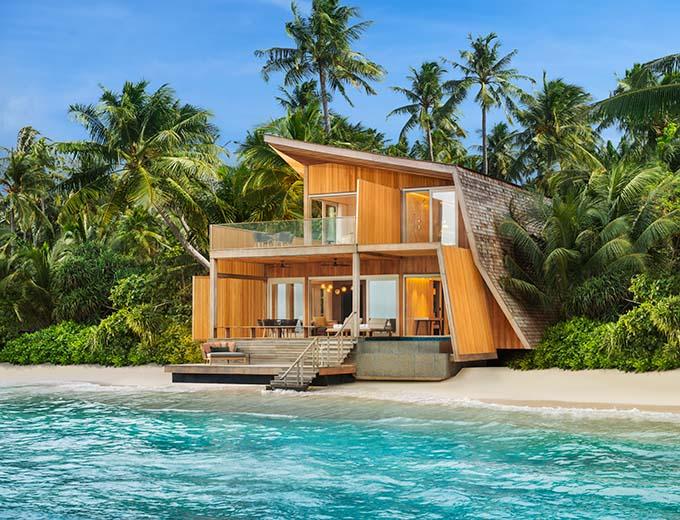 Polished luxury
The St Regis with it's stunning beach villas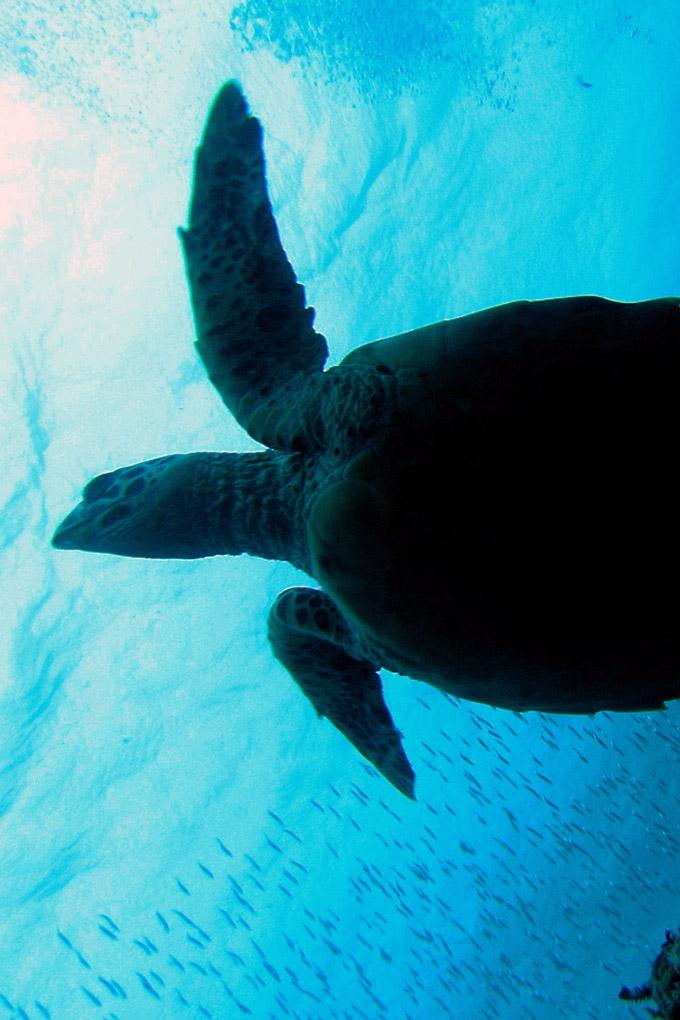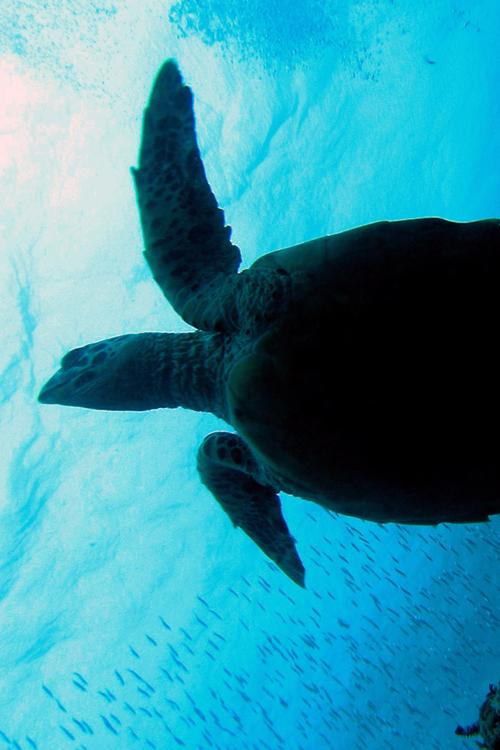 ARE THERE ANY
ADULT-ONLY RESORTS?
The Maldives is one of the best-known romantic getaways and for some couples, getting away from excitable youngsters is non-negotiable. That said, while a fair few Maldivian properties are only open to kids of twelve and over, there are fewer adult-only resorts than you might expect. ETG's top pick is Hurawalhi, an all-inclusive luxury island in the Lhaviyani Atoll. With their spacious and beautifully styled villas, choice of amazing restaurants and countless experiences, Hurawalhi is an excellent choice for honeymooners or couples seeking a romantic escape. You can spend your days snorkelling, picnicking on uninhabited islands or exploring the waters by sailboat - the options are endless.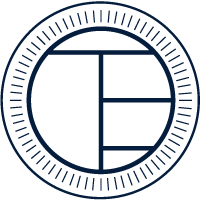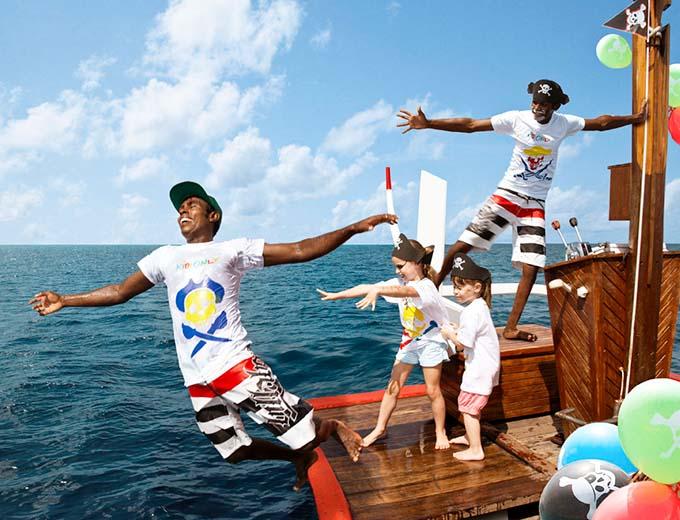 FAMILY HOLIDAYS TO THE MALDIVES
Which school break?
It is possible to have decent weather at any time of year and it's possible to sneak a holiday to the Maldives into a shorter half-term holiday. This makes the Maldives a good possibility for most school holidays the main Christmas, Easter, and summer ones. The Maldives can be enjoyed at any time of year but it's a particularly good bet for families in the winter when, skiing aside, you're less likely to want to take a holiday in Europe.
You can have a brilliant Christmas holiday here - though do be warned, this is "peak season" so both the most expensive and most popular time to travel, so it's worth booking early. The weather is still good at Easter and there are sometimes some better deals on resorts although it's still important to book early as resorts and flights get booked up. Summer offers the best deals, and the weather is often good too – see weather section for more details.
Where to stay?
The Maldives is often thought of as a couple's retreat, it has in fact got a lot to offer families and many of ETG and their families have visited over the years. The exceptionally calm seas offer safe swimming for younger ones and older kids will be entertained with snorkelling, water sports and a variety of other activities. Don't forget that The Maldives also works very well with an adventure in nearby Sri Lanka if you'd prefer more variety in your holiday.
As a family it will be important to consider which resort to choose in the Maldives, some offer great facilities including kids' clubs and dedicated catering for younger ones whilst others offer a better range of activities for teenagers. Some of the higher-end resorts like Soneva Fushi manage to lay all this on wonderfully without the resort feeling overly steered towards families.
One thing that might guide your choice though is the room configurations on offer, some resorts offer 2-bedroom family villas but where a combination of two interconnecting villas at a resort of a similar standard might work out more economical. A good all-round option is OBLU by Atmosphere at Helengeli, for a number of reasons. They have 2-bedroom villas with private pools, allowing families space and privacy, and for those families with little ones, all other rooms can include an extra bed. As the resort is only available on an All-Inclusive basis, you never have to worry about meals and the price also includes a host of activities that will keep all ages entertained. We'd also highly recommend Lux South Ari Atoll and Niyama for a great family vibe.
The ETG Maldives Edit
With SO many Maldivian resorts to choose from - many of which, let's be honest, look pretty similar online - it can be tricky to tell which is the right one for you. So our experts created this guide to their top ten hotels and experiences across the country. Whether you're looking for wildlife encounters or the ultimate luxury, this where you'll find the best of the best.
Can I stay on a local island in The Maldives?
Some of the local islands' welcome visitors in guest house accommodation. We work with responsible partners to offer the option of 2 or 3 day stays, or entire holidays staying on a locally inhabited island or islands. This is a different kind of experience to staying in a resort - you'll be able to cycle or walk around a town on foot and get a feel for Maldivian life, culture, and traditions.

Whilst the local islands can be bigger than resort islands, guest houses are usually smaller than hotel resorts and often just on a B&B basis. You will have a chance to meet the community, explore markets, fish for a BBQ dinner to cook up and share with a resident family. There is a chance to join conservation programs, meet local craftsmen and of course to enjoy the snorkelling and swimming that The Maldives is known for. The Barefoot Eco Lodge is a particularly good place to stay on a large locally inhabited island.

It is worth noting that it's not possible to drink alcohol whilst staying on local islands although there is often a boat bar that you can take a trip to offshore.

This is an experience that most tourists miss and is highly recommended, even if just for a couple of nights before moving on to a resort. Staying on a local island is also a much more cost-effective way to visit the Maldives so could also be a great experience for anyone looking to visit the Maldives on a budget.
We've written an article on combining luxury and culture in the Maldives which you may find useful.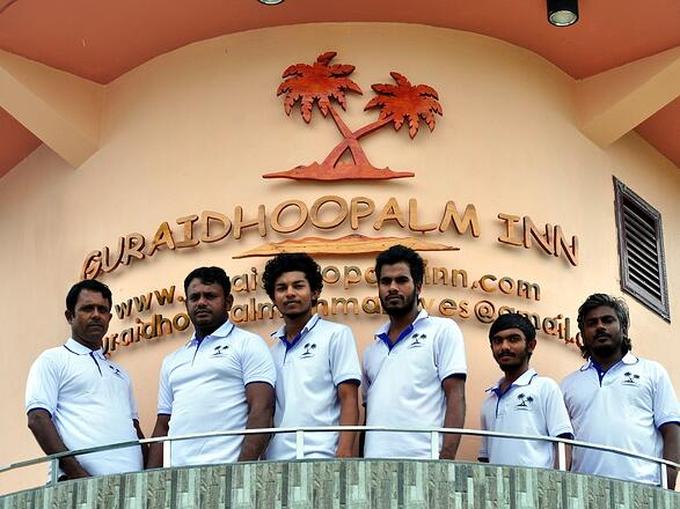 Guraidhoo Palm Inn
Experience local life in the Maldives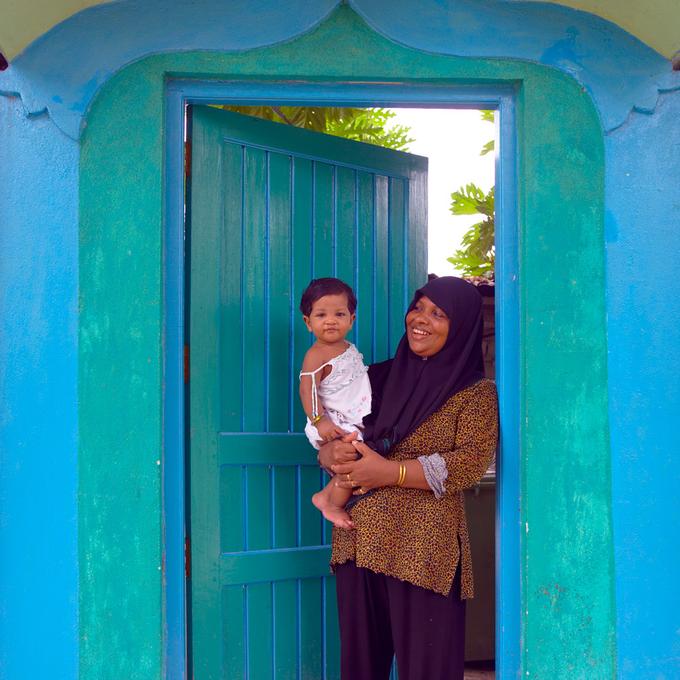 Friendly faces await around every corner
A side to the Maldives that you might not know exists
What is a resort island vs a local island?
There are around 165 resort islands to choose from in the Maldives, many of which are managed or owned by well-known hotel brands. Each has a distinct feel and price point and commands an island to itself with everything on the island managed by the resort. So, when you see Soneva Fushi or Oblu By Atmosphere or whichever resort named, this refers to both an island and a hotel resort

Beyond the resort islands, there are also some 200 or so locally inhabited islands where there are no resorts and Maldivian people go about their day-to-day business. You rarely hear about these islands as few tour operators offer holidays to them, however, members of team ETG have travelled extensively and Philly tells her story of what it's like to travel around local islands and stay in Maldivian guesthouses.

The are many other islands too, some of the tiny specks, that are completely uninhabited, some completely deserted, and others used in a variety of ways, from destination dining locations for luxury resorts and numerous other functions.
What is a House Reef?
The Maldives is rightly known for its amazing marine life, no surprise given that the country is made up of a chain of 26 coral atolls. No matter where you are in The Maldives you'll be within easy reach of the underwater world, but if you plan to do a lot of snorkelling and/or diving, then it is worth picking a resort with its own "house reef." A "house" reef completely encircles some resorts, others just partially; from some, you will need to travel by boat to reach a reef. If your resort has a house reef, you can simply walk into the sea from the beach and explore the underwater world without any need to take a boat.

Some of our favourite resorts with great house reefs include Baros, Lily Beach, Oblu By Atmosphere Helengeli, Milaidhoo and Soneva Fushi. These resorts have marine biologists on hand to tell you everything there is to know about their reef, to offer guided snorkelling and diving and perhaps night excursions, where you can explore the reef in the dark and see the magical bioluminescence

You might sometimes need to go beyond the house reefs to spot specific types of underwater life like whale sharks and manta rays but spotting them is among the country's biggest draws. Whale sharks are most visible in the South Ari Atoll (top pick - Constance Moofushi) and can be seen at all times of the year, so there is no pressure to book your trip for a certain time. Manta rays, however, tend to glide through the Baa Atoll in Hanifaru Bay between May and October (Milaidhoo Island). Whale sharks have also been known to appear in the Baa Atoll around this time too so if you want a good chance of seeing both, picking a resort in this area will be your best bet. Across the whole of The Maldives, there are fantastic opportunities to see dolphins and turtles throughout the year.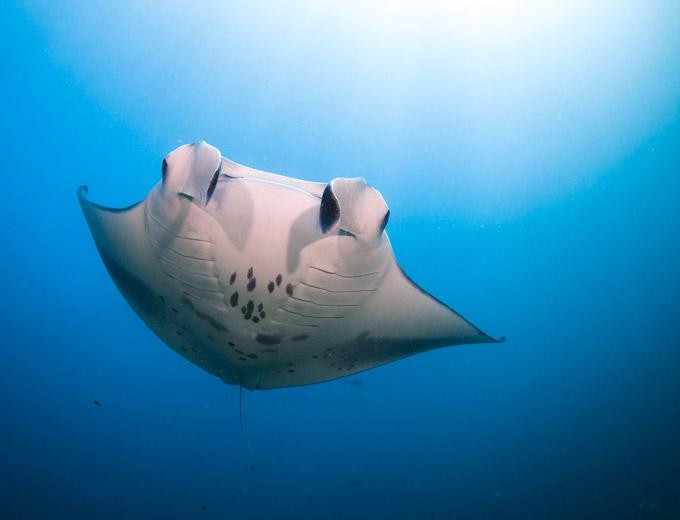 What about sustainability and Responsible Tourism In The Maldives?
So much of what is wonderful about the Maldives is in the natural beauty, above and below the waterline. So, you might want to know how to choose a resort that gives you a fabulous experience but also does its best to mitigate its impact on the environment. We recently took a deep dive into the policies of 30 of our favourite resorts to find out more about their approach to responsible travel.
We found that most hotels have initiatives to limit damage, and many are taking steps to have a positive impact. These resorts usually have a resident marine biologist with a variety of roles: educating guests, enhancing their experience, monitoring the house reef, and contributing to research projects. Think reef rehabilitation initiatives with coral planting programmes that you can get involved in and partnerships with organisations that aim to combat marine pollution.
In a country where there are such limitations on fresh water and on waste disposal – we found that most hotels recycle their grey water for irrigation and compost their food waste. Refillable toiletries are not quite as universal as refillable water bottles but it's getting that way, with many big hotel chains like Hyatt and Intercontinental in the process of eliminating single-use plastic toiletries from all their properties worldwide. The Soneva resorts were among the first in the world to ban plastic bottles, back in 2008, and are now carbon neutral and 90% waste-free. To reach their target of 100% they have become the first company in the Maldives to recycle plastic – including tricky items such as sunblock tubes – into new products.
Investing in the health of the local community is another vital part of sustainability in the Maldives and good resorts will be engaged in initiatives designed to benefit their local communities whether it's through investment, education or partnership. At Como Maalifushi, for example, the dive centre gives local high school students the opportunity to obtain certification, a valuable skillset for employment in the Maldives. The 4* Barefoot Eco Hotel is closely involved with the local community and there are genuine opportunities for guests to experience and learn about Maldivian culture.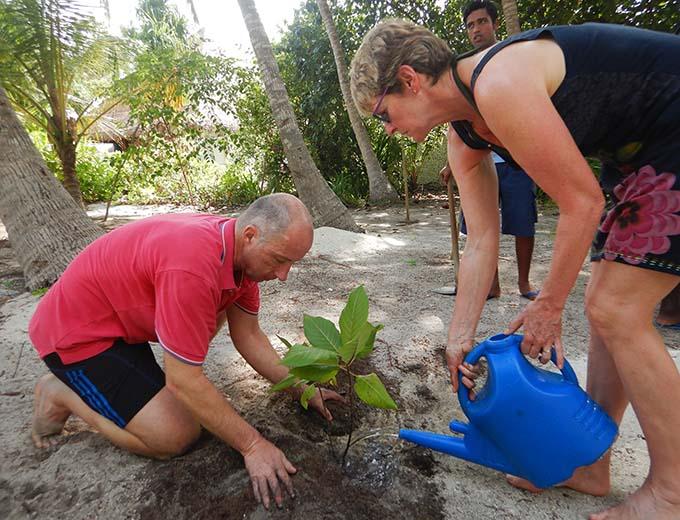 Protecting the environment
Rewilding at Reethi Faru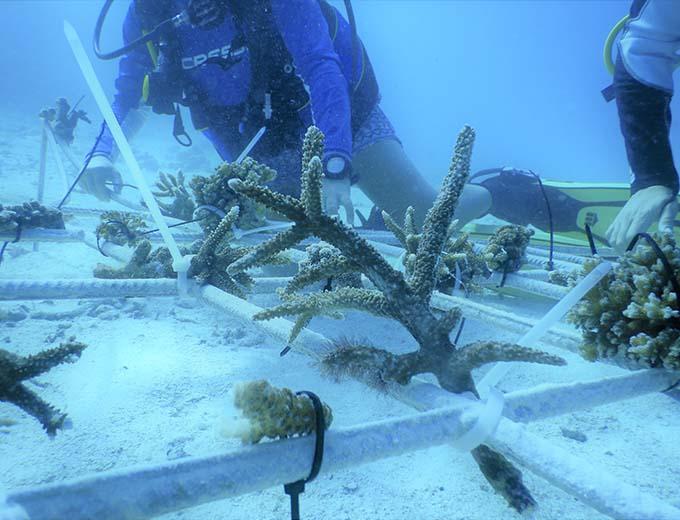 Planting corals
Reethi Faru progressive with its sustainable efforts
What Is Island Time?
A fun and useful quirk of The Maldives is "Island Time" where resorts set their very own time zone. The equator cuts right through the Maldives so the sun rises just before 6 am and sets just before 6 pm. To make the most of the sunlight most resorts set the clock forward an hour, so it rises just before 7 am and sets around 7 pm.
Can You Island Hop in The Maldives?
With strings of hundreds of islands, you would think that island hopping would be par for the course in The Maldives, but when you read the section on seaplanes and speedboats you can see why it's not as easy as it is somewhere like Thailand - especially when it comes to resort islands. For far-flung resorts that can only be accessed by seaplane you usually have to fly back to Male and back out again to reach another resort, doing this several times could be prohibitively expensive.

However, with a bit of advance planning, it is possible to visit more than one island during your trip. If you combine two resorts in nearby atolls, then it is possible to travel by resort speedboat or local boat between the two. In general, there tends to be a bit more flexibility on where boats go and when. We also offer some great itineraries combining locally inhabited islands.

A good way to explore the geography of the archipelago in more depth is by boat or, more specifically, on a private catamaran. You will spend your days cruising between coral reefs, local islands, and uninhabited islets, marvelling at the scenery and stopping off for a picnic lunch on a sandbank or a spot of snorkelling. This is an excellent way to explore the country and get a great mix of both local experiences and rest & relaxation. Our personal favourite option is The Paradise catamaran, which comes equipped with a full crew and excellent chef, taking care of your every need.
What is the food like in The Maldives?
In terms of dining, the Maldives is better known for its high end, international fare than the local cuisine. There are certainly a huge number of gorgeous restaurants with world-class chefs from Italy, Thailand, India and beyond, some of them, Michelin-starred and well worth a visit. Our personal favourite foodie resort, however, manages to combine all this with a unique local twist as well. Milaidhoo is not only a beautiful property but a food lover's paradise. The breakfast buffet is unrivalled anywhere we have been and Milaidhoo is also home to one of the first-ever fine-dining Maldivian restaurants, where you can experience local cuisine crafted from the chef's mother's recipes. Unless you're going really off the beaten track, you won't find this opportunity anywhere else.

Many resorts offer a taste of the Maldives though and most buffet breakfasts will include a local option which you should try at least once during your stay. A Maldivian breakfast is usually composed of Roshi or Maldivian flatbread, fresh tuna blended with coconut flakes.

Another way to get an authentic flavour of the Maldives is of course to visit a local island if only for a few hours.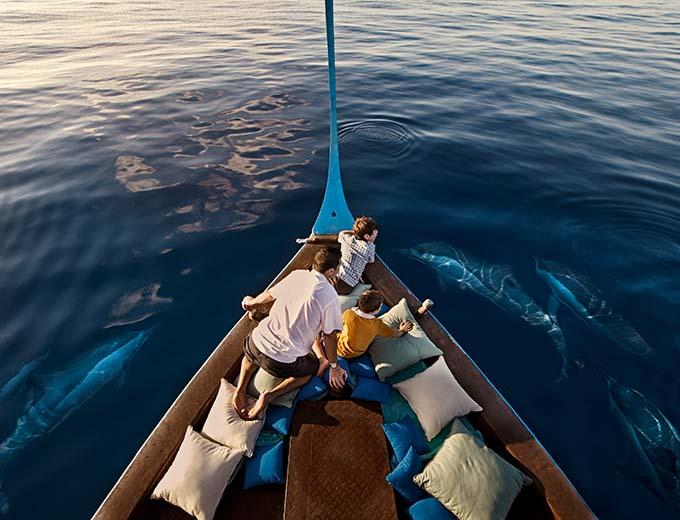 Dolphin viewing at sunset
Beautiful experience at Four Seasons Kuda Huraa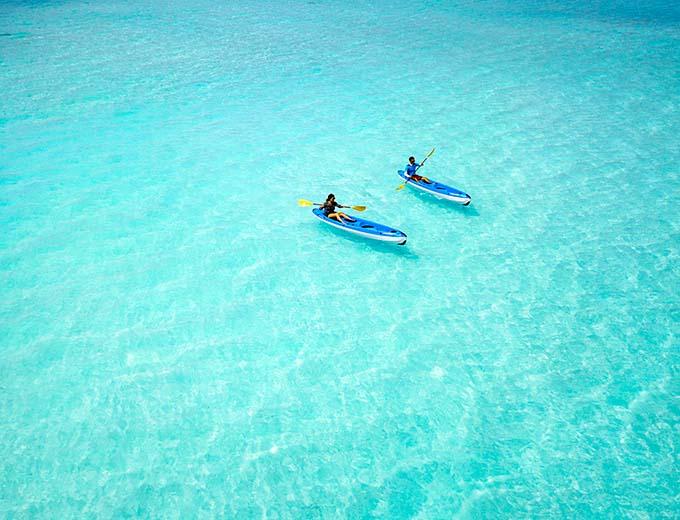 Kayaking around the lagoons
Crystal clear waters guaranteed
LOOKING FOR HOLIDAY INSPIRATION?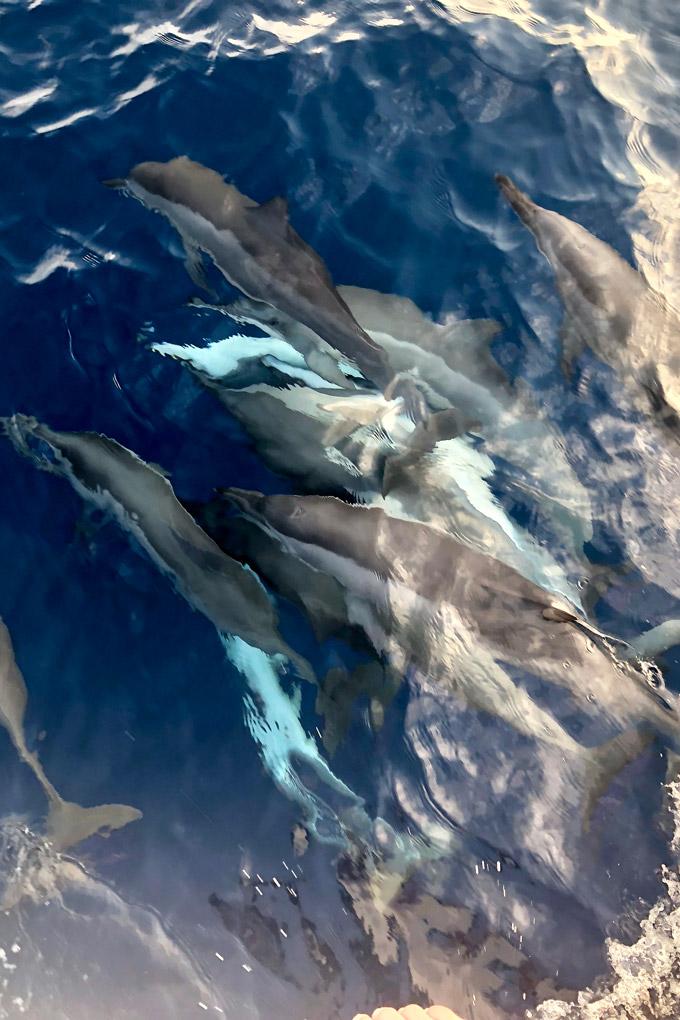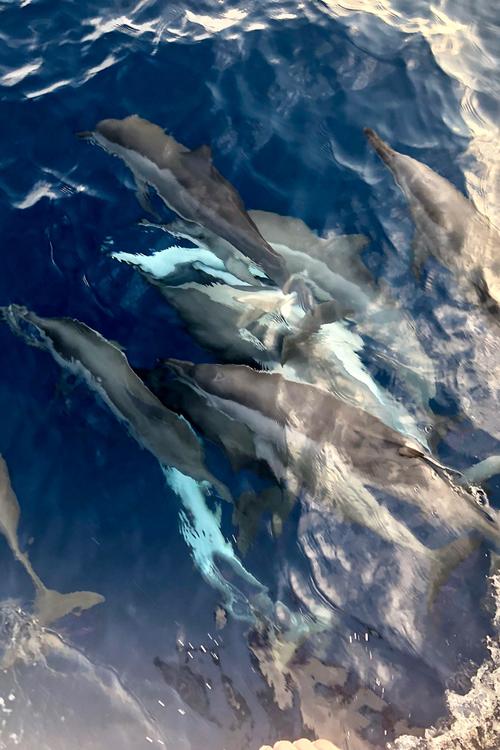 TROPICAL ESCAPES
TO THE MALDIVES
A curated collection of hassle-free holidays that capture the essence of Asia. Each holiday focuses on one destination – Thailand, Oman, and the Maldives respectively – and will be packed with fascinating experiences, while still allowing plenty of time to relax. Make your travel count, without any need for fuss.
ALL THE RESORTS TEAM ETG HAVE VISITED
We pride ourselves on making sure we visit as many resort as possible in the Maldives. It's a tough job, but someones got to do it! Below are all the resorts that Team ETG has been lucky to visit. If you do have any questions about planning a holiday then do get in touch and we'd be happy to help...
Four Seasons Kuda Huraa , Four Seasons Landaa Giraavaru, Taj exotica, Soneva Fushi, Soneva Jani, Gili Lankanfushi, Baros, Milaidhoo, Filitheyo, Kuredu, Komandoo, Dusit Thani, Huvafen Fushi, Park Hyatt Hadahaa, Joali, Jumeirah Maldives, Vakkaru, Cocoa Island by Como, Niyama, Amilla, Intercontinental, Finolhu, Bandos, Baglioni, Ozen Reserve Bolifushi, The W, Olhuveli, Amari, Anantara Dhigu & Veli, Lux South Male, Kudadoo, Hurawalhi and Kagi Island.
If you are still looking for further guidance, then Matt who has been to the Maldives 6 times has written a comprehensive article on why the Maldives is such an ideal holiday choice right now. Warning, envy-inducing photos are a given!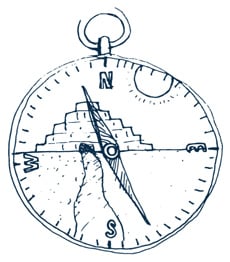 Why Holiday with Experience Travel Group?
Immersive
Experiences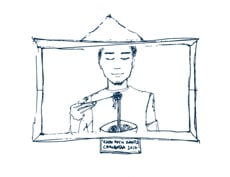 Immersive ETG holiday experiences let you genuinely connect to the people and places you visit. You'll learn as much about yourself as you do about them.
A secret
element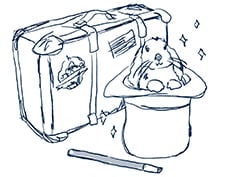 Sometimes you can know too much. Our holidays are specially designed to confound preconceptions and share magical, memorable, unexpected discoveries.
Travel
done right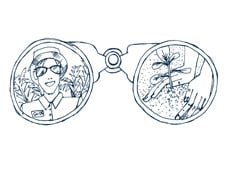 Our B Corporation certification, commitment to sustainability and 'give back' philosophy mean you can always be sure that every step you take is light. Ethical, mindful, guilt-free travel - travel done right
A thread of
luxury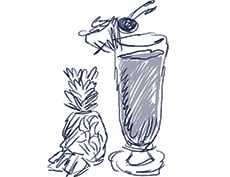 A thread of luxury that ties everything together. From beautiful boutique hotels to top-quality transport, to exceptional levels of service - whatever luxury looks like to you… it's yours