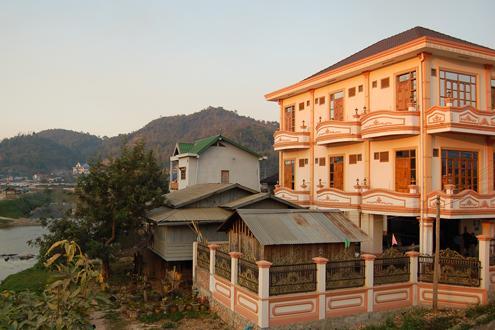 Sam Neua has not been open to tourism very long and, as a result, there are very few places to stay in this town besides a few simple guest houses and hotels.
The imaginatively named Sam Neua Hotel is a quirky hotel in a new building in the centre of town and the only reliable option. Idiosyncratic throughout, the hotel is clean and well located for a visit.
Rooms at the hotel are small (with a numbering system that makes no sense whatsoever) and have clean en-suite bathrooms with piping hot water showers. All have satellite television, and some have mini-bars (this is an arbitrary touch as all the rooms are the same price). There is no restaurant at the hotel and breakfast is served at a nearby cafe.
The hotel, like the town, has a slightly Soviet feel to it with some very quirky design touches.
Sam Neua itself is the capital of Huaphan Province and an important place in the history of modern Laos. Located in a large valley, the town is a crossroads of cultures from within Laos. It was rebuilt and repopulated after the war and remains an important part of the state. It's an exciting place to visit and markedly different from most other places in the country. The town is a good base for exploring the Pathet Lao caves at nearby Vieng Xai which have recently opened to visitors. The town has a vibrant central market which is not recommended for vegetarians or animal lovers.
Sam Neua is an interesting and off-the-beaten-track location and staying at the Sam Neua Hotel is all part of the experience.
Comfort - This is our lead in category. There will generally be a no frills approach and while some will be characterful, some will do exactly what it says on the tin - provide a clean, comfortable and good value place to spend the night. These places are normally 3* hotels.
Map centered on Sam Neua Hotel. Zoom out to view other hotels (H) and experiences (E) in the area.