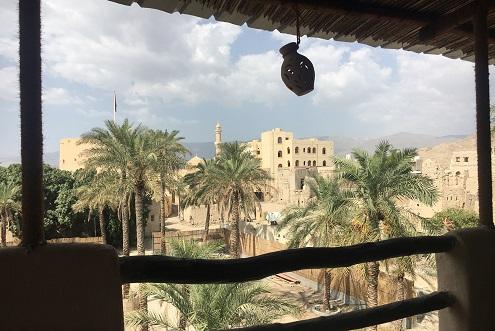 Antique Inn is a heritage property that has been sympathetically restored to gives guests a true taste of staying in an Omani home hundreds of years ago. You'll really feel like you've gone back in time as you duck your head to go through the low doorways and negotiate the narrow stairways. Your eye is then drawn to the gaily painted timbered ceilings and uneven wooden floors decorated with traditional textiles. Antiques and artefacts adorn the alcoves in the plastered walls.
The simply furnished accommodation is very individual, with lots of small sitting areas and anterooms. A family could take a suite of rooms, which would make for a fun and atmospheric experience for children. To complete the authentic feel, beds are (fully sprung) mattresses on the floor and you won't find a TV in your room. As is also traditional, you'll be given a very warm Omani welcome by the staff who will ensure you have a comfortable stay.
The inn is conveniently located for all the town's attractions so you can take a stroll to the souks or the fort, views of which can be enjoyed from the Inn's rooftop terrace. A lovely breakfast is served up here or you might like to relax here among the cushions with Arabic coffee and dates after a day's exploring. In the evening, choose from several restaurants nearby serving tasty Omani cuisine.
Restored properties such as this one are helping to breathe new life into the old quarter and an overnight stay at Antique Inn is really recommended for those who'd like to gain a privileged glimpse of life into the traditional life of this historic town.
Comfort - This is our lead in category. There will generally be a no frills approach and while some will be characterful, some will do exactly what it says on the tin - provide a clean, comfortable and good value place to spend the night. These places are normally 3* hotels.
Map centered on Antique Inn. Zoom out to view other hotels (H) and experiences (E) in the area.