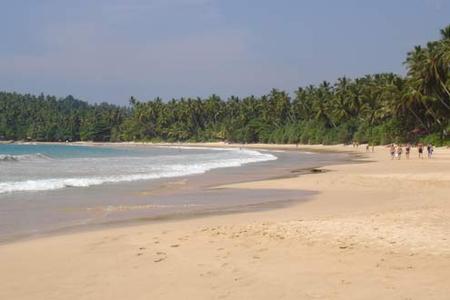 The south coast of Sri Lanka is the area from the beaches just east of Galle down to port of Hambatota. The beaches here are generally far less touristy than those of the busier west coast. It is not unusual to find yourself alone on long, dreamy stretches of palm fringed sand, especially east of Matara. Broadly speaking, as you get further east, it becomes more remote and less busy. Some of the prettiest palm fringed bays in the country are found on this stretch of coast and the region is regarded as truly Sri Lankan and a bastion of Sinhala patriotism.
We have covered Galle itself in a separate section and will concentrate here on the beaches and other attractions of the deep south. Needless to say though, the south coast has some of the very best boutique hotels and luxury resorts in the country.
Kogalla Lake is home to Mandalay Villa, one of the finest tropical villas in the country. Nearby and on the beach, The Fortress is a luxury five star that truly pampers its guests. Southpoint Villa is the the last word in refined beach side luxury.
Further round the coast, highlights include hiring your own island at Weligama; Tabrobane Island is just off the coast and is one of the country's most iconic properties, whilst Cape Weligama is one of Asia's most exclusive beach hotels.
Mirissa is arguably the prettiest bay on the coast and retains a sleepy fishing village ambiance. Number One Mirissa is the place to stay. Inland a mile or two is the incomparable villa at Mirrisa Hills. The spectacular views of the pretty beaches and wonderful design of the villa make this one of the most spectacular villas on the island.
Just beyond Matara, with its pleasant walled Dutch fort, the Talalla Retreat is excellent value for the standard of accommodation offered. At a higher end, the charming 3 Sisters offers a truly intimate boutique experience.
Skimming across many interesting spots, the next concentration of hotels comes at and around Tangalle. Four main beaches and several smaller coves make up one of the most beautiful and peaceful areas in Sri Lanka. Amanwella is an exclusive resort on an amazing bay where Experience Travel Group have fantastic rates. Teak House is a gorgeous villa with access to good sea swimming and a lovely pool. Perfect for couples of a small family - intimate and luxurious. The Last House was Geoffrey Bawa's final project and one of his greatest architectural triumphs. There is no better place for a small group of friends and family to spend classic beach time together. Talk to us about booking by the room too.
At the other end of the scale, the laid back, friendly and good value Palm Paradise Cabanas is a long running favourite of return visitors to Sri Lanka. The beautiful, deserted and quiet beaches in this area are a million miles from the touristy west coast. For a true off the beaten path experience, try Buckingham Place south of Tangalle, near Rekewa.
Finally in from the coast and around Yala national park are two of our favourite places. Let nature come to you with Lars and his excellent crew at Treetops, Buttala. This place is an experience in itself taking you back to a more simple way of living – in a remote and beautiful area where elephants and people still co-exist together. The luxury camping tents mean there is a good level of comfort too. An extraordinary experience.
The deep south is also home to numerous national parks and wildlife sanctuaries. Back of Beyond Kahandamodera combines contemporary green architecture with a great, remote location. Turtle Bay offers comfort and seclusion on a fine stretch of deserted sandy beach.
Camping is possible inside Uda Walawe National Park and Yala National Park in a variety of guises through reputable safari companies such as Kulu Safaris. At Uda Walawe, Kalu's Hideaway is an excellent alternative to camping.
It is also possible to hire one of several villas along this coast and have it all to yourself. Most of these villas come equipped with full staff including cooks and are perfect for groups of friends, families or couples wanting to get away from it all. Many of these properties are simply amazing: imagine owning your own slice of paradise, if only for a week! Please contact us for more details.
Enquire here for your own tailor-made suggestions:
Download your free Sri Lanka travel guide
Your information is 100% safe with us and will never be shared with any third parties.