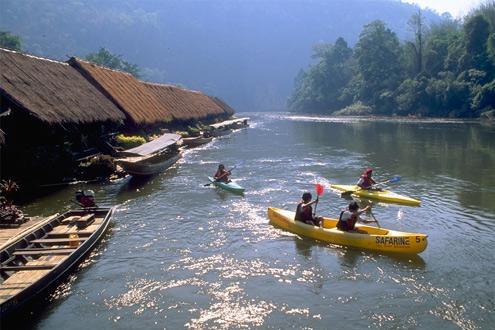 Info
Rating
Features

Gallery

Pics
Floating peacefully upon the well-known river, the unique River Kwai Jungle Rafts falls into a new category of accommodation, named 'floatel'. Constructed from wood and bamboo, the rafts are permanently moored to the river bank and bob up and down as the river flows downstream.
Access to the hotel is by long-tail boat from a private pier 15 minutes downstream. The ride up the river, with its verdant forest on either side, is exciting itself and brings you to your unusual abode in spectacular fashion.
The €˜hotel€™ consists of 51 rooms which sit upon the inter-linked rafts. There is no mains electricity, and the rafts are beautifully illuminated by oil lamps as the sunsets. Each room has a private en-suite bathroom with western facilities. The water is cold - cooling in the mid-day sun but somewhat chilling in the evening mist. All the rooms have a double and single bed, a private veranda with hammock and a spacious sundeck in front, with ladder access to the river. The sundecks are also kitted out with chairs and hammocks. This is a great place to read, soak up the sun or frolic in the water. The river is a lively place in the day, with an assortment of long-tail, larger boats and swimmers drifting past.
The rafts are linked to the mainland by a bridge causeway which leads you into a Mon tribe village. Activities are offered from here, and you can explore the village and surrounding forest land by foot. The rafts also host a show of traditional Mon music and dance after dinner on most evenings.
Onboard the rafts are a central restaurant, bar and massage area. The hotel is sold on full board basis, with a selection of Thai and European dishes. While it is an experience to just pass the time on-board, guests can go elephant trekking, hiking, camping and take day tours of the nearby Saiyoke National Park with its abundance of flora, fauna, caves and waterfalls. Canoes can be taken and paddled at leisure, and life jackets are available for swimming or simply floating down the river. There are also trips to the famous bridge over the River Kwai and World War 2 memorials in the region.
The surrounding Kanchanaburi province also has many activities on offer. The Jungle Rafts are about three hours from Bangkok, making them accessible at the beginning or end of most itineraries.
Eco/Adventure - This category covers gorgeous lodges in the jungle, comfortable safari camps and dreamy, but simple, beach cabanas. These places defy conventional categorisation: what is communing with nature to one person may be terrifying bugs to another! Many of these places are very comfortable and the service generally of a very high level - but please read the website review carefully and/or talk to us and be sure to have understood what you are letting yourselves in for!
Elephant Trekking
Massage
River Tours
Water Sports