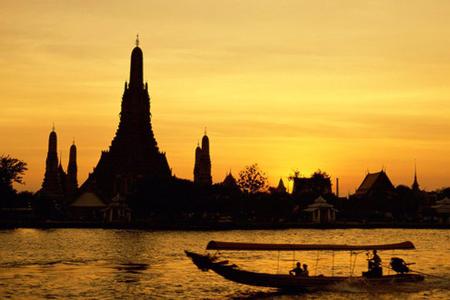 Vibrant and exciting Bangkok is a city rich in history and culture. Known to Thais as Krung Thep, the 'City of Angels', a few days in this exciting city is a must on any itinerary.
Food of course is top of many visitors' 'must-dos'. Bangkok is a great place to sample the full variety of Thai cuisine. Visitors are truly spoilt for choice when it comes to eating superb fresh food washed down with a Singha beer! You may wish to do a course on Thai cooking and we offer a fantastic array of courses of varying lengths and intensities. We also offer a fantastic and romantic meal on an evening cruise down the Chao Phraya River.
Bangkok itself is a fascinating city to explore and gain an insight into Thai culture. We thoroughly recommend taking our customised city tour which takes in the famous sights of Bangkok as well as a Klong Boat ride through the back canals which link this futuristic city to its trading past. We can also include a guide for the day which means you can be entirely flexible and use public transport (generally much quicker than a car!) and get under the skin of this great city. You can also try Thai massage and take in the spectacle of the martial art of Muay Thai (Thai Boxing). Other day trips that offer an insight into this vibrant city include a visit to the Floating Markets to experience one of the iconic images of Bangkok - the colourful sight of ladies in wooden boats selling fruit and vegetables and the Wat Tour, taking in some of Bangkok's iconic temples.
Of you might prefer to just shop in Bangkok's many department stores or teeming markets…
Bangkok must be one of the cheapest places in the world to treat yourself when it comes to accommodation. There are excellent hotel options throughout the city, and it really is worth considering a true '5 star' hotel experience. From top end, world renowned hotels including The Peninsula, and The Mandarin Oriental to interesting and quirky hotels such as the Arun Residence or the Siam @ Siam there is a hotel for all tastes in Bangkok. Ariyasom Villa is a genuine boutique hotel with superb personalised service and wonderful food.
We feel that location is not as important in Bangkok as in many other world cities since the city lacks a natural centre. However we would be very happy to discuss your requirements and help suggest that hotel that would suit you best.
Further a field but still within easy reach of Bangkok, is the highly recommended excursion to the River Kwai and Death Railway, in the Kanchanaburi Province, 130km west of Bangkok. An overnight stay on The River Kwai Jungle Rafts offers a unique insight into this province too. Other excursions on offer from Bangkok include overnight cruises along the Chao Phraya River to the ancient kingdom of Ayuthaya and overland trips to Khao Yai National Park. The park is a UNESCO world heritage sight two hours north of Bangkok is a great destination for hiking and bird watching. Kirimaya is a new luxury eco-themed resort, spa and golf course near the park and highly recommended.
Call us on 020 7924 7133 or arrange a call back from one of our friendly travel consultant.
Hotels in the region