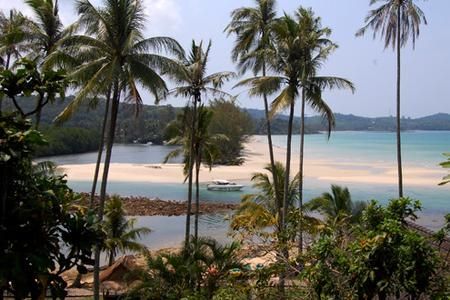 Beautiful Koh Chang is an island off the south-east coast of Thailand close to the border of Cambodia. Surrounded by azure waters and beautiful beaches, the island is great for boat trips and snorkelling, as well as visits to the smaller satellite islands. The mountainous jungle interior is good for trekking with stunning waterfalls an added attraction.
Until recently accommodation options were limited on Koh Chang but careful, well planned development has seen the emergence of some lovely resorts. Built no higher than three storeys, these have tended to embrace rather than impinge on the stunning environment. Koh Chang is a large island but the low scale and late development has meant that Koh Chang has a much more low-key, un-touristy feel compared with Samui or Phuket.
Most resorts on Koh Chang are surprisingly competitive. Highly recommended is the charming and Thai style Bhumiyama Resort. It is just a short stroll down to one of the island's best beaches where you can enjoy the low key beach bars offering beers and tasty Thai food. A great luxury choice would be the Aiyapura Resort or the newer Dewa and Gaja Puri hotels.
Koh Chang can be reached from Bangkok by land in about 3 hours and then a short ferry ride or by a short flight from Bangkok to Trat on the mainland and then again across by ferry to Ko Chang.
Those in search of the perfect Thai beach could do worse than consider the laid back charms of nearby Koh Kood or Koh Mak. Off the coast of Koh Chang and reachable by a fairly slow ferry; a laid back beach paradise awaits the (mildly) intrepid. Experience Travel can arrange a trouble free transfer to one of these islands and there are some beautiful places to stay once there. The Shantaa is an intimate and generally fantastic resort and at the very top of the range, The Soneva Kiri is something else.
Please contact us or call on 020 7924 7133 to find out more.
Here are some of our favourite hotels and resorts on Koh Chang and Koh Kood.