The Maldives has much to offer, but stress relief, luxury and unbelievable scenery come as standard. With the Indian Ocean idyll of crystal clear waters, white sands and unique tropical architecture, the word 'paradise' is truly justified.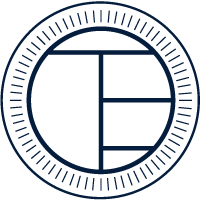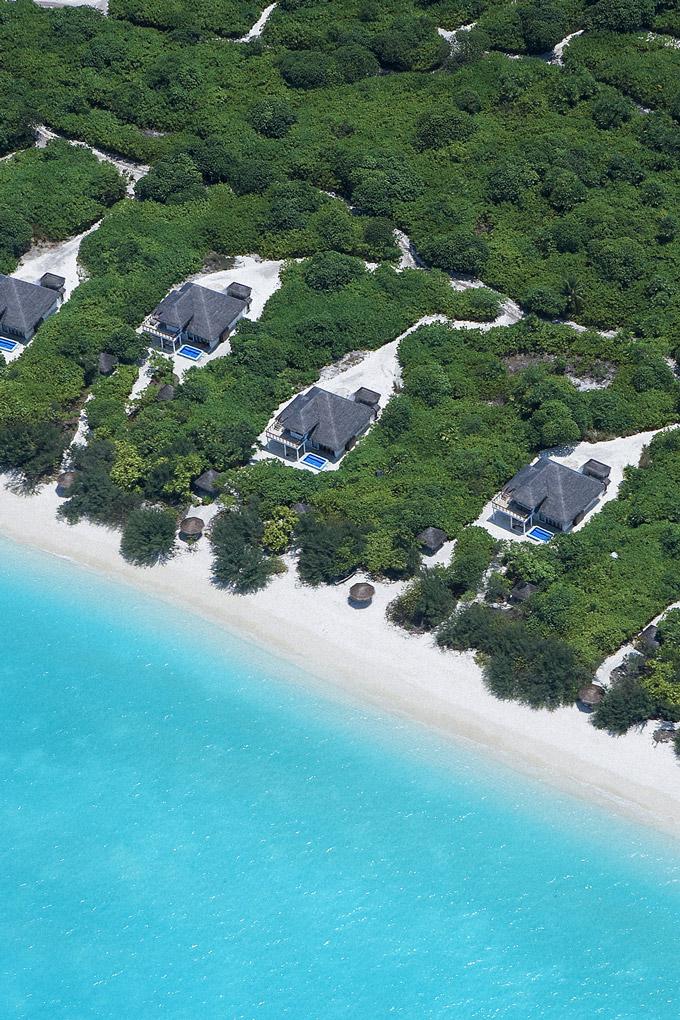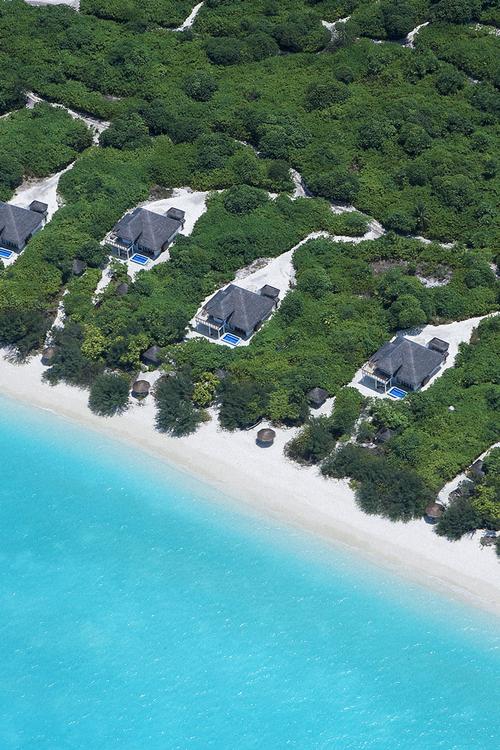 THE MALDIVES
WITH ETG
If you're after utter relaxation, we can arrange a stay at a deluxe spa (you deserve it) followed by blissful walks by the sea. If you're after invigoration, how about a speedboat ride and an underwater adventure, diving among shipwrecks and colourful shoals?
The Maldives offers a truly heavenly setting for honeymooners or indeed anyone feeling romantic, but what's perhaps less known is what a family-friendly place it is too. The lucky parents in the ETG team have taken their broods to the islands and tested the facilities, selecting the very best resorts for little ones (without stepping on the lovebirds' toes).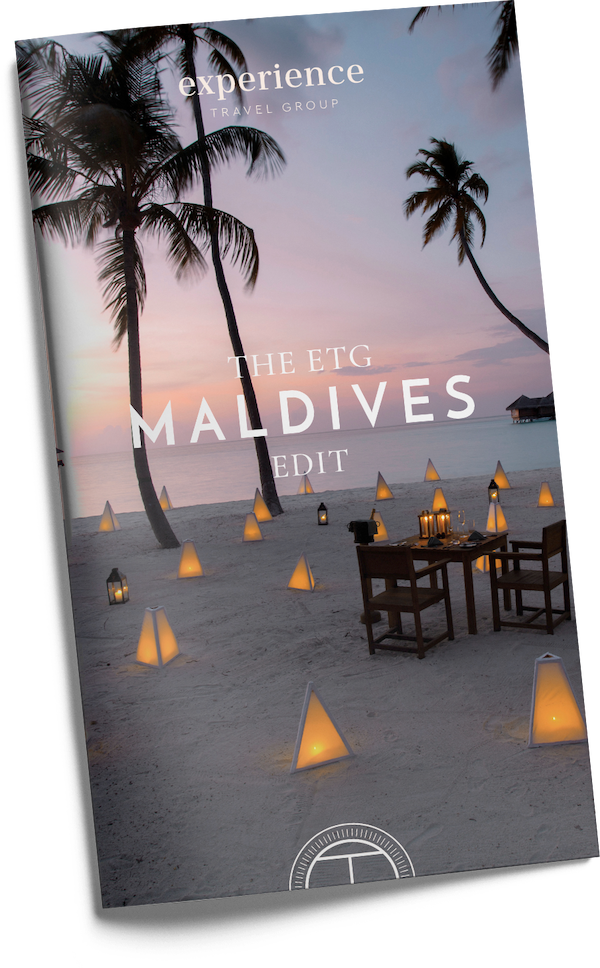 The Maldives Edit
With SO many Maldivian resorts to choose from - many of which, let's be honest, look pretty similar online - it can be tricky to tell which is the right one for you. So our experts created this guide to their top ten hotels and experiences across the country. Whether you're looking for wildlife encounters or the ultimate luxury, this where you'll find the best of the best.
Download Now
What is there to do in the maldives?
Many may wonder 'What is there to do in the Maldives?' - and the short answer is, you can be as restful or active as your mood takes you! Each resort offers something different, which makes choosing the right island for your stay is essential. It's safe to say though that all islands have idyllic expanses of white sand beaches, turquoise seas, and coral reefs!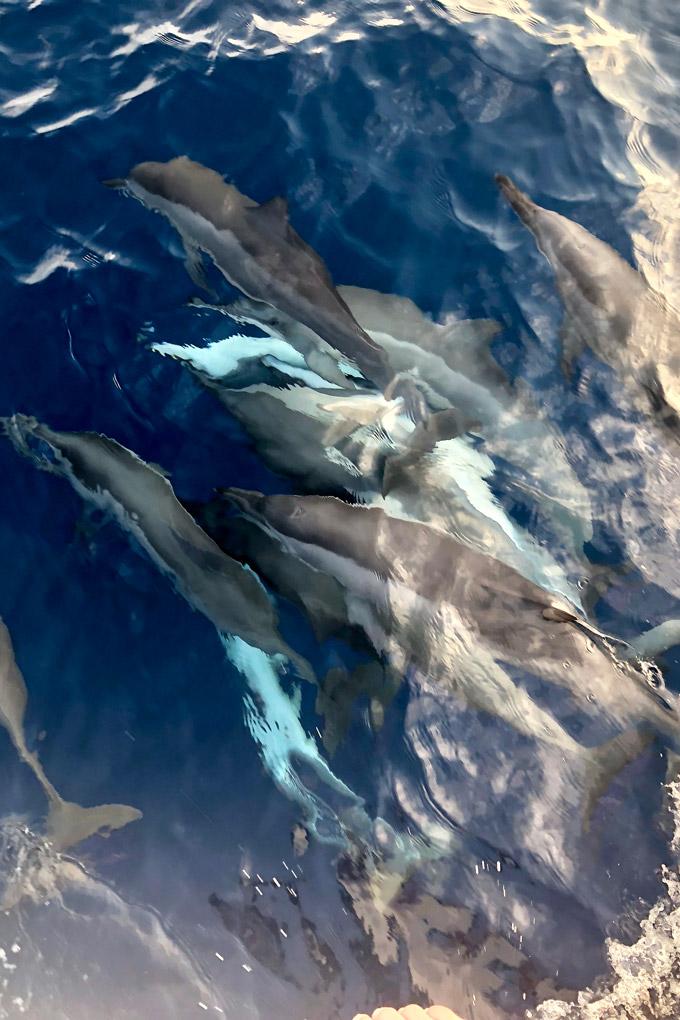 Extraordinary marine life is everywhere in The Maldives, but pods of dolphins are a particularly magical find.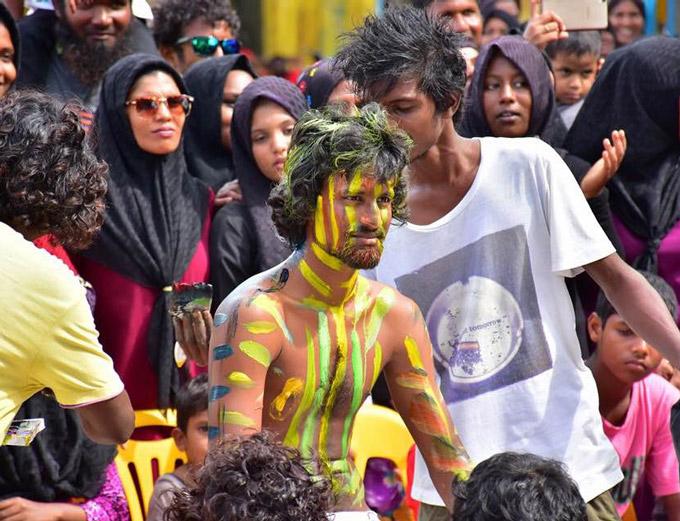 Take the path less trodden with cultural experiences on the local islands - we guarantee no one else you know has done it!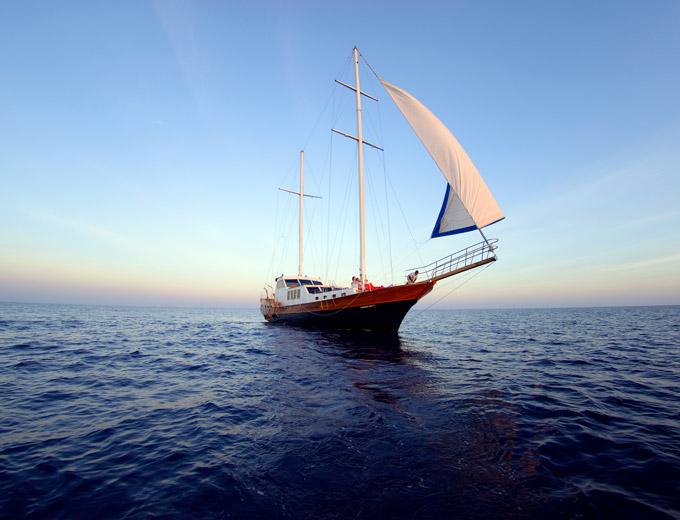 Feel at one with the seas as you sail between islands aboard your own private boat.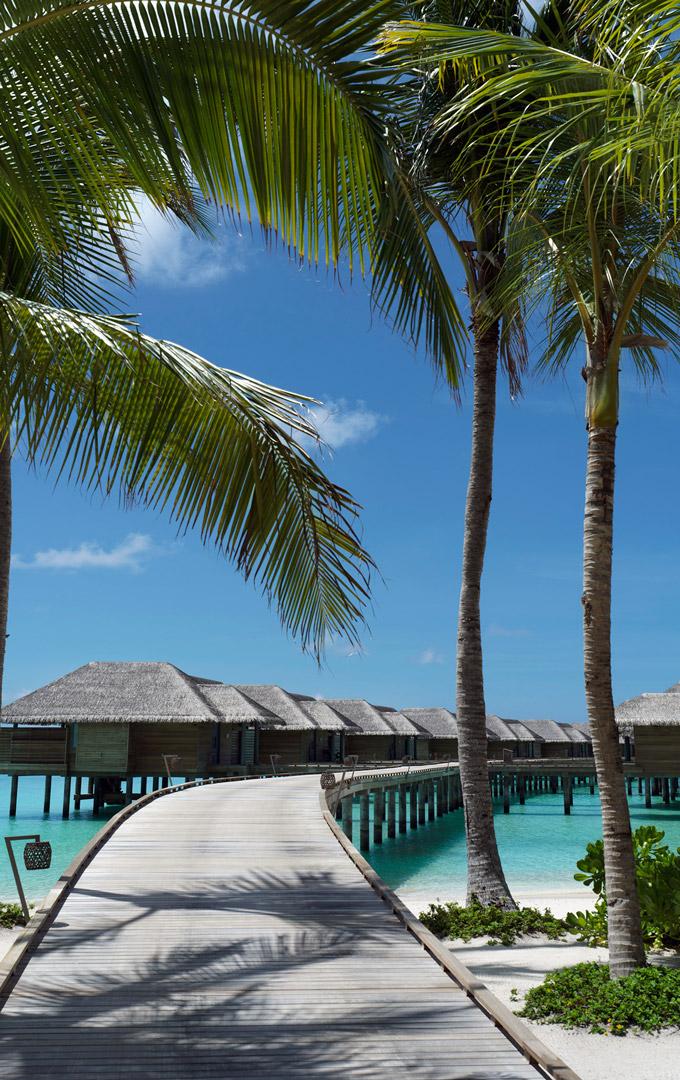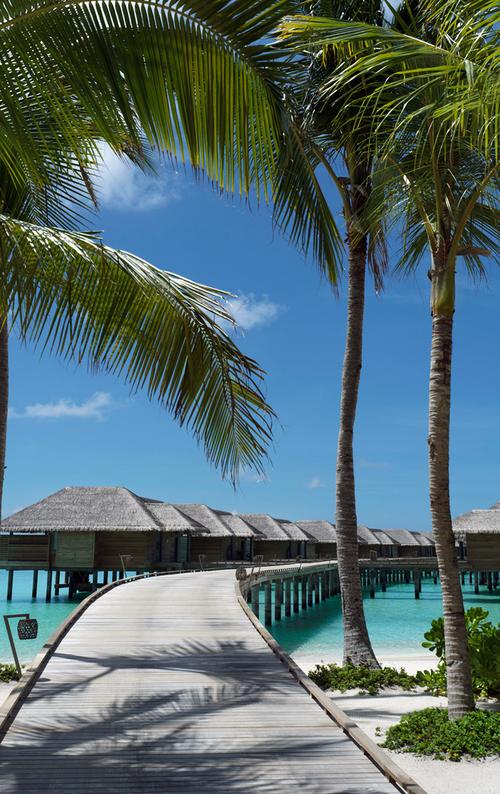 WHEN TO GO
TO THE MALDIVES
The Maldives is a year-round destination. October through to April is typically the best time to go to the Maldives. During these months there is minimal rain, brilliant sunshine and bright blue skies, as well as calm sea waters for optimum snorkel and dive visibility. Don't be put off by the May – September 'monsoon season' though, as rains in the Maldives are short-lived and there are some amazing value offers. It is best to discuss your travel times with your ETG consultant, to get date advice on staying in the Maldives.
Suggested itineraries in The Maldives
Most travellers know The Maldives for boutique and luxury stays to pamper your every need. Maldives honeymoons deliver the dream of palm-fringed islands, aquamarine waters, white sands, privacy and luxury hotels, and family holidays here promise endless swimming and snorkelling to keep little ones entertained. However, fewer people get to experience authentic Maldivian culture, food and heritage. With our excellent local connections, we can give curious travellers a taste of The Maldives you never knew existed, taking you far from a traditional package holiday.
A tip for curious travellers: it's easy to combine The Maldives with Sri Lanka, with the flight time just over an hour. You can take in two contrasting countries in a combined holiday experience, tailored just for you.
We have an extensive selection of resorts in The Maldives to suit you, so take a look at some of our suggested trips for inspiration, or give us a call to start your journey.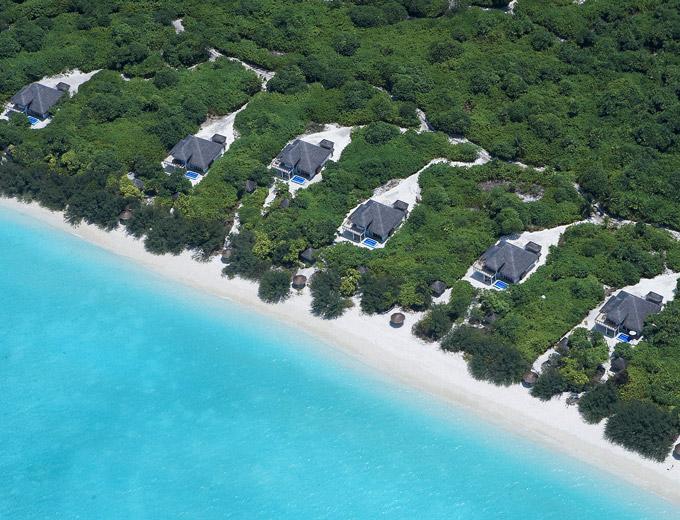 Yes: in the Maldives, water this clear, and sand this pure, is in abundance. We can help you find the paradise island that's right for you.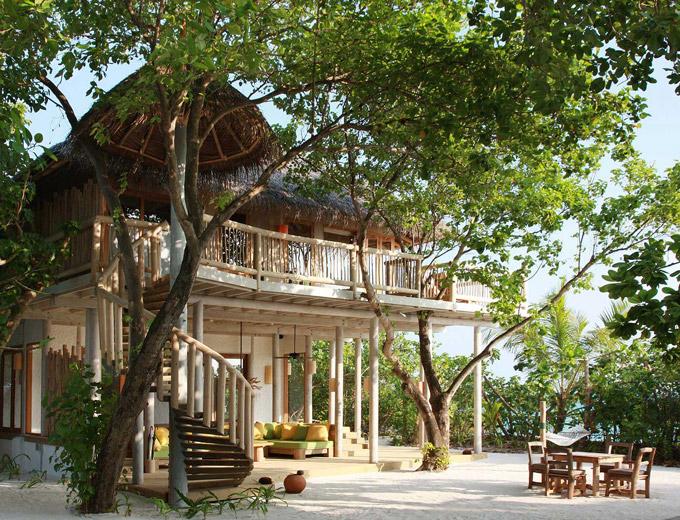 We seek out luxury properties that blends seamlessly with the Maldives' natural beauty, so that your relaxation reflects the destination.
Popular hotels in The Maldives
Maldives hotels are varied in style, offering either barefoot luxury, a polished aesthetic, rustic or contemporary design. Many resorts are on private islands in the atolls, which gives guests a feeling of exclusivity as you do not share services or facilities with any day visitors. These island resorts often have a mixture of accommodation location: beach and water villas. Experience Travel Group recommend accommodation with personalised service, together we go that extra mile to make sure your holiday will be an experience of a lifetime.
More Travel Information on travel to The Maldives
We create our trips to The Maldives from scratch for the individual traveller. While we adore the gorgeous resorts, stilted villas and natural beauty for which The Maldives is rightly renowned, we also like to show travellers something different. If you'd like to travel to a local island for a day trip or an overnight stay, we have the connections to make it happen.
We believe an ETG experience can't begin unless you have complete peace of mind. Our travel team is on hand to support you with a whole host of holiday and travel services, or questions about travel insurance. We can provide the latest travel advice to Maldives and information about financial protection, and you can rest assured our ATOL scheme will fully bond your holiday.
~
Your next adventure
starts with a conversation
~
Every ETG journey is unique. Tell us your loves, your hates, your holiday ambitions, your hopes and fears, and we'll share a suitcase so full of inspired holiday ideas you'll need to sit on it to shut it tight.
Not sure what you're looking for? Let us inspire you...
Get in Touch
Call us 020 7924 7133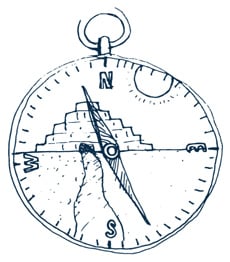 Why Holiday with Experience Travel Group?
Immersive
Experiences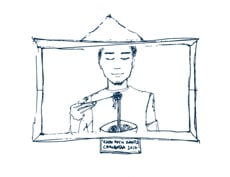 Immersive ETG holiday experiences let you genuinely connect to the people and places you visit. You'll learn as much about yourself as you do about them.
A secret
element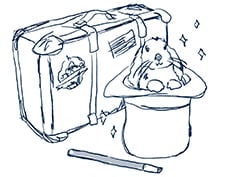 Sometimes you can know too much. Our holidays are specially designed to confound preconceptions and share magical, memorable, unexpected discoveries.
Travel
done right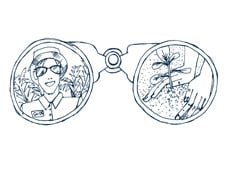 Our B Corporation certification, commitment to sustainability and 'give back' philosophy mean you can always be sure that every step you take is light. Ethical, mindful, guilt-free travel - travel done right
A thread of
luxury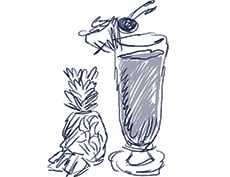 A thread of luxury that ties everything together. From beautiful boutique hotels to top-quality transport, to exceptional levels of service - whatever luxury looks like to you… it's yours