Sitting off the south-west coast of Vietnam, close to the Cambodian border, Phu Quoc is a gem of an island. Soft, white sand lines its shores, and on land, you'll find protected tropical rainforest amidst resorts and great diving opportunities. The Phu Quoc district itself encompasses 28 islands, though the majority of travellers visit and stay on Phu Quoc island, the largest in Vietnam.
Phu Quoc offers an alternative beach getaway away from the popular beach towns on mainland Vietnam. Here you can relax on quiet, pristine and unspoilt beaches. Khem beach is one of the island's best, overlooking Emerald Bay with its soft sand and pleasant waters. Known as the 'crown jewel', Sao beach covers a 20 km stretch of white sand on the west coast, a great spot to watch the sunset. Word has spread about the island's quality of beaches and tourism is developing rapidly. Despite the growing tourist numbers, however, the island hasn't lost its friendly atmosphere and laidback way of life.
Half of Phu Quoc island is covered by a protected national park and is home to waterfalls, wetlands and colourful reefs. The fertile land here grows high-quality black pepper, and the island is also famed for its fish sauce production. If you're looking to explore another island, board what is said to be the world's longest non-stop cable car as you float above the incredible turquoise waters and reefs for 8 km before reaching Pineapple Island.
The west coast of the island is much more developed, with many hotels and resorts, though even here you won't find too much invasive tourism infrastructure. We recommend a stay at Mango Bay for a rustic beach escape, Chen Sea for its great beachfront location or La Veranda spread amongst tropical gardens overlooking the ocean. Talk to our Vietnam experts to discover how you can incorporate a stay on Phu Quoc Island on your next tailor-made holiday.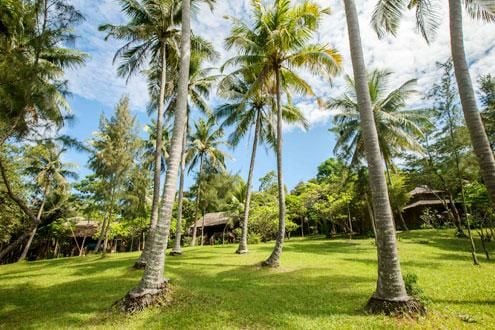 Mango Bay Resort, Phu Quoc Island
The Mango Bay Resort is a favourite of Experience Travel. Enjoy rustic comfort set in an idyllic island getaway.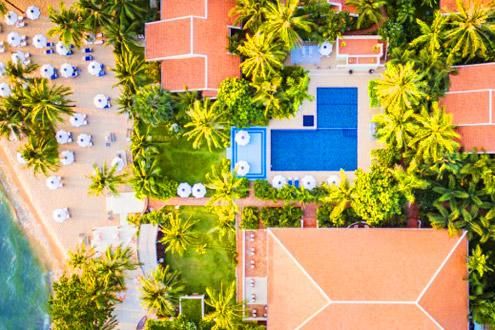 La Veranda, Phu Quoc Island
A superb, stylish and luxury resort and island getaway on one of Asia's most beautiful island resorts.