Borneo is a tropical rainforest with year round warmth and humidity (temperatures average 27 - 32°C). It is a large island and there can be many different weather pockets at one given time, meaning that if you are prepared to see a little rain you can enjoy Borneo at any time of year. For more in-depth info on: 1) rainfall and temperatures per month, 2) how best to tackle your wildlife experiences, 3) scope out which accommodation is best and where, then download our free 'insider' Borneo country guide.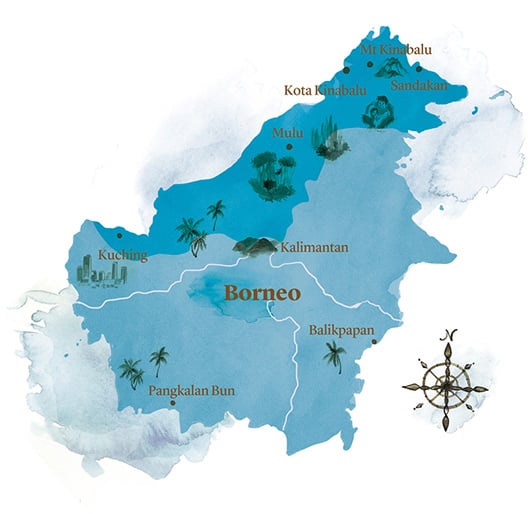 When to visit (Quick Summary)
Best Time
May - October
---
Monsoon Season
December - February
---
Beach Season
March - October (Sabah)
---
Wildlife
All Year
---
January - February
During this monsoon season, there is a high chance of heavy rainfall. Whilst this makes the scenery lush and tourist numbers low, some lodges will be closed. At this time the weather is generally fantastic in Peninsular Malaysia so consider a short visit to Borneo combined with, for example, Langkawi.
March - April
The rains generally start to subside in Sabah by March and Sarawak by April. Rainforests attract rain most of the year, so don't be put off at this time: low visitor numbers, lush scenery following the monsoon and sunny days at the beach make this an excellent time to visit.
May - June
For a tropical island, these are two of the driest months of the year. Do note that there can be some rain in the eastern state of Borneo, including Kota Kinabalu and Gaya Island. In the rainforest, tropical storms can come at any time (as they can all year) but, on the whole, conditions for jungle walks and trekking are brilliant.
July - August
The temperature edges up in July and August to 30-31°C, which in turn increases the humidity count. Whilst thunderstorms are a possibility in Sarawak as they are year round, there are typically many hours of sunshine each day and over in Sabah the weather is ideal for beach time and trekking.
September - October
The dry season draws to a close during September and October, though it remains a good time for travel. The clear sky's make September a particularly good time to tackle Mount Kinabalu and the slightly lower temperatures make travel comfortable. Visitor numbers will have fallen sharply by this time.
November - December
A mixed bag for Borneo, as rainfall starts to climb again. Afternoon thunderstorms in Sarawak are more common. However, there will still be dry days and the rainforest will start to thicken out as nature reacts to the increased moisture. It's a good time to combine Borneo with Peninsular Malaysia too.
DOWNLOAD YOUR FREE COUNTRY GUIDE
Enter your details for:
Monthly roundup of weather
Our best wildlife experiences
An in-depth look at what to do beyond the wildlife
Conservation and care
Our guide will be followed by a handful of emails full of travel inspiration. Curious to learn more? Give us a call on 020 3811 2247. We love talking travel
Specialists
We've been there, tried it, listened to your suggestions and improved it.
---
Trusted
We are full members of ABTA, AITO and hold an ATOL number 9324. We offer 100&percent; financial protection.
---
Experience
Your holiday will be privately guided and fully flexible. It's your holiday and we listen.
About Us
Experience Travel Group (ETG) is a premium tour operator creating distinctive holidays by curating experiences in Asia that bring the fabric of a destination to life for each individual customer. Each holiday is built from scratch by one of our travel team who only organise holidays to countries they've extensively travelled themselves. We delve deeper than most tour operators during the consultation process to find out what a client really wants to get out of a holiday and more importantly why they want to go.
Expertly Crafting Holidays since 2004.
Fully ATOL/ABTA bonded.