Borneo is a tropical island with year-round warmth and humidity (temperatures average between 27 - 32°C). The country is mostly rainforest, and the key is in the name: rain. While there is a dry season and a wet season, one should always be ready to experience rain in Borneo, no matter what time of year you visit. But rain in a rainforest is always a good thing, as it sustains the lush green jungle that blankets most of the country. Plus, you can certainly expect sunny weather during the UK spring and summer months - perfect for making use of some of Asia's best beaches.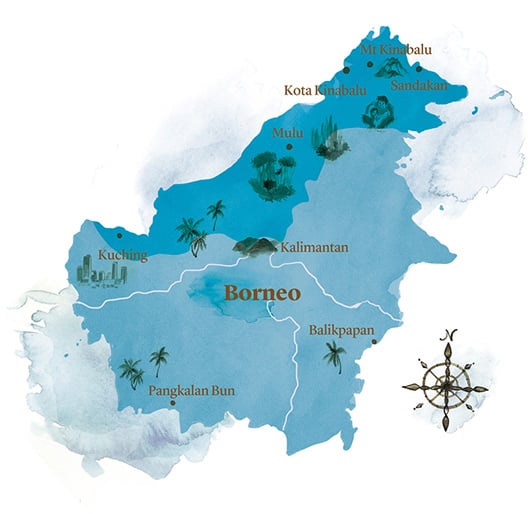 When to visit Borneo
(Quick Summary)
Best Time
May - October
---
Monsoon Season
December - February
---
Beach Season
March - October (Sabah)
---
Wildlife
All Year
---
Weather in Borneo throughout the year
January - February
During this monsoon season, there is a high chance of heavy rainfall. Whilst this makes the scenery lush and tourist numbers low, some lodges will be closed. At this time the weather is generally fantastic in Peninsular Malaysia so consider a short visit to Borneo combined with, for example, Langkawi.
March - April
The rains generally start to subside in Sabah by March and Sarawak by April. Rainforests attract rain most of the year, so don't be put off at this time: low visitor numbers, lush scenery following the monsoon and sunny days at the beach make spring an excellent time to visit Borneo.
May - June
For a tropical island, these are two of the driest months of the year. Do note that there can be some rain in Sabah, including Kota Kinabalu and Gaya Island. In the rainforest, tropical storms can come at any time (as they can all year) but, on the whole, conditions for jungle walks and trekking are brilliant.
July - August
The temperature edges up in July and August to 30-31°C, which in turn increases the humidity count. Whilst thunderstorms are a possibility in Sarawak as they are year-round, there are typically many hours of sunshine each day and over in Sabah the weather is ideal for beach time and trekking.
September - October
The dry season draws to a close during September and October, though it remains a good time for travel. The clear skies make September one of the best times to climb Mount Kinabalu. Weather in Borneo in October is slightly cooler, which makes travel comfortable, and visitor numbers will have fallen sharply by this time.
November - December
A mixed bag for Borneo, as rainfall starts to climb again. Afternoon thunderstorms in Sarawak are more common. However, there will still be dry days and the rainforest will start to thicken out as nature reacts to the increased moisture. It's an excellent time to combine Borneo with Peninsular Malaysia too.
DOWNLOAD YOUR FREE COUNTRY GUIDE
Enter your details for:
Our best wildlife experiences
An in-depth look at what to do beyond the wildlife
Conservation and care
A month by month lowdown on the weather
Our guide will be followed by a handful of emails full of travel inspiration. Curious to learn more? Give us a call - we love talking travel.
The Seasons in Borneo
Most people consider the May to October "dry season" the best time to visit Borneo. You'll experience more sunshine and the river levels will be lower, meaning the animals have to come further out of their natural habitats in search of water. This makes wildlife spotting much easier. May to October is the best time to go to the beach in Borneo too - and we reckon Borneo has some of the most underrated beaches in Asia.

The wet season in Borneo is from November/December to February. Though rain deters most travellers, this season does have its advantages – beautiful natural scenery, fantastic photo opportunities and fewer visitors, to name just a few. Talk to a specialist about planning your luxury Borneo holiday in line with the tropical seasons.
When to spot wildlife in Borneo

To spot orangutans in Borneo, April to August is your best bet. This is the driest period of the year, meaning that wild orangutans are more likely to congregate around water and food sources. March to October is the best time of year to see proboscis monkeys and pygmy elephants when temperatures are comfortable. For bird-lovers, endemic birdlife is visible all year, but the best time to spot migratory species is October to April.
Key Dates and Festivals

Borneo's annual calendar has a range of exciting festivals. In February, Chinese New Year is celebrated with family festivities and colourful lanterns in the street. The Borneo Cultural Festival takes place in Sarawak in July, a week-long festival that brings together food, music and arts from across Borneo. The Rainforest Music Festival is a three-day celebration of local and international music held near Kuching in July or August. Generally, Kuching is a hotspot for festivals throughout the year, so if you're keen to witness some of the action then this dynamic city is a great place to be.

When to go to Borneo: Insider tips
Oddly enough, wet season travel is quite enjoyable. When the rivers are flooded, you can get better access to remote wildlife spotting areas down small water channels, and the main tourist spots aren't as busy, either. January sees the lowest number of tourists generally, so if you are looking for a real rainforest adventure, don't be scared to visit early in the year! In addition, May is such a great time, because it's just turning into the dry season. It's very green, but you are starting to get less humidity, and the country is awash with colour after the rains.
Meet the Borneo experts
James
James didn't leave Europe until he was 19, first venturing to California for three months and then four months in South America. But it was his first trip to South East Asia, travelling from Hanoi to Bangkok overland, which really captured his imagination. A few years later he embarked on an epic eight-month tour of India which saw him, among other things, working in the holy city of Varanasi and volunteering in a rural development commune in southern Kerala. James has since been back to India over ten times, and travelled to Malaysia and Borneo, becoming obsessed with the street food of Penang in the process. More recently he's been to Bali and Lombok where he particularly enjoyed climbing Mount Rinjani, Sri Lanka where he fell in love with the Mudhouse and back to off-the-beaten track Sikkim in India.
... Read more
Call James
Holly
Holly's first job in travel was in a marketing role. However, it didn't take her long to decide to exchange inspecting photographs of amazing destinations for being in them herself.
... Read more
Call Holly
Becky
Becky joined the Experience Travel Group team in July 2012, but was an explorer from a young age, thanks to her globe-trotting parents. Southeast Asia was where her young journeys began and later, combining her passion for history with travel, she delved into the culture, religions and traditions of Asia and the Middle East. Becky also spent a year studying at the University of Otago, in New Zealand, as part of her History degree.
... Read more
Call Becky
As Featured In