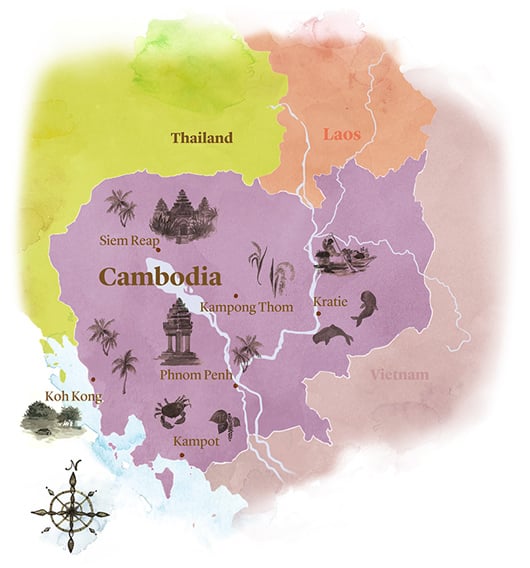 When to visit Cambodia
(Quick Summary)
Best Time
October - March
---
Green Season
May - September
---
Beach Season
November - April
---
Wildlife
All Year (Kratie – Irrawaddy dolphins)
(Ratanakiri - gibbons)
(Cardamom Mountains)
---
Cambodia is located in the tropical zone of Southeast Asia and is blessed with a straightforward climate. As with other countries in the region, Cambodia has a distinct wet and dry season. However, we argue that the dry season is not necessarily the 'best' time to go to Cambodia (unless you're looking for some serious beach time). The monsoon rains bring exceptionally lush scenery, with verdant vegetation and floating villages at their most picturesque. Choosing when to go to depends on what you'd like to get out of your luxury Cambodia holiday - and our specialists would be more than happy to help you figure that out.
WEATHER IN CAMBODIA THROUGHOUT THE YEAR

January - April
This is an excellent time to visit Cambodia with hot, dry weather, sun-drenched beaches and clear blue skies - all day every day, it's a reliable choice for winter sun and perfect if you're looking to combine beach time with some cultural exploration. Be mindful that it will start to swelter in late March and April and the water levels fall from January onwards.
May - September
Tropical rains will come to all of Cambodia from May through September, although this is often a welcome break from the dry heat of April. It rarely rains all day every day, and the lush landscapes will return - hence the local name of "green season". If you're passionate about beautiful scenery (and want to make the most of low season hotel offers!), this could be a great time to visit, though we'd caution that there can be flooding in late August and September.
October - December
One of the best times to visit Cambodia is just after the wet season when the landscapes are still green and warm, dry and sunny days return. Weather in Cambodia in November is particularly lovely, as river levels are still high from the recent rains and rice paddies shimmer with fresh water. A December holiday in Cambodia can be a unique choice for a tropical Christmas, too.
January
January is an ideal time to visit Cambodia. You can expect the weather to be dry and for temperatures to be enjoyable. The average temperatures in January will range between 24C-31C, whereas it can be much hotter at other times throughout the year.
February
February is another great month to visit Cambodia, as the temperatures are still not at their peak, and you can expect the overall weather to stay dry. The average temperature in February hovers around 27C, though gradually growing warmer as the month goes on.
March
If you visit Cambodia in March, you can expect fine, warm and dry weather. The temperatures are really starting to ramp up in March, and in some areas, you can expect temperatures to reach the region of 34C.
April
If you're headed to Cambodia in April, get ready for the heat. April is the hottest month in Cambodia, with temperatures hitting 35C. While you can expect conditions to be dry overall, there will be a few days of rain during April.
May
Welcome to the rainy season! May kicks off Cambodia's rainy season, so you can expect an increase in the number of rainy, stormy days. The days tend to be a mixture of dry and humid, with intermittent cool and warm spells, and rain showers off and on. May is also when you can expect to see the sweltering temperatures begin to drop, with an average temperature of about 30C.
June
Rain is a regular occurrence in Cambodia throughout the month of June. Humidity levels can be quite high, with temperatures in the area of 28C, but relief comes with the short showers spotted throughout the day which helps to break humidity and cause the temperature to dip.
July
In July you'll notice that temperatures continue to drop in Cambodia, with the average sitting around 27C. A mixture of wet and dry days is common at this time, though the rains can be heavy and stormy
August
Temperatures maintain throughout Cambodia in August, though you may begin to notice the nights growing cooler. The majority of days throughout the month of August will see rain, though in smaller amounts each day, and humidity stays very high at this time
September
The temperatures continue to drop slightly in September, with the average high in Cambodia about 26C at this time. Rain is still a regular occurrence with ongoing humidity.
October
October ushers in the end of Cambodia's rainy season. You can still expect a number of rainy days, though this will gradually decrease as the month goes on. Temperatures are warm, sticking to about 27C for the average high
November
November is ideal if you want to visit Cambodia when the weather is cooler and drier. The rainy season has officially ended, the days are dry and perfect for lots of going out. You can expect temperatures to continue to hover around 27C
December
December is one of the coolest months in Cambodia, with average temperatures typically around 25C. The weather is dry and dependable. Because of the ideal weather conditions, you can expect attractions to be busier, as this is one of the most popular times to visit Cambodia.
DOWNLOAD YOUR FREE COUNTRY GUIDE
Enter your details for:
Monthly roundup of weather
What to experience beyond the Angkor Temples
Where to stay and why
Our unique range of experiences
Our guide will be followed by a handful of emails full of travel inspiration. Curious to learn more? Give us a call on 020 3811 2247. We love talking travel
THE SEASONS IN CAMBODIA
Cambodia's dry season lasts from mid-October through until April. To us, October to November is one of the best times to go to Cambodia, as although you may see residual rains, the landscapes are exceptionally green and beautiful. December and January are the two most popular months to visit Cambodia, with low humidity and mild temperatures on the cards. Over the following months, temperatures creep up, and by the time April comes around, it can be unbearably hot (frequently reaching well over 40°C). However, the beaches and seaside towns in the south can offer sun-seekers some dazzling ocean vistas at this time.
May to October marks the typical monsoon season, where rain can fall 4-5 days out of each week. During the wet season, the rice paddies are full of water, the floating villages spring back to life, and the temples of Angkor reflect serenely in their pools and reservoirs. Though we understand that the rain will deter many travellers, for landscape lovers this can be a brilliant time to visit. You can also take great advantage of low season offers, too.
BEACH SEASON IN CAMBODIA
Naturally, the dry season (November - April) is the best time to go to the beaches in Cambodia. Travelling at the beginning of the dry season, from November and December, tends to be slightly cooler, while in March to April temperatures can average around 30ºC. For that reason, if you'd like to combine beach time with sightseeing, we'd usually recommend travelling earlier in the season.
Cambodia's coastline has a few lovely resorts, with colonial beach properties like Knai Bang Chatt that exude character, though the beaches here tend to be smaller and are often human-made. However, head to the islands off Sihanoukville, and you'll see the best of Cambodia's beaches. Islands such as Koh Rong Samloem offer pristine sands and waters, while private islands such as Song Saa provide the ultimate in luxury escapism.
KEY DATES AND FESTIVALS
Like with many Southeast Asian countries, Cambodian new year takes place in April and forms the country's most important festival. Bon Chol Chhnam Thmei, as it is locally known, usually begins on the 13th or 14th and comprises a three-day celebration in which most Cambodians have time off work to spend time with their families. Though many bars and restaurants shut during this time, especially in Phnom Penh, it is also a period filled with music and festivity. Talk to your specialist about whether a visit for Khmer new year is right for you.
November is also an excellent month for those looking to get involved in exciting Cambodian events. Celebrated with colourful boat races, The Water Festival marks the change of course of the Tonle Sap waters. In contrast, Independence Day marks independence from French colonial rule in 1953 (not to be confused with Liberation Day, which takes place in January and commemorates the end of the Khmer Rouge regime in 1979).
Meet the Cambodia experts
As Featured In