The Maldives is idyllic beyond belief, and its magnificence is reflected in its weather. With near-perfect temperatures and a generally dry climate, it is truly a year-round destination, which means you have great flexibility when planning your luxury Maldives holiday. If you would like to discover The Maldives in combination with Sri Lanka, you might also want to consider the best time to visit Sri Lanka.
If you are in the early planning stages, we've made a comprehensive Maldives FAQ guide. You might be wondering whether the seaplane transfer is really worth it? What board basis is right, whether style and vibe are important considerations or where best to take your family? Not to be missed for anyone planning a Maldives holiday now.
PLANNING A HOLIDAY TO THE MALDIVES?
Definitive FAQ QUIDE
VIEW HERE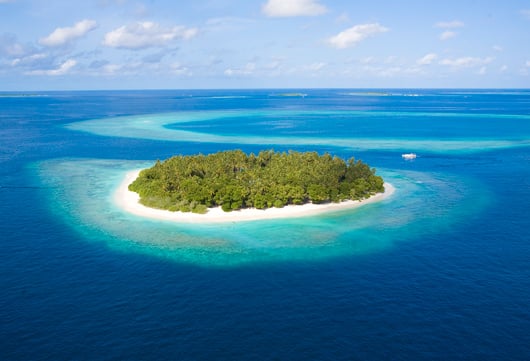 When to visit the Maldives
(Quick Summary)
Best Time
All Year
---
Monsoon Season
May - October (wet season)
---
Beach Season
All Year
---
Wildlife
All Year (marine life)
---
Weather in The Maldives Throughout the Year
January - April
This is one of the best times to go to The Maldives: minimal rain, brilliant blue skies and warm sunny days. Temperatures in The Maldives in January are around 28ºC, increasing slightly by April to 29ºC on average. The sea will be clear and calm too, which makes it ideal for sun-seekers and snorkelers alike. Perfect for some late winter sun or an Easter break for families.
May - September
Don't be put off that May to September is the wet season for the Maldives - it's still a period for travel. Humidity and rain do increase over these months, but as the islands are so low-lying, rain clouds blow over very quickly so rain will usually be short-lived. Plus, there will be fewer travellers and excellent "low season" offers so you may find the utmost peace as well as a great value Maldives experience.
October - December
Hot, dry weather returns to the Maldives as the wet season ends in October. Expect long days of brilliant sunshine and temperatures in the high 20°Cs - low 30°Cs. Visiting The Maldives in December can make for a brilliant Christmas holiday - though do be warned, this is a popular time to travel, so it's worth booking early!
DOWNLOAD YOUR FREE TRAVEL GUIDE
Download your Maldives travel guide for:
Expert advice on where to travel
Top places to visit, including the main sights with a twist and hidden off-the-beaten path experiences
Best beaches and recommended hotels
Dry and Rainy Seasons in The Maldives

There are loosely two seasons in The Maldives. The dry season, or just "best of the best" in terms of weather, runs from October through to April. In this period, the 26 atolls of countless sandy coral islands see minimal rain, bright sunshine, clear blue skies and calm seas with excellent visibility for snorkelling and scuba diving. The weather in December is beautiful, making The Maldives the perfect Christmas getaway.
Though May - September is known as the 'monsoon season', don't be deterred. Rains in The Maldives are usually short-lived and, by travelling during this time, you can get some fantastic value offers. There is a risk of storms, but clouds pass over the low lying atolls quickly, and during this season, there are also long spells of brilliant sunshine.
Key Dates, Events and Festivals

For snorkelers and divers, the best time of year to visit the Maldives is from June to November. This is the best time to swim with large marine life, especially in the Baa Atoll when hundreds of manta rays and whale sharks gather every year to feed on the plankton trapped in the atoll's bays.
Another natural phenomenon the Maldives is famous for is the sea of stars or bioluminescence. The warm Indian Ocean and dark nights are perfect conditions for the phytoplankton, and with a little luck, you may witness this wondrous display. Take a moonlit stroll in the shallow lapping waves or dangle your feet over the jetty or from your overwater villa's deck into the lagoon waters to create the bright blue, glowing traces. The best time to go to the Maldives to see bioluminescence is between June and December, but it can appear at any time.
Some wonderful festivals are celebrated on Maldives residential islands. Two festivals that offer great cultural insight are National Day on 17th-18th October and Republic Day on 11th November. On National Day there are military parades, flag-raising ceremonies, and fireworks whereas Republic Day is marked by a feast of Maldivian dishes like Huni Hakuru Folhi, Bodibiday, Masroshi. You can combine your luxury stay with a visit to one of the local islands or stay in one of the guesthouses for a cultural experience.
Meet the The Maldives experts
As Featured In