Tropical Thailand, like many other countries in Southeast Asia, is long and sprawling, with lovely warm weather and humidity throughout the year. The east and western beaches are affected by different rains, but sunny coastlines are available most of the time - as long as you know where to look!

We can help you design a luxury Thailand holiday in harmony with the seasons. Take a look at our breakdown of the best time to go to Thailand, or don't hesitate to get in touch - our Thailand specialists would be happy to help you decide the time of year that would work best.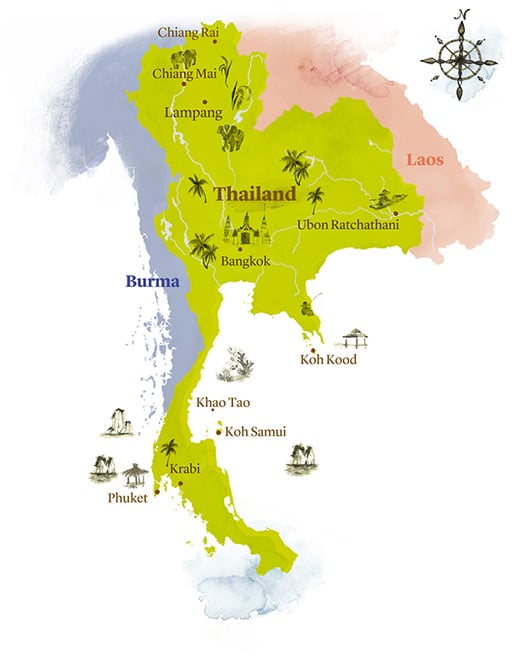 When to visit Thailand
(Quick Summary)
Best Time
November - April
---
Monsoon Season
May - October (Northern Thailand, Andaman Coast)
September - December (Gulf of Thailand)
---
Beach Season
November - April (Andaman Coast)
February - August (Gulf of Thailand)
---
Wildlife
December - April (Khao Sok National Park)
---
Weather In Thailand Throughout The Year
January - March
If you want to tour Thailand extensively, this is the perfect time to go. The north and central regions will be hot and dry, with sun-drenched beaches across the southern peninsula. The chance of rain is minimal, and conditions are comfortable throughout the country.
April
Brilliant weather will continue across all of Thailand in April, making it a great place to visit in the Easter holidays. Temperatures will reach well into the mid to high 30°C across the country, particularly in Bangkok where it will be scorching.
May - August
A mixed bag for Thailand, this time of year brings monsoon weather to much of the country, including the north, central region and south-west. It will rain heavily for a few hours each day, but there will still be intervals of great weather. Beaches on the south-east coast are dry and hot during these months.
September - October
These are two of the wettest months in Thailand, where humidity and rain will be frequent across the whole country. One bonus of the accumulation of wet weather is that the national parks are very lush and green, with waterfalls bursting with water making for some stunning natural vistas. By late October, the weather will start to improve.
November
This month marks the start of the dry winter season in Thailand, and the monsoon rains should have abated significantly across most of the country. Warm and dry sunshine will cover the north and central regions, and bright sunny days will return to the southern beaches. November is generally a good month for spotting wildlife in Thailand, too. A great month to travel.
December
Thailand's weather in December is brilliant, making it a very popular time to visit. Bangkok and the central regions are dry and warm (average 25°C), the beaches are hot and, most importantly, totally dry with the monsoon rains wholly wrapped up. The northern regions are also hot and dry in the day, but if trekking or staying in the highlands expect slightly cooler temperatures at night.
DOWNLOAD YOUR FREE COUNTRY GUIDE
Enter your details for:
Weather roundup across the year
Our favourite unique experiences
Our recommended boutique hotels
The little known beaches and how to add to an itinerary
Our guide will be followed by a handful of emails full of travel inspiration. Curious to learn more? Give us a call on 020 3811 2247. We love talking travel
Weather in Thailand by region
The climate in Thailand is generally tropical and humid throughout the year. Most would say that the best time to visit Thailand is between November and February when the weather is at its most pleasant all over the country. However, that doesn't mean you need to rule out travelling at other times.
In April, the weather in Thailand is at its hottest. Temperatures do drop much lower in parts of the mountainous north during certain points of the year, while distinct seasons impact different regions of the country. We've broken down the country into broad areas to help you work out the right time for your holiday.
North Thailand
Northern Thailand, with the city of Chiang Mai at its heart, is generally dry between November and May. The latter part of the dry season often sees higher temperatures, hazy skies and dry heat in contrast to the windier and fresher start. The rainy season in northern Thailand is generally considered to be between May and November. However, weather patterns will vary greatly within this period: while there will be some days of torrential rain, there will also be long clear spells. It can get chilly, particularly in December to February, in surrounding Chiang Rai, Mae Hong Son and Phayao provinces, especially at higher altitudes or in more densely forested areas.
South Thailand
The south of Thailand can also be divided into two general "wet and dry" seasons. However, the patterns vary from coast to coast: to the west, you'll find the Andaman Coast, and to the east, you'll find the Gulf of Thailand.
Andaman Coast
The western side of Thailand is known as the Andaman coast. It's home to Phuket, Phang-Nga and Krabi provinces, and it is where you'll find some of the country's best beaches, islands and national parks. The rainy season for this side is between April and October, with September and October being the wettest. November to April tends to see consistent hot and clear weather.
Gulf of Thailand
The Gulf of Thailand, on Thailand's east coast, is where you will find many of the country's most alluring islands. The best time to visit is generally between June and September when you can make the most of the beaches at their best. The rainy season tends to run from October to December on the islands of Koh Samui, Koh Pha Ngan and Koh Tao as well as those further east towards the Trat province and Cambodia border.
Best Time to Visit Thailand: Festival Guide
Thailand's biggest festival is Songkran, which celebrates the Buddhist new year and takes place in mid-April. Celebrated all over the country, Songkran is often marked by having water-throwing parties which have now become famous among travellers. Loy Kratong festival in November is also a sight to behold, notable for the tradition of releasing floating baskets with candles into lakes, rivers and seas.
The Phuket vegetarian festival, which lasts for nine days around October, is one of Thailand's most unusual and lively. Steeped in Chinese mythology and legend, much of the island turn vegetarian for a couple of weeks in a riotous carnival of food, procession, performance and ritual.
The picturesque Yi Ping festival takes place across northern Thailand in November and is remarkable for its floating and flying lanterns. In May, various parts of Thailand's eastern Isarn region also see the remarkable Boon Bang Fai, also known as the Rocket Festival, celebrated with homemade bamboo rockets and big parties to greet the arrival of the rainy season. There are hundreds of smaller festivals throughout the year which you can plan your holiday around; talk to your travel specialist if you're keen to experience a Thai festival.
Meet the Thailand experts
As Featured In