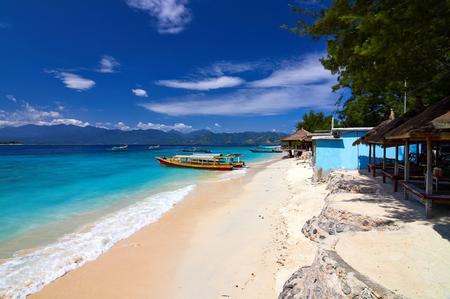 Any traveller looking for a less touristy alternative to Bali need look no further than Lombok, its neighbour to the east. Surrounded by quiet and picturesque white-sand beaches, fantastic surf and breathtaking snorkelling and diving spots, Lombok is Bali but 25 years ago.
Sengiggi
The mainland's main resort of Sengiggi, 20 minutes north of the state capital Mataram on the West coast, is a sedate alternative to Bali's South coast. The wide bay has a number of international hotels and places to eat and drink. Just north of the main beach are the excellent value small hotels, Qunci Villas and Puri Mas, which are good options for families and young couples without being too isolated.
Gili Isles
The three small islands off the North-West Coast that make up the Gil Isles are probably the most famous attraction in Lombok. For decades these islands have been on the backpacker trail, with their warm turquoise sea and abundant coral, teeming with sharks, rays and turtles. In recent years the appeal has spread and there is now a range of more stylish accommodation. Gili Trawangan is the largest of the islands (although you can still walk around the whole island in 2 hours) and has the best range of accommodation and facilities. A social island but with no motorised vehicles there is a definite laid back feel. It is a great option for young couples and families looking for a bit of life and Ko Ko Mo is a good modern hotel on the quiet end of the island.
Sira Beach
Sira beach, which looks out to the Gili Isles, is a wonderful alternative for those looking for great style and comfort on a quiet and idyllic private beach. A mere 30 minutes north of Sengiggi and with an 18 hole golf course behind the beach, Tugu Lombok and The Oberoi - Lombok are the ideal places to relax and unwind in luxury.
Kuta & The South Coast
For the time being at least, the laid back surfing resort of Kuta is the polar opposite of its namesake on Bali. This stretch of southern coastline has a seemingly endless number of undisturbed sandy coves and some of the best surfing spots on the island. As it is destined for major development in the not too distant future now is the time to explore this region;Novotel Lombok is the best hotel in the area. For those looking for real isolation and a full range of activities Heaven on the Planet is a fantastic property on the South-Western Peninsula.
Mount Rinjani
Whilst staying on Lombok you will see Mount Rinjani towering over the island from pretty much any vantage point. The second highest mountain in Indonesia, the lush slopes and aquamarine crater lake make trekking up the mountain a truly magical experience. A few simple lodges at the foot of the mountain aside, accommodation is very limited, but we can arrange fully guided overnight treks for the more intrepid traveller.
OUR FAVOURITE LOMBOK HOLIDAY
OUR FAVOURITE LOMBOK HOTELS