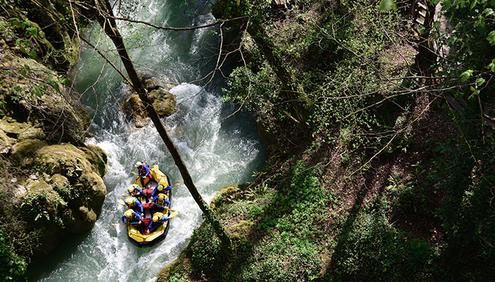 Whitewater rafting travel experiences are very accessible in Sri Lanka, especially on the Kelani river starting from Kitulgala. What was previously best known as the location for the filming of the film 'Bridge over the river Kwai' is fast gaining a reputation of a far more thrilling nature. The area around Kithulgala is stunning ('Kitul' is a type of palm tree) and one of the most fertile regions of Sri Lanka. There are a number of good places to stay in Kithulgala itself, including the Rafter's Retreat, who also offer the activity as part of an accommodation package. It is possible to visit Kithulgala in a day trip if you are staying in the hill country.
There are numerous companies operating rafting trips down the river and you will come across these on any drive through Kitulgala town. As with many of our other activities we have chosen Borderlands as our provider here. This is for two reasons. First and foremost is safety. Their boats are of the highest quality and their life jackets are modern international standard and checked frequently. Their staff are also highly experienced in handling boats and with the changing conditions on the river itself. The second is that their product here is the best available. The ride is longer as they stop en-route down to explore jungle trails and hidden rock pools which are suitable for swimming. They also provide a room in a hotel at the end of the journey where you can shower and freshen up before having a cup of tea or something a little stronger! For your ultiamte whitewater rafting travel experience, Borderlands in Kitulgala is our top pick.
Whilst not for the feint hearted, the rafting here is not as 'wild' here as certain other destinations and provides a good opportunity for those experimenting with the sport for the first time. It also excellent for families and small groups.
White Water Rafting is also possible on other rivers in Sri Lanka. If you are keen on the sport and want to find the hardest graded rivers, the team will be more than happy to help you.
Discover for yourself why whitewater rafting travel is fast gaining popularity here...
Map centered on White Water Rafting. Zoom out to view other hotels (H) and experiences (E) in the area.