Content editor Philly recently explored new local island experiences in The Maldives. From tucking into delicious traditional dishes, to exploring important cultural sights to appreciating everyday life of Maldivians, here she reports back on her findings that have formed the basis of our new cultural holidays to this fascinating country.  
---
I was looking at a suited man, standing knee-high in turquoise water, with a tropical island paradise behind. It was 2012 and I had picked up The Island President DVD from a quirky second-hand shop in London. Little was I to know that this film, and the story of The Maldives, would shape the course of my life.
Four years on, I was finally speeding along the streets of the capital Male in a taxi truck, Dad in tow, getting a better sense of the culture and people, not just from stories, but from my own experience.
The Island President ignited a real interest of mine in exploring the world and discovering places completely different to what I already knew. Early 2013, I began looking for opportunities in the travel industry, searching for a company that empowered travellers to get under the skin of a country in comfort. Enter Experience Travel Group.
I remember my interview at the company, with the 6ft 8ish founder Sam sharing my keen interest in this thousand-isles nation with a tiny population of just 150,000. He'd read a book touching on the history of the country and its intriguing old system of marriage, where a woman could take a travelling sailor as a husband for a season, divorce and move on to the next as she so wished, keeping the gene pool healthy and varied despite the isolation of the islands. He appreciated that The Maldives had more than just resorts to offer but also a very interesting culture and way of life.
I'd found my perfect company, one whose motivating force was to share truly inspiring, authentic experiences to travel enthusiasts.
But if you tell people that you organise cultural holidays to The Maldives, they laugh. (Well at least my Dad did!) Looking back at him on the truck, I had my revenge, as he seemed to be enjoying the ride and soaking in the bizarre contrast of open turquoise sea next to brightly coloured high rise blocks that characterise the capital.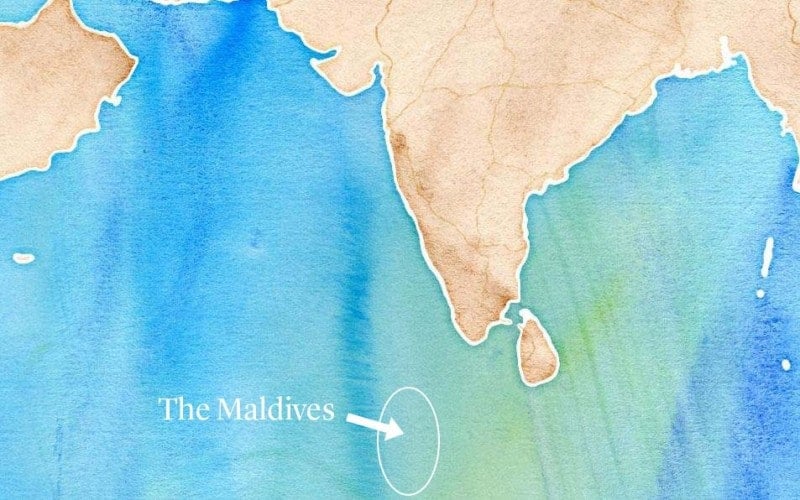 Sam offered me a job at Experience Travel Group and I've worked my way up through the ranks. By early 2016, I was given the task to research new experiences in The Maldives, something I had always wanted to do. A fellow Maldivian enthusiast called Ruth, who'd given up her job at BHS to move to The Maldives and help start authentic guesthouse holidays to the country, was eager to partner up with us. She'd gotten to know the country very well from previous diving trips and developed an itinerary balancing cultural exploration with relaxation.
Starting off on 'Airport Island', my research trip began near the capital Male, taking me on a route North to the island of Huraa and then finally on to Dhiffushi, the most easterly island in the Kaafu Atoll.
Before 2012, it was very difficult to get a sense of life on the inhabited islands of The Maldives as guesthouses were outlawed. Since 2008 with the first democratic election of 'The Island President,' Mohamed Nasheed, rules have relaxed and now more local islands are opening their doors to travellers. This has allowed Maldivians to enter partnerships and build their own businesses, having positive knock-on effects for supermarkets, cafes, restaurants, shops etc. In turn, travellers can have a Maldives experience with local people around them sampling everyday life, customs and food (a delicious 'revelation' according to my Dad).
We had a wonderful guide called Kamay who had done every job under the sun before turning his hand to showing travellers the best of the country. From working as a professional diver, to assisting on educational projects, to being employed by various businesses he was knowledgeable about nearly everything and it was fun chatting away with him across the trip — he was wonderful company.
My favourite memories were of trying delicious hedikaa (snack-like samosas, crunchy rice and tuna balls) as the sun went down and watching local families splash in the water overlooking Male. Enjoying a delicious BBQ of freshly caught fish beautifully cooked by our host at Cool Inn guest house, having breakfast with a local family and finally meandering through the sleepy local islands seeing life drift on at a relaxed pace.
We did manage to sneak in a resort stay to get the full experience. Staying at the picture-perfect Lily Beach Resort, we found combining guesthouses and resorts to be a brilliant way to fully appreciate The Maldives. We'd picked up some dhivehi whilst on the local islands so when I cracked out my 'Ran'galhu doh?' (Alright?) and the staff at the resorts were absolutely shocked as no tourists on the resort islands usually speak any of their language. They were keen to get to know both myself and my Dad, making sure our drinks were topped up and all was well with us. I'd say just a few words of Maldivian and making the effort to speak with the staff makes your experience at the resort all the better.
All in all, my visit to The Maldives was as inspiring as it was relaxing. The growing influence of China in the capital is intriguing (their government is linking Airport Island with the capital Male and is behind lots of the construction of new buildings,) the issue of non-recyclable rubbish and its disposal is interesting and the ever-persistent threat of climate change on coral reefs and the islands themselves affected me greatly. It's a fascinating country and I'm so excited to have contributed to our new portfolio of Maldives holidays that combine resort experiences with guesthouse stays.
Back in the UK, I feel like I've achieved one of my life's big dreams. I hope to return to The Maldives to test further potential experiences, such as visiting the old RAF base in the south of the country and swimming with whale sharks or manta rays. There's so much more to see and do.
I hope you will consider a local experience in The Maldives when planning your holiday and will leave you with some further inspiration with our pioneering suggested itinerary below: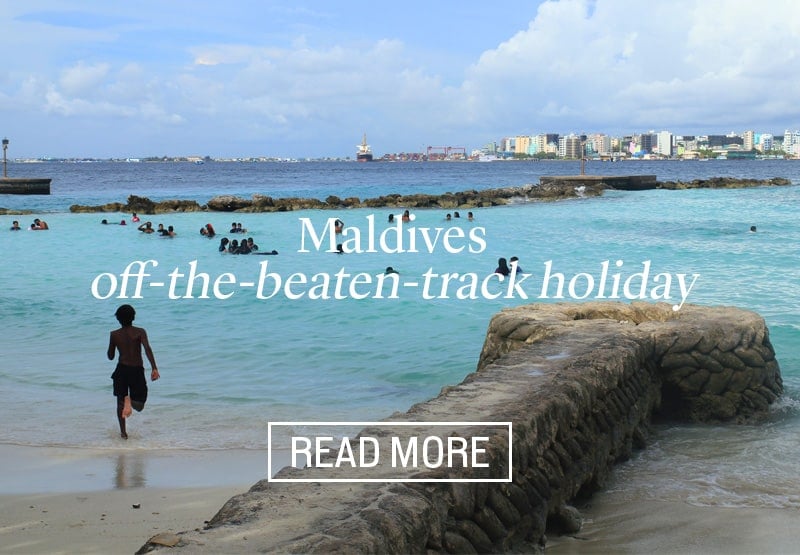 ---
ABOUT OUR HOLIDAYS:
We're experts at creating incredible experiences in Asia for travellers. Our final quotes are fully inclusive of all transport, hotels and experiences so there are no hidden costs. We also offer full financial protection with ABTA/ATOL bonding. We believe that the best way to create holidays of a lifetime is to really listen to your needs, interests and requirements – only by doing this can we ensure your experience is the best possible.
---