An unforgettable holiday…soaking up the enchanting Thai culture…marvelling at the captivating sites and landscapes…unwinding and relaxing (everything a holiday should be)…All without the kids getting bored? 
It is possible!
Read our list of the Top 10 Family Experiences in Thailand to find out what activities you should include in your Thailand holiday to make it an unforgettable trip for all family members – big and small.
1. Elephant Nature Park
The number one on our top 10 Family Experiences in Thailand list is the Elephant Nature Park.  A day spent with these magnificent animals is one that you and your little ones will remember and cherish forever. Get up close and personal with these friendly giants – but not too close; we only work with centres that act as a sanctuary for rescued or orphaned elephants, meaning it's not possible to ride them.
Instead, you'll learn about these animals, and get the chance to feed and help bathe the elephants in a beautiful naturally forested habitat in the north of Thailand.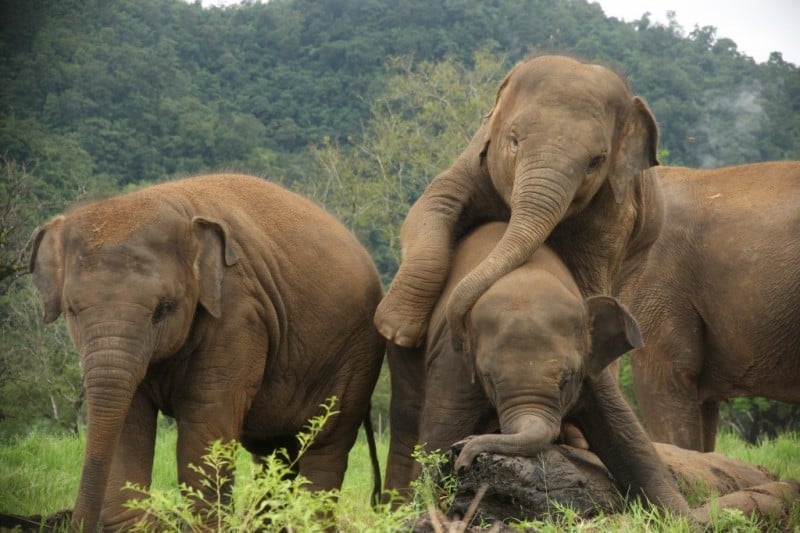 2. Cooking in the countryside
Introduce the family to different dishes and flavours by getting them involved in the whole process. From a morning trip to the market to learn about traditional Thai ingredients, to cooking up a storm with a Thai chef, to the best part…trying the delicious food you've created! It's a great way to open up your children's culinary horizons and, if you're lucky, someone may even be inspired to recreate what they've learnt when you're back home..!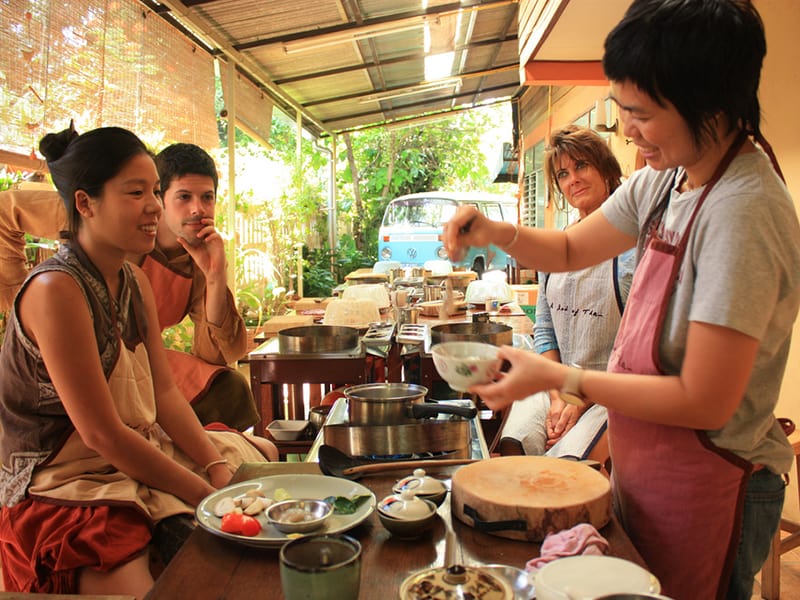 3. Adventure in the jungle
Whilst quite a leap away from traditional Thai culture, the adventurous activities that can be experienced in the dense jungle in the north of the country are nevertheless a great way to entertain and tire out the kids (young and old!) for the day.
Whether it's skimming the treetops on a zip-line, mountain biking in the national parks, or rafting through the rapids of Thailand's most exciting rivers, there's an abundance of experiences for your family to get involved in and, quite apart from the adrenalin, they're a great way of viewing the fabulous mountainous landscape.
For those who prefer to try a less boisterous activity, bamboo rafting is a unique and tranquil way of enjoying the surrounding wildlife and nature.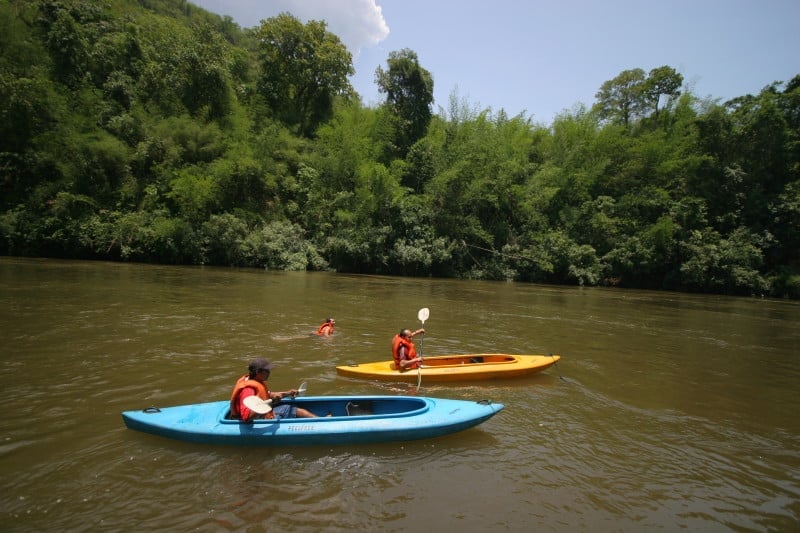 4. Cycling in Central Thailand
Explore the unspoilt heart of the country with a gentle bike ride over a handful of days. This is an ideal option for families who are interested in seeing and learning about the fascinating historical and cultural sites dotted across this special area, whilst keeping the energetic younger members occupied and on the move. The predominately flat terrain makes it suitable for all ages, and it's a fun and leisurely way to visit rural villages and see some stunning landscapes.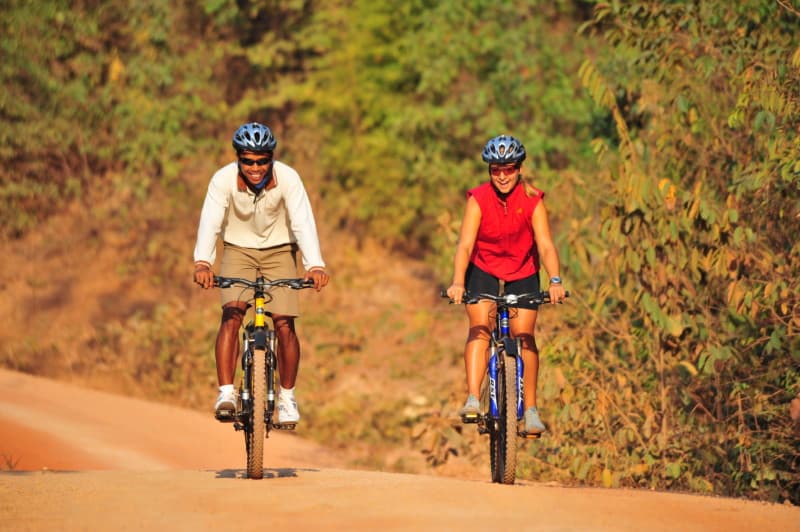 5. Island-hop James Bond-style
Thailand's many idyllic islands are iconic, yet each little patch of paradise has a very different character and distinctiveness from the next, so we really recommend that you experience a few different ones if you get the chance. This can easily be done from Krabi – an area littered with pretty little islands and giant limestone karsts that are especially fun to include as part of a speed boat cruise.
One of the most insanely beautiful islands to check out is Koh Phi Phi (most famously known as the filming location for 'the Beach'), and whilst its fame has turned it into a somewhat 'self-indulgent' destination for tourists, it is certainly worth a day visit for some truly amazing holiday snaps.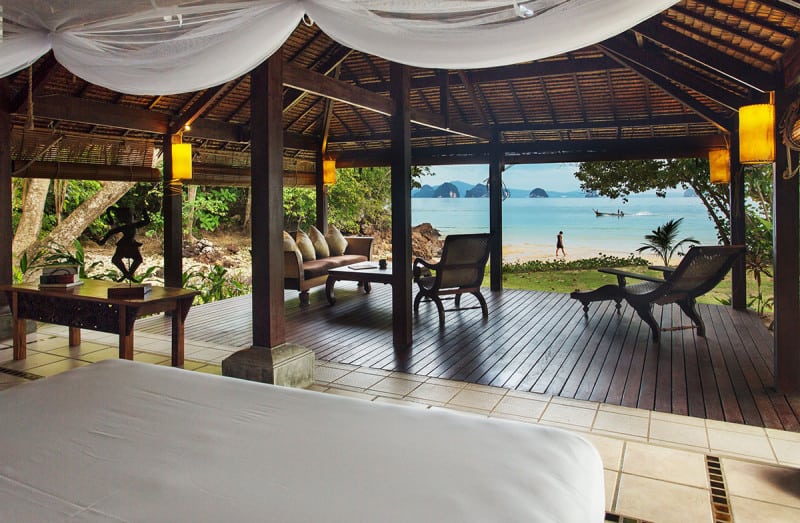 6. Bangkok walking food-tour
Even the fussiest of eaters will find something they love in this city full of mouth-watering delights – from the classic Thai favourite 'Pad Thai' and unusual dishes like 'Catfish salad,' to delicious Thai custard buns and cooling coconut ice cream.
The best thing about a tour like this is not only will you each discover different flavour favourites as you go, but it is also a chance to experience cultural and culinary aspects of the city that would be largely inaccessible without the expert and insider knowledge.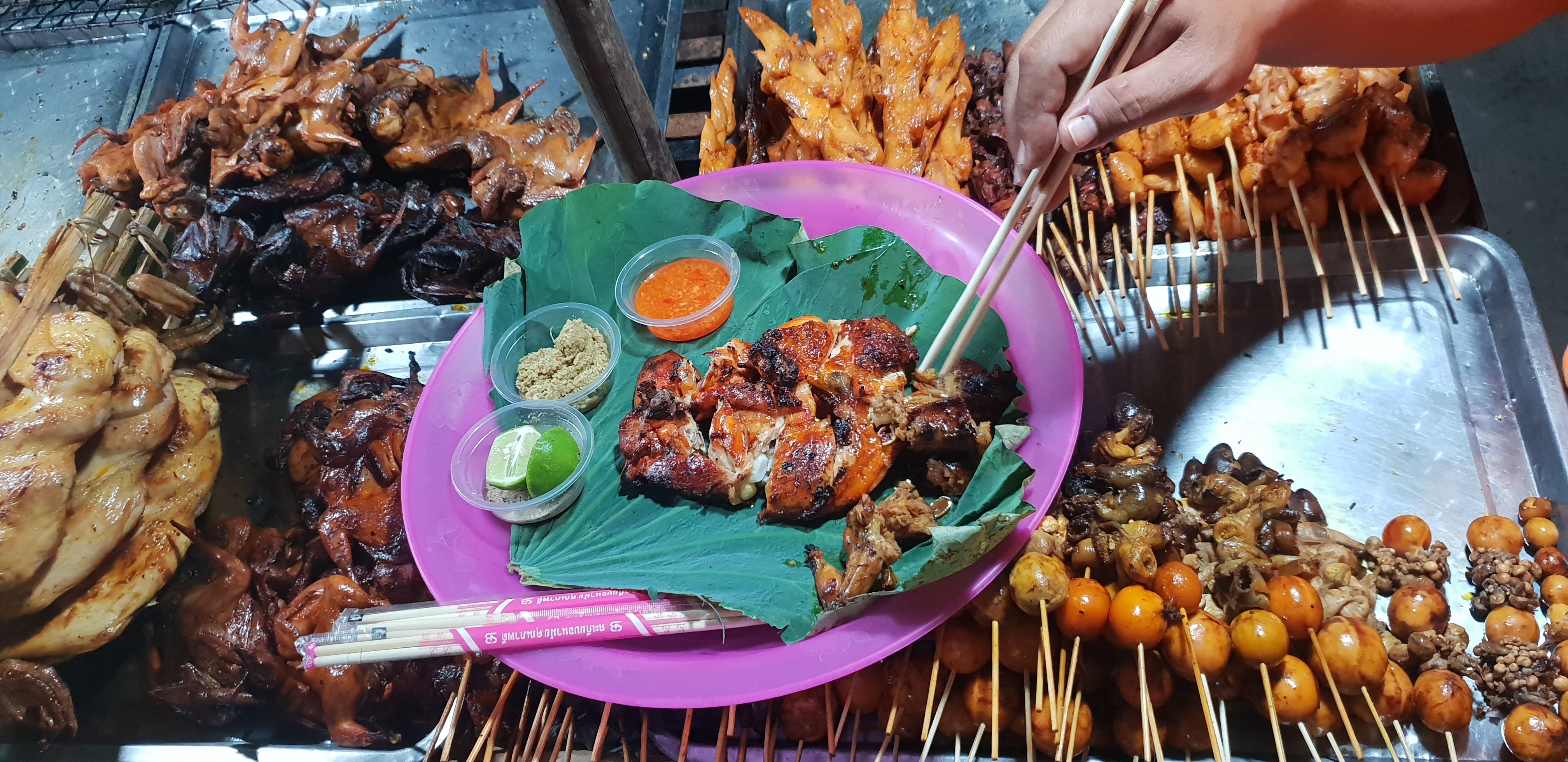 7. Stay in a floating villa
Venture off-the-beaten-track with a unique stay at a seriously boutique retreat. Surrounded by thick jungle, the Float House River Kwai Resort is a real gem of a hideaway, and can only be reached by boat as it actually floats upon the river.
The luxury eco-design paired with the breathtaking surroundings makes it a perfect place to relax and unwind; whilst the novelty of 'floating' and the outdoor adventure options available make it fun for children too.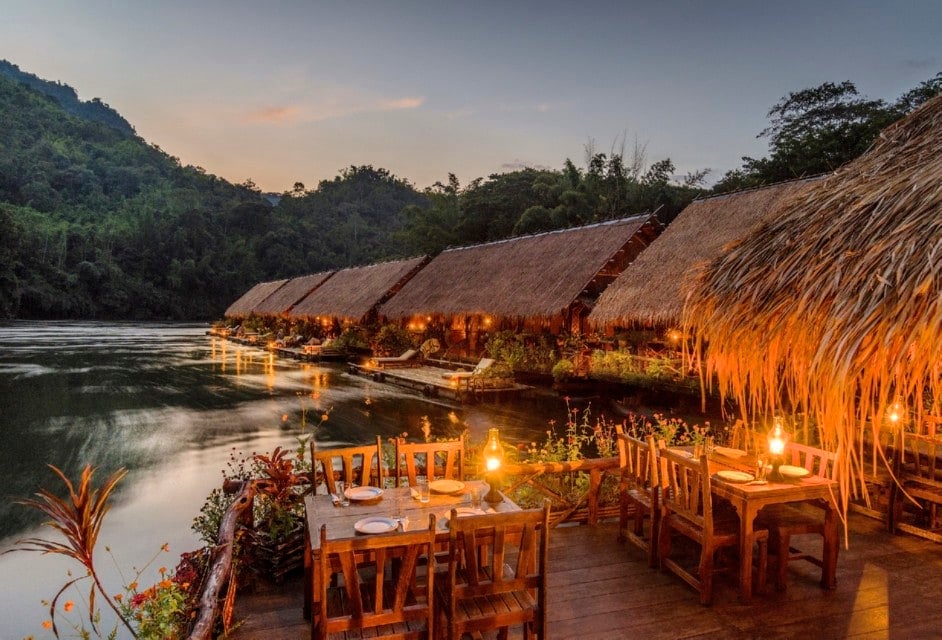 8. Beach time on the Koh Samui
Thailand is famed for its tropical waters and idyllic beaches, so a stay on one of its many islands could not be missed on our list of Top 10 Family Experiences in Thailand. Koh Samui is one of the most well-known and particularly great options for families; children are welcomed almost everywhere and you'll find an abundance of activities to keep them entertained. Particularly great activities on Samui include kayaking and snorkelling.
You'll also find some amazing hotels on this island, from luxury grand resorts to beautiful boutique cottages with buckets of character.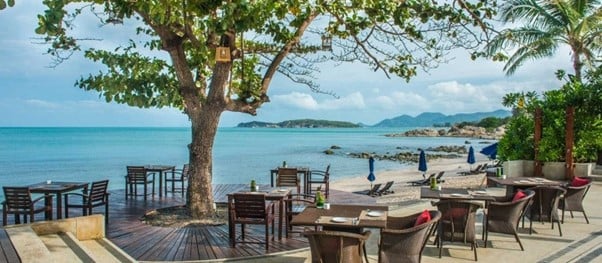 9. Explore Thailand's caves
The idea of spending half a day in a cave might sound scary but Thailand's spectacular and somewhat 'mystical' cave formations are far from frightening. If you've ever seen pictures of iconic giant limestone karsts jutting out of the water for which Krabi is so famous, then you'll know how impressive these look from the outside; what's inside is even more extraordinary.
Some are enormous, whilst others contain the most intricate formations, created over hundreds of thousands of years. Therefore, on top of being an incredible sight, spending a day wandering through these prehistoric caverns is also a brilliant educational experience for the whole family. From being able to touch multi-million-year-old fossilised shells, to seeing first-hand stalagmites and stalactites are formed, and finding out which animals are able to survive in these environments, a day in one of Thailand's dramatic caves will get everyone looking at geology and geography in a whole new light!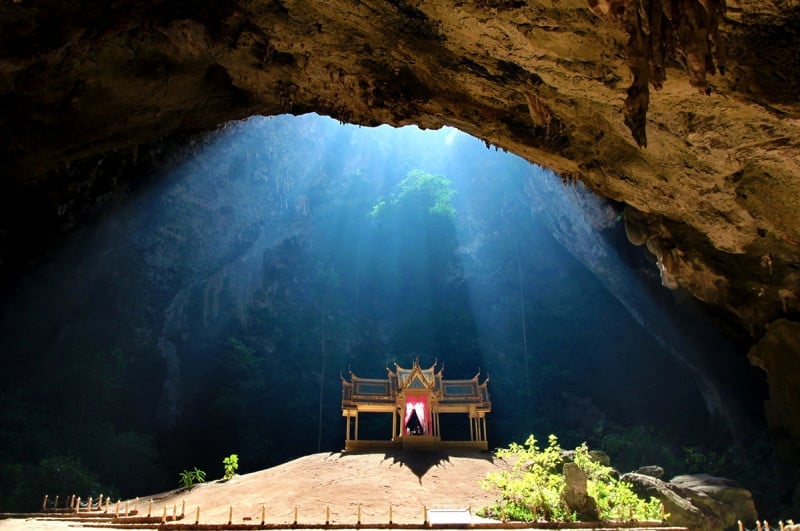 10. Stay in a home away from home
Last but not least is an uncommon accommodation option. One of the reasons why we travel is to submerge ourselves in a completely different culture and get a taste of how other cultures live. What better way to get under the skin of a country and better understand its way of life than to stay the night with a traditional Thai family?
'Homestays' are a refreshingly raw way of experiencing a 'day in the life' of a family who may be very similar to your own, and yet at the same time are 'worlds apart'.
An opportunity to do exactly this can be found in the Karen Village, accessible only by 4-wheel drive from Mae Hong Son. You will have the chance to trek through the beautiful, forested area in which the villagers live, and enjoy a traditionally prepared dinner while you talk and swap stories with your host family. And what we know, from our own travels with children, is that each member of the family will take home their own new and authentic story from an experience like this, to cherish and share for years to come.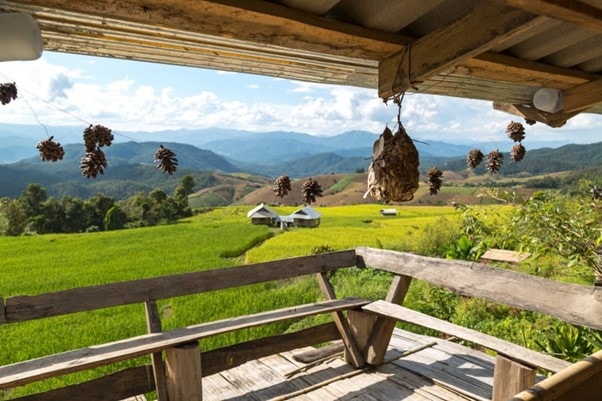 Inspired to make Thailand your next destination for a family holiday?
We're passionate about tailoring holidays that suit you – and that means making sure that everyone in your family has the best time. In our opinion, Thailand is one of the best places for a whole family to enjoy a happy, safe and treasured holiday. If you want to include one of the attractions from our list as part of your holiday, do get in touch with our expert team on 020 3411 6494 or make an enquiry. Many of us have travelled far across Asia with our children, giving us first-hand experience and knowledge of how to organize a fun holiday for the whole family.