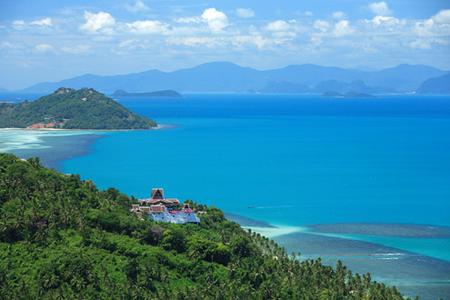 Tropical Koh Samui is the largest, and most well known of the island's off Thailand's south-eastern coast line. It is easy to get around with a wealth of nightlife and shopping but also with the option of quiet, idyllic resorts.
There are some terrific hotels on Koh Samui. We love the beautiful Thai-style cottages offered at The Napasai on the fashionable north coast and the exquisite Tong Sai Bay . For those looking further south on the island we recommend the Centara Villas, a lovely property with great prices. The Zazan is another boutique favourite.
For out and out luxury the Sala Samui cannot be beaten and the Evason group maintain their usual high standards at the Evason Hideaway.
Off the north coast of Koh Samui is Ko Pha-Ngan, a less developed island surrounded by coves of warm turquoise sea. Previously known as a backpacker hang out, there are a few well priced and good quality resorts appearing on the scene. Contact us for more details. Koh Pha-Ngan is famous for the monthly full moon party on Hat Rin Beach – a great party and not to be missed, if you like dance music! The island also has some lovely relaxed spots and some good value resorts.
Nearby is Koh Tao, a quiet smaller island fringed by coral reefs and an abundance of marine life. It is a perfect destination for divers and snorkellers or those wanting to learn to dive. We love the laid back charm of this island and the island retains much of the charm that attracted intrepid travellers in the first place. Charm Churee Villas is beautiful choice, particularly the luxurious beachfront villas. Another excellent choice is the contemporary Thipwimarn As well as accommodation on Koh Tao, we offer a fantastic 7 day 'liveaboard' diving boat which departs from Koh Samui and takes in the area's superb dive sites.
Hotels in the region