If you're starting to plan a trip to Cambodia, you'll find there's a lot of information out there about what to do, where and when. If it all seems a little confusing, do read our insider guide about how best to plan your perfect trip.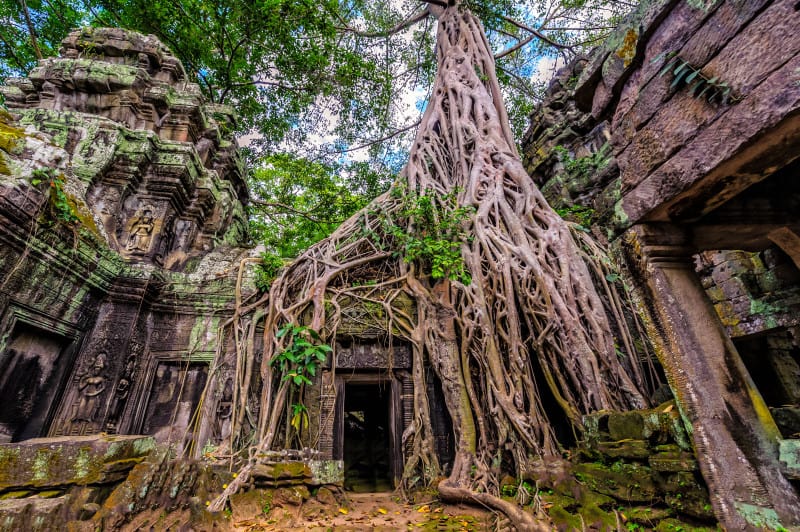 ---
1. Decide on when you're going
Cambodia has two seasons; wet and dry. The dry season runs from late October to April, then the wet season is May to September. The dry season is best for those who want to spend some time on the beach in Cambodia and want guaranteed hot, sunny weather. We'd generally advise against April because it is intensely hot and dry. If you're wanting to do a cruise you should also avoid the peak of the dry season in February, March and April as the water levels in the Mekong will lead to itinerary changes that may mean you have to miss out.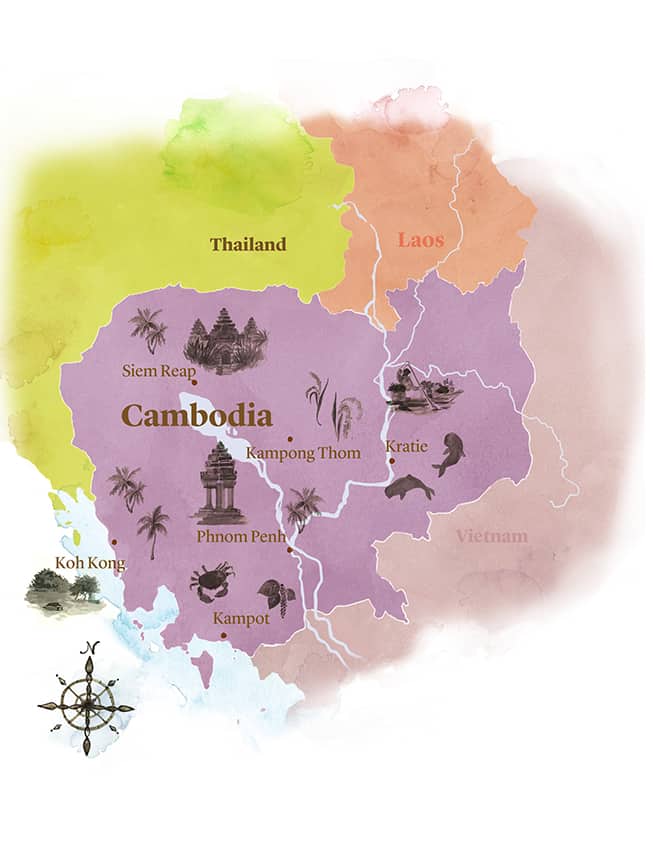 Don't be put off by the wet season though! Yes, it will rain. No, it won't be a relentless monsoon that will ruin your holiday. The wet season in Cambodia is generally a few hours of hard rain every day, but there are always chunks of lovely hot sunshine. Cambodia is simply beautiful in the wet season – with lush green landscapes, the chambers in the temples at Angkor are generally filled with water which create reflections and make for some spectacular photographs! Moreover, as many tourists are scared off by the wet season, visitor numbers are their lowest in the summer so you will be able to enjoy the unique overgrown temples in a much quieter environment. Whilst Cambodia's beaches are a no-go at this time, you can very easily hop over to central Vietnam or the Gulf of Thailand where the beaches are in season.
---
2. What type of experience are you looking for?
Cambodia has been put on the map by the incredible temples of Angkor, and they certainly don't disappoint. However, it's got so much more to offer including floating villages, beautiful countryside, colonial character, jungles and mountains, charming seaside towns and more. There's also the recent tragic history which is harrowing but important to understand the country as it is today.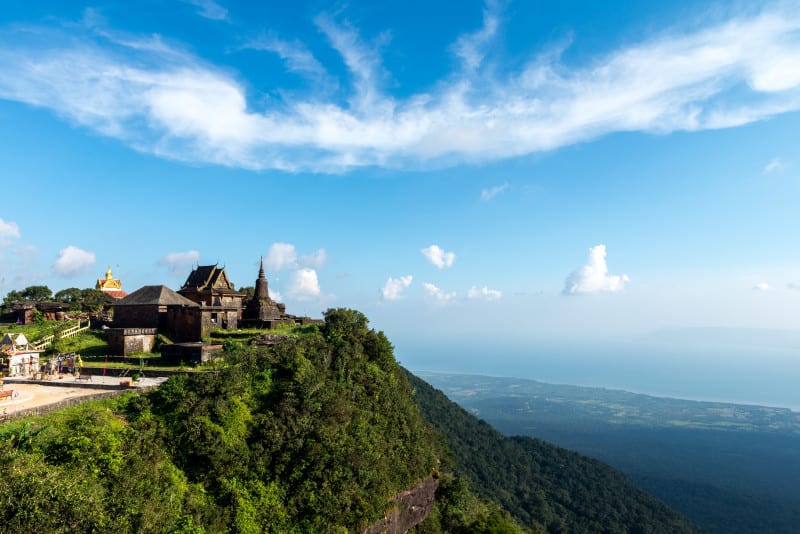 In Cambodia, you've got a few choices when it comes to experience. A classic trip might include the temples of Angkor at Siem Reap, the capital city of Phnom Penh for some history and culture and then the south coast – either the beach or a sleepy seaside town like Kep or Kampot. For something a little more relaxed, stick to the south coast and take in the beach and coastal towns at a more leisurely pace.
Families will love 4 Rivers Floating Eco Lodge in the western Cardamom Mountains for a bit of soft adventure with kayaking, waterfalls, fishing and more. The north offers some undiscovered treasures for the intrepid amongst us to see Irrawady dolphins in the upper Mekong River, and there are of course some amazing river cruises where you can sit back and watch the world glide by from the comfort of your intimate, boutique boat. Ten days will be a good amount of time to do a three-stop classic itinerary at a sensible pace, and two to three weeks will give you time to explore in a bit more depth.
Cambodia also connects really well with other parts of Asia, especially Vietnam and Thailand, so consider extending your trip and making the most of your time out east to see as much as possible!
---
---
3. Figure out how you're going to get there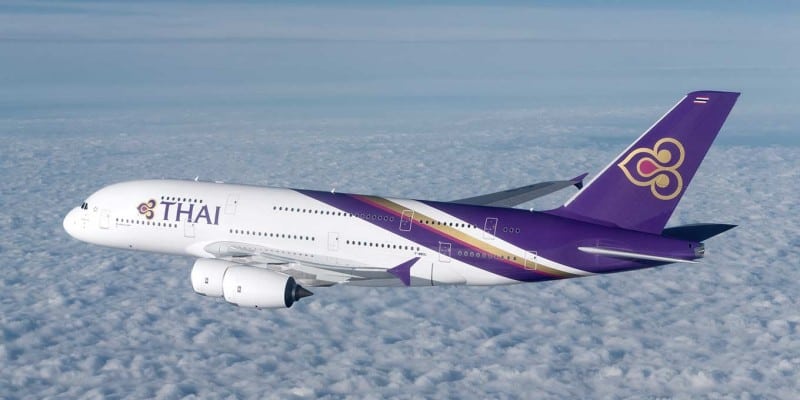 Currently there are no direct flights into Cambodia, however there are plenty of airlines that do service both Siem Reap and Phnom Penh, the two international airports. Generally, the best airlines for getting to Cambodia are Malaysian Airlines via Kuala Lumpur, Cathay Pacific via Hong Kong, Thai Airways via Bangkok and Singapore Airlines via Singapore to name a few. Stopovers for a few days in an interesting Asian city, like the ones mentioned, work really well when it comes to the country. Regional airports in the UK are serviced by KLM, Emirates and Qatar to name a few, but this will generally involve two plane changes.
Cambodia does have an internal national airline that offers shuttles between Siem Reap (gateway to the Angkor temples), Phnom Penh and Sihanoukville in the south for getting to the coast. There's a limited train network and buses aren't hugely reliable or comfortable for long journeys. Some trips can be done by river which are lovely, but generally the best way to get around is by private driver guide, especially in the dry season when it's really hot and the air conditioning is such a welcome relief. Tuk-tuks are popular in the city centres of Siem Reap and Phnom Penh too.
---
4. Decide where you want to stay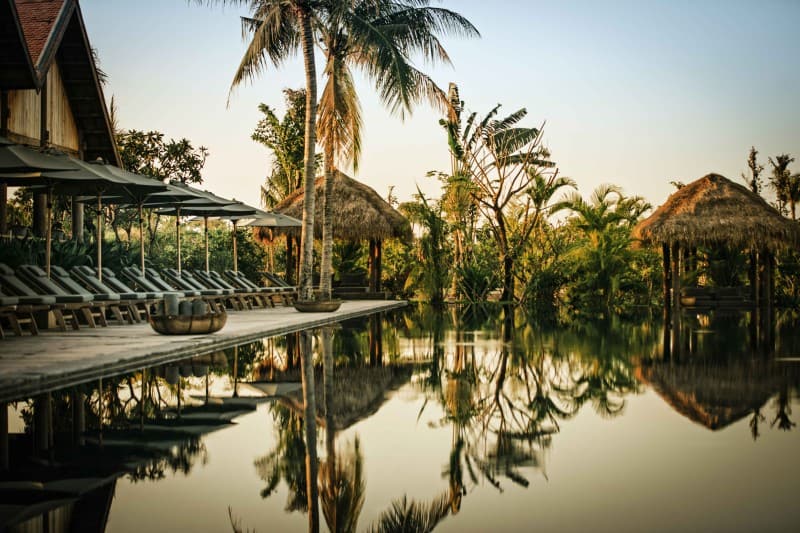 Boutique hotels are on the rise in Cambodia and these days there are many options to suit all budgets and all tastes. In the cities of Siem Reap and Phnom Penh, there are some excellent value boutique hotels, as well as some luxury heavyweights like Aman and Raffles. Siem Reap, in particular, has some superb family hotels with interconnecting rooms and amazing swimming pools, and barefoot-style eco-lovers are well served by 4 Rivers Floating Eco Lodge and the like. The non-profit, non-governmental sector is also present in Cambodia's hospitality sector with great hotels like Shinta Mani offering top boutique luxury as well as investing in training for the local people.
---
5. Pick a guide
Think about whether you want a guide to accompany you on your trip. They are a brilliant point of contact in the country, quickly answering any questions you have about protocols, customs or even where the nearest cash machine is. They're absolutely invaluable for getting under the skin of a country. Try to make sure that you get a properly trained and vetted guide, though. There is a culture of commission-making amongst many which means lots of unscheduled detours to touristy trinket shops, and sometimes cultural misunderstandings can occur if your guide is not carefully selected: you might find yourself taken to a newly developed western shopping mall for lunch or dinner when a lovely family restaurant would have been a much more pleasant experience.
---
6. Visit your GP and think about visas
Be sure to visit your GP about topping up your vaccinations for hepatitis, tetanus, etc. The UK National Health Service advises that Cambodia does have a risk of malaria in outer-lying regions, and whilst we in the office don't tend to take anti-malaria tablets when in Cambodia, we'd always recommend double-checking with your GP first. Visas are obtained on arrival for Cambodia and no prior planning is needed like going to embassies or posting your passport off. You will, however, need to have US$35 per person and one passport photo per person ready when you arrive to purchase the visa.
---
7. Remember currency details
Almost all transactions in Cambodia are carried out in US dollars. The Cambodian currency, Riel, is used for small purchases and you may get a few small notes in change from buying a bottle of water or a can of coke etc., but stick with dollars. You'll even draw dollars out from ATMs in Cambodia! You can either bring US dollars with you or you can bring British Sterling or Euros and ask your guide for recommended, trustworthy money changers.
---
8. Know what your "templed out" threshold is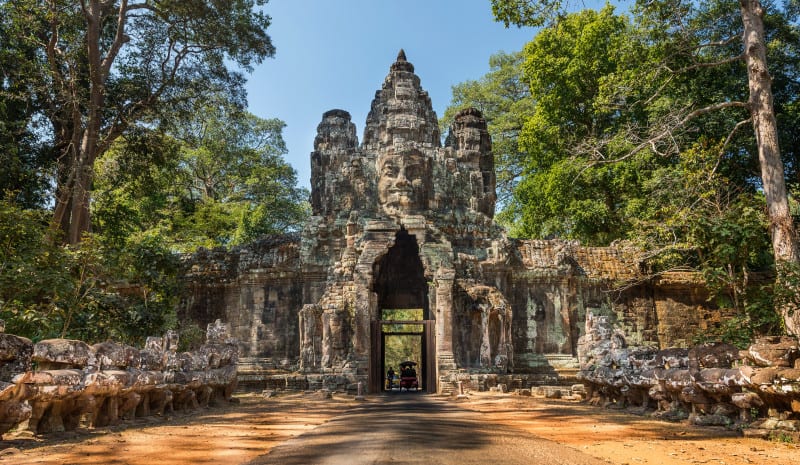 One of the main things we talk to people about is their "templed out" limit. This is especially important in Cambodia because there are so many temples! Now it must be said that they are all truly awe-inspiring, they are all different and all worth a visit for their own reasons. However, everyone has a limit for how many temples you can see in a day and that doesn't make us terrible people for not wanting to see every temple there is. Some people will happily spend three or four days looking over the exquisite carvings and intricate designs in detail. Others will want to see two or three of the most important temples, punctuated with some time to shop, relax by the pool or explore the countryside by bike. Others will want a day of temples and then move on. Everyone is different! You can chat to us if you need help gauging how many temples in Cambodia suits you.
---
For more information about our holidays to Cambodia, do call 020 3627 7479 email us with your questions here. To see an example holiday itinerary, have a look at our portfolio of trips. Do note that they're just a starting point. All our holidays are tailor-made so can be tweaked to match your exact preferences.