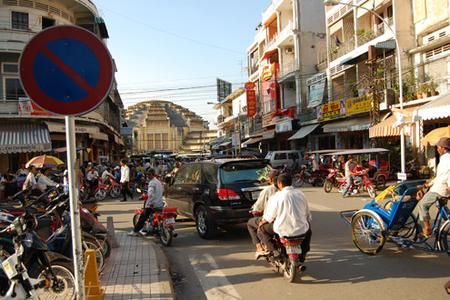 Phnom Penh, Cambodia's bustling capital, is one of Asia's most unusual and interesting cities. On the banks of the mighty Mekong River, at its confluence with the Tonle Sap, the city is the heart and soul of Cambodia and embodies the countries relationship with water, never more so than during the November Water Festival.
The wild west of Cambodia during the war years, the city maintains a unique vibrancy and provides a fascinating contrast between old and new. Abandoned during the Khmer Rouge period and with very little development during the civil war years that followed, Phnom Penh has (so far) avoided the mass modern high rise development of other SE Asian cities. However, the wide boulevards are awash with motos and 4x4's. This contrast, along with the Palaces, markets, temples and eclectic mix of colonial and Cambodian architecture makes strolling around or taking a cyclo an interesting experience.
Amongst our favourite hotels are the colonial era Raffles Royal Hotel, Amanjaya and the charming Pavilion; all providing an oasis of calm away from the hustle and bustle of the streets outside.
We recommend a guided day trip around the city which includes an afternoon at the Tuol Sleng Museum and the 'Killing Fields'. Whilst chilling and very upsetting, this is an essential part of understanding what happened in Cambodia during the Khmer Rouge and Pol Pot years. If you would rather avoid that part of Cambodia then please let your travel consultant know and we will be happy to leave it out of the itinerary.
Call us now on 020 7924 7133 or arrange a call back at a time that suits you
Hotels in Phnom Penh and The South