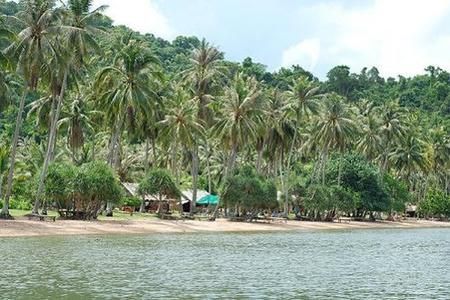 A couple of hours east of Sihanoukville is the colonial resort of Kep, a favourite with the French colonialists and the Phnom Penh elite in the years after Independence. Abandoned during the civil war years, and only opened up at the turn of the century, it is now being revived to its former glory. This is a town of fascinating contrasts, from the wonderful style of the restored Knai Bang Chatt to the eerily abandoned villas that are scattered about the town. Veranda Natural Resort is nestled in the hills overlooking the sea and is a great option. The beach at Kep does not compare to most in South East Asia, but the crab market, surrounding hills and remote islands are sure to keep visitors interested. Rabbit Island is just a 20 minute boat ride away from Kep and a must for most visitors.
Nearby is the colonial market town of Kampot with its real sense of stepping back in time. The town itself is unremarkable but there are some lovely riverfront bars, restaurants and hotels which create a real colonial feel and are an atmospheric spot to enjoy a cocktail as the sun sets over nearby Bokor Mountain. Rikitikitavi is a simple hotel but has a great location and offers some great food and the excellent Nataya Coral Bay Resort is also found here. Kampot Pepper used to be regarded as the best in the world and production is starting to come back and Kampot is also the gateway for exploring Bokor Mountain and National Park.
Call us now on 020 7924 7133 or arrange a call back at a time that suits you.
OUR FAVOURITE KEP & KAMPOT HOLIDAY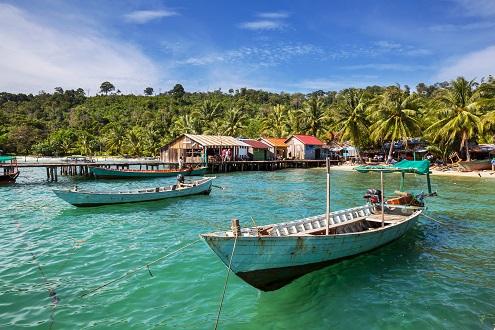 Forgotten South Coast of Cambodia
This tour through Cambodia's beautiful south coast focuses on the bewitching colonial towns of Kampot and Kep.
OUR FAVOURITE KEP & KAMPOT HOTELS