Oman - easy to reach, impossible to forget, beyond compare - one of THE great holiday secrets. Wall-to-wall sunshine, virgin desert sands, wadis rich in wildlife, some of the best beaches in the world, and the kindness of the kindest strangers make Oman the perfect destination for a luxury holiday of a lifetime. A meditation in wide-open skies, vast empty spaces and warm, welcoming hearts - are you blue sky thinking what we're blue sky thinking?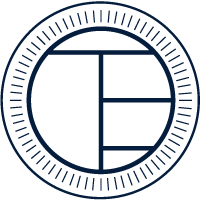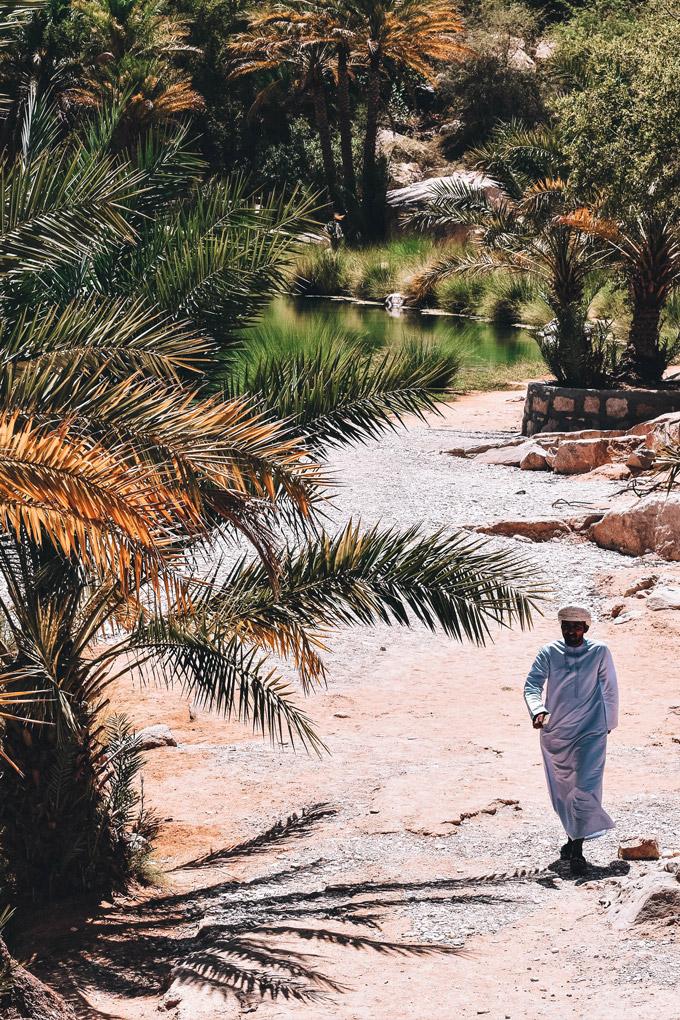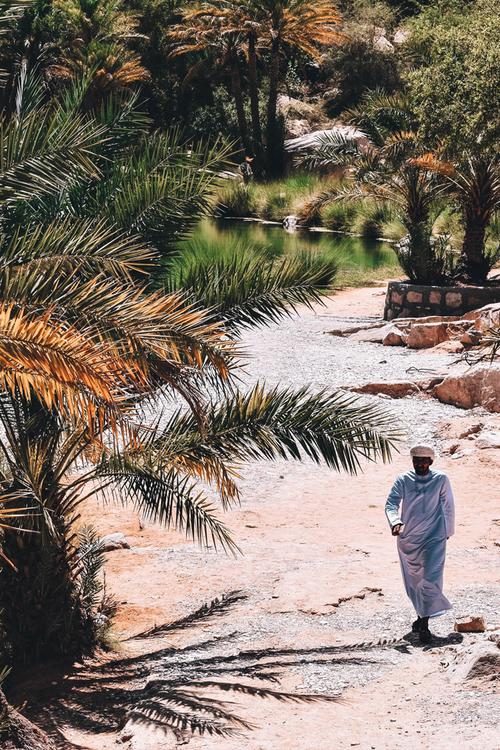 ESSENTIAL
OMAN
There's something magical about Oman. From mile after mile after mile of extraordinary Empty Quarter (the world's largest continuous desert) to the maritime city of Salalah, rich in waterfalls and wadis. From the cobalt blue waters and pure white sands of Al Khaluf to the terraced orchards and rugged peaks of Jebel Akhdar - Oman glistens in a clean, crystalline ambience, a vivid Arabian light, a white gold - a sense of wonder.
And wherever you stay in Oman, from desert camps to world-class resorts, your accommodation will shimmer and sparkle too, Oman hotels both honouring the country's ancient heritage and your visit, in style.
But for all Oman's natural beauty and luxurious accommodation perhaps more than anything it's the Omani people who should be celebrated most of all. Warm, welcoming and proud to share their culture and their kindness, you'll enjoy no shortage of fascinating encounters. And who knows, maybe an invitation from your guide to share cardamom coffee and fresh dates.
Popular Types of Holidays in Oman
Oman, the perfect place to regather your strength, recharge your batteries aaaannnd relax. Take a little time out to immerse yourself in a rich, fascinating, ancient Arabian culture, or simply surrender to the staggering beauty of Oman's epic landscapes. If you're after something a little more up-tempo, you'll find that in Oman too. Whatever age, whatever your tastes and timescales, and whatever luxury means to you - it's all yours in Oman.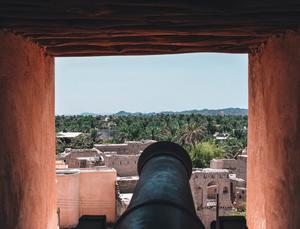 Oman Classic holidays
With hundreds of miles of coastline gazing out over the Gulf of Oman, the Arabian Sea and the Indian Ocean, Oman has some of the world's best beaches. But a great beach holiday isn't only just about the beach. Our hand-made adventures offer a dizzying array of once-in-a-lifetime experiences both in and offshore. Swim with dolphins, explore ancient forts, camp beneath the stars deep in the Wahiba sands. The very best of Oman's incredible culture, biodiversity and most beautiful beaches in a single unforgettable holiday.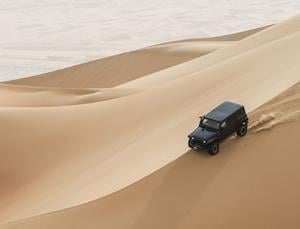 Oman family holidays
Oman has everything. All the ingredients for your perfect once-in-a-lifetime family holiday. A dream adventure that you'll treasure forever. What better way to share the wonder of the world, to ignite young imaginations and inspire curious, interested, interesting travellers for life? Experience mountains, and desert, and shores, and seas and everything in, on, and about them. Experience culture and kindness, and open-heartedness, and difference. Experience life - together - as a family. Unregrretable.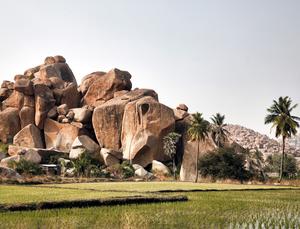 Oman & Another
There's a thought - hors d'oeuvre Oman. Oman as a delicious appetizer to a holiday destination further afield in South or Southeast Asia. Bhutan perhaps. Or Laos. Maybe Thailand or India. Break up your journey, enjoy Oman for itself, and also as a fascinating contrast - A travel win/win/win. And however fast or slow or luxurious a holiday you're thinking of - we'll sit down with you to make sure you have the unforgettable travel experience you want.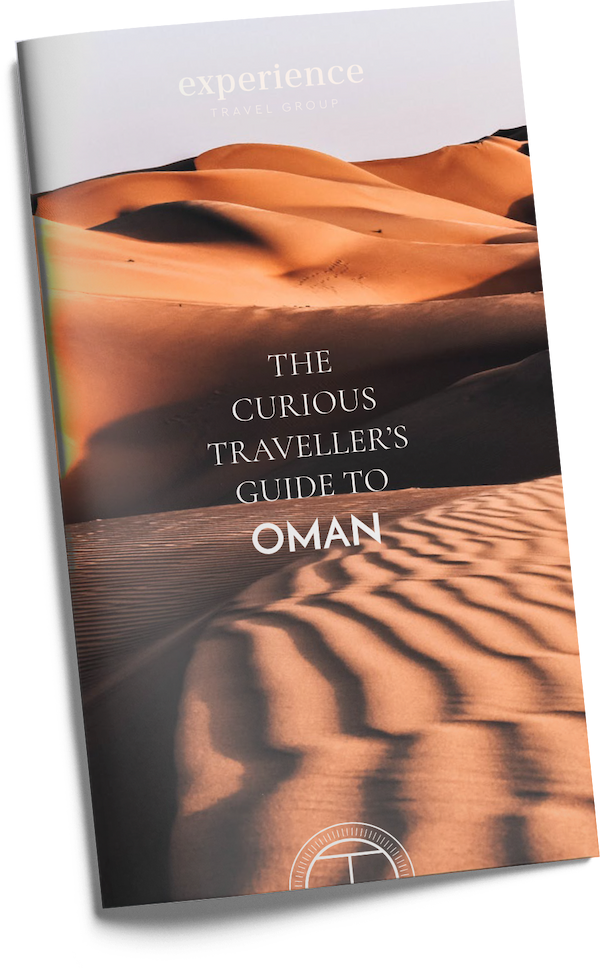 Curious traveller's guide to Oman
Download the Curious Traveller's Guide to Oman for more expert insights on the experiences, hotels and culture that await in the shimmering Sultanate.
Download Now
DISCOVER THE ESSENCE OF OMAN
Muscat's a must. Oman's low-rise, arabesque capital framed by the Al Hajar Mountains. And quite the contrast to the nearby Ds - the skyscraping, bank-breaking Dubai, Abu Dhabi and Doha. From beach hotels to the sensational Sultan Qaboos Grand Mosque, Muscat's magnificent Opera House, Corniche (a 3km waterside promenade) and the bewitching frankincense-filled souks, here's your chance to really experience this charming and historic city.
For a relaxing remote Oman break then how about heading up to the Musandam Peninsula? Beautiful, off the beaten track and with mountains dropping sheer into the turquoise sea. Dhows and dolphins, frontier fishing villages and forts - a land that time almost forgot. Stay at Six Senses Zighy Bay, swim, snorkel and soak up the rays before returning to Muscat on your own private catamaran.
A land of contrasts, from June to September Oman's southern city Salalah emerges from the desert as a tropical paradise. An ideal time of year to take a luxury week or two at the Al Baleed Resort by Anantara with a wealth of wadis, waterfalls, wildlife and beautiful beaches a short amble away.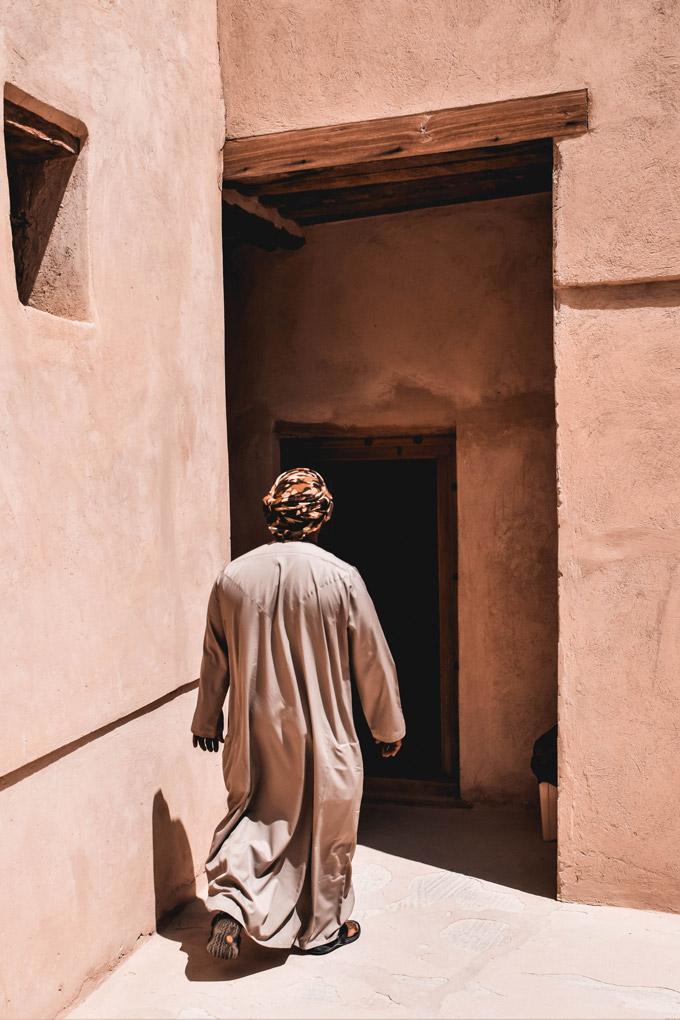 Behind every great door is a great experience.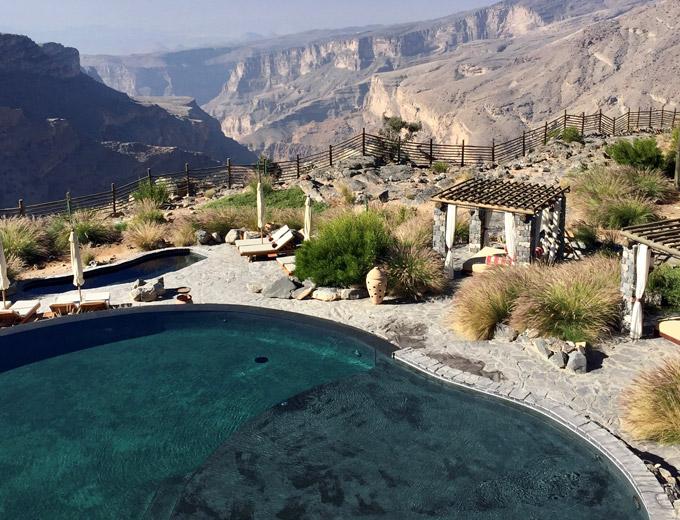 Oman - the ultimate OOO.
Channel your inner Lawrence of Arabia with a night in the desert.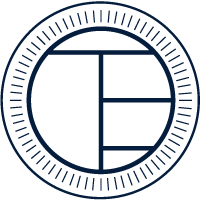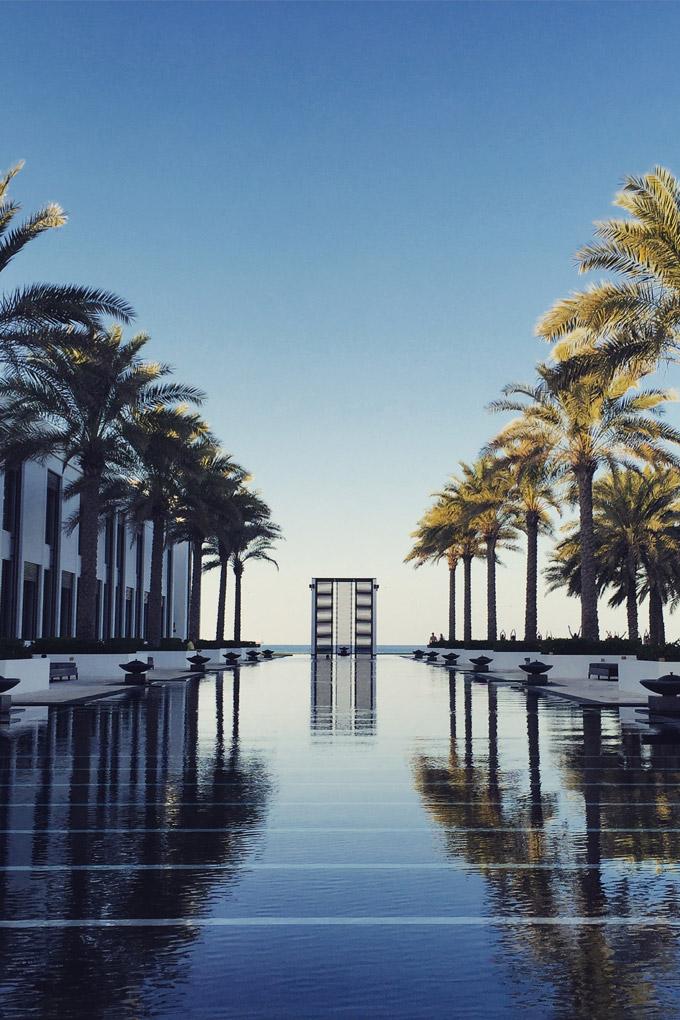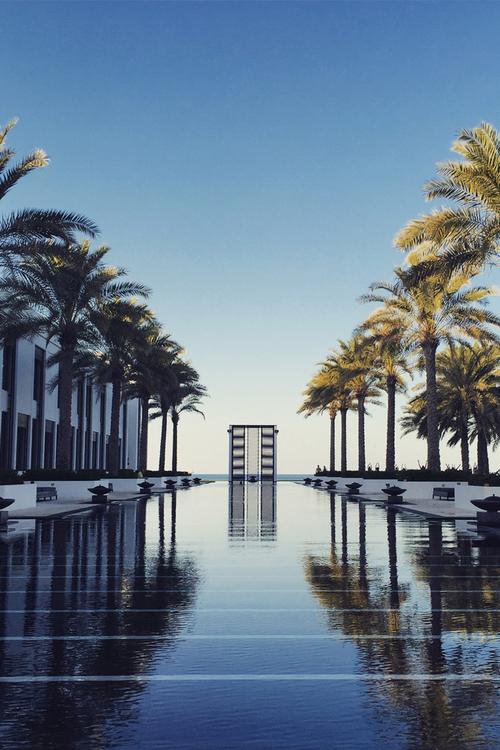 HANDPICKED HOTELS IN OMAN
Our advice? Mix it up. Get the most out of your trip to Oman and stay in different types of accommodation as you travel around. All the hotels we recommend are lovely and all offer their own unique charm: from the effortlessly chic beachfront Chedi, to the super chilled Alila Jabal Akhdar up in the Al Hajar mountains, or the modern quirk of Muscat's 5-star city W Hotel.
There are tonnes of excellent family hotels in Oman too, especially along the coast - a heaven-sent vitamin D factory for those gloomy school holidays. Shangri La, Muscat and Al Baleed Resort by Anantara in Salalah all have a vast and varied range of fun and games for kids of all ages - and their parents...
It's camping Jim… but not as… So maybe it's their Bedouin roots, or maybe not. Either way, Omani people love to camp. You'll love it too, luxury Omani style at Desert Nights Camp in the Wahiba Sands. Or if you prefer to go off-piste then let's have a chat and we'll put a private wild camping experience together for you.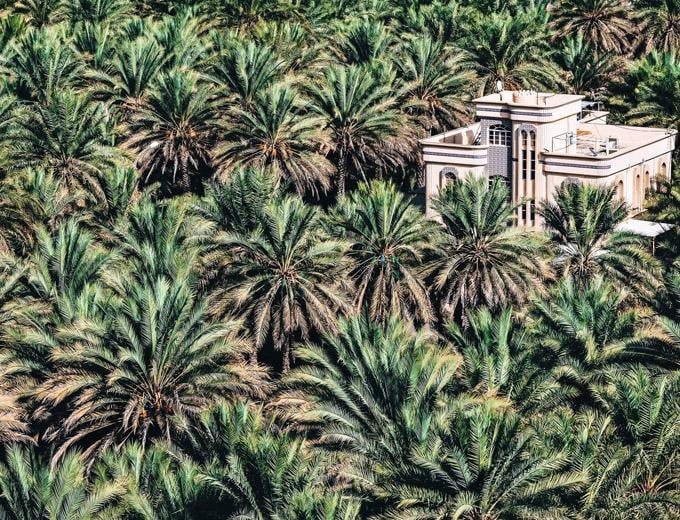 Once in a lifetime experiences in Oman
Experience it all, in enigmatic Oman - the drama of the desert and Oman's Grand Canyon, the dazzling beauty of secret bays and turtle beaches, the souqs, the sunshine, the warm and welcoming people - do it differently - do it in luxury. Immersive holidays that give back from ETG - curious holidays for curious travels, a unique alternative to your transitional package experience.
Four-wheel drive towering desert dunes. Deep dive heady scented souqs. Feast your eyes on the wonder of the Grand Mosque, or dusty, shimmering Nizwa Fort. Sail with dolphins through sparkling fjords on a traditional Dhow and watch golden sunsets across the vast desert expanse of the Empty Quarter.
Each itinerary is designed to create a connection with the real Oman - an immersive interaction with her people and her culture. Each is made with care - light touch travel created to leave the people and places you encounter better for your visit. Each a holiday rich in surprise and delight. Each, the last word in luxury - in whatever form luxury works best for you. Accommodation, stimulation, organisation, relaxation - it's all here, and it's all yours.
IMPORTANT TRAVEL INFORMATION
An essential backdrop to any holiday of a lifetime? Peace of mind. When you book with Experience Travel Group we make yours a priority. Your money is always fully protected by the ABTA and ATOL schemes. Your welfare is always taken account of with up-to-the-minute advice from the Foreign, Commonwealth & Development Office and in-country partners reporting on the latest local comings and goings. Travel insurance too, so you can book with confidence.
And peace of mind as well when it comes to the environmental and ethical impacts of your holiday. Which is why sustainable travel is at the very heart of what we do. Meaningful travel that creates exceptional ethical experiences. Empathetic, light touch travel, like no other.
Why Experience Travel Group?
At ETG we've spent a lifetime learning exactly what it takes to create holidays of a lifetime - Holidays to Oman as intrepid, as inquisitive, as adventurous as you like - and ALWAYS luxurious. Which is why every hotel we offer is handpicked, every guide and local partner proven, and every experience guaranteed to inspire. So you always get the holiday you always dreamt of.
A dream holiday that always starts with a conversation. So let's talk, let's plan and make that dream come true, in exactly the way you choose.
Or for more information visit our FAQ section or Why Choose ETG.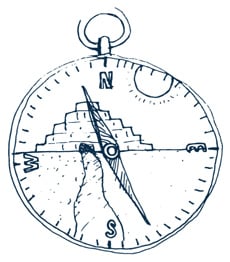 Why Holiday with Experience Travel Group?
Immersive
Experiences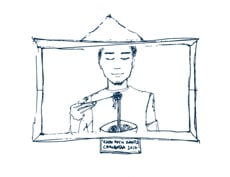 Immersive ETG holiday experiences let you genuinely connect to the people and places you visit. You'll learn as much about yourself as you do about them.
A secret
element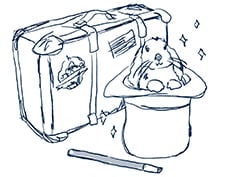 Sometimes you can know too much. Our holidays are specially designed to confound preconceptions and share magical, memorable, unexpected discoveries.
Travel
done right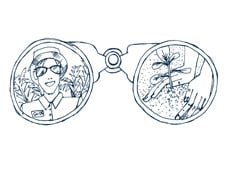 Our B Corporation certification, commitment to sustainability and 'give back' philosophy mean you can always be sure that every step you take is light. Ethical, mindful, guilt-free travel - travel done right
A thread of
luxury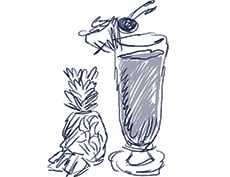 A thread of luxury that ties everything together. From beautiful boutique hotels to top-quality transport, to exceptional levels of service - whatever luxury looks like to you… it's yours
~
Your next adventure
starts with a conversation
~
Every ETG journey is unique. Tell us your loves, your hates, your holiday ambitions, your hopes and fears, and we'll share a suitcase so full of inspired holiday ideas you'll need to sit on it to shut it tight.
Not sure what you're looking for? Let us inspire you...
Get in Touch
Call us 020 7924 7133