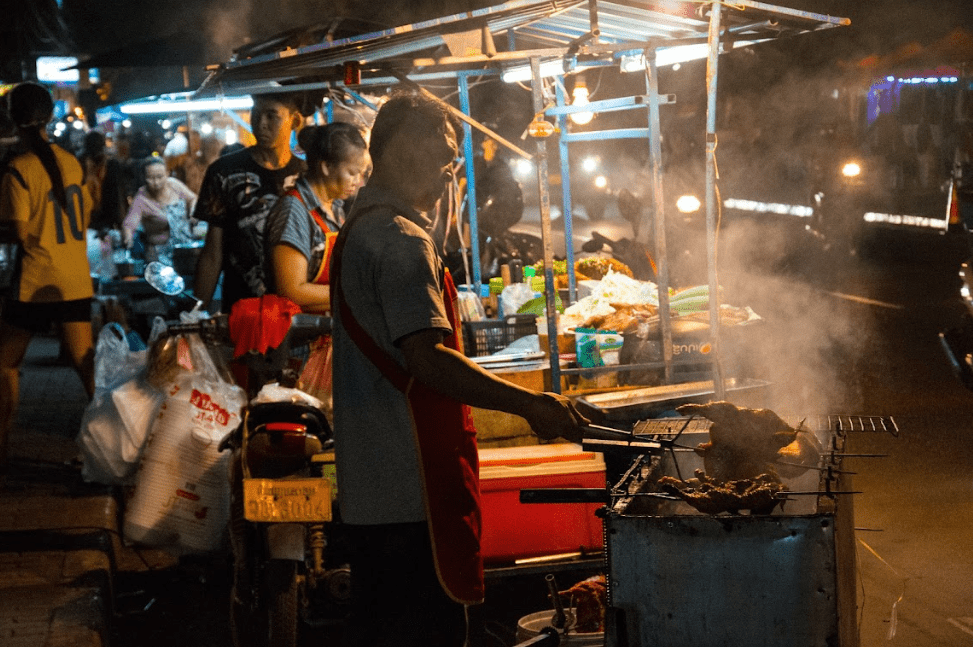 The food from Laos, a Southeast Asian country located between Thailand and Vietnam, is a cuisine we generally hear very little about. This is possibly because everything in Laos is a little less accessible than it is in neighbouring countries. Laotian cuisine deserves to be appreciated for its fresh, strong flavours and variety of textures. If you're thinking about holidaying in Laos, these are the delicacies you need to try.
Top 10 Traditional and Street Foods in Laos
In Laos, eating is a social activity and dishes are often shared by friends and family. It is common to use chopsticks, or even simply your hands, to eat. These are some of the traditional delicacies you can find in local restaurants, markets and street food stalls in Laos.
1. Larb
Often considered the national dish of Laos, larb is a type of meat salad usually containing ground pork, chicken or duck. The meat is fried and combined with zesty lime juice, fish sauce and an abundance of fresh herbs. Laotian larb is finished with a sprinkling of dry rice powder, which adds a slightly nutty flavour.
2. Khao Niew
Khao Niew is a Laotian sticky rice which is steamed in a bamboo basket and served as a base or side with most traditional dishes in Laos. Khao niew can also be scooped into little balls and eaten with a dipping sauce such as djeo mak kua (smokey aubergine) or tomato len (spiced tomato).
Although white sticky rice is thought to be the purest, you will also find purple and brown varieties amongst the wide selection of street food in Laos.
3. Khao Poon
A traditional Laos soup containing ground meat, fish sauce, padaek, garlic, chillies, rice vermicelli noodles and mint leaves. Also known as Lao laksa, khao poon is a dish which is often served at Laotian weddings. 
This soup is popular across Southeast Asia and can also be found in Malaysia, Singapore and Cambodia.
4. Nem Luang
Made predominantly of egg, Nem Luang is a dish which you're most likely to find at one of the many street food stalls in Laos. A thin layer of beaten egg is cooked inside a wok and topped with fish sauce, sugar syrup, bean sprouts and fresh herbs such as coriander and watercress. Depending on how salty or spicy you like your food, you may opt to add some additional soy sauce or dried chilli to the dish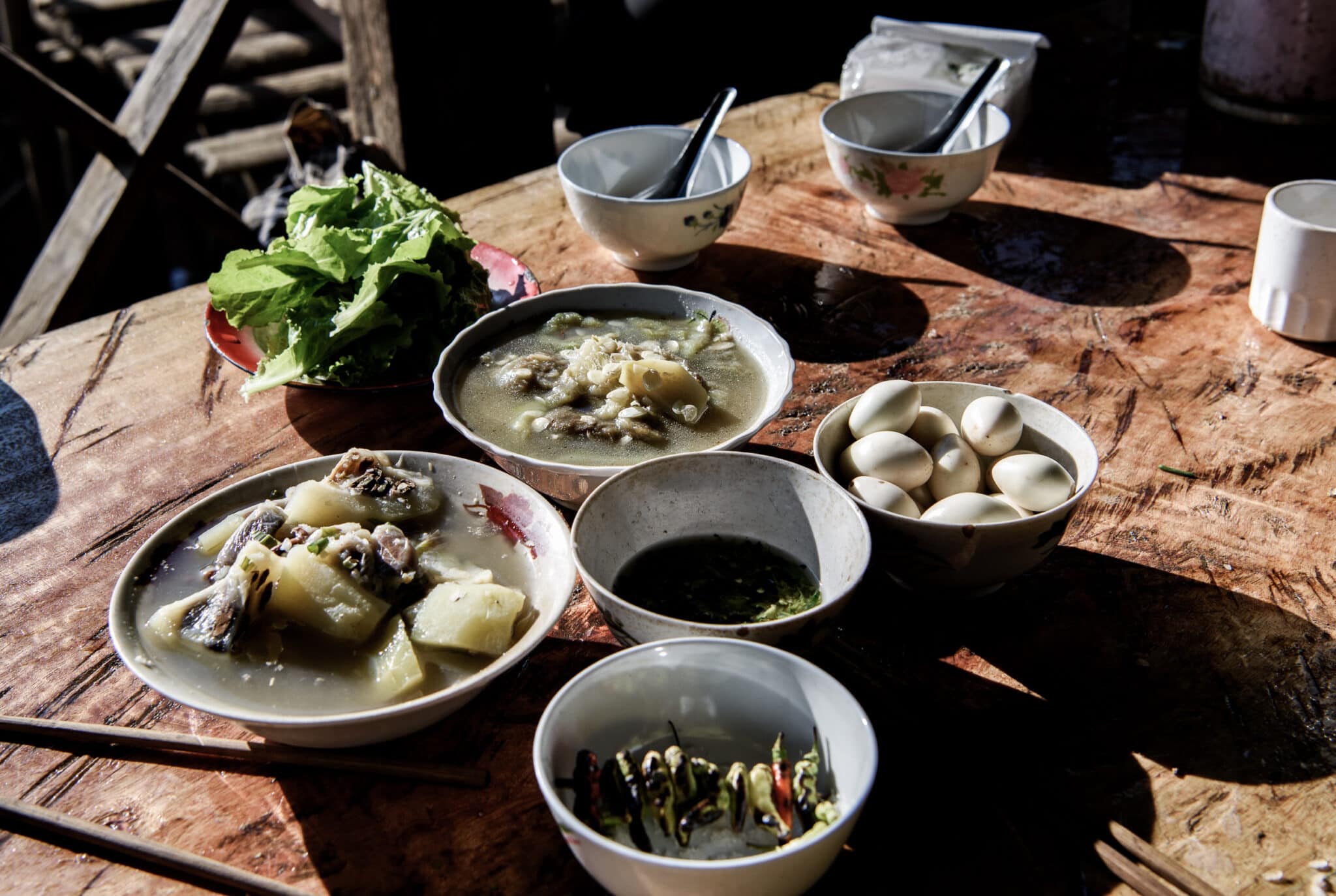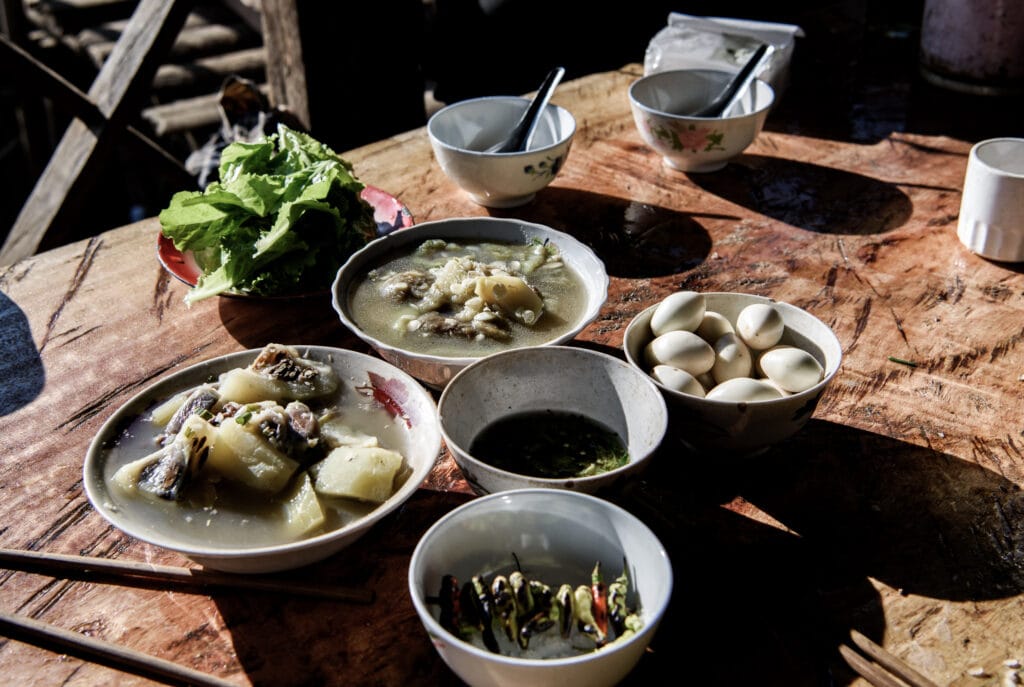 5. Tam Mak Hoong
Fresh papayas, aubergines and tomatoes from the base of this traditional Laotian salad, which is then combined with a delicious dressing of lime juice, fish sauce, shrimp paste, garlic and chilli. Tam Mak Hoong is the perfect combination of sweet, sour, salt and spice.
6. Sai Gok
This pork sausage is yet another example of food from Laos which is packed full of flavour. Coarsely chopped pork is combined with shallots, lemongrass, garlic, salt, chillies, fish sauce and sticky rice to create this popular traditional Laotian dish. The fresh herbs in sai gok contribute to its full, distinctive taste.
7. Som Moo
This traditional Laotian sausage is made from minced pork meat, shredded pork skin and a touch of chilli. Som Moo is preserved and fermented, which results in a sour, tasty flavour. It can be eaten raw or grilled, depending on your preference.
8. Sin Dad
As we mentioned earlier, the communal aspect of eating in Laos plays a very important role in the traditional food you will find there. Sin dad is a type of Laos BBQ which is perfectly enjoyed by a group of friends or family. Marinated meat such as beef or pork is provided, alongside a grilling plate and hot coals which will allow you to cook the meat to your liking.
9. Mok Pa
A popular dish of fish steamed in a parcel of banana leaves. Mok pa is traditionally seasoned with padaek, a strong fermented fish paste, and fresh herbs such as lemongrass. Ground sticky rice powder is used to combine the ingredients in this Laotian delicacy.
Laos is a land-locked country, which means most of the fish you will find in Laotian cuisine comes from the Mekong river, such as tilapia and catfish.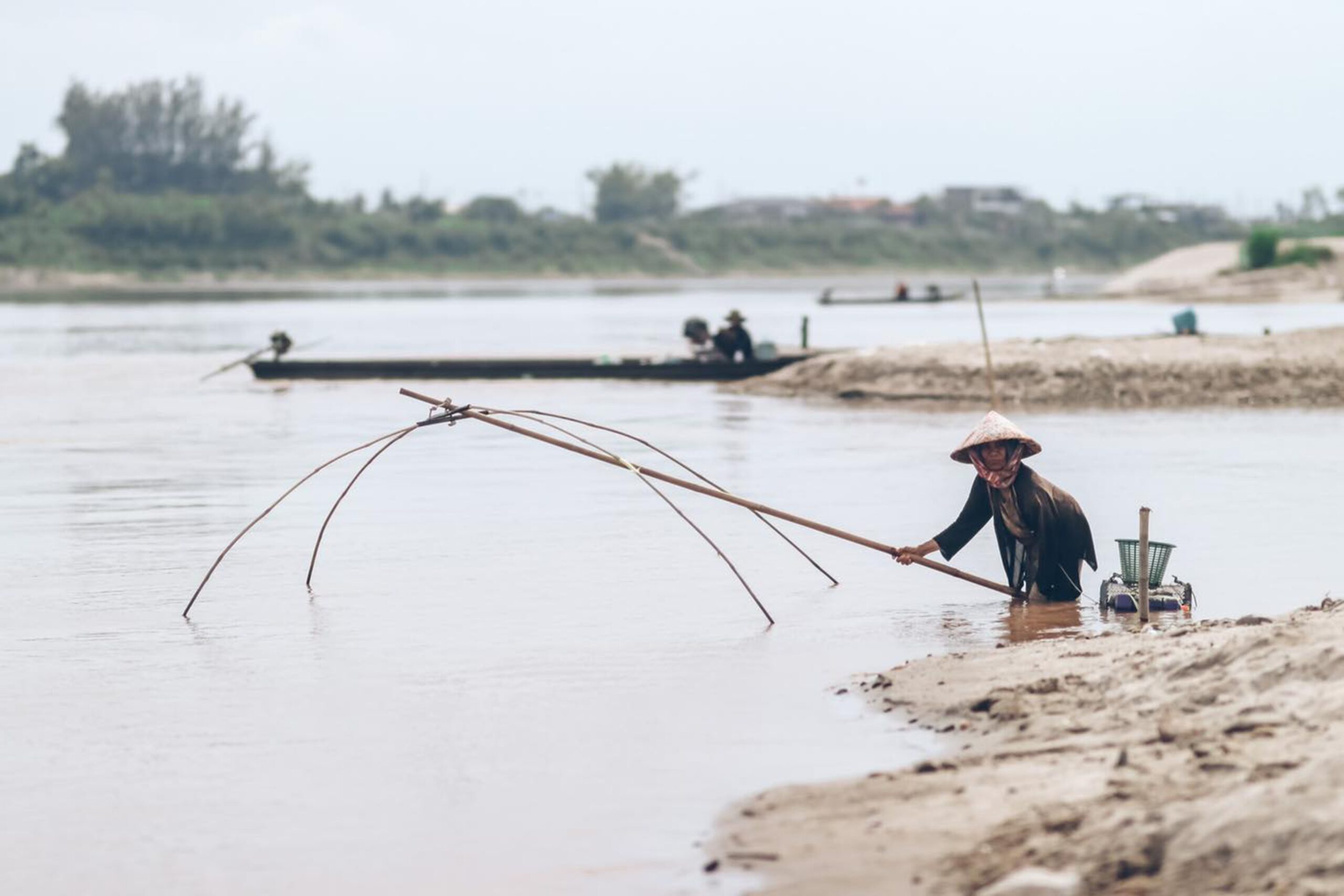 10. Laos Insects
As in many countries across Asia, insects are a staple part of the food in Laos. The most popular edible insects you are likely to find at street food stalls and markets are crickets, bamboo caterpillars, grasshoppers, wasps and weaver ant larvae. 
Regular readers of this blog will have noticed that some of the contributors have a natural bias toward food-orientated stories. From the start of our very first adventures in Asia, the quality, variety and sheer availability of delicious food has been a major factor in us continually returning or settling in this part of the world.
Our friends at the excellent Boat Landing Guest House in Luang Nam Tha, a wonderful place to stay and explore for anyone travelling to Laos, have created a fabulous cookbook and online blog. Simply entitled Food From Northern Laos, the blog details the food culture, ingredients and cooking methods and is well worth a good read. With distinct similarities to 'Isarn' food in the rural north and east of Thailand, there are many true culinary delights to be discovered in this part of the region, especially when you get off the beaten track. We would recommend reading the blog and buying the book or, better still, planning a trip to Laos and finding out what all the fuss is about!
Do you want to discover the cuisine of Laos for yourself? Get in touch with Experience Travel Group today to plan your unforgettable trip to Southeast Asia.