Guesthouses in The Maldives are the latest accommodation style to arrive in the country and they allow visitors to stay on local islands, gaining insight into Dhivehi culture. There are a large variety of them on offer, from basic rooms in simple houses, to grander hotel-like constructions, each providing very different experiences. They're not homestays as such, but usually run by locals who'll provide home cooked food and various insights into the heritage of this thousand-isle country.
---
A different way to experience the Maldives
Guesthouses were the original form of accommodation for travellers to the Maldives in the 1970s when tourism was in its infancy. Up until then, the country was quite isolated from western holidaymakers, and many of the locals were shocked by what they saw: 'underwear' being worn on beaches for example. Stories of the 1960's hippy influence on Goa in India also unnerved some Maldivians and politicians gained support for a ban on local island stays. In 1984, all guesthouses were shut down by the government and the only way for travellers to visit was to stay in a resort.
Recently, things have changed again. The country garners more than 30% of its GDP from tourism but much of the money ends up in the hands of a few. How to spread the wealth generated by the travel industry became a political issue once more and, in 2009, guesthouses were legalised again.
In just over 5 years the number of guesthouses has increased from zero to over 300 across the various inhabited islands. With such a surge, most are unregulated by the government and many do not have a licence to operate.  It's very important to stay in vetted accommodation and all the guesthouses we use have been inspected and checked for appropriate legal documents.
Local islands usually have a choice of two or three guesthouses. Our itineraries take travellers to three local islands: Huraa, Dhiffushi and Guraidhoo, so here we'll review in a little more detail the various options available.
---
Huraa Island 
I stayed in Cool Trip on Huraa island for two nights and it was a comfortable and very authentic experience. It's the project of three local businessmen: Abdul, Adil and Masey who are involved with hospitality at the nearby Club Med Kani resort. They became excited about new opportunities to host travellers on the local island and banded together to create Cool Trip guesthouse. It's relatively small with four rooms, situated on the eastern side of the island, close to the bikini beach and a short walk from the various cafes and shops near the main jetty.
The accommodation in Cool Trip is simple and comfortable, with air-conditioning, spacious rooms and comfortable beds. There is a small sitting room area with a large sofa and television playing Maldivian Idol, Qu'ran recital competitions and various western shows. The kitchen is compact, homely and was a wonderful place to have meals with our guide.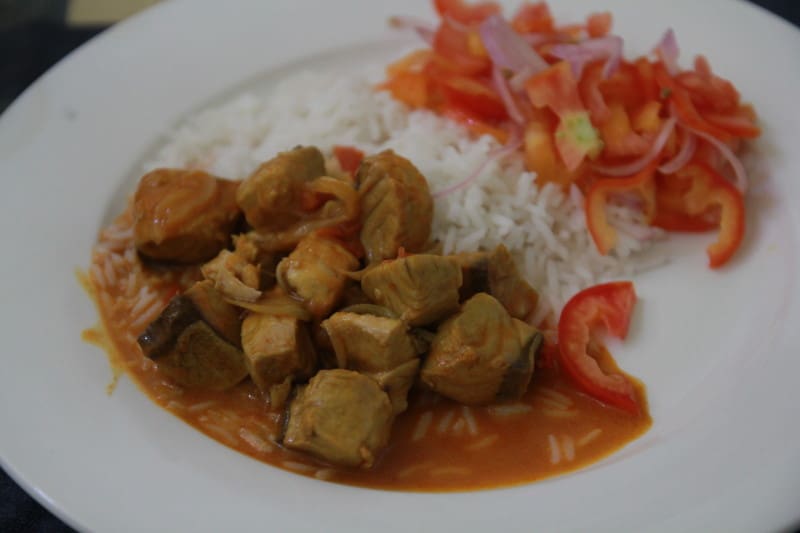 The highlight of my stay at Huraa was the food. Cool Trip offers absolutely delicious home-cooked meals.  All the dishes, from dried fish noodles to Mas huni, and from roshi masrika to satani, were delicious. The Maldivian twist on the full English breakfast, including frankfurter-style beef sausages and omelette, is highly recommended too. Abdul also hosted us for a meal at his own family home one morning and taught me about the evolution of local cuisine: the introduction of refined flour for example, has changed the roshi from a thin flatbread into something that is thicker and more filling.
We also had the chance to talk about the 2004 Tsunami that had a devastating effect on some islands and flooded his entire house. Some local children are too scared to swim after experiencing the force of the waters, and hearing accounts was a humbling experience.  What was inspiring though was that, with the money coming in from guesthouse stays and other tourist projects he worked on, Abdul was able to rebuild his home in a more robust design than before, with better fittings and fixtures. It was nice to see that travel could have a tangible, positive impact on local communities.
---
Dhiffushi
I stayed in Bibee guesthouse which has an ideal location, a stone's throw from the idyllic bikini beach. It's hotel-style accommodation with a communal outdoor reception area that has books left by other travellers, board games, comfortable sofas, shisha, a beautiful rooftop terrace and a large supply of refreshing beer.  It's a good '2-star' standard, suiting those wanting value for money rather than luxury. The Wi-Fi isn't brilliant and we had issues with leaking air-conditioning units. The food though was delicious, with wonderful mas huni and hedikaa arranged on the terrace for us for one particularly memorable meal.
Newly opened on the island is a more luxurious guesthouse called Rashu Hiyaa, close to the main jetty. It has an impressive reception area – with a full-size traditional Dhoni boat in the courtyard – and the 30-40 spacious rooms have all the modern amenities you might expect from a 4* hotel.  The building's large size and block-like design makes it rather an incongruous addition to the island but it still feels Maldivian and it is the most comfortable option here.
There is a beautiful restaurant on the top floor, with views over the ocean beyond. It also has a lovely separate bar area with lounge furniture and relaxing atmosphere. The rooms really are quite wonderful; the ones on the west have beautiful balconies overlooking the sea, while the ones on the east have views over the island and have the additional benefit of an inbuilt sauna.
---
Guraidhoo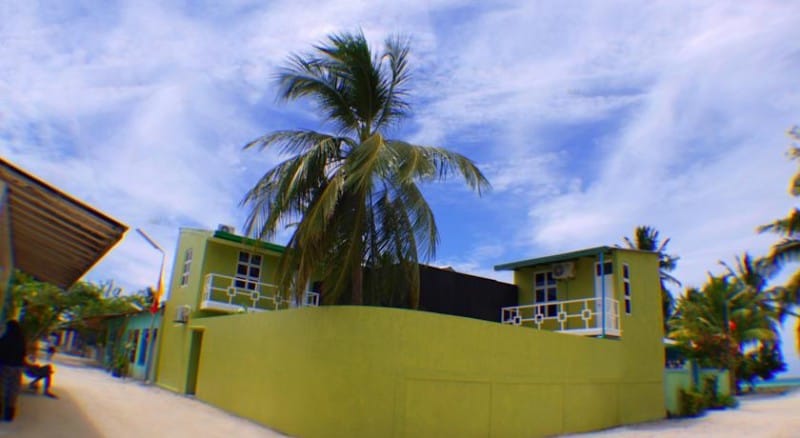 ETG co-founder, Tom visited this island on a trip from Sri Lanka. He reports back:
"Guraidhoo is a small island and Pesok Maldives, my guesthouse, was located a few metres from the northern shore and a short stroll away from the main swimming beach. Service was laid-back, friendly and lacking informality, which helps to create a notably homely and relaxing atmosphere.
The five guest rooms at Pesok are clean and simple with a double bed, television and cupboard. All rooms have air conditioning and ensuite bathrooms with electric hot water showers. Family rooms with extra beds are also available. The guesthouse's small kitchen prepares simple Maldivian food to very high standards and offers a selection of tea and coffee throughout the day. There is also a communal area downstairs with outdoor chairs and tables, raised dining tables and a sofa/tv lounge area.
All in all, it was a very comfortable base from which to explore the island itself. I had a very happy time whiling away a few days watching the shades of blue sea and green palms endlessly change throughout the day."
---
Check out this itinerary for how to experience local Maldivian life. If you are interested in a guesthouse stay, do get in touch on 020 3393 8630 or request a call back here.
Unsure of where to stay in the Maldives?
Check out our in-depth FAQ to the Maldives to ensure you make the right decision.