Cambodia might not be somewhere that immediately springs to mind as a beach destination. However, not many people know that the best beaches in Cambodia are every bit as beautiful as those in Thailand – and far less visited, too. In fact, with excellent options for safe swimming as well as a profusion of gorgeous luxury island beach resorts, we predict that Cambodia is the most up-and-coming spot for beach holidays in Southeast Asia.
It is first worth mentioning that while there are a few great places on Cambodia's coast, the islands are really where you'll find world-class beaches. Most of these are accessible via Sihanoukville, a port town that operates regular small ferries and speedboats to various islands throughout the day (these usually cost approximately $11 return).
Unfortunately, Sihanoukville itself isn't exactly lovely. An influx of foreign investment has meant that a once-sleepy seaside town is now steadily on its way to becoming a freshly built mini-mega-city boasting casinos and construction work as its main attraction. Nevertheless, on arrival here, do not be deterred! True beach paradises are just a short boat ride away.
Here is a short guide to the best Cambodia beaches, selected by the Asia experts.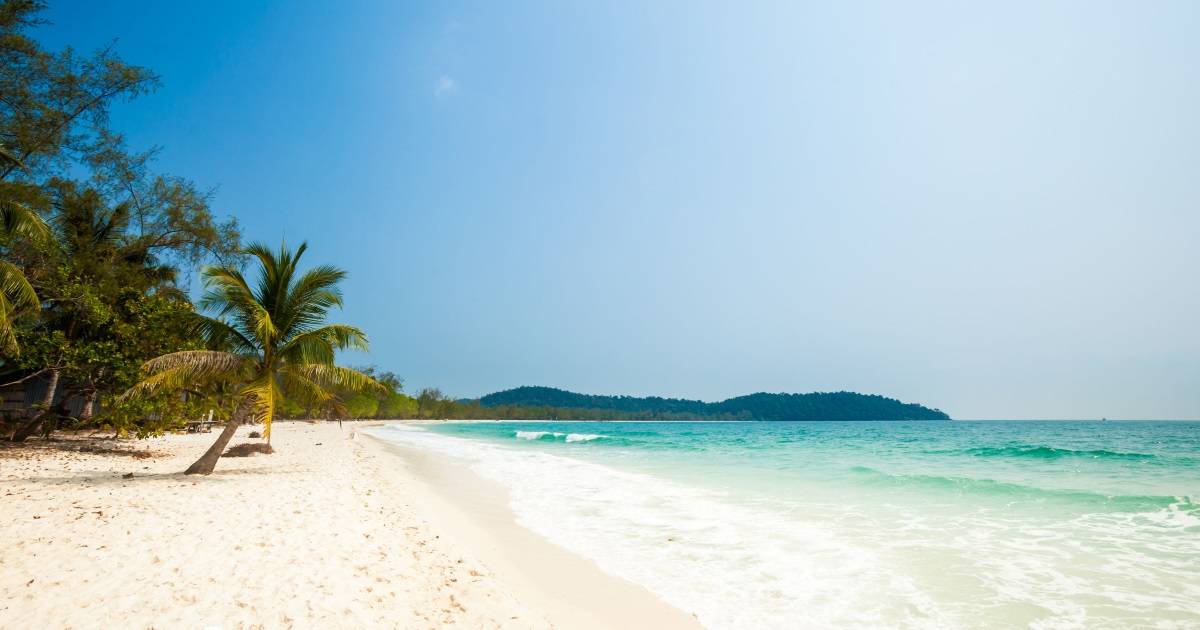 Koh Rong –  the largest island
The largest island on the Koh Rong Archipelago, the eponymous island is also the most well-developed for tourism. And it's not hard to see why. Glorious stretches of white sand beaches flank the isle on most sides, lapped by turquoise waters and set against beautiful views. Most travellers head to Koh Touch, but head to Long Beach for more upmarket accommodation and an exquisitely untouched bay. For 5-star luxury, stay at the Royal Sands hotel.
Koh Rong Samloem – the smallest island
Koh Rong's southern neighbour is smaller and sleepier, but there are still a number of options for you to choose from. Its longest beach, Saracen Bay, is certainly set up for tourists, but the beach itself is gorgeous and by evening there is a good, gentle buzz – wander along the sands to take your pick of bars and sizzling seafood barbecues (Sara Resort has the best). However, for a true paradise island feel, head to the west of the island to Lazy Beach. There is only one resort here, and it's rather basic, but you will feel worlds away from the everyday – and the sunsets are pretty sublime.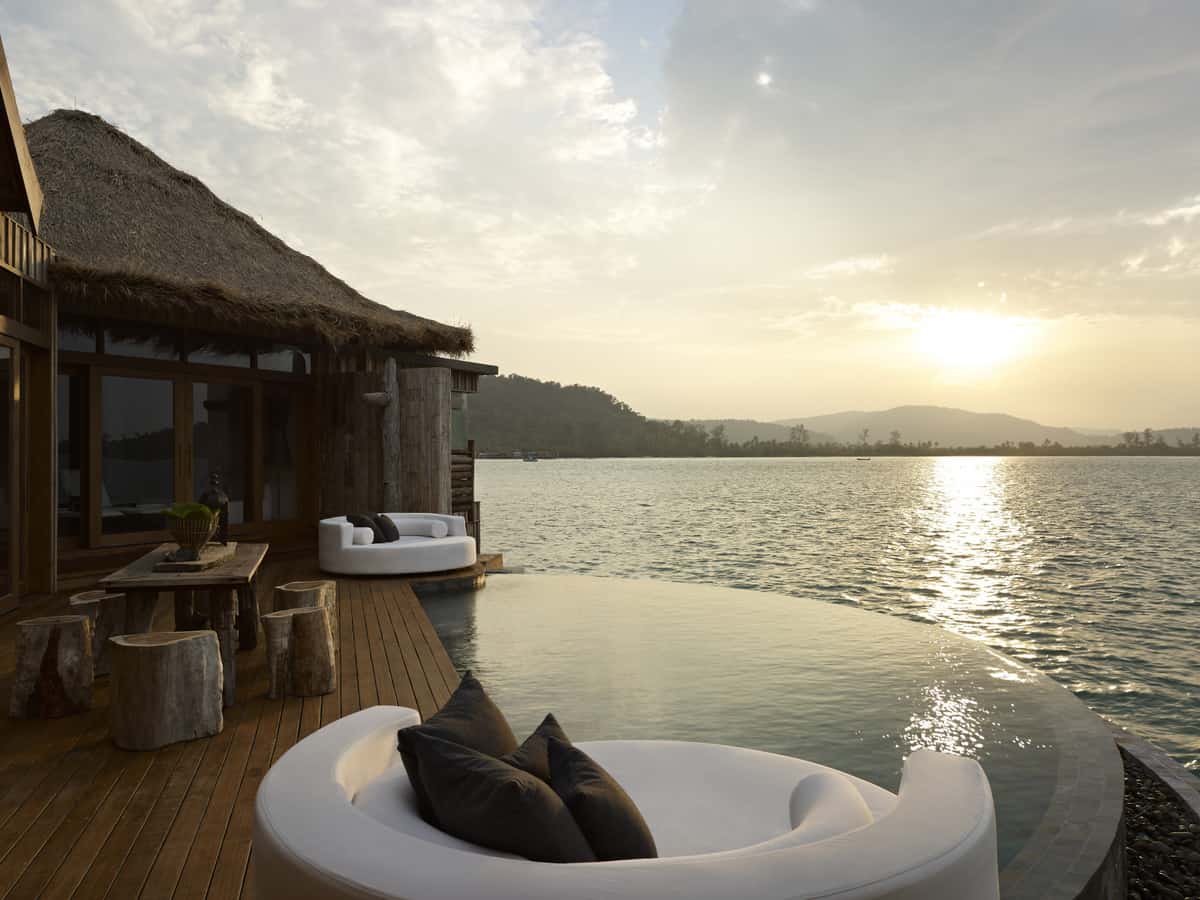 Song Saa Private Island
A private island off the exquisite Koh Rong archipelago, Song Saa is no ordinary luxury resort. In addition to that fabulous white-sand, turquoise-water, total-luxury feel, it was designed with the greatest care to preserving its beautiful natural environment. Spend your days here unwinding in a gorgeous overwater villa (built with sustainable materials), swimming and snorkelling in pristine waters or sipping cocktails at sunset before a Michelin standard meal.
Six Senses Krabey Private Island
Step away from the every day at Cambodia's Six Senses, an intimate and peaceful luxury resort. The island is covered in a lush jungle, and the 40 private pool villas blend seamlessly into their surroundings. It is an ideal spot if you are interested in health and wellness: you can take part in yoga, meditation and sleep programs, and there is also a fantastic spa. In addition, delicious Khmer food is served at Aha or Tree Restaurants, and you can enjoy a sundowner at the aptly named sunset bar.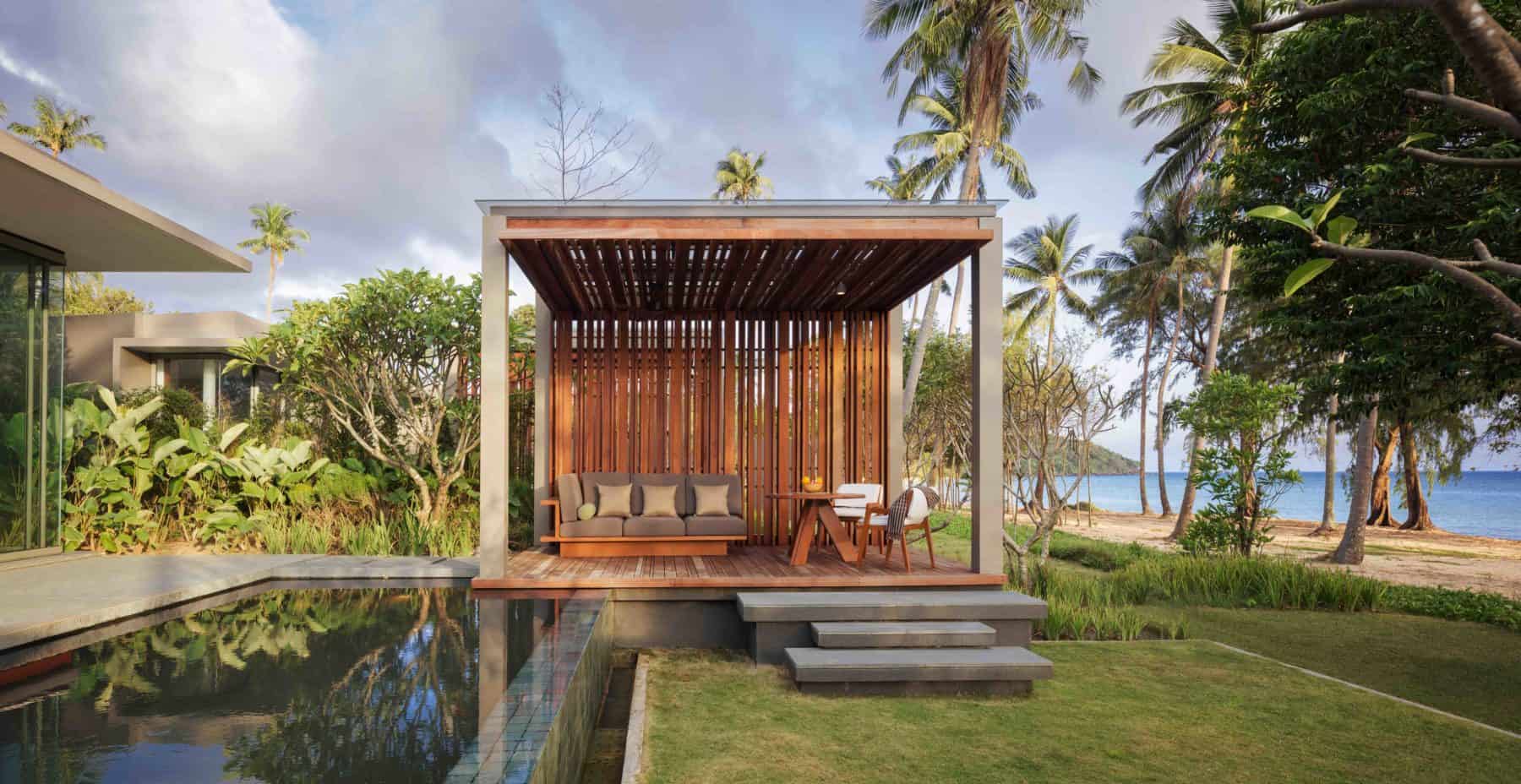 Koh Russei (Bamboo Island) for Golden sands
Further south you'll find Koh Russei – better known as Bamboo Island. With golden sands and a laidback atmosphere, this is another great spot to relax and disconnect for a few days at the end of your holiday. Until recently, accommodation here was sparse and basic, and the island was mainly popular as a day trip from Sihanoukville. However, the past few years have seen rapid development, with more restaurants and luxury resorts starting to crop up. Stay at Alila Villas for impeccable design and luxury.
Coastal Kep on the mainland
Kep is a lovely coastal town that is perfect for a few sleepy days drinking in the sea air. Though not strictly a beach destination, the atmosphere is fantastic: expect stalls serving delicious local food, lively bars and a predominantly Cambodian crowd on weekend getaways. Be sure not to miss the crab market, a lively spot where you can eat unbelievably fresh shellfish (delicious with the aromatic pepper from nearby Kampot). Stay at Knai Bang Chatt for a boutique experience in a beautifully renovated colonial property.
Jungle Clad Koh Thmei
A gorgeous island that is part of Ream National Park, Koh Thmei remains very much off-the-beaten-track. It is one of the best islands to spot wildlife in Cambodia, and its verdant jungle interior is home to monkeys, lizards and over 100 species of birds. There is only one resort on the island, Koh Thmei, which makes it fantastically self-selecting. The rooms are basic but pleasant (there are family bungalows available, with two doubles and a single bed) and overall the resort retains a characterful feel. The bar and restaurant are also very good indeed.
CURIOUS ABOUT CAMBODIA?
Head to our website for more ideas and information about travelling to Cambodia and let us know if you agree with our list of best beaches in Cambodia…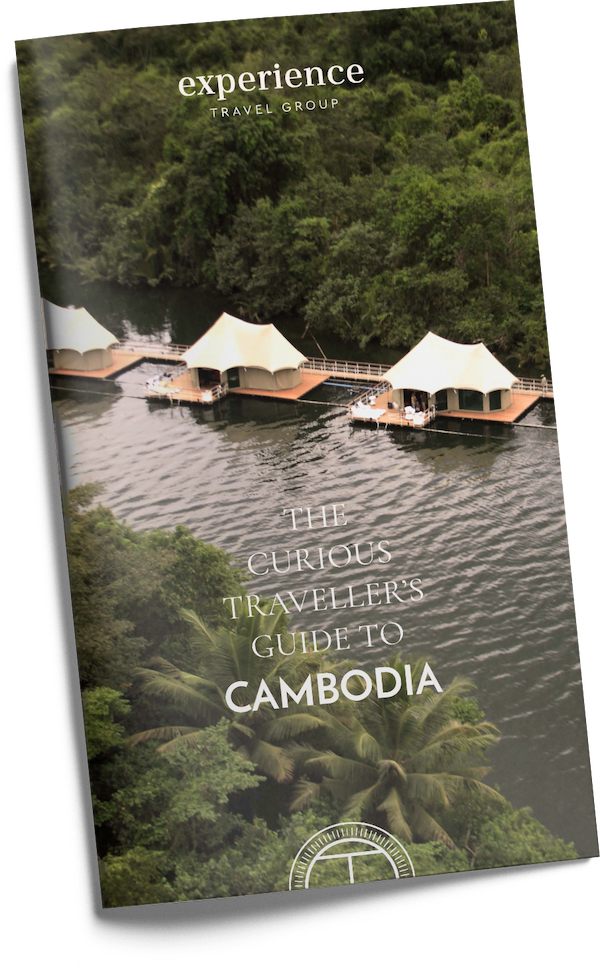 CURIOUS TRAVELLER'S GUIDE TO CAMBODIA
Curious to find out more? The Curious Traveller's Guide to Cambodia is our experts' edit of hotels, experiences and holiday tips. Get your complimentary copy today.
DOWNLOAD NOW