One of ETG's favourite destinations, Vietnam is a vibrant country with a rich cultural heritage and forward-thinking attitude. However, before travelling to a new country, particularly one as far away and with a unique culture as Vietnam, it's normal to have a few questions! 
With new travel guidelines instated across the world since the pandemic, we know that travellers may have more questions than usual about travelling to Vietnam – and want information about things like Covid-19, visas and entry requirements. So, to help out, we've put together our top things to know before you go.
---
1. Can Brits travel to Vietnam now?
To answer simply, yes. The good news is that in March 2022 Vietnam reintroduced visa waivers for UK nationals travelling to Vietnam for tourism. Visa waivers allow single-entry visits to Vietnam for up to 15 days without needing to apply for a visa (with the day you arrive and depart counting towards those 15 days).
If your visit lies outside these parameters, you will still need to get a visa or Visa on Arrival Letter (VOA) in advance of travelling. You can purchase a visa from the Vietnam Embassy, or, alternatively, a VOA can be obtained through ETG, as long as you are entering and exiting Vietnam via an international airport. Another option is applying for an e-visa online through this online portal. E-visas are issued for stays of up to 30 days and are single-entry only. 
Finally, it's important to note that your passport must be valid for at least 6 months after the date of your arrival in Vietnam.
2. Is it safe to travel to Vietnam from the UK?
One thing that travellers often want to know is whether it's safe to travel to Vietnam, particularly in regards to Covid-19. After the international outbreak of Covid-19, Vietnam closed its doors to foreign visitors for two years in order to totally eliminate the virus from the country. Now that this period has passed, there are almost no local outbreaks – and Vietnam is considered a safe place to be.
Regarding general safety, Vietnam is a fairly advanced country that is developing fast. Guests travelling with ETG are often surprised at just how built up the country can be; its many vibrant and exciting cities are home to good hospitals and impressive general infrastructure. Be prepared to have your expectations blown out of the water when you visit Vietnam!
---
---
3. Do I need to be vaccinated to travel to Vietnam
British travellers to Vietnam do not need to show any proof of vaccination against Coronavirus when entering Vietnam's borders. 
4. Is Vietnam tourism back to normal?
While the country's borders are back open to international tourists, the tourist industry is still revamping after a two year period hiatus. However, this should have minimal impact on your time exploring this incredible country.
Some restaurants have also not yet reopened, however, there is still plenty of delicious food on offer throughout Vietnam. You might also find that your hotel is emptier than expected or that it's filled with more domestic tourists than you had imagined. The added bonus of this is that travelling to Vietnam now is an excellent way to experience a unique mixture of cultures within the comfort of your hotel.
When travelling in Vietnam, don't be alarmed when you see locals wearing facemasks. Like other countries in Asia, people in Vietnam wore face masks even before the outbreak of the pandemic. Facemasks are a part of Vietnamese culture rather than protecting themselves against airborne viruses, so there is no need to panic.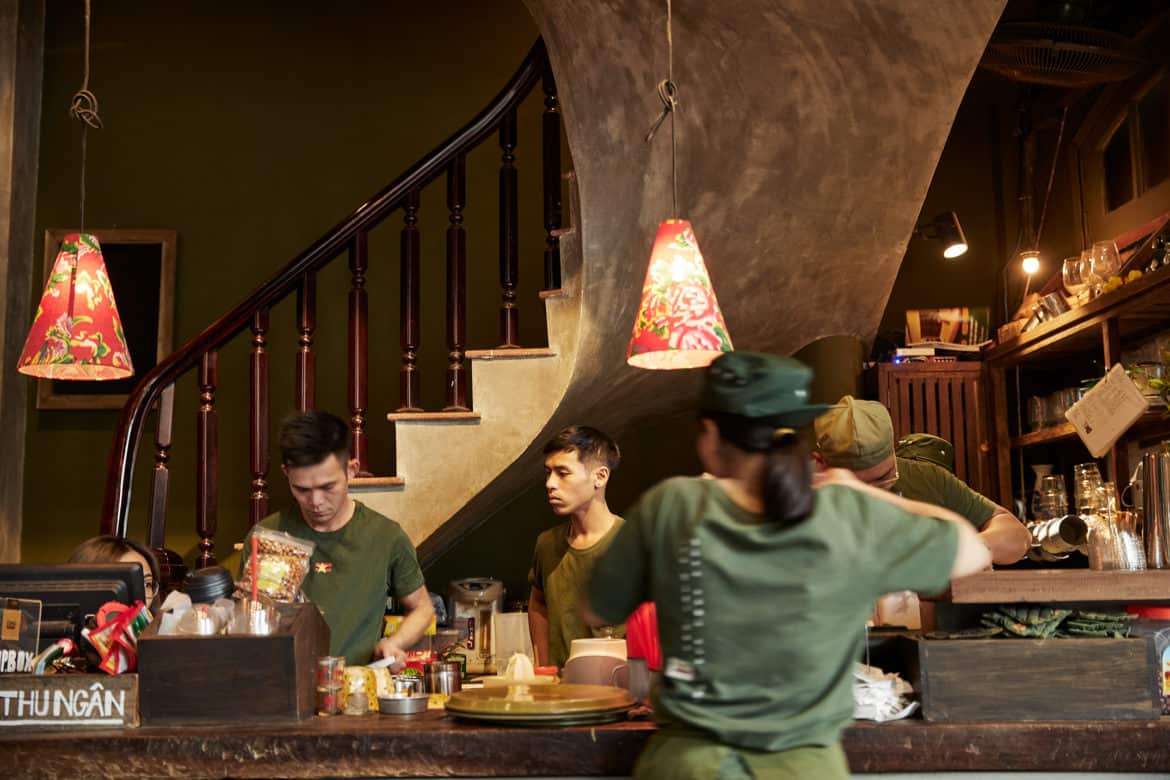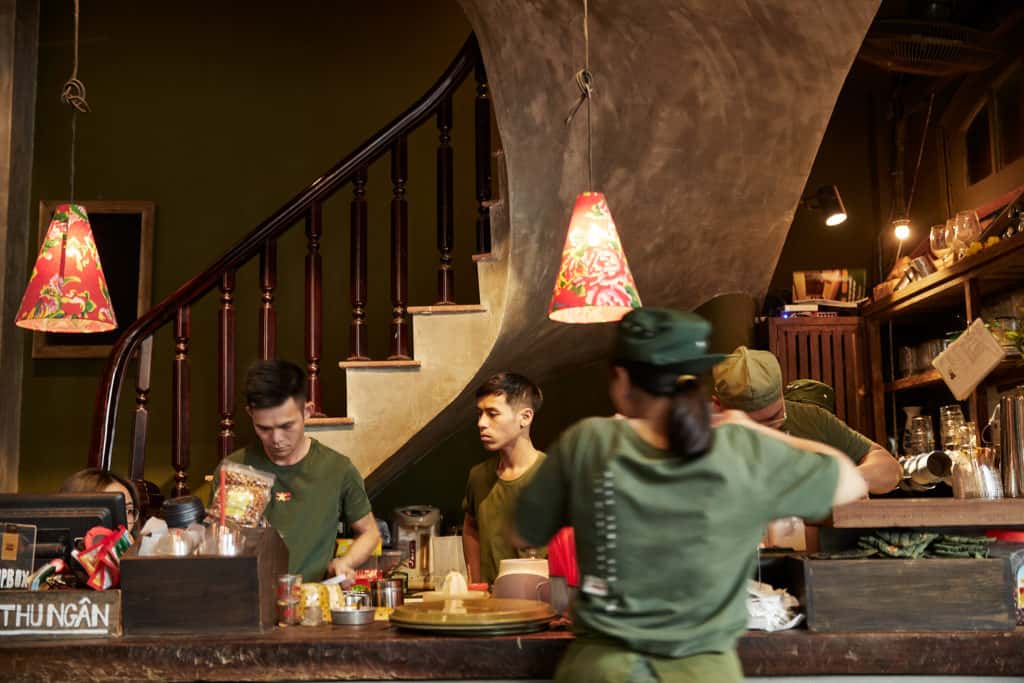 ---
---
5. Can I drink the water in Vietnam?
To avoid any adverse effects, we would recommend avoiding drinking local water where you can. However, in line with how quickly the country is developing, many hotels will provide filtered water for you to drink.
6. What is the Vietnamese currency?
The local currency in Vietnam is the Dong (abbreviated to "d" or VND). The rate of exchange (at the time of writing in July 2022) is approximately Dong 25,000 – 30,000 to the pound. Dong is best obtained upon arrival and easily exchanged with US$. We recommend that you also bring some US$ with you, as dollar bills are accepted everywhere in Vietnam and can come in handy.
Cash machines are widely available and accept all major cards such as Visa, Maestro and Mastercard. Credit cards are widely accepted and you'll find contactless payments in the big cities now. It can be worthwhile letting your bank know ahead of time that you are travelling to Vietnam so that they don't block your card based on 'suspicious activity.'
---
---
7. Tipping in Vietnam
Tipping guides for Vietnam can be found in our Experience Travel Blog. However, the good news is that all ETG holidays to Vietnam and the majority of Southeast Asia are now tip inclusive – to help make your trip as hassle-free as possible. This means that you don't have to tip any guides and drivers in Vietnam, as those costs are included in the upfront cost. Read more about our tip inclusive policy here.
8. Bartering in Vietnam
The prices for goods in supermarkets, pharmacies, restaurants, hotels, official transport and basic commodity shops are usually fixed. However, those for fresh fruit, vegetables and flowers from street sellers, motorcycle taxis ('xe oms'), bicycle taxis ('cyclos'), souvenirs, clothes (especially in tourist areas), and goods bought from peddlers are usually variable – whether you are shopping in towns or rural areas
A top tip: for the best chance of being successful when bartering, laughter and good humour is a big help. When an initial price is quoted, throw up your hands in exaggerated horror and then offer between a third and a half of the original price. You can then start negotiating a fair price. Walking away will usually determine whether the last offer really is the last!
Please remember that many of the people you deal with will be poor, so driving them down to an unreasonably low price isn't recommended. On the other hand, paying an unrealistically high price will encourage sellers to regard foreigners as easy targets and inflate prices even further. We know it's a tricky balance!
Taxi fares are nearly always metered (although the accuracy is sometimes questionable) but it pays to negotiate a fixed price for long journeys. For motorcycle taxis and cyclos, always agree on a price in advance. As you will mostly be with your ETG car and driver, the above information is just FYI but may be useful if you are exploring solo, especially at night.
While on your travels in Vietnam you may come across remnants of an earlier dual-pricing system that is gradually being phased out, i.e. tourists being charged differently to locals. If so, know that this isn't local people trying to make a fast buck, but simply an official recognition of the considerable income gap between international tourists and the average Vietnamese citizen.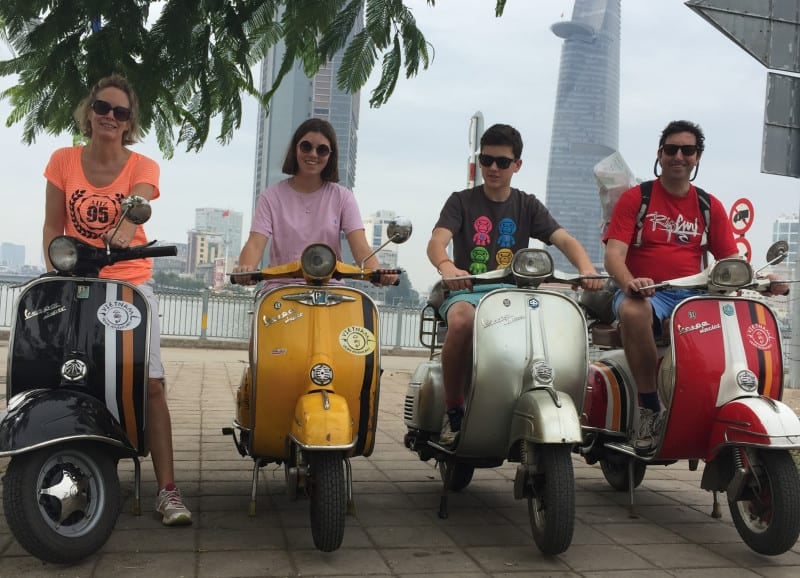 9. What to wear in Vietnam
Vietnam is a long, thin country with an incredibly varied climate and sometimes confusing weather patterns. For this reason, when travelling on multi-destination itineraries, it can be hard to know what to pack. 
If your itinerary includes time in the north of the country during the winter, make sure to bring some warm clothes, as it can get very cold. If you are going to the highlands, bear in mind that it can be cool throughout the year and that in the winter it can be very cold indeed – so come fully prepared.
The south of Vietnam is tropical year-round, meaning that it is fairly consistently hot and humid. However, it is worth bringing a light rain jacket. Where the sun is concerned, take the usual precautions (wear sun cream, stay in the shade as much as possible and make sure to stay hydrated) as the Vietnamese sun can be extremely fierce.
Whichever part of the country you are travelling to, it makes sense to pack a scarf or shawl – these come in handy in regards to dressing appropriately when visiting temples, pagodas and places of worship in general. 
Have a look at our Vietnam weather guide for more help with deciding what to pack.
10. General tips for travel to Vietnam
We've shared a few tips below to ensure that your experience travelling through Vietnam is as smooth as possible. 
Always remove your shoes before entering Buddhist pagodas. However, it is acceptable to keep your shoes on within Chinese pagodas. Small donations placed in the boxes found in temples are always appreciated. 
Never let the soles of your feet face other people or any sacred monuments, such as a statue of Buddha, as this is deemed disrespectful.
Be firm, yet diplomatic when dealing with officials who can at times be very rigid. As for all of Asia – losing one's temper is generally completely counterproductive and best avoided.
11. Travelling in Vietnam by train
Travelling by rail in Vietnam can be an adventure and something we always recommend at ETG – we think it's a great way to see the country, interact with locals and experience the culture first-hand. However, facilities can be simple, so it helps to come prepared. For day train journeys we book you 'soft seat' tickets, whereas for overnight journeys we book a private compartment with four 'soft sleeper' berths, complete with bed linen. Basic toilet facilities can be found at the end of the corridors but we recommend taking your own towel and wash-kit.
For all train journeys in Vietnam, we suggest taking sufficient drinking water and snacks, as onboard provision can be very basic. Your guide can help you buy supplies in advance – just ask. Please make sure to take care of your personal belongings at all times and have your ticket ready for inspection both during and at the end of your journey.
The exception to the above is the overnight Victoria Express train to Sapa – which can be considered a luxury experience – and is a great way to start any trekking adventure.
12. Crossing the road in Vietnam
When in larger cities like Hanoi and Ho Chi Minh City, you may find the prospect of crossing the road a challenge – you'll see what we mean when you get there! The sheer number of Vespas, motorbikes, cyclos, taxis and cars can often hide the tarmac beneath and finding space between the flow to march across can be difficult! For first-timers, follow the locals and watch how they do it – and of course your guide will be there to help! We recommend keeping your head up and walking confidently at a constant steady pace…you'll reach the other side in no time.
13. General safety while travelling in Vietnam
Most trips to Vietnam take place without any incidents. However, there are several guidelines that visitors can follow to ensure that this is the case for their trip.
When travelling and spending time in large cities, it's best to keep a firm eye on your belongings at all times. 
As mentioned above, make sure to agree prices on local transport methods before departing, to avoid unpleasant altercations when reaching your destination. 
As is always the case on an ETG holiday, our local guides are there to keep you safe and answer any questions you have while you are travelling. Never hesitate to ask them if you are unsure about an element of your holiday or if you have questions when on the ground – they will be very happy to help.
14. Is there anything else you need to know before you travel to Vietnam?
Did we miss something?  Is there anything else you want to know before travelling to Vietnam? For more information about the country or to have a chat with one of our Vietnam travel experts call 0203 993 0597 or email us with your questions here. 
Alternatively, to see an example of the kind of trip to Vietnam we could design for you, take a look at our suggested itineraries here. Like all our example itineraries, they're just a starting point to inspire you as our holidays are always tailor-made and created to best suit you.
---
For more information about Vietnam, do call  020 7924 7133 or email us with your questions here. To see an example of the kind of trip you could have to Vietnam, do take a look at our example holiday itineraries. They're just a starting point, all our holidays are tailor-made so we can tweak all elements to suit your exact interests. 
---