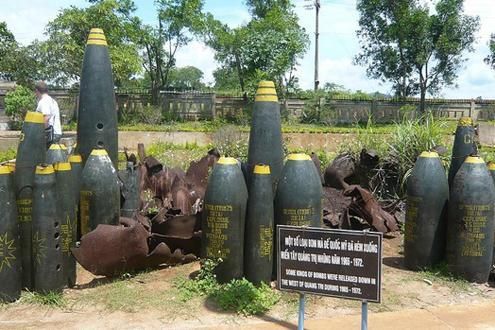 Experience the remnants of war in this tragic region still known by many as the DMZ (Demilitarised Zone). Names such as Khe Sanh, the Rockpile, Ben Hai River and Quang Tri still evoke deep emotions of the war to this day. At the end of the defeat of the French in 1954 the Geneva conventions divided Vietnam into two areas along the 17th Parallel. Ho Chi Minh and his army controlled the North, while President Diem, backed by the United States, controlled the South. Elections that were promised never came and thus began a continued path of civil strife that led to American military involvement in South Vietnam.
During the war in the 1960's and 1970's, the DMZ region became one of the heaviest bombarded regions in the history of warfare culminating in the 77 day siege at Khe Sanh and the complete destruction of Quang Tri by North Vietnamese forces in 1972. Today, whilst there is little physical evidence of what was, the region remains scarred from its effects. Many of the hills remain scattered with rock and shrub from the intensity of artillery fire and chemical defoliants. An alternative to visiting Khe Sanh near the Lao border is to visit the fascinating tunnels at Vinh Moc. Situated along a scenic area of coastline the tunnels were initially built in the late 1940's as a resistance hideout against the French and were extended and enlarged during the American war in order to accommodate civilian families trying to survive the constant terrifying aerial bombardment.
You can include this experience as part of an Experience Travel Group holiday designed exclusively with you.
Map centered on The DMZ - From Hue. Zoom out to view other hotels (H) and experiences (E) in the area.