With beautiful coastline, tropical palms, colourful Hindu culture, mouthwatering food and stunning landscapes Bali is a fantastic destination for a holiday. (Not to mention some of the amazing flight deals to be had to boot; it can be a surprisingly economical place to visit!)
Bali's beaches are seen to be a key magnet to attracts travellers' attention worldwide. The question then beckons, which one is the best for you and is it worth while venturing away from the island? In this blog, ETG's very own Bali enthusiast, James Wilmshurst, passes on his top suggestions for prospective travellers: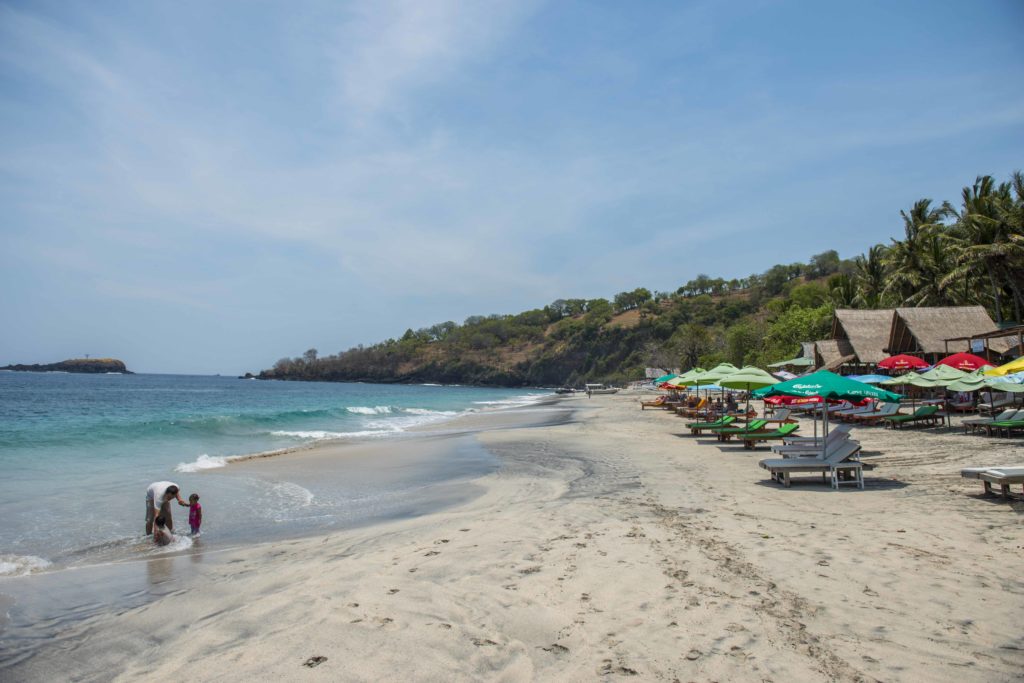 First things first, is to decide what you like out of any beach or coastline. Does it need to feel deserted? Would you like some nearby bars and restaurants? Does the sand have to be white, golden (or black even!)? Do you like some scenic landscapes surrounding? Are you travelling with other people and what do they like to get out of a beach stay? Once you've narrowed down what you're after, take a look at my quick summary of the top options in Bali.
---
1. Legian, Seminyak and Canggu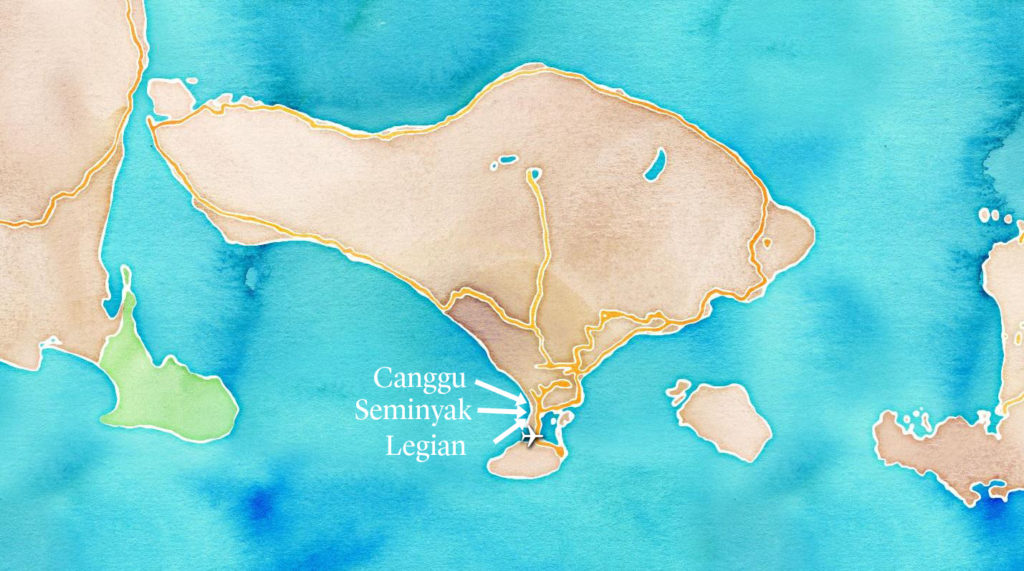 | | |
| --- | --- |
| Suitable for? | |
| Couples | Yes |
| Families | Yes (south side of stretch, further north, the sea is rougher) |
| Nearby airport access | Yes |
| Nearby restaurants | Yes |
| Swimming | Yes but be aware of currents and children need to be watched (there aren't always lifeguards) |
| Snorkelling | No |
| Surfing | Yes |
| Diving | No |
Legian, Seminyak and Canggu are three beach towns that have merged together along a stretch of formerly golden sand, north of very busy Kuta. Each town has a slightly different atmosphere; Canggu is the quietest, although has a real bustle, Seminyak is busier and Legian the busiest of the bunch.  All three areas have lots of useful amenities like relaxed cocktail bars, boutique shops, art galleries and restaurants. The stretch of beach is great for travellers who want to combine relaxation with activities nearby that are out of the sun.
There are plenty of accommodation choices, from high-end options to more basic but comfortable properties with easy access to the sea. The stretch of sand is very close to Bali's international airport so particularly convenient for travellers wanting a quick in-and-out at the beginning or end of their holiday. Beware of the sea the further north along the stretch you go, it gets a bit rougher and tidal pulls are strong. Legian, Seminyak and Canggu beaches are also a good spot for surfers of all abilities. There are schools based along the shore so you can ride the waves in between soaking in the tropical sunshine.
Where to stay? Tugu Bali for an intimate setting and luxurious surroundings
Where to eat? Sarong Restaurant for delicious cocktails, food and a classy atmosphere
Where to shop? Jalan Kayu Cendana is a stretch of local designer homeware stores. Starting from Seminyak Square, meander your way through to the end and try not to be tempted by everything.
---
2. Jimbaran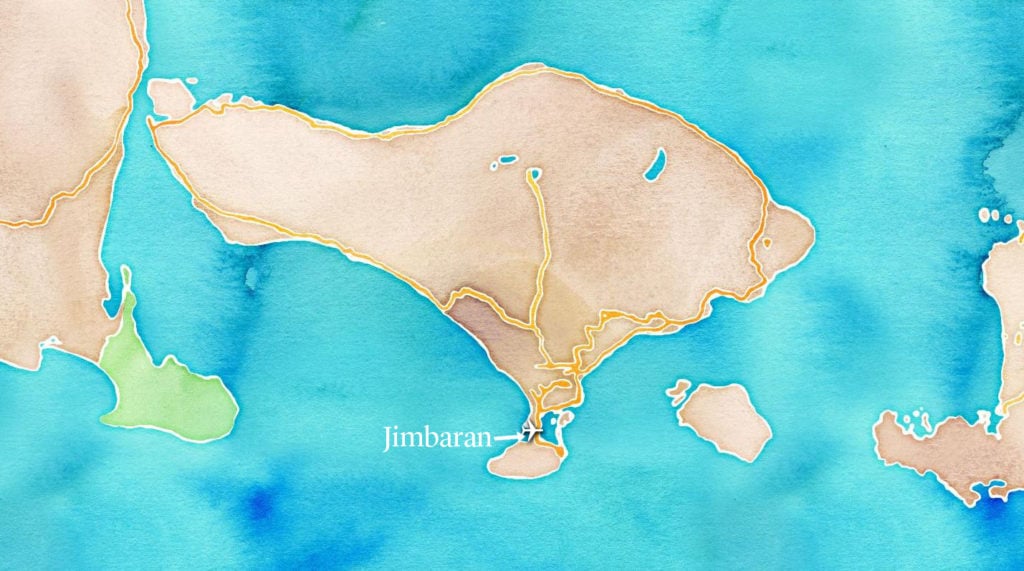 | | |
| --- | --- |
| Suitable for? | |
| Couples | Yes |
| Families | Yes |
| Nearby airport access | Yes |
| Nearby restaurants | Yes |
| Swimming | Yes |
| Snorkelling | No |
| Surfing | No |
| Diving | No |
A crescent of white sand with surrounding turquoise ocean, most go to Jimbaran and never want to leave. In the evening, the small bay is fronted by a string of seafood warungs (family run cafes) with tropical cover topping and tailing the scene. The fishing boats are a sight to behold: a smattering of strong primary colours – the blues, reds and yellows you'd expect to see in a masterpiece at the Tate Modern. With all its potential to become totally developed like some of the block-like construction you might see in Thailand and even in Legian and Seminyak, Jimbaran has maintained its integrity and sense of rugged beauty.
It has a relaxed atmosphere and is quiet during the day, with visitors and residents congregating at nearby bars as the midday heat ebbs and the sky becomes a glorious amber colour. The fish market is a particularly fun experience for those who want to venture from the beach. Pongy, lively and entertaining, it gives visitors a fun insight into the Balinese way of life on the coast. Jimbaran is a short journey from Bali's international airport so it's very well positioned for a stay at the beginning or end of your trip.
Where to stay? Belmond Puri Jimbaran for understated luxury filled with character
Where to shop? Fish market for the fun Balinese culture
Restaurant? Lia Café for great seafood from a rustic restaurant on the beach
---
3. Pemuteran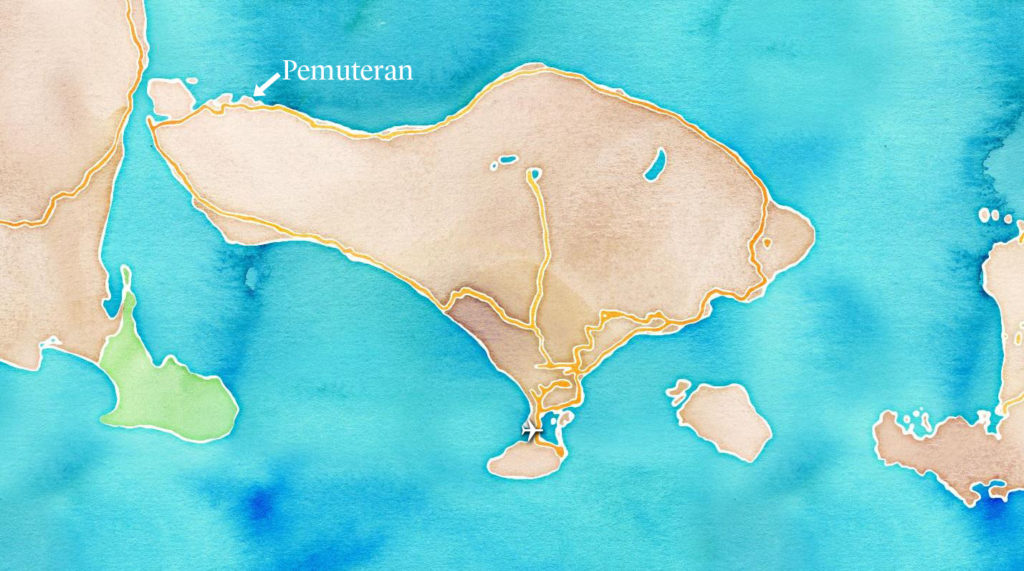 | | |
| --- | --- |
| Suitable for? | |
| Couples | Yes |
| Families | Yes |
| Nearby airport access | No (close to Java) |
| Nearby restaurants | Yes – but not lots of variety |
| Swimming | Yes |
| Snorkelling | Yes |
| Surfing | No |
| Diving | Yes |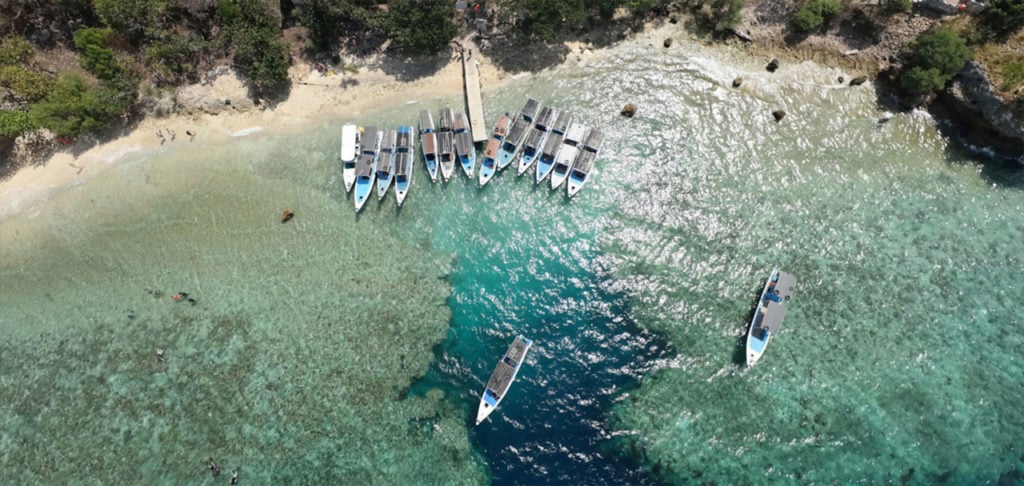 Pemuteran is a remote area on the west coast of Bali near Java. Set between mountains and the ocean, it's a quiet backdrop for a relaxing beach stay. Development along the stretch of sand has been cautious; the local community want to protect the laid-back atmosphere and so there aren't the usual tourist trappings you might expect in Kuta, there are no street vendors and nightclubs for example. A key draw for many visitors is the diving and snorkelling opportunities. There's a spectacular array of fish living in nearby coral reefs and some underwater wrecks you can explore. Pemuteran is also the gateway to Menjangan Island which is world famous for diving opportunities.
For nature enthusiasts, there's trekking in West Bali National Park with a plethora of birdlife, monkeys and some stunning remote Hindu temples. All in all, it's a wonderfully relaxing place to stay for those willing to travel a bit further off-the-beaten-track.
Where to stay: Santi Sari for a near to the beach location set amidst tropical gardens
Where to eat: Tirta Sari for traditional Balinese food just off the beach
Shop: Bali Artisan Salt for home cooking back home – a wonderful souvenir
Visit our in depth Indonesia page 
4. Candidasa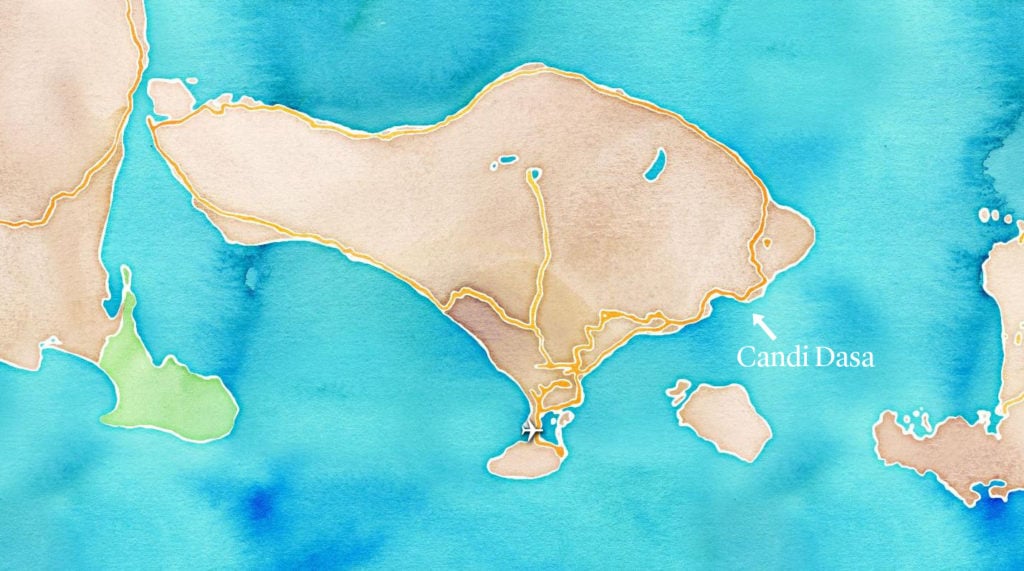 | | |
| --- | --- |
| Suitable for? | |
| Couples | Yes |
| Families | Yes |
| Nearby airport access | No |
| Nearby restaurants | Yes but not lots of variety |
| Swimming | Yes (well paddling) |
| Snorkelling | Yes |
| Surfing | No |
| Diving | Yes |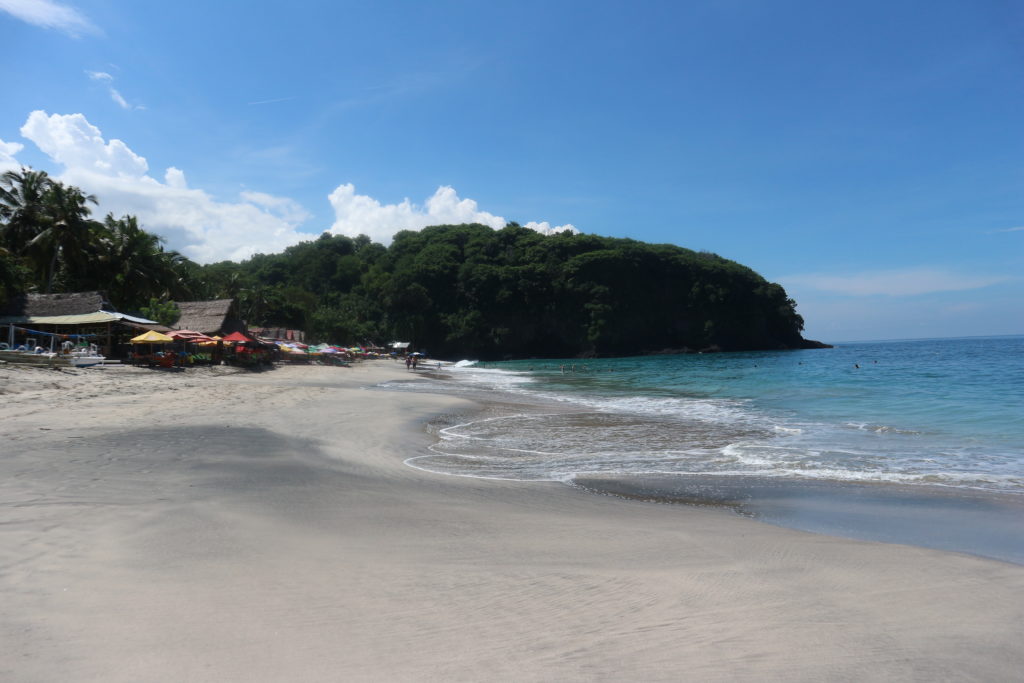 A relaxed and relatively laidback coastal town on the East Coast, Candidasa is a great base to combine sleepy seaside time with some cultural exploration. The town offers some great diving and snorkelling experiences along the coast with wonderful reefs nearby. Do note the beaches just a short stroll from town are better than the one in town, the above picture, for example, is taken from Virgin beach a 15-20 minute drive north from the town.  Trekking in the surrounding countryside is spectacular along with access to remote beaches.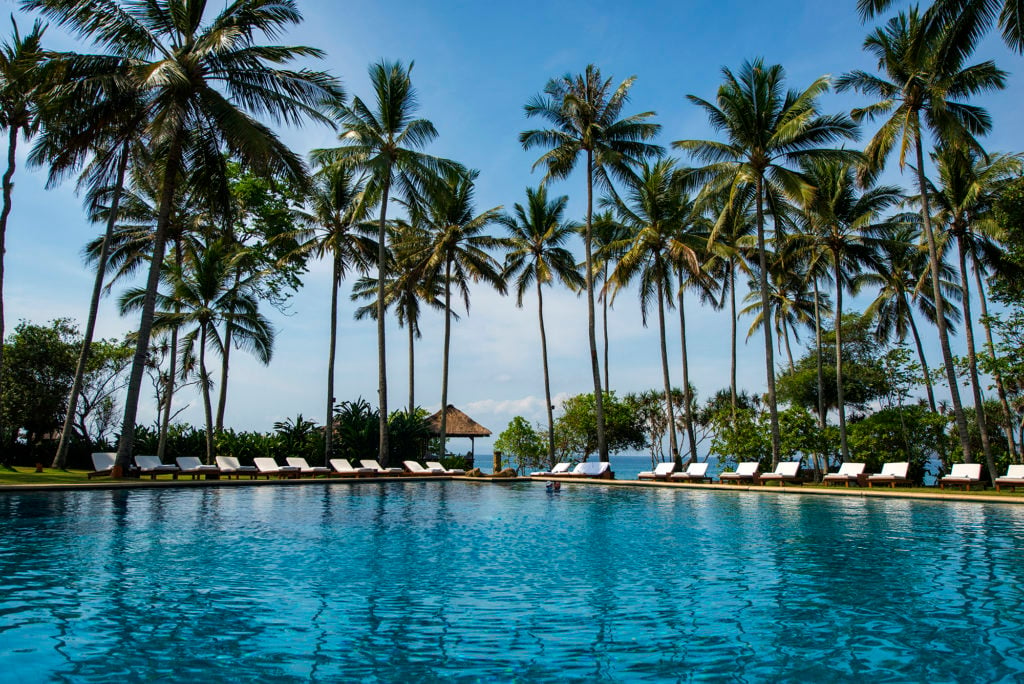 Where to stay: Alila Manggis for the picture-perfect Bali experience between the sea and a coconut grove
Where to eat: Warung Boni for delicious crisy chicken, satay and nasi goreng
---
5. Sanur and Nusa Dua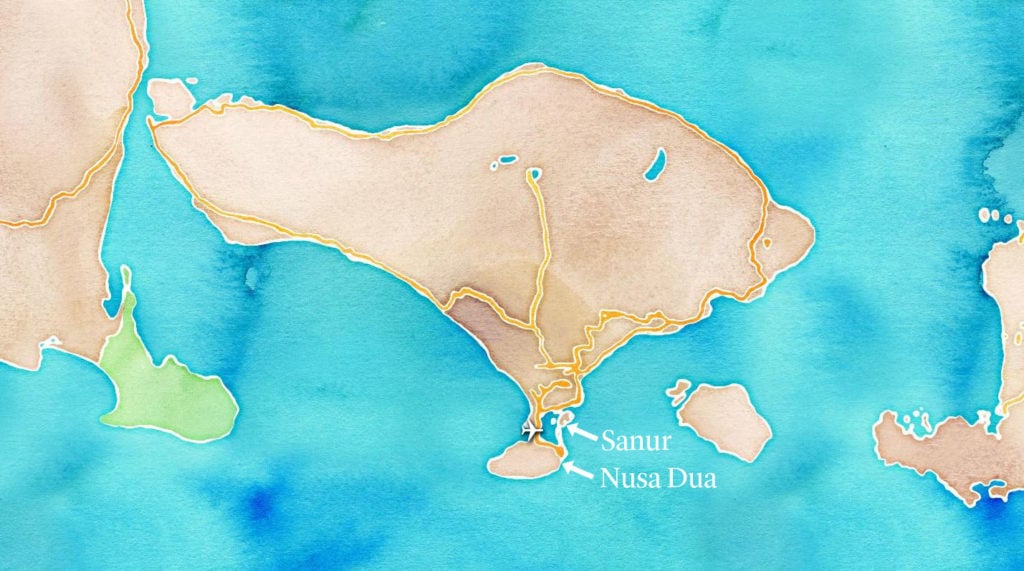 | | |
| --- | --- |
| Suitable for? | |
| Couples | Yes |
| Families | Yes |
| Nearby airport access | Yes |
| Nearby restaurants | Yes |
| Swimming | Yes |
| Snorkelling | Yes – at nearby beaches |
| Surfing | No |
| Diving | Yes (nearby) |
Along the slightly quieter side of South Bali (albeit with a bit of life!), the stretches of sand are home to two key towns: Nusa Dua and Sanur. The former is home to some wonderful high-end resorts, great for families, and Sanur has a great beach with plenty of nearby warungs (family run cafes). It's easy to reach both areas with good road access from the airport. There are also good day trips from here to the Nusa Penida, Lembongan and other areas of Eastern Bali. The views over the mountains and volcanoes from the sea are spectacular. It's easy to reach both areas with good road access from the airport.
Where to stay: Sakala Resort for it's luxurious beach club
Where to eat: Warung Bule & Susy for nice snacks and traditional Balinese cuisine
---
6. Off-the-beaten-track beaches
Amed – located on Bali's northeastern shore, Amed Beach has a rustic atmosphere and has lush tropical plantation surrounding the stretch of beach. With great mountains providing a jaw-dropping backdrop, it's certainly a spectacular place to spend time on the beach and is also great for diving.
Padang Padang and Balangan are beautiful secluded beaches (not completely quiet though!) with great surfing opportunities. Padang Padang was featured in the film 'Eat, Pray, Love' and for good reason, the views are spectacular.
Nyang Nyang great for travellers who like a dash of adventure, this beach is very secluded, with only one restaurant on the beach. It has beautiful golden sands and is surrounded by overgrown tropical cliffs. The path to the beach is a little roundabout but it only adds to the charm.
Nusa Lembongan makes for a great day trip from Sanur and is also at the centre of an impressive seaweed industry. Farmed off the beach, it makes for spectacular photographs (particularly good if you have a drone). There's a relaxed village atmosphere to the town, with fun cultural day trips to be had nearby.
Visit our in depth Indonesia page 
Want a quintessential beach experience? See the nearby island of Lombok.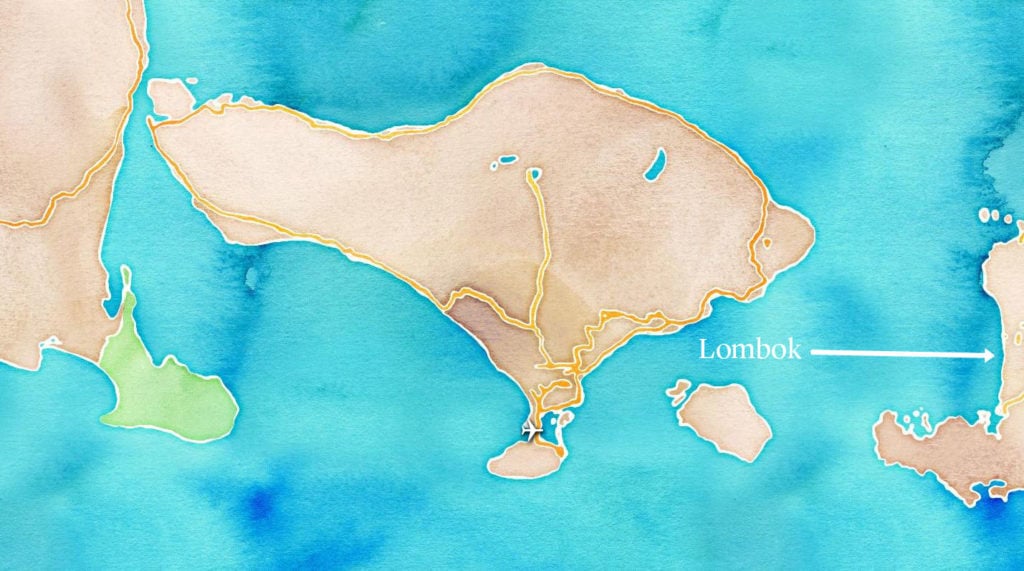 Whilst Bali has some top notch beaches, if you're looking for a quieter experience or a whole stretch of sand to yourself, swap Bali for Lombok. A more low-key island, it has the picture-postcard experience avoiding the bustle and tourists of Indonesia's most famous island. Lombok is much less developed without big block-like hotels, there's much less traffic and there's less a divide between tourist sites and Balinese life. (Lombok can also often be cheaper!)
---
If you'd like more information on any of the beaches mentioned, do get in touch on 020 7924 7133 or via email. If you wanted to see some example itineraries for a Bali trip, do have a look at our portfolio of holidays. Do note they are just a starting point; all our trips are tailor-made so can be tweaked exactly to match your preferences.
---