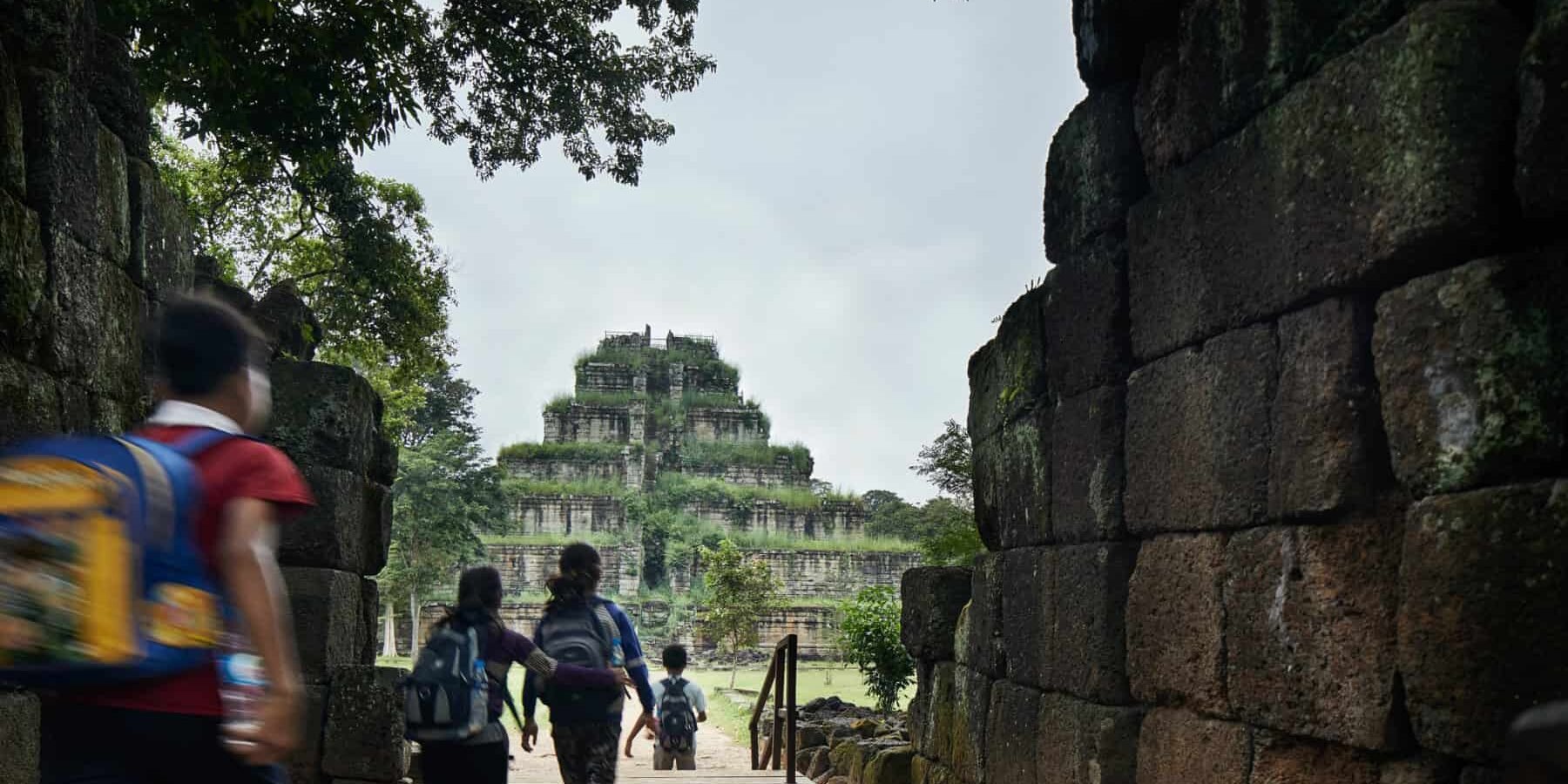 Cambodia is most famous for the ancient temple complex of Angkor Wat, shrouded by jungle and tales of Khmer kings. However, travellers often ask where else to visit in Cambodia and whether it's worth exploring beyond the temples. Since the civil war during the '70s, the country developed for tourism relatively quickly. There are amazing experiences and lovely accommodation options, from eco-lodges to floating guesthouses, jungles camps and high-end beach resorts. And yet, with the exception of Siem Reap, most of Cambodia sees relatively few tourists pass through. This makes it an ideal country to travel to if you're looking for an escape away from the crowds. We've gathered a list to showcase the diversity of the country, from the main highlights to the smaller, lesser-visited spots which should help you answer the question – Where to visit in Cambodia? Find out more about what Cambodia is famous for.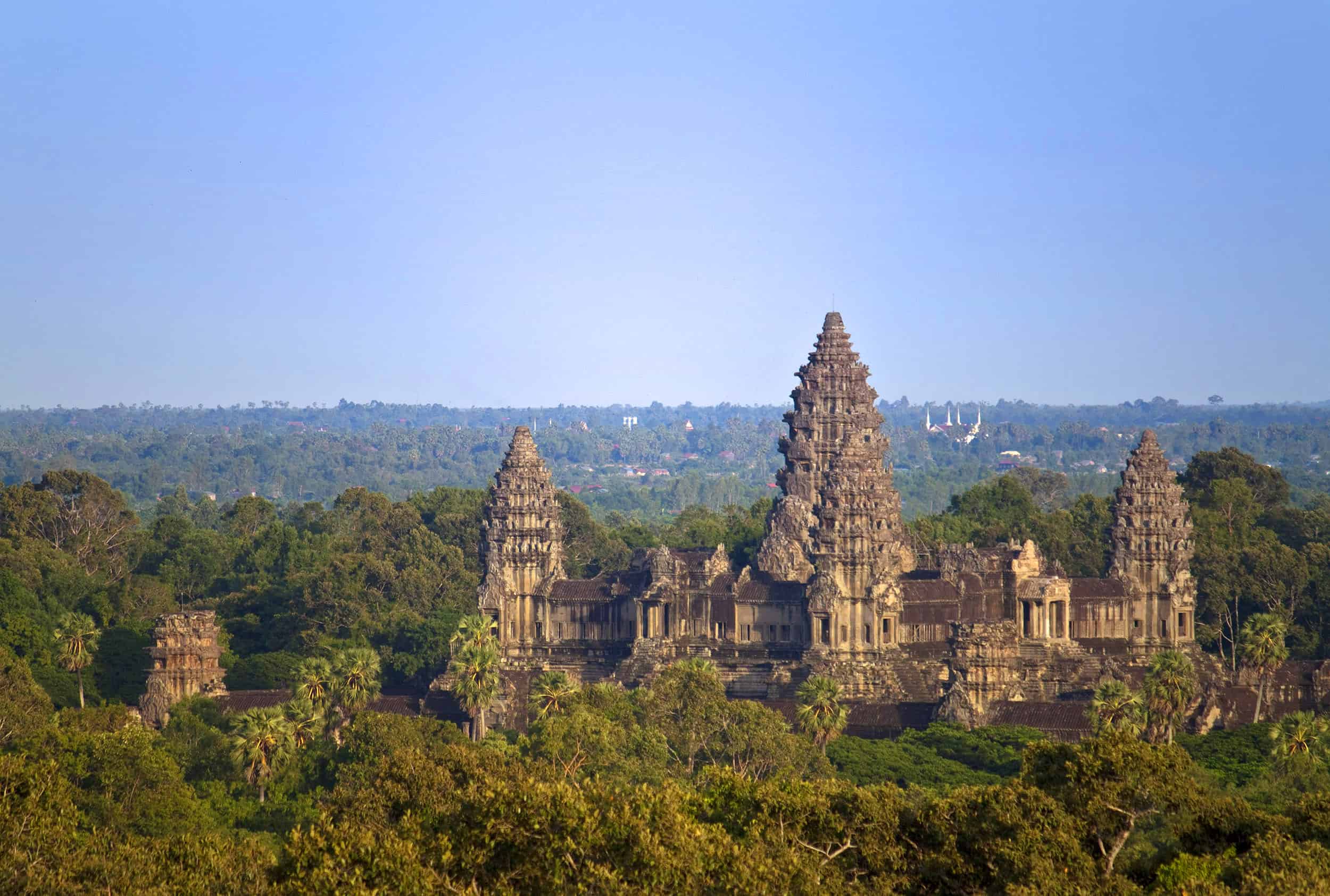 Angkor Wat
The crowning glory of Cambodia, the temples of Angkor are an incredible UNESCO World Heritage temple complex. Built by Khmer kings in the early 12th century, the complex has over 1,000 ancient temples and ruins. Whilst Angkor Wat is just one of many temples in the area, it is arguably the most impressive. It is time and again rated as Southeast Asia's (if not the world's) most unmissable site.
Other famous temples within the complex include Bayon, a unique temple covered in smiling faces. Many also know of Ta Phrom, more commonly referred to as the 'Tomb Raider' temple. For those wanting to escape the crowds on a visit to Cambodia, then our best advice is to explore the smaller, yet equally as beautiful rural temples. The Banteay Chhmar complex, for example, is about 2 hours drive from Siem Reap.
Siem Reap
Angkor Wat belongs to the charismatic and tropical town of Siem Reap, and there is much to be explored here beyond the temples. It's worth cycling into the verdant countryside where you'll notice the traditional Khmer stilted homes and a back-to-basics lifestyle. A little further out, Tonlé Sap lake has beautifully crafted stilted homes to protect the villages when water levels rise. Back in the town itself, you'll find bustling night markets, a superb local foodie scene and vibrant nightlife.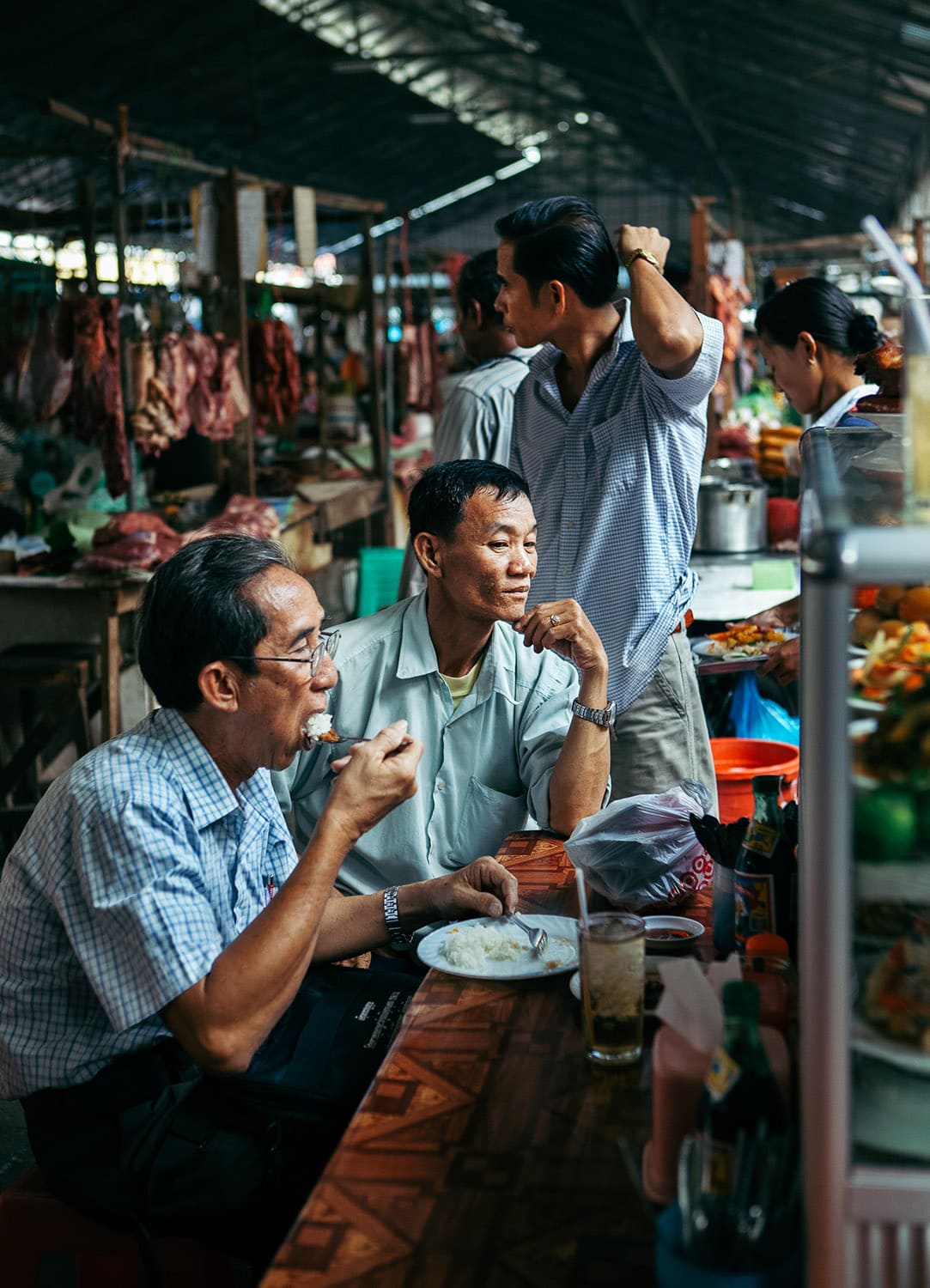 Phnom Penh
Once you have discovered Siem Reap, Phnom Penh is where many people head to learn about the brutalities of the Khmer Rouge regime. The eerie prisons and 'killing fields' are now a museum and learning ground to educate people on the atrocities during the Pol Pot rule. Whilst learning about the country's recent history is often the primary reason for a visit to Phnom Penh, Cambodia's capital city is developing quickly. Nowadays, it has a real buzz about it, especially by evening. This is when the city workers let their hair down and enjoy a nighttime picnic in the city park, or a beer in one of the many trendy rooftop bars. The best way to explore is to whiz around like the locals – either by tuk-tuk, or riding pillion on a vintage Vespa!
Kratie
For those wanting to explore Cambodia's wildlife, you might consider heading further off the beaten track and into the jungles of Mondulkiri. This is now the only place in Cambodia where it is possible to see wild elephants. The jungle is only accessible by road and takes a few days to get to from Phnom Penh. Thankfully, however, the little town of Kratie is perfectly placed to break up the journey. Perched on the calming banks of the Mekong River, Kratie is famous for its Irrawaddy dolphin sightings. Its riverside location means Kratie is a wonderful place to relax for a few days after the chaos of Phnom Penh. You might also enjoy cycle rides through the farmlands or a visit to the Mekong Turtle Conservation Centre.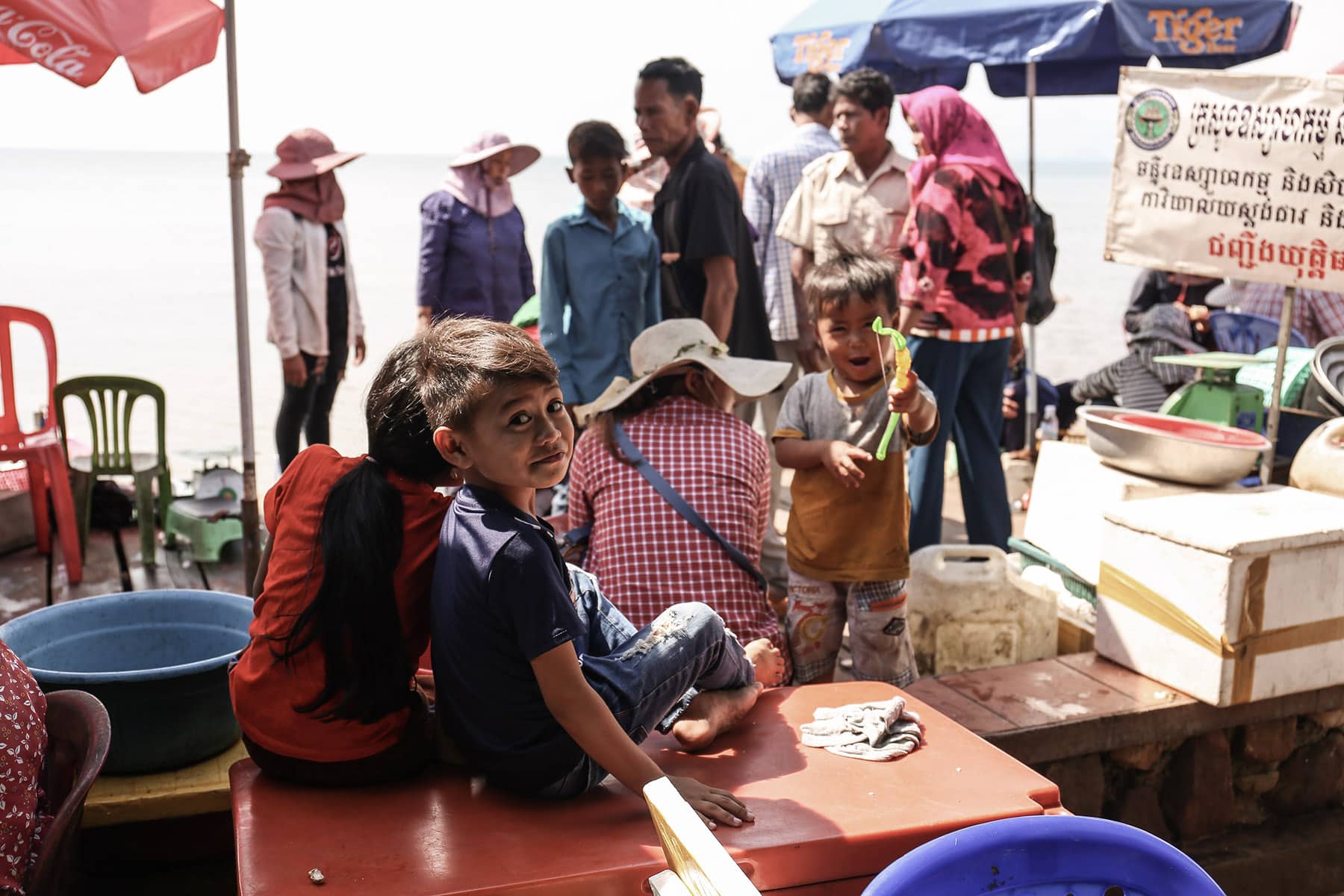 Kep
Just a 40-minute drive from Kampot, you'll find Kep, another small seaside town. Kep is dotted with French colonial villas and home to the best freshly caught crabs in Cambodia. The town itself backs onto the mountainous Kep National Park which is an excellent spot for hiking. It's coastal location also makes Kep a perfect place to relax at the end of a busy trip. The beaches of Kep are short and manmade, but a quick boat to 'Rabbit Island' offers rugged natural beaches.
Kampot
Kampot is a small town also known for its French colonial architecture and as the home of Kampot Pepper. There are plenty of opportunities to explore some of the many pepper plantations during the day. About 90 minutes from Kampot is Bokor Hill Station, an abandoned 1920s retreat said to be haunted by the ghosts of the many workers killed during the build. Plus, due to its relaxing riverside location, you can always sign off a day in Kampot with a sunset cruise.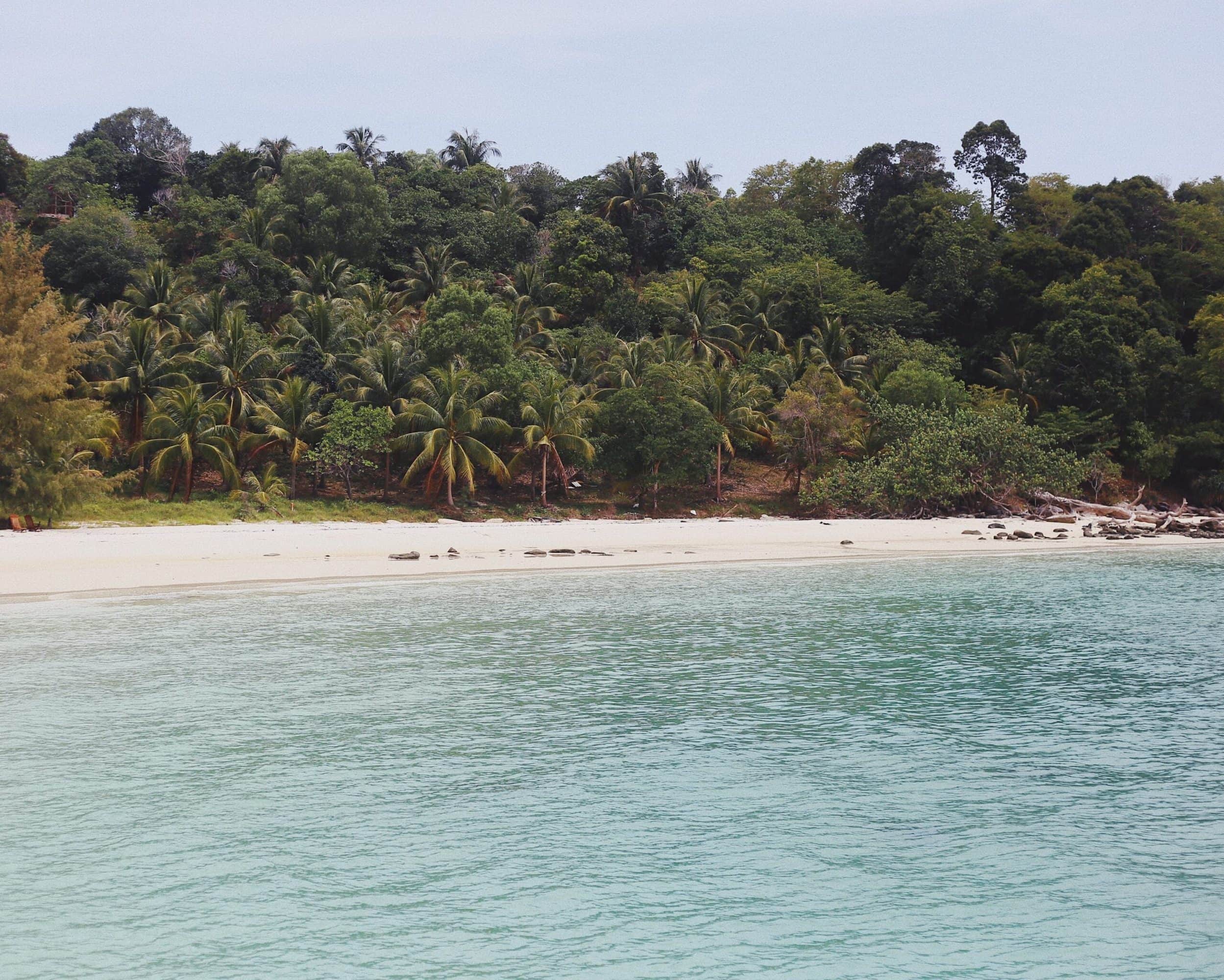 Koh Rong
When you visit Cambodia, it's easy to head to the beaches of Thailand or Vietnam to round off your trip. However, Cambodia also has some fantastic beach destinations, when you know where to look. The islands off the coast of Sihanoukville offer white sands and the best beach resorts in Cambodia. In particular, Koh Rong and Koh Rong Samloem have inviting turquoise waters and a tranquil castaway charm.
Prasat Preah Vihear
Prasat Preah Vihear is an Angkorian style temple perched on a clifftop with breathtaking views over Cambodia. It's also an important pilgrimage site for many Hindus & Buddhists. However, it is right by the Thai Border and the question of which country owns the site is much debated. At 3 hours from Siem Reap, it can work well as a day trip for those interested in architecture, history, good views, and a steady climb!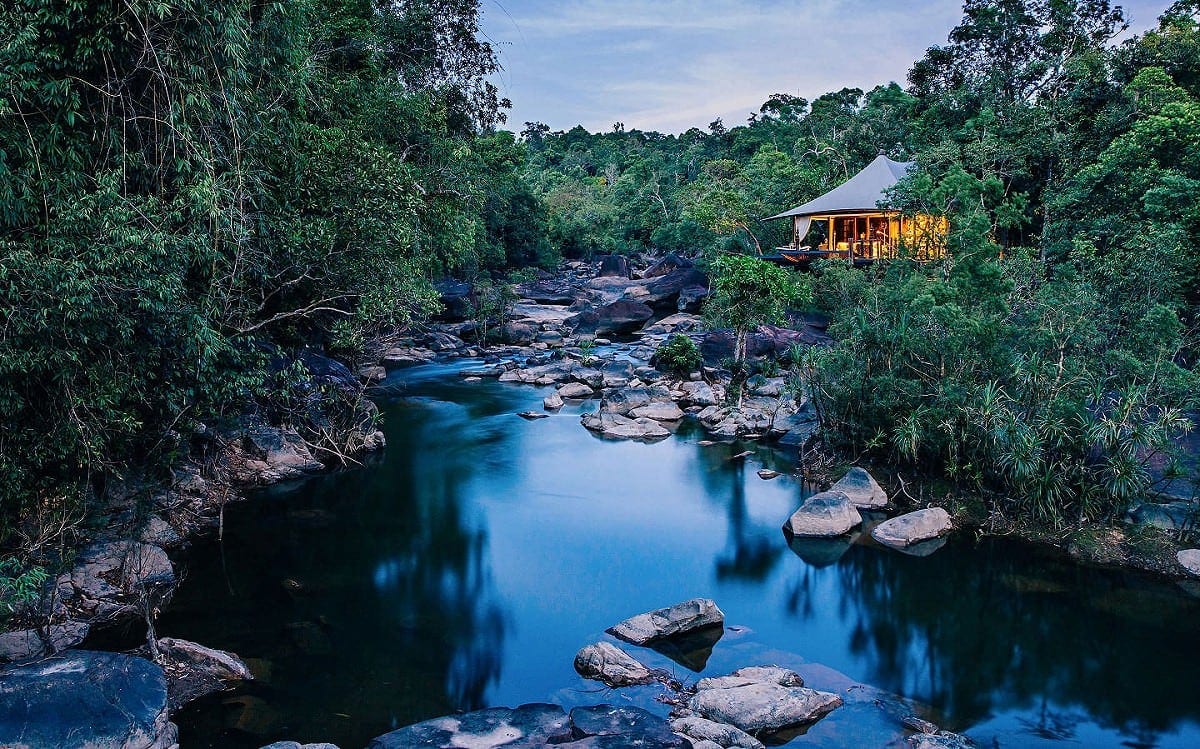 Cardamom Mountains
Much of Cambodia is still covered in thick, lush jungle, so there is plenty of opportunity for adventure if you head to one of the many National Parks. The Cardamom Mountains is a jungle-carpeted range of mountains bordering Thailand which offers the possibility to kayak, trek, cycle, and even zip line. There's a variety of accommodation options too, from safari-style tents with a focus on sustainable ecotourism, to relaxing floating lodges, and luxury adventure camps like Shinta Mani Wild (pictured) in the trees.
Battambang
Battambang is Cambodia's second-largest city. Yet despite its size and wonderful, it is surprisingly relaxed and attracts far fewer tourists. It's home to wonderful arts and foodie scenes and impressive natural sites such as the Bat Caves at Wat Sampeau. Here, you'll see thousands of bats pouring from the caves at dusk, ready for the hunt. A novelty but nonetheless enjoyable experience is the 'Bamboo Train'. This is a flat Bamboo platform with cushions for seats that can reach 50km per hour – hold on tight! You can experience the Bamboo train for yourself on a holiday like our Cambodia Explorer suggested itinerary.